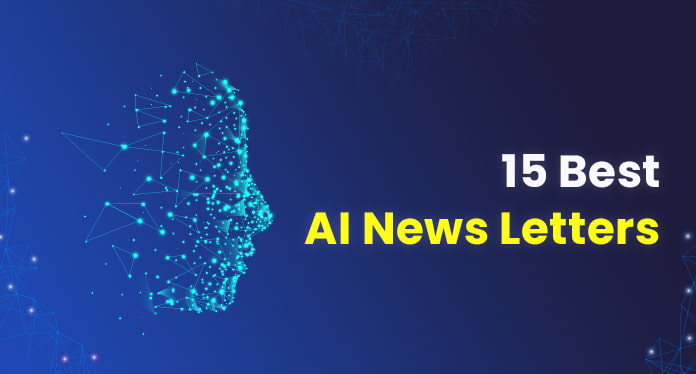 The realm of artificial intelligence (AI) is progressing at an unprecedented pace, with discoveries and advancements emerging with dizzying frequency, capturing headlines daily. Staying abreast of this ever-evolving landscape is paramount if one is to remain ahead of the curve at AI's forefront.
Thankfully, there exists an abundance of newsletters proffering profound analysis, erudite commentary, and keen insights into the nascent trends and ingenious developments in this sphere. These newsletters are a priceless trove of knowledge and wisdom for anyone enthusiastic about AI, from neophytes embarking on their journey to seasoned experts striving for more sophisticated outcomes.
Top 15 AI Newsletters
Looking for the best AI newsletters to subscribe to? Here's our list of the best AI newsletters. This list includes newsletters from industry experts, researchers, and thought leaders, providing comprehensive coverage of the latest AI trends and developments. So, let's dive in and explore the top AI newsletters that you must subscribe to!
The Algorithm
The Algorithm is an exceptional AI newsletter written by the distinguished team at MIT Technology Review. This weekly email covers the most recent advances in artificial intelligence and machine learning, including groundbreaking studies, emerging market tendencies, and legislative updates.
The "Deeper Dig" section of The Algorithm is particularly noteworthy, as it allows readers to explore more about a specific topic. In this section, the writer dives deep into one subfield of AI to illuminate some of the most pressing questions and most promising new developments in the field.
O'Reilly Data & AI Newsletter
O'Reilly is an internationally recognized technology and publishing business, and each week they put out a newsletter called the O'Reilly Data & AI Newsletter. Among the numerous topics of discussion in this newsletter are data science, ML, and AI.
This newsletter covers ten topics, including data science, NLP, deep learning, computer vision, robotics, ethical AI, IoT, data engineering, predictive analytics, and cloud computing. Each issue provides detailed coverage of these topics, highlighting emerging trends and technologies, best practices, and real-world applications of AI.
AI Weekly
AI Weekly, authored by Essentials, is a must-have newsletter for AI enthusiasts, as it keeps them updated on the latest AI trends and news every Thursday. The newsletter offers a brief summary of the week's AI-related news alongside a curated collection of articles, tutorials, and research papers associated with artificial intelligence.
One of the standout features of AI Weekly is its "Some Inspiration" section. This section features thoughtful and well-written pieces that challenge readers' perspectives and encourage them to think critically about the implications of AI for society.
Import AI
Authored by Open AI's Jack Clark, Import AI is a weekday newsletter that provides AI enthusiasts with the latest developments in the industry, including breakthroughs, research papers, and trends. Import AI provides brief yet insightful summaries of research articles on a variety of themes, including politics, ethics, and the social effect of AI, with links to the full studies themselves.
The "Why This Matters" section is celebrated by the readers as it provides the significance of major developments in the AI industry. Readers can use this information to make decisions about AI applications and use it responsibly. Subscribing to Import AI can help individuals and organizations stay informed, make informed decisions about AI applications, and use it responsibly.
Alpha Signal
Alpha Signal is a top-tier AI newsletter written by a team of experts and data scientists. It is distributed every week, has a broad scope, and provides both theoretical and practical insights into AI's many possible applications.
Its ability to break down complex concepts into easily digestible information, coupled with its comprehensive coverage of the latest AI trends and developments, makes Alpha Signal a must-read for both technical and non-technical readers.
Data Science Weekly
Data Science Weekly, written by Hannah Brooks and Sebastian Gutierrez, is a comprehensive AI newsletter that covers a wide range of topics. It offers expertly curated features, including interviews with top AI professionals, insights into industry trends, and technical guides.
The newsletter keeps subscribers abreast of AI, machine learning, and data visualization developments and is loaded with take-home ideas and guidelines for staying ahead of the curve.
Data Elixir
Data Elixir, written by former NASA data scientist Lon Riesberg, is a top-tier AI newsletter that covers a broad range of topics in data science, machine learning, and AI. Shared on a weekly basis, this data-rich newsletter provides practical insights, techniques, and resources for both technical and non-technical readers.
One of its standout sections is "Tools and Techniques," which offers in-depth yet practical knowledge on how to build specific skills and experience in the field of AI. If you're a data scientist or machine learning engineer seeking ways to keep up with the ever-evolving AI industry, you'll find this section to be an incredible asset.
Inside AI
Inside AI is a weekly newsletter about artificial intelligence created by a group of journalists and AI experts. Natural language processing, computer vision, and robotics are only a few of the AI-related topics that get in-depth discussion, along with incisive analysis and real – world examples of their implementation.
Inside AI is an excellent place for professionals and aficionados to stay abreast of machine learning news, trends, and job prospects. Its clear, short writing style and concentration on real-world applications make it an essential read for anybody curious about the rapidly evolving field of artificial intelligence.
ODSC
The ODSC AccelerateAI newsletter is a weekly insider source of information on the commercial applications of AI and the technology behind it. This must-read newsletter is written by a team of experts from the Open Data Science Conference (ODSC), which is renowned for its conferences and meetups around the globe.
The ODSC AccelerateAI newsletter offers a wealth of knowledge on the latest AI trends, industry insights, and technical advancements. In-depth articles on the financial, medical, and transportation sectors' use of artificial intelligence are among the newsletter's featured articles.
Deep Learning Weekly
Deep Learning Weekly is among the most prominent and well-known newsletters in the field of artificial intelligence. The newsletter is published weekly and provides a credible source of the newest advancements in deep learning and AI; it was created by Jan Bussieck and Malte Baumann, both highly experienced data scientists.
Deep Learning Weekly is unique because of the care with which its editors choose and organize the newest findings from the world's foremost AI researchers, bloggers, and news outlets. The newsletter discusses anything from computer vision to natural language processing. This newsletter is an excellent resource for staying abreast of advancements in the field of AI.
Data Machina
This newsletter is a goldmine of information about the advances in AI and machine learning, written by Carlos, a data science specialist. Data Machina is a great publication for AI researchers and enthusiasts who want to stay on top of the latest research and advances in the area. Data Machina stands out among AI newsletters because of its emphasis on real-world uses of AI and ML.
Every step of the data science pipeline is explained in detail in this newsletter, from data engineering to data visualization to data analysis. Data Machina provides a fresh perspective on the newest AI advancements through its in-depth technical research, real-world use examples, and interviews with industry leaders.
AI Tidbits
Let me introduce you to one of the most fascinating and concise AI newsletters out there: AI Tidbits. Written by Sahar Mor, an AI enthusiast and machine learning engineer, AI Tidbits is shared every week and provides readers with the most interesting AI news in less than two minutes.
The newsletter's condensed style makes it an ideal read for busy people who still want to keep up with the latest AI news. One of the unique features of AI Tidbits is its focus on providing its readers with the most captivating AI news stories of the week. Instead of overwhelming its audience with numerous stories, the newsletter prioritizes quality over quantity, carefully curating the most exciting and impactful AI news of the week.
TopBots
TopBots is an excellent publication compiled by a team of artificial intelligence and data science professionals. Every week, subscribers to this newsletter receive the most recent and groundbreaking information in the fields of artificial intelligence and machine learning.
TopBots has several useful features, such as insightful articles about real-world AI applications, trend analysis, and expert comments. TopBots is one of a kind since it encompasses the entirety of the artificial intelligence (AI) ecosystem, from the newest theoretical discoveries to real-world implementations in a variety of industries.
The Wild Week in AI
The Wild Week in AI is a newsletter that keeps AI enthusiasts on their toes! Written by Jack Clark, who is a renowned AI policy expert, this newsletter is a weekly round-up of the latest happenings in the world of AI. The Wild Week in AI is an essential resource for anyone looking to stay on top of the rapidly evolving AI landscape.
What sets The Wild Week in AI apart from other newsletters is its concise and straightforward format, providing readers with the most critical AI news and developments from the past week in a single place. The newsletter covers a broad range of topics, including cutting-edge research, industry news, policy changes, and the latest startup funding rounds in the AI space.
Skynet Today
Skynet Today is a newsletter that covers cutting-edge research in AI, ML, and DL. Every week, it provides its readers with a steady stream of fresh data. Skynet Today is distinguished from other publications by its emphasis on in-depth technical analysis and by its Last Week in AI newsletter, which gives a weekly roundup of the most important advancements in artificial intelligence.
Skynet Today not only reports on cutting-edge technological developments, but also discusses the moral, sociological, and economic effects of artificial intelligence. With coverage spanning from NLP to computer vision and beyond, Skynet Today is a fantastic resource for experts and novices alike.
Don't Miss A Byte!
Newsletters surely are an excellent resource for anyone looking to stay up-to-date on the latest AI trends, developments, and applications. Our list of must-subscribe AI newsletters offers a wealth of knowledge and insights from experts in the field.
Whether you're a technical professional, a business leader, or just curious about the latest AI advancements, these newsletters provide valuable information and keep you engaged in the exciting world of AI. So, subscribe to these newsletters today and stay informed about the latest AI breakthroughs and their broader implications.