Teamwork.com or Monday.com? Which Project Management Tool is Best?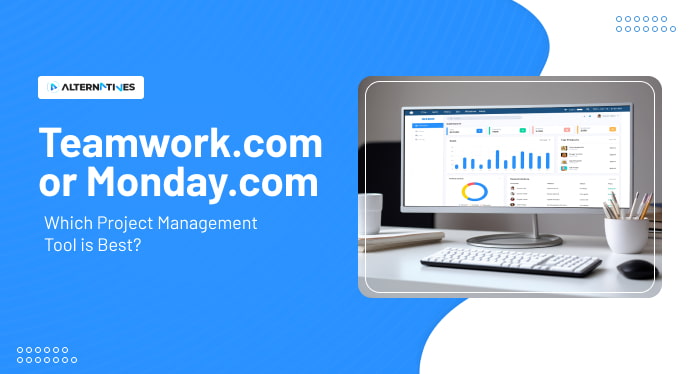 Project management tools have become an integral part of any modern business. The right project management tool can make or break a project, and the wrong tool can lead to costly delays and missed deadlines. Teamwork.com and Monday.com are two of the most popular project management tools available, but which one is best for your specific needs?
In this article, we'll compare the features of both platforms in detail so that you can make an informed decision about which one is right for you. We'll look at task management, project templates, resource management, team collaboration, and much more taken by each platform as well as scalability and third-party integration options. With all of this information at your fingertips, you will be able to select the best project management tool for your business with confidence.
What is Teamwork.com?
If you're looking for a powerful way to organize and streamline your work process, Teamwork.com could be the perfect solution. With features like task automation and customizable benefits, it's easy to see why this project management tool is gaining in popularity. The user interface (UI) design is intuitive and sleek, offering users quick access to all of its functionality. Plus, with a comparison chart available on their website that outlines security risks associated with each feature, users can easily make an informed decision when deciding if Teamwork.com is right for them.
The power behind Teamwork.com lies in its ability to automate tasks so teams are able to focus more time on collaboration and innovation instead of mundane administrative duties. It takes tedious manual processes out of the equation, allowing team members to quickly tackle projects without being bogged down by monotonous job roles. This helps create an environment where creative ideas can flourish and progress can be monitored quickly and efficiently.
Overall, there's no doubt that Teamwork.com has revolutionized how we manage our workloads by providing us with tools that allow us to stay organized while still leaving room for creativity and ingenuity within our teams. Whether you're managing small or large-scale projects from start to finish Teamwork has something for everyone who wants to take their productivity game up a notch.
Did you know
Teamwork.com was founded in 2007 and is now used by more than 20,000 companies worldwide to manage their projects.
What is Monday.com?
Monday.com is designed to make managing your team and projects easier than ever before. From task automation to data visualization, Monday.com has a wide range of features that can help you stay organized and on top of your work in no time.
Monday.com helps teams organize their tasks with ease and efficiency by providing an intuitive interface that enables users to quickly sort through information. Additionally, the platform offers powerful reporting tools to track progress quickly and accurately without having to manually calculate complex formulas or compile large amounts of data. Users can also create custom visualizations for their projects, helping them effectively plan ahead and identify potential roadblocks along the way.
The platform's automated notifications keep everyone up-to-date on any changes or updates made throughout the project lifecycle, ensuring that communication remains clear between all stakeholders involved. Not only does this streamline processes from start to finish but it also allows teams to focus more on collaboration instead of tedious administrative tasks, ultimately leading to better results with less effort required overall.
Did you know
Monday.com is used by over 200,000 companies around the world, including 20% of the Fortune 500.
Features of Teamwork.com
With Teamwork.com, you can easily organize tasks and collaborate with your team to get projects done quickly and efficiently. This project management tool is packed with features that help teams stay on the same page and simplify collaboration. From automating reminders for stakeholder engagement to task dependencies and automation rules – there's something for everyone. Here are four important features of Teamwork.com:
Automation Rules: You can create automated rules that allow users to streamline processes so they don't have to be manually completed every time a task or project needs attention.
Email Notifications: Teamwork.com allows you to set up email notifications when certain criteria have been met such as deadlines approaching, changes in due dates, etc., thus ensuring everyone stays updated about project progress without having to check back regularly.
Task Dependencies: With this feature, you can link multiple tasks together so that one must be completed before another begins making sure that nothing gets missed out or left undone during the course of a project.
Stakeholder Engagement: Keep stakeholders involved by setting up custom reports tailored specifically for them so they know what's going on at all times and feel part of the process.
Overall, Teamwork.com offers an intuitive platform with powerful features designed to make teamwork easier and more efficient than ever before! Whether it's simple communication tools or advanced automation options, their suite of tools helps keep teams organized while allowing them to focus on getting things done faster and smarter than ever before.
Did you know
Teamwork.com offers over 400 integrations, the most of any project management tool.
Features of Monday.com
Monday.com is a comprehensive project management solution designed to streamline collaboration and provide teams with the tools necessary for success. Its features include:
Task Scheduling – Monday.com allows users to easily create tasks, assign them to team members, set due dates, track progress, and receive notifications when a task is completed or overdue.
Automation Workflows – Monday.com offers powerful automation workflows that can be used to automate repetitive processes in order to save time and energy across the organization.
Data Visualization – Monday.com provides data visualization tools such as Gantt charts and Kanban boards which allow users to quickly get an overview of how their projects are progressing at any given time.
User Permissions – Users can customize user permissions so that only certain people have access to specific information or resources on the platform, ensuring that confidential information remains secure.
In addition, Monday.com also has an automated notifications feature that can alert users when changes occur within the system or when deadlines are approaching, allowing teams to stay informed and keep up-to-date on projects without having to manually check for updates throughout the day. The ability to collaborate efficiently while still maintaining privacy makes Monday one of the most effective project management solutions available today!
Did you know
Monday.com allows teams to customize their workflow and project management processes in over 20 different ways.
Task Management
With its intuitive task scheduling, automated workflows, and data visualization features, Monday.com offers an effortless way to streamline your team's tasks and keep projects on track. When it comes to task management, the platform provides users with a variety of time allocation options to ensure that tasks are completed in a timely manner. Communication channels within the platform make it easy for teams to collaborate on projects while automation tools can help automate processes wherever needed. Task prioritization is made simple through drag-and-drop capabilities allowing users to quickly identify which tasks need to be done first before delegating them out accordingly.
Monday.com also ensures that teams don't miss any deadlines or get overwhelmed by their workloads thanks to built-in reminders that alert users when deadlines are approaching or if there's too much on their plate at one time. The ability to customize views based on individual needs allows teams to focus only on what they consider important – giving everyone more control over how they manage their own tasks as well as those of others around them. Furthermore, assigning comments and notes directly to specific tasks keeps conversation organized so nothing gets lost along the way.
The level of detail available on Monday.com makes it easy for teams of all sizes and skill levels to stay organized throughout each project cycle from start to finish without sacrificing quality and accuracy. With powerful task management tools like these at their disposal, teams have everything they need to succeed no matter what type of challenge awaits them down the road.
Did you know
Task management software can save businesses up to 40% of their time, allowing them to focus their energy on more important projects.
Project Templates
Utilizing pre-built project templates, Monday.com enables users to easily replicate prior projects and streamline the entire process from start to finish. With a robust set of features such as template design, sharing, customization, duplication, and automation it's easy for users to create and re-use their most successful projects with minimal effort. For those who desire greater control over their workflow, Monday.com offers extensive functionality that allows teams to customize their project templates in order to best suit individual needs.
The simple drag-and-drop interface makes creating new templates intuitive and straightforward. Users can customize existing or create entirely new ones tailored specifically toward their particular goals. Plus, by taking advantage of the built-in template-sharing feature, team members can quickly share any customizations they've made with others on their team. This ensures everyone is up to speed on what works best for each task at hand, saving time and promoting collaboration across teams.
For larger organizations looking for even more advanced capabilities, Monday.com also provides an automated template duplication option that instantly creates multiple copies of your current template while still preserving its unique settings and preferences eliminating the need for manual reconfiguration every time you begin a new project. By leveraging this powerful toolset along with the many other advantages offered by Monday.com, users are able to maximize efficiency when planning out complex tasks and workflows while simultaneously ensuring consistency throughout all processes within their organization's ecosystem.
Did you know
Most project management tools come with a wide selection of customizable project templates that allow you to quickly set up new projects without having to start from scratch.
Resource Management
Organizations can take their resource management to the next level with Monday.com's powerful suite of features. This project management tool offers all the task prioritization, resource scheduling, and time allocation capabilities necessary for businesses to manage resources in an efficient way. With its user-friendly interface and built-in automation solutions, it gives users full control over their projects while streamlining team collaboration and communication across teams.
Monday.com comes equipped with a variety of options that make optimizing your workflow simple and straightforward. Its intuitive dashboard allows you to view all tasks assigned to each team member as well as track progress on any particular project or goal. The platform also provides detailed reports about prioritization, allocations, deadlines, budgeting, expenses, and more – this makes it possible for managers to keep up with how resources are being used in real-time so they can quickly identify areas where productivity is lacking or needs improvement.
In addition to these great features, Monday.com also integrates seamlessly with popular services such as Dropbox, Slack, and Google Drive – allowing users to easily share documents between teams without having to switch from one application to another. This makes resource planning much easier as everything related to a project is stored in one place! Furthermore, its automated notifications allow everyone involved in a project to stay fully informed when changes occur or updates need attention – ensuring that every aspect of resource management runs smoothly at all times.
Did you know
Resource management tools like Teamwork.com and Monday.com have revolutionized the way businesses manage their teams, but did you know that the US government alone spends more than $400 billion on staffing and personnel management each year? It's no wonder that Project Management Tools are becoming an integral part of many businesses.
Team Collaboration
Bringing teams together to work on a project is made simple with Monday.com, making collaboration effortless and ensuring that all stakeholders are kept up-to-date with the latest developments. With its emphasis on team accountability, task delegation, communication strategies, project automation, and conflict resolution, it provides an unparalleled ability for teams of any size to coordinate their efforts and achieve success.
Monday.com's platform allows users to easily share files or assign tasks directly within the app, giving everyone involved visibility into what needs to be done in order to complete projects quickly and efficiently. The platform also includes powerful features such as reporting tools that give managers a comprehensive view of progress across multiple projects so they can make timely decisions about resource utilization or workflow adjustments if needed.
The intuitive design of Monday.com makes it accessible for both experienced professionals who need more advanced features like Gantt charts or Kanban boards and casual users just looking for an easy way to manage small tasks – meaning there's something here for everyone! Its collaborative approach encourages feedback from team members at every step along the way while providing an overall structure that helps keep everyone organized throughout the entire process.
Did you know
The average worker spends over 1,900 hours a year collaborating with colleagues.
| | | |
| --- | --- | --- |
| Team Accountability | Task Delegation | Communication Strategies |
| Visibility | Assign Directly | Share Files/Tasks |
| Reporting | Comprehensive View | Feedback Encouraged |
| Structure | Resource Utilization | Project Automation |
Integrations
Monday.com seamlessly integrates with other powerful software tools, allowing users to effortlessly streamline their workflows and maximize productivity. This user-friendly project management tool provides a wide variety of integrations such as time estimates, automation tools, cloud storage, custom branding, and project planning giving teams the flexibility they need to tackle any challenge. Moreover, Monday.com's integration capabilities make it easy to connect your data with popular applications such as Salesforce, Slack, and Zapier in order to have all relevant information at hand when needed.
The intuitive interface allows you to customize your dashboard according to your team's preferences so that everyone can easily access what is important to them in one place. With an ever-growing list of available integrations, Monday.com offers the perfect balance between functionality and customization – no matter which area or task you are working on! For example, combining Monday.com with Google Drive means that all documents related to a particular item will be automatically accessible from within the same item card itself.
Integrating third-party services into your workflow not only saves time but also helps centralize communication thus improving collaboration across teams. The ability to stay connected while managing projects makes it easier for organizations to scale efficiently without sacrificing quality assurance along the way ensuring objectives are met even quicker than before! Whether you're looking for a simple solution or something more complex, integrating with Monday.com has never been easier and its comprehensive feature set guarantees maximum efficiency in every situation!
Did you know
Teamwork.com offers over 400 integrations with other applications and services, while Monday.com offers up to 200 integrations.
File Sharing
Integrating with Monday.com allows organizations to easily share files across teams, streamlining collaboration and improving productivity. Also, there are several Monday.com alternatives available that offer a range of functionalities from personalization benefits to automated alerts, the platform offers users a powerful suite of tools for an enhanced file-sharing experience. With access controls allowing for secure resource allocation and data visualization capabilities that provide valuable insights into project progress, Monday.com is the perfect choice for any organization looking to up its game when it comes to digital collaboration.
The intuitive user interface makes it easy to quickly upload files from multiple sources such as Dropbox or Google Drive while also ensuring only authorized personnel can access sensitive information. Administrators can customize permission levels according to individual roles within the team, enabling them to better manage resources and ensure key tasks are completed on schedule. In addition, detailed activity logs allow you to track who has accessed what document at what time, providing administrators with greater visibility over every aspect of their project's development cycle.
Monday.com's customizable notifications system ensures everyone stays informed about important updates in real-time via email or SMS text messages – giving teams unprecedented agility when dealing with changes in scope or timeline adjustments. By automating mundane administrative tasks associated with managing projects, managers have more time available for strategic planning and decision-making without sacrificing efficiency or accuracy – making Monday.com the ideal solution for streamlined file-sharing needs!
Did you know
Teamwork.com and Monday.com both make sharing files among team members a breeze, with no limit on file size and the ability to share documents, images, videos, and more. Plus, both tools offer user-friendly interfaces that allow for easy collaboration and real-time updates. Even better, these tools store your files in the cloud, so you can access them anytime, anywhere.
Reporting and Dashboards
With its comprehensive reporting and dashboard capabilities, Monday.com offers users the ability to gain valuable insights into their project's progress and performance. The platform allows teams to create detailed Gantt Charts for tracking tasks in real-time, set goals with visualized workflows, generate progress reports that track time estimates against actuals, and more. This enables organizations to quickly view trends across projects while staying ahead of potential roadblocks.
In addition to the powerful analytics offered by Monday.com's dashboards, the platform also provides additional features such as custom report templates that can be configured according to an organization's specific needs. These customizable tools make it easy for team members to collaborate on creating informative documents that give a complete overview of any given project or task saving time and resources.
By utilizing these innovative reporting solutions provided by Monday.com, organizations are able to stay up-to-date on their project's status at all times allowing them to identify areas where improvements could be made in order to increase efficiency and productivity over time. In today's ever-changing business landscape, having access to this type of information is invaluable for success; making Monday.com a must-have tool for any modern-day workplace!
Did you know
Teamwork.com offers more than 200 reports and over 30 customizable dashboards to help you monitor and measure your team's progress.
Mobile App
The Monday.com mobile app makes it easy for users to stay connected and manage their projects from anywhere, anytime. The task assignment feature enables users to assign tasks and view progress from the palm of their hand. With a simple click, they can move items from one list to another or delete them altogether. Price comparison features make it easy to compare different project management tools on the market, including Teamwork.com. Mobile app usability is also key in determining which tool is best suited for an organization's needs – with custom user interface options, navigation menus, and language translation services available through Monday.com, team members are able to easily interact with each other without any difficulty. Finally, the ability to customize the look and feel of the platform allows organizations to tailor their environment according to individual preferences and tastes while still retaining all of the necessary features needed for successful project management. In short, Monday.com provides more than enough features that go beyond what Teamwork.com has to offer when it comes to managing projects remotely via a smartphone or tablet device.
Did you know
Mobile apps generate over $188 billion in global revenue each year.
Pricing Plans
A range of pricing plans are available, allowing users to find the perfect solution for their individual needs and budget. Both Teamwork.com and Monday.com offer several subscription options depending on the size and complexity of the project management requirements. Concerning the Teamwork pricing plan, it presents a streamlined structure and generous storage capacity, making it particularly advantageous for small to medium-sized enterprises.
Furthermore, Monday's pricing plans provide comparable features, including some enhanced functionalities. Therefore, users should exercise caution when selecting a plan. The table below provides a comparison of various plan features that include task automation capabilities, priority support access, and additional storage space:
| | |
| --- | --- |
| Teamwork.com | Monday.com |
| Basic Plan Features | Task Automation & Up To 3 Projects |
| Task Automation & Up To 5 Projects | Plus Plan Features |
| Priority Support Access & 5 Projects | Priority Support Access & 15 Projects |
| Additional Storage Space (100 MB) | Additional Storage Space (500 MB) |
Both services provide great value in terms of affordability, scalability, and flexibility with an array of advanced enterprise-level features making them ideal solutions for businesses of any size or industry. Pricing plans vary from basic to premium levels based on user needs, but regardless of plan choice, both platforms boast impressive performance metrics along with maximum security protocols which make them reliable choices when selecting a project management tool.
Did you know
Teamwork.com offers the most affordable pricing plan of the two, with its basic plan starting at just $9/month for up to five users.
Time Tracking
Accurately tracking time spent on tasks is an essential component of successful project management, and both Teamwork.com and Monday.com provide robust solutions to ensure consistent monitoring of task progress. With their modern user interfaces, users can easily view how much time has been allocated for each task. Both tools allow users to estimate the amount of time needed to complete a task before starting it, making it easy to plan ahead and stay organized. Additionally, they offer powerful scheduling tools that help teams keep up with deadlines and complex projects by automating common processes based on predefined rules.
Time-tracking activities are simplified in both applications as well; team members can conveniently log hours against specific tasks or milestones using automated timers or manual entry options. Furthermore, both Teamwork.com and Monday.com enable users to prioritize tasks according to urgency and importance so that resources can be managed more effectively while ensuring the timely completion of all collaborative projects. The intuitive dashboards also make it easier for managers to monitor employee performance through regular updates on resource utilization metrics.
To sum up, when selecting a project management tool for your organization's needs, consider features such as time estimation, scheduling tools, automation rules, time tracking capabilities, and task prioritization functions provided by both Teamwork.com and Monday.com these will help you maximize productivity levels within your team while minimizing costs associated with managing large-scale projects!
Did you know
Time tracking was identified in the late 19th century as a way to track the work of employees in factories. It has since evolved to become a critical component of project management tools such as Teamwork.com and Monday.com, allowing teams to stay organized and prioritize tasks effectively.
Customer Support
Providing timely, reliable customer support is essential for any organization to succeed, and both Teamwork.com and Monday.com have comprehensive solutions to meet this need. The two platforms offer a variety of features designed to make it easier for organizations to provide excellent customer service: 24/7 Support, Live Chat, Self-Help Portal, Knowledge Base, and Help Desk.
No matter what type of business you run or which platform you choose, these tools can help ensure that your customers get the support they need when they need it most. With 24/7 support available through live chat and self-help portals like knowledge bases and help desks, your team will be able to quickly resolve customer inquiries with minimal effort on their part. Additionally, the ability to track all interactions in one centralized location allows teams to easily view progress toward resolution or other metrics related to customer satisfaction an invaluable asset for businesses looking to stay ahead of the curve with regard to innovation.
The combination of cutting-edge technology and robust customer support options offered by both Teamwork.com and Monday.com make them ideal solutions for companies who are serious about providing outstanding service while staying competitive in today's market. Whether you're just starting out or scaling up operations, leveraging these powerful project management tools can elevate your customer experience and give you the edge needed to stand out from the crowd!
Did you know
Teamwork.com provides 24/7 customer support in 16 languages, making it an ideal choice for global projects.
User Interface
The user interface of both platforms is designed to be intuitive and easy to use, ensuring customers can quickly access the features they need without any hiccups. To provide users with an even more seamless experience, each platform offers a variety of tools that are tailored to their specific needs.
When it comes to scheduling tasks, Teamwork.com has a powerful task scheduler that allows users to easily create and assign tasks in real-time. Monday.com also provides users with similar functionality through its drag-and-drop feature allowing them to move tasks around on the timeline for better organization. Both platforms offer real-time chat capabilities so team members can communicate effectively while working on projects together.
In terms of visual appearance, there are several other tools that work as Teamwork.com alternatives which offer custom themes giving users greater control over how their workspace looks and feels while Monday.com's appealing design makes it easier for team members to collaborate visually by using different colors and shapes in their project management boards. Furthermore, both platforms have customizable dashboards that make it easy for teams to keep track of progress and stay organized throughout the project lifecycle.
Did you know
Teamwork.com has one of the most intuitive user interfaces of any project management tool, with an average learning curve of only 15 minutes for new users.
| | |
| --- | --- |
| Teamwork | Monday |
| Task Scheduling | Powerful Task Scheduler |
| Drag & Drop Feature | Real-Time Chat |
| Yes | Yes |
| Visual UI | Custom Themes |
| Appealing Design + Colors/Shapes | Dashboard |
| Customizable Dashboard | |
Customization
Both platforms offer users the ability to customize their workspace to meet their individual needs, allowing them to tailor the experience for maximum efficiency. Teamwork.com offers a variety of features for customizing workspaces, including data and task automation as well as project and advanced automation features. Monday.com provides an even more robust set of customization options that allow users to create unique workflows tailored specifically to their business's needs.
The following table outlines some of the key differences between Teamwork.com and Monday.com when it comes to customization.
| | |
| --- | --- |
| Teamwork.com | Monday.com |
| Data Automation | Basic functionality available |
| Advanced automation capabilities with in-depth configuration options available | Task Automation |
| Allows automated tasks such as reminders and notifications | Offers additional workflow automation tools like deadlines and automatic assignment notifications |
| Project Automation | Ability to automate projects through templates or rules based on user activity |
| Includes comprehensive setup wizards that allow users to quickly and easily build complex automation without any coding knowledge | Advanced Automation Features |
Supports advanced trigger-based logic with dynamic fields which enable teams to define powerful automations within minutes. Whether your team is looking for basic or advanced customization options, both Teamwork.com and Monday.com have something to offer. With each platform offering its own unique sets of features for creating customized workspaces, teams will be able to find what they need no matter which one they chooseall while gaining access to innovative solutions designed to maximize collaboration among teammates!
Did you know
Teamwork.com offers over 500 customizable options for project management, while Monday.com provides over 800.
Security
When it comes to security, both platforms ensure that users' data is kept safe and secure. Teamwork and Monday offer a range of features to help protect users' data with state-of-the-art security measures. The following table compares the two project management tools and highlights each platform's key security features:
| | | |
| --- | --- | --- |
| Security Features | Teamwork | Monday |
| Data Encryption | AES 256bit | AES 256bit |
| Access Control | Yes | Yes |
| Two-Factor Auth. | Yes | Yes |
| Password Prot./Audit Trails | Yes/Yes | Yes/Yes |
Both Teamwork and Monday employ industry-standard encryption protocols (AES 256-bit) to ensure complete protection for their user's data. With access control, users are able to limit who can view or modify information on either platform by setting permissions based on user roles. Additionally, they also provide two-factor authentication as an extra layer of protection against malicious activity. Finally, password protection ensures privacy while audit trails track changes made in projects over time so teams have full transparency into who did what when working together.
Overall, both project management tools prioritize protecting their customers' data through robust security standards such as encryption, access control, two-factor authentication, password protection, and auditing trails – providing peace of mind for those looking for reliable project tracking solutions.
Did you know
Security on Teamwork.com and Monday.com is so advanced that it is trusted by more than half of Fortune 500 companies.
Scalability
Offering scalability and flexibility, both platforms can easily accommodate the needs of businesses of any size. Teamwork.com allows users to customize their organization's branding by providing custom logo uploads for a more personalized experience. Automation capacity is also available on Teamwork with options such as task automation rules that enhance efficiency and reduce time spent managing projects manually. System interoperability is enabled through integration with popular tools like Zapier which increases collaboration between team members by bringing data from other applications into one platform.
Monday.com provides an intuitive user interface for easy navigation around its platform. It offers high levels of usability in terms of creating boards, tasks and templates, and assigning roles to different team members so everyone knows what they need to do and when it needs to be done. With regards to budget considerations, Monday has clearly outlined plans ranging from free up to enterprise level allowing customers to choose based on their individual requirements without overspending or underutilizing features.
Finally, both project management solutions are capable of scaling alongside your business growth making them ideal for small startups all the way up to large enterprises who may require extensive customization capabilities and complex system integrations. Whether you prefer Teamwork's automated workflow processes or Monday's slick design aesthetic will depend largely on the specific needs of your organization but overall both offer great quality project management tools at competitive prices.
Did you know
According to a survey of project managers, 98% of people who use Teamwork.com report that the tool is highly scalable and can easily adapt to their changing needs.
Third-Party Integrations
Each platform offers a range of third-party integrations, allowing for the creation of automated workflows and enhanced collaboration between team members. Teamwork.com is particularly adept at providing an impressive selection of options for data migration, client portals, scheduling tools, automation workflows, and risk analysis. This makes it easy to integrate with existing systems while bringing new levels of efficiency into any project management process.
Monday.com also provides access to numerous third-party integrations that make it possible to streamline processes from start to finish. By leveraging the power of external applications such as Salesforce, Zapier or Slack, users can automate complex tasks in minutes freeing up time and resources otherwise spent manually managing repetitive tasks.
When comparing both platforms in terms of their respective third-party integration offerings, each brings its own unique advantages depending on your individual needs. Both are well-suited for companies looking to achieve greater visibility across projects and teams as they strive for increased productivity and innovation.
Did you know
Teamwork.com offers over 400 third-party integrations, while Monday.com offers over 200 third-party integrations, making it the most connected project management tool in the market.
Reviews of Teamwork.com and Monday.com
In the context of our review on Teamwork.com, we talk about its comprehensive toolset covering task management, time tracking, and efficient document sharing, accommodating teams of all sizes. The user-friendly interface streamlines collaboration and communication, enhancing overall productivity. However, some users find its pricing structure less accommodating for small businesses, which can be a potential drawback. Nonetheless, Teamwork.com remains a popular choice for organizations seeking a versatile project management solution with a wide range of features.
On the other hand, Monday.com also enjoys a positive review from the users out there. The platform boasts of its versatile work operating system that excels in customizable workflows and project tracking. Its user-friendly interface simplifies complex processes, making it a strong choice for various team sizes. The visual project management and automation features are particularly impressive, enhancing productivity and collaboration. However, some users may find its pricing relatively high, especially for larger teams or organizations. Despite this, Monday.com remains a favored platform for those seeking flexible and efficient project management and workflow solutions.
Frequently Asked Questions
1. How is Teamwork.com different from Monday.com?
Teamwork.com and Monday.com are both project management tools, but they offer different features. Teamwork.com has more collaboration features such as task boards and message boards to help teams work together better while Monday.com offers automation of tasks, third-party integrations, data security, and data visualization for improved insights into projects. Each tool is tailored towards a specific user base with unique needs so it's important to consider which one best fits your team's requirements before making a decision.
2. Does Teamwork.com or Monday.com offer a free trial?
Both Teamwork.com and Monday.com offer free trials for their services, allowing users to compare features, support options, integrations, pricing models, and user interfaces before making a decision about which project management tool is best suited for them.
3. Does either platform offer a discounted rate for non-profits?
Both Teamwork.com and Monday.com offer cost-saving tips such as discounted rates for non-profits. Scalability comparison. Customized features to suit different business needs. Comprehensive reviews based on user feedback and more. It is important to evaluate both platforms carefully to determine which one best fits your organization's needs.
4. Is there a limit to the number of projects that can be managed on Teamwork.com or Monday.com?
Teamwork.com and Monday.com are both popular project management tools, with features such as cost comparison, task automation, user interface, security features, and mobile accessibility. Teamwork.com does not have a limit on the number of projects you can manage while Monday.com allows for unlimited projects. Both offer free trial versions so that users can decide which best fits their needs before making any long-term commitments.
5. How quickly can a user get set up and start using Teamwork.com or Monday.com?
Teamwork.com and Monday.com are highly time-efficient tools that have been tested for usability and user experience, making them easy to set up and use right away. They come with an array of collaboration features such as task management, project tracking, reporting and analytics capabilities which make it easier for teams to collaborate in real time. Both tools also have a relatively short learning curve so users can get started quickly without having to invest too much time or effort getting used to the platform.
Conclusion
The decision of which project management tool to use can be difficult, but Teamwork.com and Monday.com are both excellent options for teams looking for an efficient way to collaborate on projects. Both tools offer powerful features, so it really comes down to user preference when deciding between these two solutions.
For organizations seeking a detail-oriented, organized, and collaborative project management platform with robust third-party integrations and scalability options, Teamwork.com is the perfect choice; however, those needing customization or mobile app support may prefer the flexibility offered by Monday.com's comprehensive suite of features.
Ultimately, whichever Project Management Tool you choose – Teamwork.com or Monday.com – your team will benefit from an increased level of productivity and collaboration that only comes from utilizing modern cloud-based software solutions