30 Best CRM Software Tools (Free + Premium)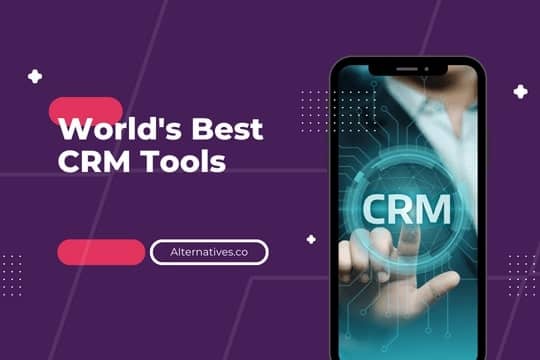 As the business world becomes more complex, businesses must have a CRM (customer relationship management) system to keep track of all the important data and manage customer relationships easily. There are numerous factors that every business should consider in order to expand, particularly when it comes to attracting more customers, increasing visibility, better management, nurturing leads, and having excellent team collaboration. All of this, however, cannot be accomplished solely through the use of a single tool or through inefficient workflows.
In this blog post, we've compiled a list of the top CRM tools and software available to help you find the ideal and the best option for your company. These systems have, everything – from customer data capture to customer interactions and retention! Learn more about CRM, its advantages, and more before we look at the best ones.
What is a CRM Software?
CRM software, expanded as customer relationship management software, is an essential business software that helps companies manage customer relationships efficiently and effectively. It can help businesses to better understand their customers, create powerful marketing campaigns based on customer data, and track the progress of those campaigns.
What are the Different Types of CRM Software?
CRM software are tailored solutions that cater to the diverse needs of organizations. As key decision-makers, it's crucial to understand the distinct types of CRM software available to determine which aligns best. Here, we'll delve into these types concisely:
Operational CRM:
Operational CRM focuses on optimizing day-to-day customer-facing processes. It streamlines sales, marketing, and customer service tasks, enabling seamless interaction with clients. This type of CRM assists sales teams in managing leads, automating repetitive tasks, and enhancing customer service through efficient issue resolution. Operational CRM offers tangible insights into sales pipelines, customer behaviors, and support interactions, fostering data-driven strategies.
Analytical CRM:
Analytical CRM empowers you with a deeper understanding of customer behavior and preferences. It leverages data analysis to uncover trends, patterns, and opportunities that inform strategic decisions. This type of CRM provides actionable insights into customer segmentation, buying habits, and market trends, enabling organizations to tailor their offerings and engagement strategies for maximum impact.
Collaborative CRM:
Collaborative CRM focuses on enhancing internal and external collaboration to foster better customer relationships. It enables information sharing among departments, breaking down silos and ensuring a holistic view of each customer's journey. You can benefit from improved communication, streamlined processes, and cohesive customer interactions, ultimately contributing to a unified brand experience.
Strategic CRM:
Strategic CRM centers around long-term customer engagement and loyalty-building. It involves comprehensive planning and strategy development to create lasting customer relationships. It focuses on value creation through personalized experiences, loyalty programs, and customer feedback utilization. Strategic CRM offers a framework to drive customer-centric initiatives that lead to sustained growth and brand advocacy.
Campaign Management CRM:
Campaign Management CRM facilitates the planning, execution, and monitoring of marketing campaigns. It assists you in orchestrating targeted campaigns across various channels, tracking their effectiveness, and adjusting strategies in real-time. It optimizes marketing ROI by aligning campaigns with customer preferences, resulting in higher engagement and conversion rates.
Social CRM:
In the era of social media, Social CRM helps decision-makers tap into the power of social platforms for customer engagement and insights. It monitors conversations, feedback, and sentiment across social channels, allowing organizations to respond promptly and proactively. Social CRM provides a holistic view of customers' online interactions, enabling key decision-makers to adapt strategies based on real-time social trends.
As you navigate the CRM landscape, understanding these distinct types and their benefits empower you to select the solution that best suits your organization's goals.
Top Benefits of CRM Platform
Although CRM software can benefit a business in countless ways, we will cover some of its key benefits. Here are a few of those:
Showcases data visually via dashboards: This lets you view key performance indicators (KPIs) and other relevant information in an easy-to-understand way. Dashboards allow team members to quickly consult the information about their areas of responsibility, and make critical decisions based on this data.
Improves customer retention: Allows quick addressing of customer concerns by providing sentiment analysis, automated ticking, customer support, and user behavior tracking.
Provides enhanced customer segmentation: With this feature, you can identify and track the behavior of your different customer groups in a more detailed way. This information can be used to create targeted marketing campaigns that cater specifically to your target audience.
Stores all information in its databases centrally: A good CRM software will allow you to store all your data in central databases, making it easy to access and manage. This can save you time as you won't have to hunt for data scattered throughout different systems.
Automates sales reports: CRM software can help automate sales reports, which can help you to identify key trends and get an idea of what to expect from your future sales cycle performance. This information can help make strategic decisions about the best ways to allocate resources and boost overall productivity.
Our Top Picks
| | |
| --- | --- |
| Most Easy-to-Use CRM | Hubspot CRM |
| Most Customizable CRM | Zoho CRM |
| Best CRM for Small Businesses | monday.com Sales CRM |
| Best CRM for Large Businesses | Pipedrive CRM |
30 Best CRM Software and Tools
In this section, we'll discuss some of the best CRMs for small, medium, and large businesses and help you decide the right one for you.
1. Hubspot CRM
HubSpot CRM is at the top of our list due to its incredibly comprehensive free edition, ease of using and creating projects, flexible pricing, and incredible customer support. This powerful all-in-one business solution is perfect for small businesses (and businesses of all sizes), as it contains dedicated hubs for sales, marketing, and customer service. It is also regularly mentioned in the list of the best CRM for real estate too!
It is one of the best free CRM software for its free tools like a blog idea generator, free business templates, invoice template generator, email signature generator, and the ability to manage up to a million (1,000,000) contacts! It is also one of the most comfortable and intuitive tools in our list, so users of any skill can navigate it with little trouble.
It is also a popular tool in the software industry. HubSpot's modular CRM software features flexible pricing, which means you can either buy its individual hubs or mix and match multiple hubs at a discounted rate.
Below are some alternative choices under the CRM software category that will surely help your decision-making proces.
Key Features:
Contact Deal and Task Management: Efficiently organize and track interactions by centralizing all contacts, deals, and tasks to streamline communication and accelerate sales cycles.
Email Tracking and Engagement Notifications: Stay in the loop with real-time notifications that alert you when prospects open emails or engage with content, enabling timely and informed follow-ups.
Email Templates and Scheduling: Maintain consistent communication by utilizing pre-designed email templates and scheduling tools to send personalized messages.
Document Sharing: Enhance customer engagement by sharing relevant documents directly through the CRM, ensuring information is readily accessible.
Meeting Scheduling: Simplify the appointment-setting process by integrating scheduling tools, allowing clients to book meetings based on availability.
Live Chat: Deliver instant support and capture leads by embedding live chat on your website, providing real-time assistance.
Sales Quotes: Generate professional and accurate sales quotes within the CRM, showcasing products or services, and expediting the negotiation process.
2. monday.com Sales CRM
monday.com is a powerful CRM solution designed to empower businesses with unparalleled customization and automation capabilities. Unlike traditional CRM systems that often require extensive development assistance to align with your unique processes, this software offers an intuitive interface to tailor your CRM setup to suit your needs effortlessly.
The software's smart automation allows for lead assignment to the most suitable representatives, timely reminders for upcoming activities, real-time notifications on email opened by leads, and much more. And by automating such mundane tasks, your team can focus on building relationships and closing deals.
And it's not just that! monday.com understands that your organization relies on a network of tools to get the job done. You can seamlessly connect this CRM software with the existing tools to create a unified ecosystem that covers everything from pre-sales to post-sales processes.
Key Features:
Sales Pipeline: Oversees the entire sales process by efficiently managing leads, tracking opportunities, and accurately forecasting revenue.
Contact Management: Elevates customer relationships with a comprehensive repository to consolidate contact and account information.
Email Sync: Integrates email correspondence by syncing, tracking, and managing sales emails to foster efficient communication.
Lead Capturing: Captures valuable prospect data through customizable forms, streamlining the lead collection process and enabling targeted outreach.
Lead Management: Centralizes, scores, qualifies, and nurtures leads in a unified platform, enabling systematic lead progression.
Performance Tracking: Provides valuable insights into team performance, pipeline dynamics, and goal achievement through intuitive tracking tools.
3. Salesforce CRM
Used by big enterprises like Spotify, AWS, Toyota, Macy's, and others, Salesforce CRM has to be one of the best CRMs for large businesses. It boasts an extensive suite of applications for marketing, sales, commerce, and service teams.
The Customer 360 platform offers a comprehensive ecosystem that empowers organizations to holistically manage every facet of their customer interactions. Einstein, Salesforce's proprietary AI, further elevates this CRM to new heights. It revolutionizes productivity by generating tailored content at scale and seamlessly embedding insights across sales, service, marketing, and commerce within the natural flow of work.
As a SaaS CRM software, Customer 360 provides numerous benefits. Organizations have witnessed a substantial 37% increase in sales revenue and about 45% surge in customer satisfaction by incorporating this CRM software into their workflow.
It further champions innovation through its low-code tools, enabling the easy creation of custom predictions and recommendations. This democratization of predictive analytics empowers organizations to craft novel experiences that resonate with their unique clientele.
Key Features:
Manage Customer Data: Organizes vital customer and sales information in comprehensive views to nurture relationships and drive personalized engagement.
Accessibility: Provides flexibility to access critical data and tools from any device, enabling them to close deals and maintain momentum regardless of location.
Business Analytics: Leverages advanced analytics and forecasting capabilities to gain insights into market trends, customer behavior, and sales performance.
Pipeline Management: Tracks and manages your sales pipeline stages to ensure a clear overview of prospects, deals, and potential roadblocks.
Order Quotations: Streamlines the quote-to-order process by seamlessly generating and tracking quotes, ensuring accuracy and efficiency in the sales cycle.
Organization-wide Collaboration: Fosters cross-functional collaboration by facilitating information sharing and communication among departments.
Process Automation: Aligns with your unique business processes to automate routine tasks lowering the consumption of valuable time and resources.
Integrations: Connects with a wide array of applications to establish a seamless flow of information between systems.
4. Pipedrive CRM
Pipedrive CRM is a powerful solution tailored to meet the needs of organizations seeking to optimize their sales processes. Whether crafting a bespoke sales funnel or leveraging existing templates, Pipedrive offers a versatile canvas to visualize and manage your sales journey seamlessly.
For organizations navigating complex sales landscapes, Pipedrive offers more than just software. Large teams gain access to a dedicated account manager to navigate the intricacies of Pipedrive, optimize account usage, and facilitate team onboarding.
And when the question is about Pipedrive's impact, numerous enterprise clients have witnessed remarkable outcomes. From double-digit increases in new accounts to soaring revenue growth of over 40%, Pipedrive is the driving force behind these impressive achievements. This success is fueled by features like activity-based planners, sales automation, process forecasting, etc.
Key Features:
Automation Capabilities: Automates deal calculations and other routine and administrative tasks to free up time for high-impact tasks.
Integrated Workflows: Seamlessly integrates with 400+ mission-critical apps and platforms to adapt to the unique needs of your organization.
Email Builder: Provides a simple drag-and-drop email builder with visually appealing built-in templates.
Lead Segmentation: Allows you to filer and categorize the list of leads for a more targeted and personalized communication pipeline.
Website Visitor Tracking: Provides the ability to discover the companies visiting your website with the help of the "Website Visitors add-on.
Customizable Reports: Generates sales and CRM reports based on custom fields incorporated with respect to organization's unique needs.
5. Zendesk Sell
Zendesk CRM, known as Zendesk Sell, is an indispensable tool tailored to elevate the sales processes of modern organizations. With its intuitive interface and comprehensive feature set, this CRM software has become the go-to choice for organizations seeking revenue growth.
At its core, Zendesk Sell offers an integrated platform that combines contact and deal management, activity tracking, and lead generation. This consolidation empowers sales teams with a holistic view of their prospects and customers, granting unparalleled insight into their buying journey.
This is not just a CRM; it's a command center for personalized, meaningful customer interactions. With the ability to set up triggers and automate tasks, Zendesk Sell ensures that representatives focus on high-value activities rather than mundane administrative tasks.
One of the standout features of Zendesk Sell is its capacity to bridge the gap between sales and service, providing a unified repository of customer information. It enables representatives to craft tailored conversational experiences that resonate with customers at every touchpoint.
Key Features:
Centralized Platform: Provides a unified hub to consolidate sales data and activities by eliminating data silos for a streamlined workflow.
Complete Customer View: Offers comprehensive insights into each customer's journey, enabling tailored interactions and strategic decision-making.
Marketplace: Access a marketplace of integrations and extensions, empowering you to customize the CRM to your organization's requirements.
Accurate Forecasting: Generates accurate sales forecasts, empowering you to make well-informed resource allocation.
Pipeline Analysis: Evaluates the sales pipeline's health, identifies bottlenecks, and optimizes processes.
Advanced Analytics: Provides deep insights into sales performance to uncover trends that drive business growth.
Email Integration: Integrates your email communication to ensure all correspondence is tracked.
6. ClickUp CRM
Loved by highly productive teams of all sizes, ClickUp is one of the highest-rated project management and CRM software. Super flexible to adapt to your needs, this CRM software packs various features that help the company's project, customer success, sales, and finance teams.
ClickUp CRM comes with CRM views, dashboards, email project management, automation, custom task statuses, assigned comments, and custom fields. The software also has a sleek and user-friendly interface with drag-and-drop functionality, so even those with little technical knowledge can get started with it with little to no difficulty.
ClickUp CRM is one of the best free CRM software for small businesses, offering a free forever plan with tons of benefits like unlimited users, unlimited tasks, 100MB data storage, and 24/7 customer support. Paid plans start at just $5 per month, making it one of the most affordable CRM. We also love ClickUp CRM for its extensive integration capabilities. It provides native integration support for 1000+ tools, including Salesforce, HubSpot, Evernote, and Google Drive to supercharge your CRM activities.
Key Features:
15+ Views: Provides a diverse range of visual perspectives, from Gantt charts to Kanban boards.
50+ Automations: Automates repetitive tasks through an extensive library of triggers, actions, and conditions.
Integrations: Unifies your digital ecosystem by integrating a vast array of tools, encompassing calendars, messaging platforms, cloud storage, and more.
Collaboration Capabilities: Facilitates seamless collaboration by providing a platform for real-time communication, file sharing, and concurrent editing.
Real-time Reporting: Offers up-to-the-minute insights into project progress and team performance through dynamic real-time reports.
Milestones: Pinpoints pivotal moments in project's lifecycle by setting and tracking milestones, ensuring important project stages are acknowledged.
Pulse: Leverages ML to gain in-depth visibility into time allocation and identify patterns and trends that allow for resource optimization.
7. Streak CRM for Gmail
Streak is a great cloud-based CRM solution for small enterprises looking to manage their projects and fundraising campaigns via Gmail. This is one of the best CRM for Google users as it comes with GSuite integrations (Sheets, Chat, Drive, and more) to help you access and gather your data.
This CRM tool puts the pipeline on autopilot by capturing contacts and emails and providing a 360 degrees overview via tasks and reminders. With its native mobile apps, users can share and update critical information with team members from remote locations.
Streak CRM has a free version featuring decent storage volume (we could call it one of the best free CRM for small businesses). Mid and large-scale organizations looking for advanced functionalities like deep customization and data validation can opt for one of their paid plans.
Key Features:
Custom Views: Visualizes your pipeline with your unique sales process.
Track Leads: Effortlessly manage leads and sales opportunities, from initial contact to successful deal closure.
Project Management: Extend Streak CRM's capabilities beyond sales by tracking projects and tasks.
View Tracking: Receive real-time notifications when recipients open your emails, enabling timely follow-ups.
Snippets: Increases efficiency by utilizing a repository of reusable email content, allowing your team to maintain consistent messaging.
Thread Splitter: Keep communication organized by splitting email threads when discussions diverge.
Easy Import and Export: Seamlessly migrate your data into Streak CRM using Google Sheets integration.
Log Calls: Captures important details by automatically logging calls from your phone and empowering your team to reference conversations.
8. Nutshell CRM
Nutshell is one of the best examples of CRM software for small businesses and sole proprietors, as it is affordable, easy to use, and packs in decent functionalities.
Every Nutshell subscription has unlimited contacts and data storage, free data migration assistance, fully customizable reporting tools, and world-class live support. Nutshell is also praised for its excellent reporting and importing tool and a free 14-day trial.
Nutshell is available in just one pricing model, so you can sign up without needing to worry about what specific features are and what all you really need a painstaking process that can kill many hours. Besides small-scale businesses, Nutshell CRM is also great for a growing company.
Key Features:
Sales Automation: Elevates productivity by automating repetitive tasks, enabling your team to focus on high-value activities.
Reporting & Analytics: Empower data-driven decisions with robust reporting tools that allow you to track, visualize, and predict sales performance.
Email Marketing: Craft targeted campaigns using segmented email lists, drip series, and funnel-based emails.
Web Form Collection: Gather customer information by seamlessly integrating web forms that automatically convert submissions into new leads.
Team Collaboration: Promote seamless collaboration within your team by storing customer notes and interactions.
Contact Management: Simplify the process of adding, organizing, and storing customer information.
Pipeline Management: Enhance your team's efficiency with customizable pipeline views that offer intuitive representations of your sales process.
9. Bitrix24 CRM
Bitrix24 CRM is a powerful CRM tool that is one of the best with regard to the scope of functionality. While most small businesses won't be requiring these functionalities, it's always good to have them. That's why small businesses would do great on its free plan or affordable standard and professional plans.
We love Bitrix24's kanban-based user interface, the choice between using separate leads listing or going direct to contact, and how it provides constant notification of opportunities, tasks, and activities.
Its stronghold is in terms of integration capability, as it integrates with many popular tools, including Basecamp, MailChimp, and Zoho CRM. However, Bitrix24 doesn't have the most straightforward or intuitive UI, so a higher learning curve is involved.
Key Features:
SaaS Solution Replacement: Seamlessly integrates various functionalities, reducing complexity and enhancing synergy across your processes.
Free Forever: Allows you to scale without financial barriers while maintaining robust tools for contact management, sales automation, and customer engagement.
Easy Migration: Effortlessly migrates your existing data from different systems, to ensure a smooth integration process.
Integrations: Maximizes productivity by integrating Bitrix CRM with your preferred tools and applications.
Predictable Costs: Offers transparent pricing that eliminates per-user charges, enabling efficient budget planning.
10. Odoo CRM
Odoo, a customizable, open-source CRM, is a part of Odoo's business applications suite and is perfect for small enterprises due to its modular structure. The software allows small business owners to easily track performances & activities in real-time, makes smarter decisions by providing accurate forecasts, and features scheduling options for all sales scripts like calls, meetings, mailing, and quotations. Odoo even features real-time messaging to enhance collaboration.
Odoo is scalable, so one can add new apps/users as the company expands its business functions and needs. Odoo is easy to use as it features intuitive dashboards and drag-and-drop menus that help you manage complex business flows.
Odoo CRM integrates sales, inventory, inventory, Google Docs, other CRM apps, and marketing apps. It offers a free version, but those looking for comprehensive functionalities would be better off with one of their paid plans.
Key Features:
Modern User Interface: A sleek and intuitive interface that enhances user engagement, making navigation and interaction seamless.
Reduce Data Entry: Automates lead creation from emails and VoIP calls, minimizing manual data entry.
Leads Nurturing: Nurtures leads with personalized email campaigns, utilizing segmentation to deliver tailored content.
GeoIP: Streamlines lead data collection by automatically identifying the geographical location of leads based on their IP address.
Pipeline Management: Provides a comprehensive view of your opportunity pipeline, allowing you to effectively manage leads and track progress.
CRM Dashboard: Monitor your sales team's performance with a dynamic dashboard that presents KPIs at a glance.
Opportunities Analysis: Dig deeper into your opportunities pipeline with advanced analysis tools, including filters, grouping, and drill-down options.
Lost Reasons: Improves sales strategy by analyzing lost opportunities, identifying trends, and understanding reasons for losses.
11. Jira CRM
Jira is a popular software that allows bug tracking and agile project management for all use cases. But few businesses might know that the software can be used to build a CRM.
Jira works great as a CRM because it provides a clear view with division into statuses, sales types, and other parameters to support creating/generating offers, expands along with needs, and provides mobile application support.
This small business CRM also performs on two other important factors price and integration. Regarding pricing, it has a great free plan that supports 10 users and comes with all the standard features like Scrum & Kanban board, backlog, agile reporting, customizable workflows, roadmaps, and dependency management. Pain plans are competitive too.
Jira CRM has tons of integrations too. It integrates with best-in-class technology platforms like Slack, Microsoft, Google, Zoom, GitHub, Jenkins, and more!
Key Features:
Data Storage: Automatescapturing customer information when they initiate requests through Jira Service Management (JSM).
Sales Visualization: Provides a visual representation of deals and their current statuses, enabling quick assessments of your pipeline.
Lost Leads: Empower your team with insights by dissecting the causes behind lost leads, enabling data-driven adjustments to your approach.
Real-Time Reporting: Make proactive decisions with access to real-time reports that offer an up-to-the-minute view of your sales activities.
12. Nimble CRM
If you have spent some time researching the best CRM software, there is a chance you might have come across this name. That's because Nimble, a relationship-focused CRM, was ranked an overall CRM Industry Leader and is among the Top Five Sales Intelligence Software Tools for Small Businesses by G2 Crowd. Website digital(dot)com even recognized it as one of the Best Real Estate CRM Software Companies of 2021. All that means that you won't most likely go wrong with Nimble!
Nimble CRM performs all the tasks expected from great CRM software. That means it can work within your favorite apps (including Teams, Word, Excel, and more), unify contact data from more than 160+ apps into a single platform, and do everything – from organizing your contacts into segmented lists to setting follow-up tasks.
While Nimble CRM does great in terms of integration, many small businesses might find its pricing expensive. It can cost as much as $25 per month( 2 or 3 times of many CRM's starting plans). However, just one paid subscription is available, giving you access to all the relationship management, data enrichment, marketing & outreach, prospecting, pipeline management, and integration features. Considering that, we think Nimble CRM can be a great CRM option, especially for those in the real estate market.
Key Features:
Relationship Management: Offers a centralized platform to consolidate and organize all contact information.
Live Profiles: Provides real-time updates and accessible contact records that empower your team to engage with customers more effectively.
Segmentation: Effortlessly categorize your contacts based on customizable criteria, enabling targeted communication strategies.
Group Emails: Streamlines your outreach efforts by sending personalized, bulk emails to segmented groups.
Email Tracking: Provides email tracking capabilities, providing insights into recipient engagement and enabling timely follow-ups.
Pipeline Management: Efficiently manage and monitor your sales pipeline, from lead inception to conversion, with intuitive visual tools.
Today Page: Offers a dynamic dashboard that offers a comprehensive overview of tasks, deadlines, and communication history.
13. Ontraport CRM
Ontraport CRM is another great small business CRM platform designed for those in professional services like accounting, finances, law, real estate, and travel. The platform allows these businesses to manage client records, customer concerns, email marketing, digital offers such as courses, memberships, subscriptions, and other sales automation workflows.
Being an email marketing solution, Ontraport offers full CRM capabilities. The best thing? The CRM capabilities on Ontraport are highly scalable and extensively customizable.
Ontraport CRM doesn't offer a free version, which might be disheartening to some users. However, it offers a 14-day trial and super-affordable paid plans.
Key Features:
Sales+CRM: Provides lead nurturing, pipeline visualization, and task automation, ensuring no opportunity is overlooked.
Marketing Automation: Amplifies customer engagement via behavioral triggers, segmented campaigns, and multi-channel strategies.
Pages+Forms: Crafts captivating landing pages effortlessly, coupled with customizable forms that seamlessly integrate with your CRM.
Payments: Optimizes revenue flow with integrated payment solutions and subscription management.
Membership Sites: Cultivates loyalty by offering exclusive member content, managing access seamlessly, and leveraging insights to refine engagement strategies.
Support: Deliver swift issue resolutions through a centralized ticketing system and empower users with a self-service knowledge base.
Migration+Setup: Ensure a seamless transition through expert data migration, personalized setup, and comprehensive training resources.
14. Apptivo CRM
Apptivo is a perfect CRM tool for small to midsize businesses (SMBs) due to its ease of use and reasonable price. It allows for easy, simple, and quick CRM, provides various customization options through its comprehensive feature set, and features outstanding granular security controls with equally excellent customer support.
Apptivo CRM features tools for lead management, an opportunity pipeline with intuitive dashboards, campaign management, marketing automation workflow tools, and integrated quoting to generate estimates from the pipeline and email professionally branded PDFs to customers.
Apptivo CRM has a starter plan that can be tried for free without hidden charges. Its paid plan starts at a super-affordable price similar to monday Sales CRM software pricing.
Key Features:
CRM: Offers robust contract management, sales tracking, and lead management, empowering organizations to nurture customer relationships.
Project Management: Facilitates seamless collaboration, task tracking, and project monitoring, enabling teams to execute projects on time.
Online Invoicing: Streamline your invoicing process with Apptivo's online invoicing, allowing you to create, send, and manage invoices effortlessly.
Web Help Desk: Empowers your customer support team with ticket tracking, issue resolution, and customer self-service options.
Expense Reports: Allows employees to submit expenses, track approvals, and provide real-time insights into expenditure patterns.
Field Service: Optimizes dispatching, scheduling, and task management for field teams, enhancing operational efficiency.
Procurement: Enables efficient vendor management, purchase order creation, and procurement tracking to streamline your supply chain.
Email Marketing: Empower businesses to design, automate, and analyze email campaigns, facilitating targeted communication.
15. Mailchimp Marketing CRM
Mailchimp is a name you sure would have come across if you researched email marketing software. However, you might not know that Mailchimp also provides a marketing CRM for small businesses.
Mailchimp CRM makes it possible to connect all your data through its ready-made segments, filters the audience via segments and tags, allows you to understand patterns in your data via the audience dashboard, and turns audience insights into action via automated messages.
This small business CRM software is best for a holistic view of your audience, organizing contacts, and building a personalized experience for every customer. A free version and a free trial are available, and pricing is on-point, starting at $11 per month per user.
Key Features:
One Dashboard: Offers a bird's-eye view of campaigns, customer interactions, and performance metrics, enhancing your decision-making efficiency.
Segmentation Tools: Allows you to meticulously divide your audience based on demographics, behaviors, and preferences, ensuring tailored interactions.
Insights: Provides actionable insights derived from comprehensive data analysis, enabling you to make well-informed decisions that foster growth.
Personalization Tools: Create bespoke customer experiences through dynamic content, driving engagement, loyalty, and brand affinity among your audience.
Mobile App: Allows you to manage campaigns, track performance, and oversee interactions while on the move.
Contact Management System: Centralizes communication histories, preferences, and engagement metrics.
16. Microsoft Dynamic 365 CRM
Built to integrate with Microsoft's other Office 365 offerings like Teams, Outlook, Excel & Word, this CRM offers mobile CRM apps and platforms, predictable pay-as-you-go pricing, and a financially backed service level agreement (SLA). The software also comes with API capabilities to help big companies to integrate it with other critical systems.
The Microsoft Dynamics 365 ecosystem has offerings ranging from lead and opportunity management, marketing, field service, IoT, customer service, mixed reality, and project service automation, allowing for a more frictionless engagement with your customers.
To ensure frictionless engagement, this CRM provides support for – lead and opportunity management, marketing to IoT, and from mixed reality to project service automation. Plans start at $65, but if you are a big business or enterprise, get ready to shell out as much as $95 per month per user.
Big names like Mercedes-Benz, Dow University of Health Sciences, L'Oreal, and New Zealand Trade and Enterprise, all power their CRM operations through Microsoft Dynamics 365.
Key Features:
Sales Insights: Provides actionable insights derived from advanced analytics, enabling more targeted customer interactions.
Mobility: Ensures seamless productivity by accessing critical customer data, sales information, and key insights anytime, anywhere.
LinkedIn Sales Navigator: Integrates with LinkedIn Sales Navigator, facilitating enhanced prospecting and relationship-building.
Email Integration: Streamlines your communication by integrating Outlook 365 for efficient email tracking and correspondence management.
Customer Service Dashboard: Offers a comprehensive dashboard that offers visibility into customer interactions and preferences.
Activity Log: A centralized activity log that documents all touchpoints and engagements, to ensure consistent, well-informed customer interactions.
Smart Search Feature: An intelligent search functionality that enables quick access to customer profiles, historical data, and relevant information.
17. Trello CRM
Trello, a web-based, Kanban-style, list-making application, is a versatile software that doubles up as CRM software. It comes with marketing and sales templates that allow you to create pipelines and manage customers.
We love how Trello offers extreme flexibility through its plethora of customization options, which gives you more freedom to tap into CRM functions. Also, using Trello CRM as a basic sales pipeline is pretty straightforward, which means you won't need to spend hours navigating here and there or figuring out things something that a small business in the growing phase (and tons of work) would surely appreciate.
Another great thing that makes Trello one of the best CRM for small businesses is its inexpensive pricing. It also provides a free version that allows you to create up to 10 free boards.
Key Features:
Views: a variety of customizable views that allow you to analyze progress, identify bottlenecks, and make data-driven decisions with ease.
Automation: Streamlines repetitive tasks and intricate workflows, thus liberating your workforce to focus on high-value activities.
Power-Ups: Seamlessly integrates their preferred tools through an extensive library of Power-Ups, fostering a unified work environment.
Templates: A myriad of user-friendly templates curated by industry experts to facilitate swift project kickoffs.
Integrations: Integrates with your existing toolset or explores new avenues for optimizing work processes, thus fostering a cohesive ecosystem.
18. Close CRM
While primarily designed for small to medium-scale businesses, Close CRM works equally well for large companies looking to turn more leads into revenue. This CRM provides tech-enabled teams with the right sales tools to scale without overpaying for enterprise software.
Close CRM is packed with productivity tools like task reminders and Power Dialer, which lets you email, call, and text your leads, all without requiring any add-ons.
If you are a large-scale business, we would recommend their Professional plan, which supports up to 100 users and comes with features including email and domain filtering, bulk email sending, email sequences, call recording, and a power dialer. No free version is available, but users can opt for the software's 14-day free trial.
Key Features:
Communication: Staying in touch a breeze with email tracking, SMS messaging, and call recording
Automation: Takes care of the repetitive stuff, like sorting leads and follow-ups.
Reporting: With Close CRM's easy-to-understand reports, you'll know what's working from sales numbers to team performance.
Integrations: Connect Close CRM seamlessly with tools you already use, like GSuite and Slack.
19. Octopus CRM
As a networking-cum-hiring platform, LinkedIn enjoys a special place in big corporations and enterprises. But improving prospecting and lead generation on LinkedIn isn't easy. All-in-one LinkedIn automation CRMs like Octopus are designed for the sole purpose of achieving the same.
This CRM software allows you to mass message (and auto-endorse) 1st level connections, auto-view hundreds of LinkedIn profiles per day, and send personalized connection requests in bulk.
What's great about Octopus CRM is its affordable plans. However, that's expected as the software is highly niche-oriented. The most expensive plan costs just $25 per month and comes with features like personal CRM with stats, auto-invitation, LinkedIn lead generation funnel, and others. Octopus CRM offers no free version, but a free trial is available, so one can use the software for a while before deciding to commit to one of its paid plans.
Key Features:
Personalized Connection Requests: Automates personalized connection requests on LinkedIn, initiating authentic relationships.
Email Connection Requests: Overcome LinkedIn's weekly invite restrictions by sending connection requests via email.
Bulk Messaging: Maximize engagement through bulk messaging to your first-level LinkedIn connections, enabling targeted communication.
Skill Endorsement: Showcase your genuine interest in connections by automatically endorsing up to 7 skills on their profiles.
Profile Visits: Demonstrate engagement and interest by automatically visiting hundreds of profiles, creating visibility and prompting reciprocity.
20. Notion CRM
Notion is a great all-in-one flexible CRM software for a small or medium-sized startup that needs to handle its spreadsheets, accounting, project management, and customer relationship management. Their CRM tool features convenient export features so you can move to whatever system you choose.
Notion's sales funnel gives you a clean canvas to define only the fields you need to track leads. You can keep notes on every touchpoint as each record has its own Notion page.
Notion CRM is available as a free-to-use software. Those looking for more comprehensive features can either opt for its Personal or Team plan, which is one of the most affordable in the CRM marketplace. Download Notion today if you are looking for great knowledge management software with in-built CRM.
Key Features:
Customizable Workspaces: Ability to craft personalized workspaces that align with your unique processes.
Centralized Information Hub: Consolidates customer data, communications, and documents in a single, easily accessible hub.
Dynamic Project Management: Efficiently manage tasks, projects, and deadlines within the CRM environment, ensuring projects stay on track.
Knowledge Base and Documentation: Offers a repository of valuable insights, documentation, and resources that enhance customer support.
Integration Flexibility: Integrates with various third-party tools and services to synchronize data and automate processes.
Visual Data Representation: Utilizes visual elements like charts, graphs, and Kanban boards to gain insights into sales pipelines.
Collaboration Enhancements: Encourages real-time collaboration among team members, allowing them to share updates, ideas, and feedback.
21. Shopify CRM
A CRM system for eCommerce can lead to improved relationships, admin task automation, and better cross-selling opportunities. That's why small eCommerce businesses relying on Shopify need to have a CRM installed.
Leading the way in the best Shopify CRM software is Hubspot, which was the first to publish its own specialized app for Shopify merchants for enhancing sales and marketing processes. Another equally great option is SendinBlue CRM, which has all the essential tools you might need to create and customize everything from email marketing campaigns to on-site chat campaigns.
We also recommend you to check out Freshsales CRM (a CRM designed specifically to help you track end-to-end sales journeys), Metrilo CRM (in one Ecommerce Analytics, CRM, and Email marketing platform), and Endear CRM (a cloud-based solution for cross-channel customer management).
Key Features:
Build An Online Store: Empowers you to craft a visually stunning and intuitive online store, facilitating seamless product displays.
Sales Channels: Expand your reach beyond your website through the integrated multi-channel capabilities.
Fast, Reliable Checkout: With optimized checkout process, bid farewell to abandoned carts as customers breeze through secure transactions.
Point Of Sale: Seamlessly integrate brick-and-mortar sales into your CRM ecosystem with POS functionality, enabling real-time inventory syncing.
Built-In Marketing Tools: Elevate your marketing game using built-in tools, ranging from email campaigns to social media integration.
Centralized Business Operations: Consolidate various business processes, from inventory management to order fulfillment, using a centralized dashboard.
22. Wix CRM
Wix is a popular website builder amongst small business owners due to its intuitive technology and powerful built-in features. That's why Wix offers a CRM (called CRM by Ascend) that allows managing customer relationships via contact forms and live chat.
Perfect for those who want to fully integrate their marketing efforts with their website, this Wix CRM comes with 16 marketing, customer management, and financial tools. The list of tools includes email marketing, social posts, a video maker, Search engine optimization (SEO) tools, website forms, a chat box, automation, workflows, site members, tasks and reminders, recurring payments, and pro marketing tools for targeted campaigns, A/B tests, and detailed customer insights.
The Wix CRM offers a free plan option with limited features, so we won't recommend its free version (at least to serious business owners). The prices for cheaper options are comparable to affordable email marketing providers, and to remove limits on emails, automation, and other marketing features, you need to purchase its top-end plan.
Key Features:
Wix Editor: Elevate customer experiences through dynamic content creation and tailored messaging, fostering meaningful connections.
Wix ADI: AI-driven insights to streamline and optimize CRM operations, enabling data-backed decisions that lead to tangible business growth.
Velo by Wix: Customizations to develop CRM workflows, applications, and processes that align perfectly with your organizational dynamics.
Wix eCommerce: Manage sales pipelines, track transactions, and nurture leads, ensuring a cohesive shopping experience.
Wix Bookings: Facilitates hassle-free booking interactions, allowing customers to effortlessly schedule appointments and services.
23. Airtable
Airtable, a popular data organizing and team collaboration tool, is not a full-fledged CRM but can be used as one due to its CRM-like data organization capabilities. For small businesses, it can act as a cost-effective alternative to CRM software, as it can gather sales information, determine your sales process, and format your database.
To start using Airtable as a CRM, firstly, review Airtable's pre-made templates for a multitude of purposes, like sales stages, opportunity names, and accounts. Then, gather your sales information, and define your sales process. After that, you would need to set up a CRM workspace by manually creating a base and importing sales data.
Once Airtable CRM is configured, you can use it to track sales activities such as introductions, follow-ups with prospects, and lead nurturing activities. All this can be done for free as Airtable CRM offers a free version, which comes with support for up to 5 creators or editors, unlimited bases, 2GB of attachments per base, and other features.
Key Features:
Interface Designer: Transforms raw data into actionable insights by crafting custom interfaces that mirror your unique processes.
Views: Dive deep into your data with a versatile range of views, from grids to calendars, to uncover patterns and make informed decisions.
Automations: Boost efficiency and reduce manual effort by setting up intelligent automations that seamlessly execute repetitive tasks.
Syncronizations: Create a unified data ecosystem by effortlessly syncing information across teams and tables.
Reporting: Translates complex data into actionable insights with reporting tools, to visually represent progress, trends, and performance.
24. Asana
Asana CRM is one of the best free CRM for small businesses, as its free version comes with unlimited tasks, projects, messages, and file storage, besides other Asana's standard features, including list view projects, board view projects, calendar view, mobile app, and extensive integration capability. The free version allows collaboration with up to 15 teammates a dream come true for any small business owner. Even its paid plans are super-affordable.
Another reason to opt for Asana is its extensive integration capability. It can integrate with cloud-based applications and iPaaS (Integration Platform as a Service) platforms. It provides native integration for over 200+ apps, including popular ones like Google Drive, Microsoft Teams, Power BI, Adobe Creative Cloud, Jira, and Zapier.
So, go for Asana CRM to streamline your intake, route pre-sales support requests, automatically onboard new customers, and deliver outstanding service and support to customers on time and within budget.
Key Features:
Asana Intelligence: Harnesses the power of AI-driven insights to make data-informed decisions.
Workflow Builder: Creates sophisticated automated workflows that synchronize your teams, ensuring seamless task execution.
Timeline: Construct visually appealing Gantt charts, providing a clear overview of project timelines and milestones in a matter of minutes.
Boards: Visualizes and monitors project progress using intuitive Kanban boards, allowing for agile task management.
Calendar: Provides a consolidated view of your team's activities through a shared calendar, promoting effective resource allocation.
Goals: Centralizes your strategic objectives and monitors progress within a single platform, ensuring alignment across teams.
Automation: Streamlines complex processes, minimizes errors, and allocates less time to routine tasks.
With the help of a few add-ons, you can also convert your existing tools into CRM software. Below are a few such platforms. Let's jump right ahead, and explore them all!
Also Read: iPaaS vs. SaaS
25. Google
It's no wonder that several small businesses all across the globe rely on Google apps like Gmail, Google Drive, and Google Docs. Doesn't that make you wonder if Google provides customer relationship management (CRM) software? If you pondered over it, the answer is no. However, don't let that disappoint you. There are tons of simple-to-use CRM options for Google users that offer robust integrations with Google's ecosystem.
But what are some leading Google CRM software to sync lead information, schedule appointments, and manage documents? Leading the way in that is Freshsales, which has been recognized as the overall best Google CRM by many reviewing websites. Other great Google CRM software are:
Zoho CRM (excellent CRM for Google users with extensive Google Workspace tools integrations), Agile CRM (best mobile-based Google CRM), and HubSpot CRM (a free forever CRM for Google Workspace users).
Other great options are Cooper (a CRM similar to using Gmail or other Google Workspace apps) and Salesforce Essentials (a CRM with Google apps and robust lead management tools).
26. Whatsapp
Many small businesses use Whatsapp for Business, but only a few know how powerful it can be to integrate a WhatsApp API account with a WhatsApp Customer Relationship Management (CRM) platform. Doing so can allow a WhatsApp instance to leverage information already contained in your CRM. Many popular CRMs, including HubSpot and Zoho, provide this functionality.
Or better, one can use dedicated Whatsapp CRM tools like TeleCRM to manage your entire team's business WhatsApp communications in one simple and unified platform. With a Whatsapp CRM like that, you can grab leads from Whatsapp chats, capture WhatsApp chats in CRM, manage them from a single dashboard, and run WhatsApp automation and chatbot.
27. Facebook
If you are a small online business owner, chances are you already have a Facebook page. The good news is that if you are the page admin and have leads access permission, you can connect a CRM system to your account through your Facebook Page to capture, communicate, and engage. Facebook recommends connecting to a CRM system as it allows you to access all of your new leads in one place and save business owners from the hassle of downloading a new CSV file each time they want to see their new leads.
There are many Facebook CRM software that provides both website traffic insights as well as features for tracking consumer behavior and social media ads management. Leading the way in that is Freshsales CRM, which we would call the best overall Facebook-CRM integration tool.
Other great Facebook CRM software are Zoho CRM (integrates with Facebook for social profile enrichment), Zendesk Sell (provides a Facebook CRM integration with extensive marketing tools), HubSpot CRM (great for integrating with the whole family of Facebook), and Salesforce (another great Facebook-CRM integration for robust analytics and reporting capabilities).
28. Gmail
It's no wonder that many small businesses usually rely on Google Workspace to communicate with their clients and customers. That's why they are better off investing in a Gmail CRM, as it would allow them to nurture clients and leads, boosting overall conversion and sales.
Gmail CRM (or Google CRM) brings powerful CRM functionality by directly integrating with one's inbox. One of the top Gmail CRM we recommend is Streak CRM it lives inside one's Gmail inbox for desktop or mobile (and comes with all the G Suite integrations), providing an organic extension of one's existing workflow. Another great choice is NetHunt CRM, which offers the familiar Gmail dashboard on the left of your inbox and comes with a second tab to transform it into a CRM.
In case you don't want to experiment with these not-so-mainstream CRM, you can go for HubSpot CRM, which offers a Gmail Chrome extension to help streamline its user workflow.
29. Outlook
Small businesses use Microsoft Outlook as a business-oriented email, contact, and calendar management tool. However, Microsoft has nothing called Outlook CRM to offer to its users. But with a few adjustments, you can easily convert Outlook into a powerful CRM tool to boost your sales results.
The best way to do it can be through Microsoft's Outlook Customer Manager, which makes it possible to automatically track all your customers' key details, such as emails, phone calls, meetings, notes, files, tasks, and deadlines, in a timeline right next to your inbox.
Another great way can be to use Prophet CRM, which provides client relationship management through Outlook. However, both solutions aren't comprehensive since they lack features like admin control, auto-dialers, link tracking, analytics, and automation tools. If you want features like that, go for Microsoft's full-fledged CRM: Microsoft Dynamics 365.
30. Google Sheets
Google Sheets is a popularly-used tool amongst small businesses, as it tracks projects, analyzes data, and performs calculations. That's why small businesses need a Google Sheets CRM template to organize their contacts and make data easy to filter and search through. This data can include a contact's name, company, role, social profiles and phone numbers, and past engagement records.
These Google Sheets CRM templates can be used for planning marketing campaigns, tracking tasks among team members, pipeline management, and tracking issues for every contact. While many customer relationship management tools for Google Sheets provide templates, some merely sync information between the platforms.
Top in the paid category is Copper a CRM system made entirely for G Suite, which comes with a Sheets template that connects with other Google Apps like Gmail, Calendar, Hangouts, and Slides. Another great one in the paid category is Pipeliner, whose CRM template for GSuite is a docs template. Under the free software categories, our favorites are HubSpot CRM for Excel & Google Sheets (Top Google Sheets CRM for sales tracking) and Onesheet CRM (Top free Google Sheets CRM).
Frequently Asked Questions
1. What are the drawbacks of not using a CRM Tool?
A business faces many challenges in workflow management and other aspects. Here are some of the drawbacks of not using CRM software:
Difficulty in managing & retrieving customer data
Challenging in migrating data from one application to another
Spending several hours on manual data entry or repetitive tasks
Missing upselling and cross-selling opportunities
Lesser means to assess and improve customer satisfaction
Required to juggle between multiple tools
Problematic internal communication and customer collaboration
2. What is the most popular CRM software?
Salesforce, with an approximate market share of 18% in the CRM category, is the most popular CRM software. The software provides (and delivers on) all the standard CRM features, excellent sales and marketing automation, and eCommerce tools for online selling. Other popular CRMs include Zoho, monday.com, HubSpot, and Zendesk.
3. What are best CRM software for small businesses?
Popular CRM tools for small businesses are HubSpot, monday.com, Notion, ClickUp, Asana, Airtable, Streak, Nutshell, Bitrix24, and more.
4. What are the best CRM tools for large businesses?
Some of the best CRMs for large enterprises are Salesforce CRM, Pipedrive, Zendesk as CRM, Octopus CRM, Close CRM, and Dynamic 365 CRM.
5 . Is SAP a CRM or ERP?
While SAP is an ERP, the ERP package module contains a CRM module. SAP's CRM module implements customized business processes and integrates with SAP and non-SAP systems.
6. What are the top 5 free CRM tools?
Zoho CRM, EngageBay, monday.com, Freshsales, and Hubspot are the top five CRM software that are free and come with a range of features, making them suitable for businesses of all sizes.
7. What are the 4 Ps of CRM?
The 4 Ps of CRM is a term coined for essential features of CRM, consisting of tactical and strategic marketing elements. Two expanded forms are usually used:
4 Ps of CRM Success: Planning | People | Process | Platform
4 Ps of CRM Success: Product | Process | Policy | People
8. What are the best paid CRM software?
Salesforce, Pipedrive, and Nutshell are the most preferred CRM software in the paid category, offering customizations and business scaling options.
9. How can CRM improve your business process in terms of sales & leads?
CRM can improve your business process in several ways. It can help with lead capture and compiles data on what type of contact they were (lead, inquiry, or sale). This information can then be used to optimize your marketing strategies and tailor future interactions accordingly.
10. How can I save my time using a CRM tool?
Here are some of the steps you can take to save time using a CRM tool:
Secure your data by implementing a user authentication tool
Choose a CRM that's straightforward to navigate
Pick a CRM that integrates with all your software
Segment your contacts for quick access
Implement marketing automation wherever possible
Go for a CRM tool that allows for easy and instantaneous editing
Create a to-do list to manage your team's daily tasks
Make use of project & event management modules