9 Effective Tips For Designing A CMS Workflow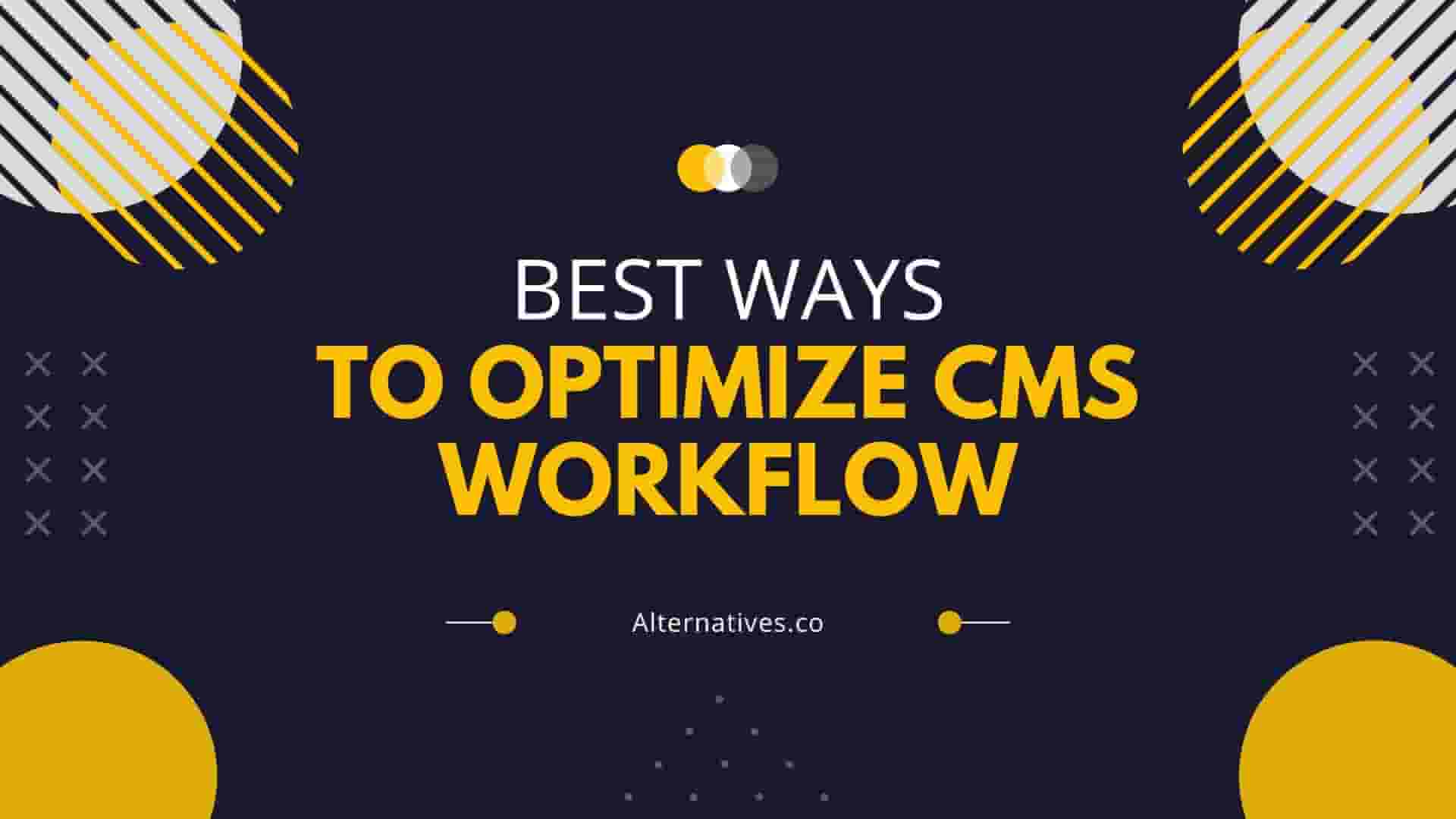 The content workflow of a corporation can make or break its marketing efforts. Almost every type of digital marketing effort is fueled by some form of content. Campaigns can be held back by missed deadlines, content irrelevance, or delays in the approval process, which can prevent them from succeeding or even getting launched in the first place.
On the other hand, a well-thought-out content management workflow ensures that your content is released on schedule, ensures that everyone involved in the content production process understands their job and what's expected of them, and establishes clear deadlines for your content projects.
In this article, we will share with you some awesome tips for developing your own CMS workflow, so you can keep delighting prospects and expand your business.
What's a Content Workflow? What are its benefits?
Content workflow in CMS are the processes that allow you to manage and publish your content in a systematic and organized way. This can help you to ensure that your content is consistently high quality, accurate, and up-to-date. Other benefits of a content workflow are:
Saves time by automating the process of creating, managing, and publishing content.
Improves the quality of your content by ensuring that it is consistent across all your platforms and devices.
Streamlines the process of managing your editorial calendar and workflow.
Increases the engagement of your audience by making it easier for them to find and consume your content.
3 Elements Of a Content Workflow
A content workflow has 3 elements: processes, tasks, and people.
Processes: How does content get from start to finish through the client, its partners, and onto the web?
Tasks: What tasks must be completed in order for the client's content to be useful, usable, and enjoyable to its target audiences?
People: Who is in charge of making sure the client's content is correct, timely, on-brand, consistent, contextual, and so on?
Best Tips for Designing Content Workflow in CMS
1. Build a great content strategy
Content strategy is the process of planning, creating, and managing the content that will be published on a website or blog. It includes developing an editorial calendar, choosing the right topics and keywords for your site, and determining how to market your content. Here are all the questions you should start with:
Who are your buyers or readers? (Create buyer personas' to uncover  customers' pain points, obstacles, challenges, and fears)
What sort of content worked for you in the past? (use analytics tool to discover winning and losing ideas)
What are your content goals?
What type of content would work the best for you?
Who would be responsible for planning, creating and governing content?
2. Interview content stakeholders
That includes content creators, editors, reviewers, approvers and anyone who interacts with content. Ask them questions like:
What's their current content creation and publishing process?
What are the aspects of publishing you find useful?
Which publishing aspects are problematic or painful?
Don't just talk about how they use the CMS; ask about their entire content publishing process. You may miss opportunities for your CMS to help stakeholders in new ways if the conversation is too limited.
When asking for useful and problematic publishing elements, make sure you take careful notes. You want to make sure that your CMS workflow keeps working processes and improves on the ones that don't.
3. Define individual roles and responsibilities
Now, you must identify and assign tasks to each individual involved in each stage of the content creation process after you've mapped out who's involved.
There are several individual content roles and responsibilities that need to be fulfilled in order to create high-quality content.
The writer: This is the person who comes up with the ideas for the content and writes it down. They should have good grammar skills and a knowledge of SEO so that their content can be found by more people.
The researcher: This person is responsible for finding sources for information and gathering data that will be used in the article or blog post. They should also have good research skills so that the information they find is accurate and useful.
The editor:This person makes sure that all the grammar, spelling, and formatting mistakes are fixed before the article or blog post goes live. They also make sure that all the links work properly and that there are no dead links included in the article or blog post.
The marketer:This person is responsible for generating traffic to the website or blog through marketing campaigns such as Google AdWords or Facebook Ads. They should also be knowledgeable about email marketing so that they can send out newsletters to their subscribers regularly.
Depending on the organization, there may be other roles too including Content Strategist, Subject Matter Expert, UX & Testing, and more.
4. Set Clear & Realistic Content Deadlines
Setting clear and realistic deadlines will help you stay on track and avoid feeling overwhelmed. It will also help you to meet your goals more easily. Here are all the factors to consider when coming up with a deadline.
Go through this guide to get an estimation of how long it takes to create different types of content.
Consider your team's expertise.
Estimate how long it took you to complete content projects in the past.
When setting deadlines,
Set a deadline for each objective, and make sure that the deadline is realistic and achievable.
Make sure you have a well-defined content strategy in place, with each assignment specified and each team member knowing exactly what is expected of them.
Regularly check your progress against the deadline, and make necessary changes if necessary.
Consult your team members and others involved in the content development process to ensure that the deadlines you're establishing are acceptable and reasonable to them.
Celebrate when you reach the goal!
5. Map Out All the Tasks in Your Content Creation Workflow
When defining publishing tasks, consider the big picture first, then the details. Take a look at your entire content ecosystem before diving into the details.
Begin by listing all of the tasks that must be completed for a piece of content to progress from conception to publication.
Tasks will differ depending on the type of content being distributed. Storyboarding, filming, editing, revising, obtaining approval, finalizing, and publishing video content, for example, may be required. A LinkedIn post, on the other hand, requires fewer tasks, so the workflow might look like this: drafting, editing, approval, and publishing.
To find out all the tasks involved in your CMS workflow, ask:
Where does my content start and end?
What's my content ecosystem?
It's difficult to comprehend the relationships between different tasks without first putting them into context. To assist you, create a visual task flow chart of your CMS tasks. When you start mapping out your tasks in this way, you'll notice that you're missing steps. Ask:
After each step in the publishing process, what do I need for the next step to begin?
What are the dependencies for each task? (e.g What needs to happen before step 3 or 5 can begin?)
Creating a task map can be an eye-opening experience that leads to rethinking CMS workflow requirements. It may even prompt you to reconsider the viability of existing content strategy policies and processes.
6. Integrate content planning tools into your CMS workflow.
Although the focus of this post is on CMS workflow, as I previously stated, you cannot overlook the broader content strategy requirements. Web publishing entails more than just filling in fields and pressing the "next" button. Because content is complex, ensuring consistency and clear communication necessitates the use of a larger set of tools, such as brand guidelines, editorial calendars, and style guides.
So, instead of treating these tools as separate entities, let's bring them into the fold. Do you have file naming conventions, editorial style guidelines, file format standards, and page layout standards? Do you have any guidelines for writing for the web? Make them a part of your CMS workflow by including them in your back-end CMS templates. Checklists for content editing, metadata, links, SEO, and other content requirements should also be included.
There are many content planning tools that can be integrated into your CMS workflow. Some of the most popular include:
CoSchedule: This tool is perfect for managing all your content marketing tasks, from creating and publishing articles to tracking social media posts and tracking website analytics.
Hootsuite: Hootsuite allows you to manage all your social media accounts in one place, including Twitter, Facebook, LinkedIn, Google+, and Instagram. This makes it easy to post updates and track the performance of your campaigns.
BuzzSumo: BuzzSumo is a tool that helps you find the most popular content across different social media platforms. This can help you determine which topics are resonating with your target audience and create content around those topics.
7. Have a trusted employee oversee each stage of your content production process
The next and most crucial step is to enlist the help of a reliable third party to oversee each stage of the content creation process.
A senior member of your team, such as a project manager, a senior marketer, or a content manager, could be the person you turn to for this task. It's critical that whoever you entrust with this task understands who's involved in each stage, what each individual's responsibilities are, and what the expected timelines are for each stage of the content creation process.
This knowledge will assist your project supervisor in quickly communicating and resolving any issues, bottlenecks, or process issues that arise. This person would also be able to provide feedback and suggestions on how to improve the quality of your content, as well as resolve any team disagreements.Â
8. Maintain a standardized process while allowing for some flexibility
Yes, this is a common trait of successful content marketers. They have a standardized content process, but they also leave room for flexibility so that they can adapt to the ever-changing landscape of online marketing.
A well-planned and executed content strategy is essential for any business, but it's even more important when you're constantly evolving and changing your tactics. That's why flexible content creation allows you to keep up with the latest trends and adjust your approach as needed.
It's important to remember that a standardized, well-organized content production process in which everyone involved understands their roles and responsibilities aids in:
Ensuring that each stage of your content creation is completed on time.
Reduces the likelihood of bottlenecks forming.
Assists in ensuring that each piece of content you create achieves its goals and objectives.
Regardless of whether you have a standardized process in place, the tasks and individual objectives for each stage of your content creation process may vary depending on the type of content you're producing.
If you're creating different types of content on a regular basis, you may need to adapt your process on a regular basis. Keep this in mind when defining your content strategy and content creation process, and leave room for some flexibility.
This type of approach not only helps you stay ahead of the competition, but it also keeps your audience engaged and interested in what you have to say. In other words, it makes your content both relevant and valuable.
9. Test your CMS workflow
Okay. So you researched CMS stakeholder needs, defined roles, conducted a task audit, created a task analysis map, and even added training documentation and content checklists to make your CMS more useful. Phew! It's now time to put everything to the test.
Allow your CMS users to put your workflow to the test by having them complete their tasks. Gather feedback from them on what they like and don't like about the new process. Make adjustments where necessary. It's critical that your workflow gives all of your users a pleasant experience.
Real-time scenarios must be accommodated in your CMS workflow. Begin by assigning common — and uncommon — tasks to authors, editors, and other CMS user-roles. Consider this a reality check to ensure that your CMS workflow is practical, usable, and long-term. Do you have a group of students who are responsible for updating calendars and uploading photos? Do you have someone who updates the news and events section and creates new pages? All scenarios should be tested.
Involving stakeholders in the testing process not only ensures accuracy, but it also gives them confidence that the workflow will meet their needs.
Bottom Line
A content management system (CMS) is merely a tool. It's up to you to figure out how to make it work for you.
Including stakeholders in the planning process and ensuring that it meets their needs as well as yours is the key to gaining support for CMS workflow. Starting the planning process with your CMS user guide is a bad idea. Begin with your content plan. Begin by identifying your stakeholders. Begin by determining what you need it to do, and then create a CMS workflow to make it happen.
The CMS workflow promotes accountability by encouraging people to take ownership of their work. It guards against misunderstandings about who is in charge of what and where content is in the publishing process.
Finally, a CMS workflow may not be the best option for every situation (in fact, some people don't use a CMS at all, which is terrifying). Perhaps you have a successful offline editorial process. However, you can only figure out which option is best after going through a workflow planning process. There are valid reasons for not using CMS workflow, but they must be well-founded.
Do you use or have you considered using a CMS workflow? We would love to hear from you. Also, do you have some tips and tricks we may have missed? Comment down below and let us know.