How To Get A Free Email Domain?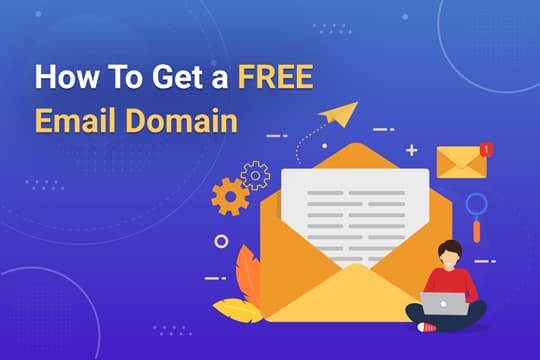 Free email domains can help you start your own business and personal online presence. There are many options available for free email domains, but not all of them are secure or reliable. Some companies sell fake domains in order to lure unsuspecting users into handing over their money. But if you want a secure, reliable email address that will actually work when it comes to sending out emails, then you need to check out these options.
Mail.com
Zoho Mail
IONOS by 1&1
Best For

Freelancers,

Small Businesses

Professionals,

Large Scale Business,

Small Business,

Startups

Free Hosting/Domain
✓
✕
✕
Free Email Domain
✓
✓
✓

Create Custom

Email Domain

✕
✓
✕

Free Email

Domain Names

200+
–
–
Ad-Free
✓
✓
✓
Data Storage
2GB
5GB
2GB
Attachment Limit
Up To 100 MB
Up To 25 MB
Up To 70 MB
Email Address Limit
10
Unlimited
1
What is An Email Domain?
An email domain is the part of the address that comes after the @ symbol, in simple terms. If your email address is simonpeter@simonsbusiness.com, for example, the email domain is simonsbusiness.com. The most interesting aspect about email domains is that they allow you to have a completely unique email address that includes your company name or any other expression, phrase and word you want.
Why Does One Need A Business Email Address?
In the day and age of information, speed and convenience are key factors in business success. Businesses need to send emails at a moment's notice, in order to stay connected with customers, vendors, employees, etc.
Here's why one would need a business email address:
Businesses regularly make use of professional email addresses to establish their identity and differentiate themselves from other businesses.
A business email address, births confidence and boosts your potential to reach out to new customers.
It makes your business emails stand out from the crowd and be noticed by everyone who receives them. Creates and builds an identity for your brands.
A business email that includes a logo or branding message can help increase your brand awareness as well as prompt responses from potential clients.
Helps communicate with customers, clients and colleagues.
How To Create A Free Email Domain?
Method 1: Create A Business Email Domain With Mail.com
Mail.com is a web portal and web-based email service provider that allows its users to log into their accounts with their computers, tablets, or smartphones. The company offers a communication interface that allows users to send and receive an email, read email and access their online email account through a smartphone by downloading the application. The company provides free and premium services and plans to its customers ranging from its free web portal and webmail service to custom email management solutions. However, it should be noted that the platform will not allow sending and receiving of emails via Gmail, Outlook, etc. You will have to log in to Mail.com whenever you want to use it. Using Mail.com, you can customize your domain that perfectly fits your personality, lifestyle, location, profession, etc, and create an email address that can make you stand out from the rest.
Mail.com is the best option if you want a completely free email domain without having to buy your own web hosting and/or domain name. However, you won't be able to create a custom email domain with this method, it's not the best option for established businesses. However, if you're a freelancer or just getting started and don't mind using a generic domain name, it might be the best option for you.
Mail.com allows its customers to choose from over 200 domain names and offers domains featuring a variety of professions or specific by industry – from teachers.org to accountant.com. Things like @graphic-designer.com or an @alumnidirector.com address, @programmer.net email, @tech-center.com, and @cyberservices.com are available too and these are completely free of cost and maintenance. You can also create and manage about 10 email addresses in a single work email inbox.
What We Like About Mail.com?
No more email clutter: Helps you keep your inbox organized and clean by consolidating all of your emails into one single inbox.
Manage your time better: This allows you to manage multiple accounts with just a few clicks, so you never miss an important message again!
Secure and reliable web-based email account: This allows you to access your emails from any device or browser, including smartphones and tablets.
Free service: Mail is free to use for all users of the website, regardless of how many emails they send or receive each month (although there are some limitations).
Easy-to-use interface: Has an easy-to-use interface that allows you to access your account in just a few clicks.
Method 2: Create A Business Email Domain With Zoho Mail
With a fully managed webmail solution, Zoho Mail gives you access to all of your email accounts in one place. You are not limited to just one account with Zoho Mail. You can create multiple email addresses across your mailboxes and have the same access to your email wherever you go – from anywhere!
If you already have a domain name, you can use this platform to get a free email address with your domain name. Those who do not have a domain name can get a free email domain by purchasing one through Zoho Mail. You will, however, need to upgrade if you want more advanced email features. The platform offers a Forever Free Plan that allows up to 5 users and has a 25MB attachment limit. Go to Zoho Mail's pricing page and scroll down to the Forever Free Plan to get your free email domain. It'll be near the bottom of the paid plans.
What We Like About Zoho Mail?
1.. Excellent spam protection: Filters out junk emails before they reach your inbox
Easy-to-use interface: This makes it easy for anyone to use this software without any hassle.
Secure and reliable: With end-to-end encryption, you can be sure that your data will always remain secure when using this application!
Easy management of contacts: In addition to sending an email, you can also manage all your contacts with ease using this fantastic product which offers full contact management
Fast delivery: Offers fast delivery of messages, gets things done in seconds.
Method 3: Create A Business Email Domain With IONOS
If you're looking for an email hosting service that doesn't cost a fortune and still offers the highest performance, look no further than IONOS. It is a popular web hosting platform that is best for small businesses and startups. It offers low-cost email hosting plans that include a free email domain, starting at just $1 per month. It is 100 percent secure and allows you to sync all of IONOS's email products across all of your devices. You can get a domain name with your desired extension and matching domain name. IONOS is one of the few companies that provides a free email migration service. For businesses that do not require web hosting, this platform is a good option.
To get started, visit IONOS and finish the registration process to receive a new email hosting account. Once done, you will be asked to choose a domain name of your choice. Navigate to 'Email and Office' and then click 'Create Email Address.' Enter inputs – email/username, password, and security options and click 'Save.'
What We Like About IONOS?
Low-cost email hosting plans: IONOS offers ultra-low-cost web hosting and email services with a free domain.
Great customer support: Offers 24/7 live chat, phone support, and an online knowledge base to help you get the most out of your website or eCommerce store.
Affordable prices: Low prices are designed for small businesses who need reliable web hosting at an affordable price without sacrificing the quality service or features that larger companies require.
Fast, reliable service: Offers the fastest and most reliable web hosting services.
It's super easy to set up: You can get started in minutes without having to worry about anything technical.
Bottom Line
Using your personal email address for communicating with customers doesn't help you build a reputation as a professional. In order to save money and time on maintaining a professional email address, many businesses are opting for free domain names instead of paying for an expensive professional domain name. However, if you want to spend more for an email domain, we would suggest you use DreamHost, BlueHost, AOL Mail, Outlook, and Gmail.
Other important things to consider after setting up an email domain, are to create a professional signature, get a WordPress website, send email marketing campaigns, etc to generate leads and grow your overall business.
FAQs
1. Should I Get A .com Domain For My Business?
Yes, you should consider getting a .com domain for your businesses. This is the most popular choice of businesses all over the world. However, due to its huge popularity, it is now difficult to get a .com domain. If you can't find a .com domain for your business, .io, .org, and .store are the other top domains you can buy.
2. What Are The Best Email Domain Platforms To Consider?
There are hundreds of platforms that are offering email domains to customers, both free and paid. However, as per Forbes, DreamHost, SiteGround, A2 Hosting, Zoho Mail, Google WorkSpaces are the best and top email domains to consider.