12 Best AI Content Detectors Online (Free+Paid)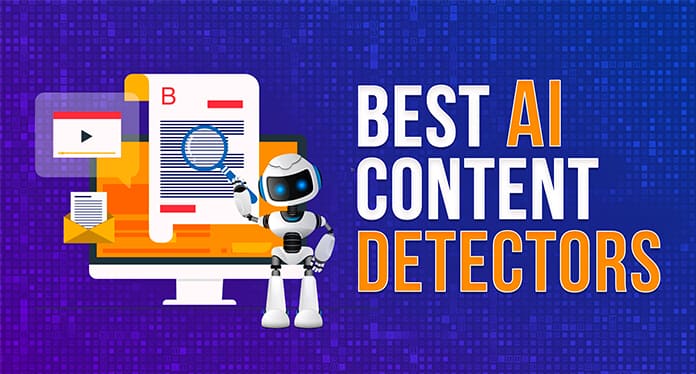 In this fast-paced digital realm we find ourselves in, where information is just a mere click away, safeguarding the authenticity and originality of written content has taken center stage. Whether you're an educator, a content creator, or a business owner, detecting plagiarism and maintaining the integrity of your work is of utmost importance. Fortunately, the advancements in artificial intelligence (AI) have paved the way for the development of AI content detectors, powerful tools that can quickly and accurately identify instances of copied or plagiarized content.
In this blog post, we have put together a comprehensive list of the best AI content detectors available online, both free and paid. We have tested each of these tools rigorously to assess their accuracy, features, and overall performance. So, whether you're a student looking to avoid unintentional plagiarism, or an educator seeking efficient detection methods, or a professional wanting to protect your intellectual property, this article will serve as a valuable resource in finding the right AI content detector for your needs. Let's dive in and explore the top AI-powered solutions that will help you maintain the originality and integrity of your written work.
List of The Most Efficient AI Content Detection Tools
1. Originality.ai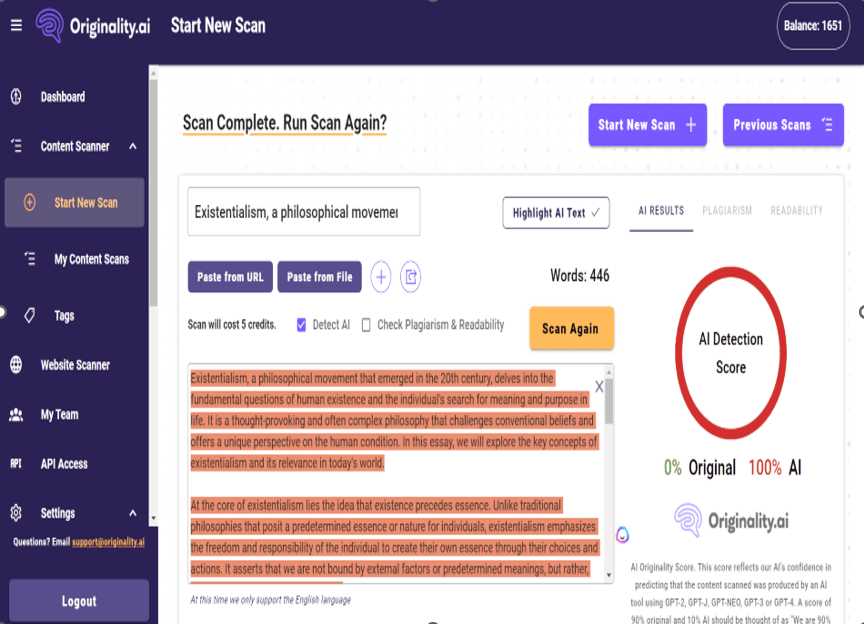 The list had to start with Originality, which has now become one of the most widely used AI content detection tools. It claims to be the most accurate detection tool with an accuracy rate of 99%. It specializes in detecting ChatGPT and ChatGPT-4 based generated content. It also has some notable names on its client list showcased on the website. What's more is that Originality also has its own chrome extension which comes very handy while browsing the web.
Key Highlights:
Dependable and widely used AI Content Detection Tool.
Option to add unlimited team members within your account.
Does not offer neither free checks nor a free trial period.
Predicts AI text from tools like ChatGPT, NEO, GPT-J, Quillbot, GPT-4, GPT-3, GPT 2, etc.
Pricing: 0.01$ per 100-word scan.
2. ContentAtScale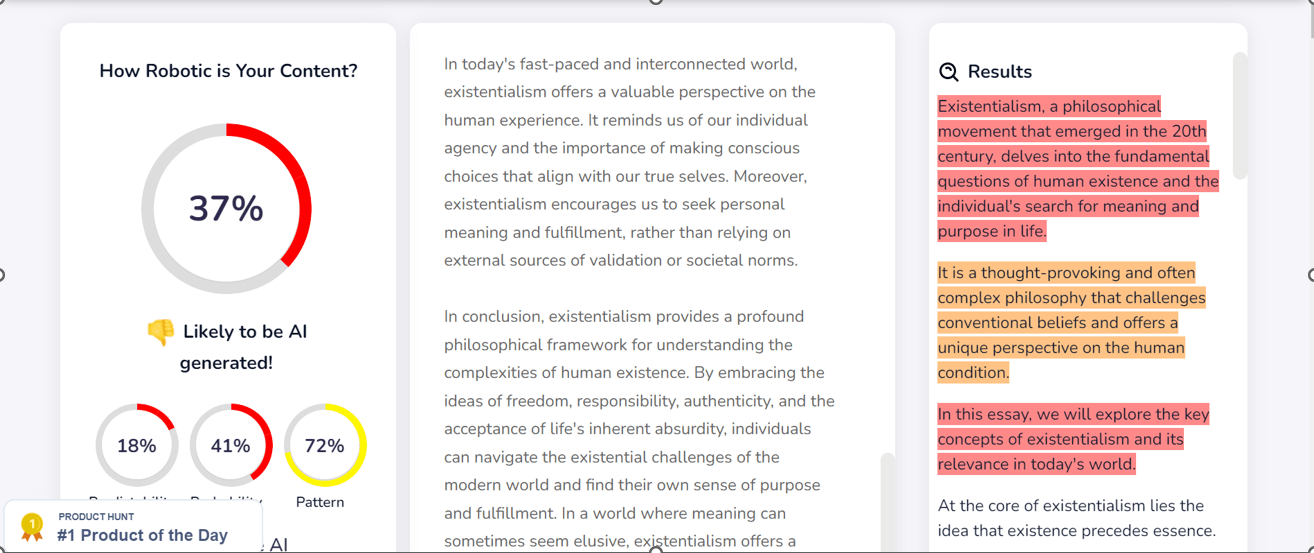 Content At Scale is another tool we would highly recommend, not only because it provides free detection checks of up to 25000 characters, but also because it too is a widely used AI content detection tool. Content At Scale also dabbles with AI content generation and SEO optimization, so that makes it sort of a subject matter expert in the field of AI driven content. Besides this, the platform is also popular for offering the best AI long-form content creation tool that generates content with ease. There are lot of Content At Scale Alternatives available in the market which you must try.
Key Highlights:
It checks for all versions of GPT, including GPT-4.
Option to use API on request.
Detection stats are only offered in overall percentages. Cannot yet highlight key sections of AI generated content.
Pricing: No specific pricing for AI content detection. Rather offers a premium plan starting 150$ which delivers a variety of extra features in AI content creation, detection and SEO Optimization.
3. Winston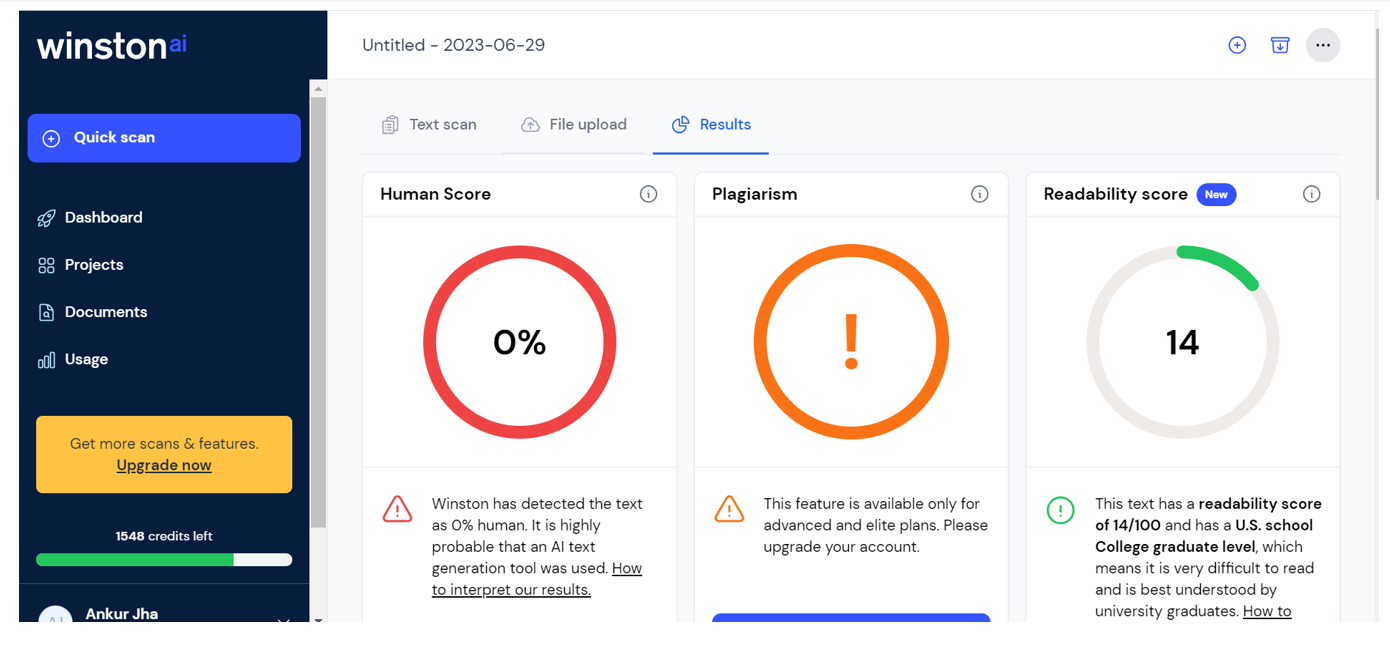 Winston too has recently emerged as a formidable name in the early stages of AI content detection. Its accurate AI evaluations which include parameters like sentence-to-sentence AI pattern recognition as well as over AI detection score make it an ideal option for education institutions to include in their academic assessment procedures. On top of that, not only can you upload files in .word and .pdf, but Winston can also scan photocopies of written text! Now that's a nice party trick up its sleeve.
Key Highlights:
Variety of ways to evaluate your text.
Scans and highlights heavily AI generated content in specific sentences.
Great AI detection tool but only offers 2000-word count free scans.
Pricing: Paid plans at Winston begin at 12$ per month. They also offer customized plans tailored to bigger clientele's requirements.
4. Writer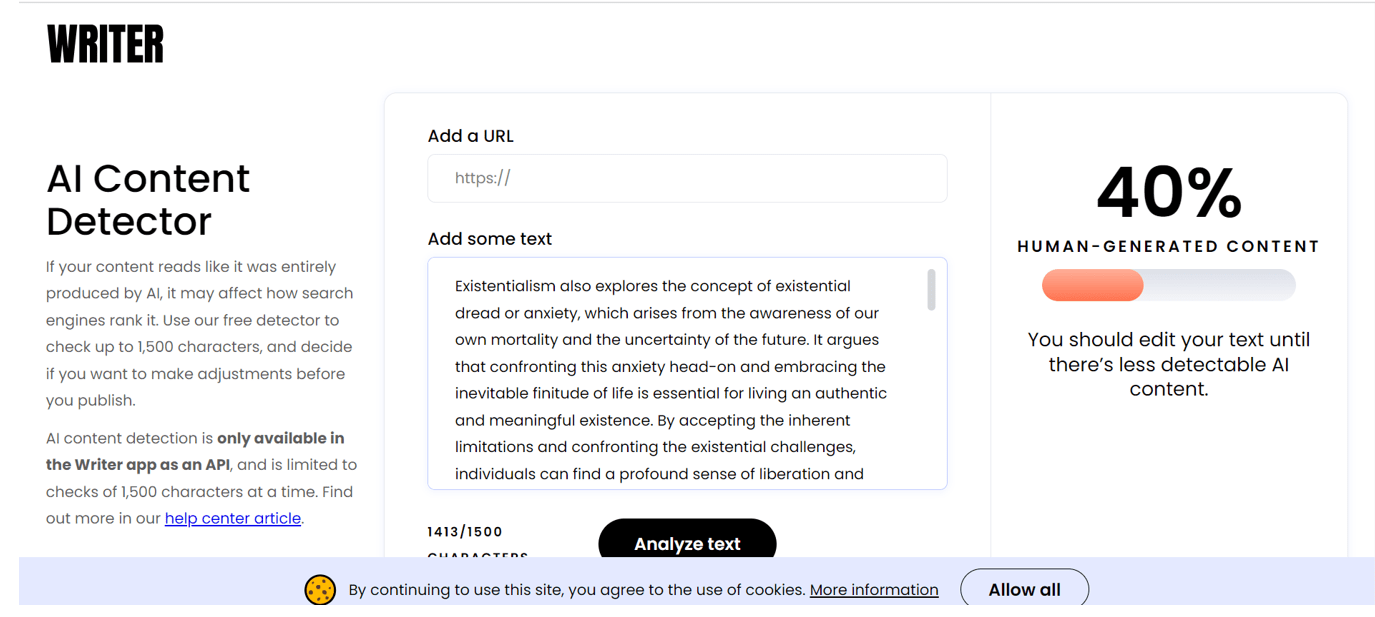 Another popular name in the field of AI generated content. Like a few other names on this list, Writer too is a complete AI content related tool and offers a range of AI writing solutions, which includes AI content detection. Although it can be seamlessly used by an individual, Writer mainly focuses on customers who are enterprises and are looking for bulk content management solutions. Although we could only scan around 300 words and the accuracy rate was only 40, which was way off out mark.
Key Highlights:
Plug in extensions for Figma and Chrome.
Multiple Style Guides embodying editorial standards, will come in handy to modify content if detected as AI written.
Could improve accuracy and free scan limit of only 1500 characters, which is around 300 words.
Pricing: Team Plans start at 18$ per month whereas you need to contact support for enterprise plans.
5. Copy Leaks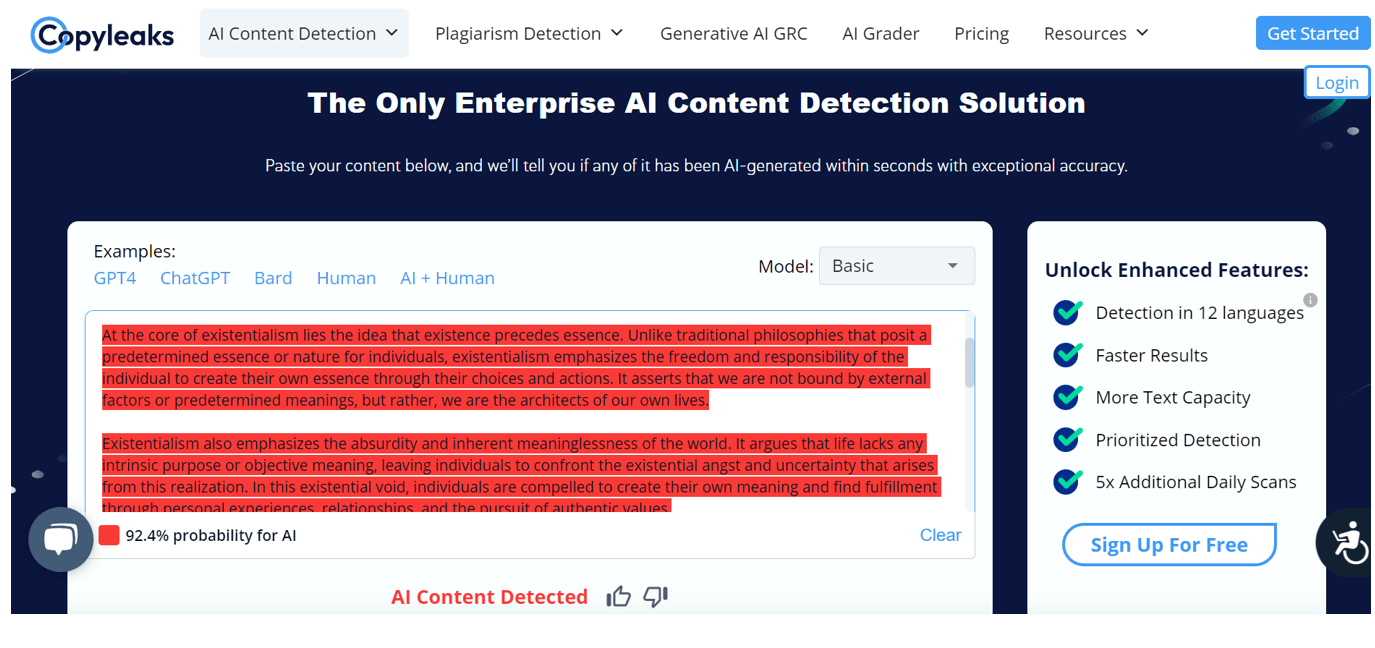 Copy Leaks is a tool dedicated solely towards plagiarism and AI content detection and the protection of original content. It has a substantially notable client list displayed on its website which includes names like the United Nations, Medium, Dictionary.com and prestigious institutions like The University of Edinburgh and Oakland University. Copy Leaks can detect AI written text from GPT-4, ChatGPT and also BARD.
Key Highlights:
Reliable AI Content Detector which also offers API and LMS integration along with a chrome extension.
Supports AI content detection in up to 12 different languages.
Although it includes all NLP models, which gives a highly accurate prediction, it fails to showcase a specific metric of AI written content for a detailed review.
Pricing: Offers a free trial initially, after that various individual and enterprise plans based on the number of pages range from 10$ a month to upwards of 500$ a month.
6. Sapling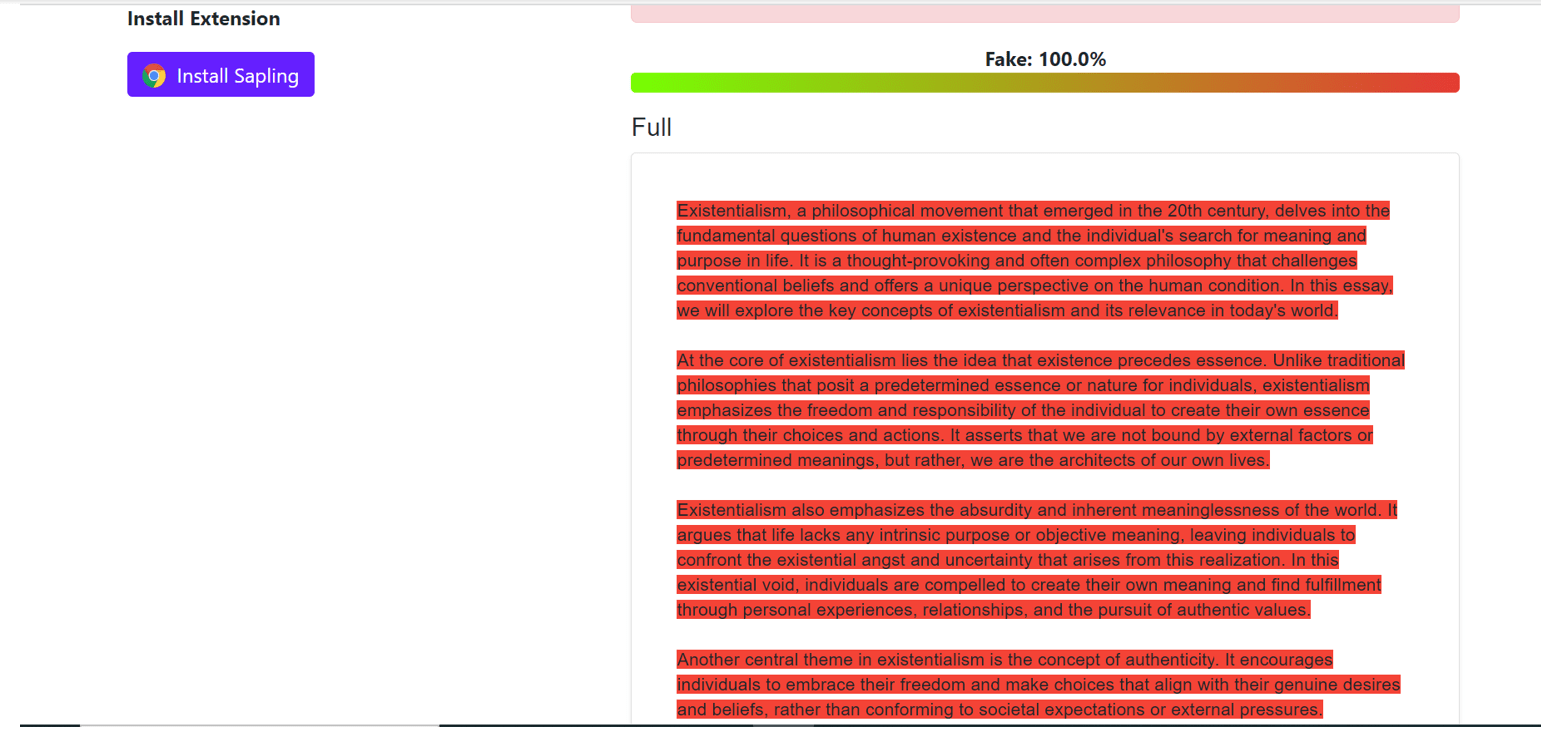 Sapling is a very efficient customer-support solutions provider using AI. It has also recently introduced an AI detection tool, which I must say, is pretty accurate. In our test run it detected AI with a 100% accuracy score. Although primarily Sapling focuses on providing unmatched grammar, auto complete and chat assistance for customer support, its latest AI detection offering too has scored very well in terms of reliability. And the best part? Its AI detection tool is completely free of cost with no words limit. And you don't even need to sign up to its entire solutions service to use it!
Key Highlights:
Free of cost and unlimited word limit detection scans for now.
API integration with Google Docs, Microsoft Home along with Chrome extension.
As a complete AI content tool is suitable to people looking to operate beyond the field of customer support.
Pricing: Free AI content detection. Complete AI content pro plans start at 25$ a month.
7. GPTZero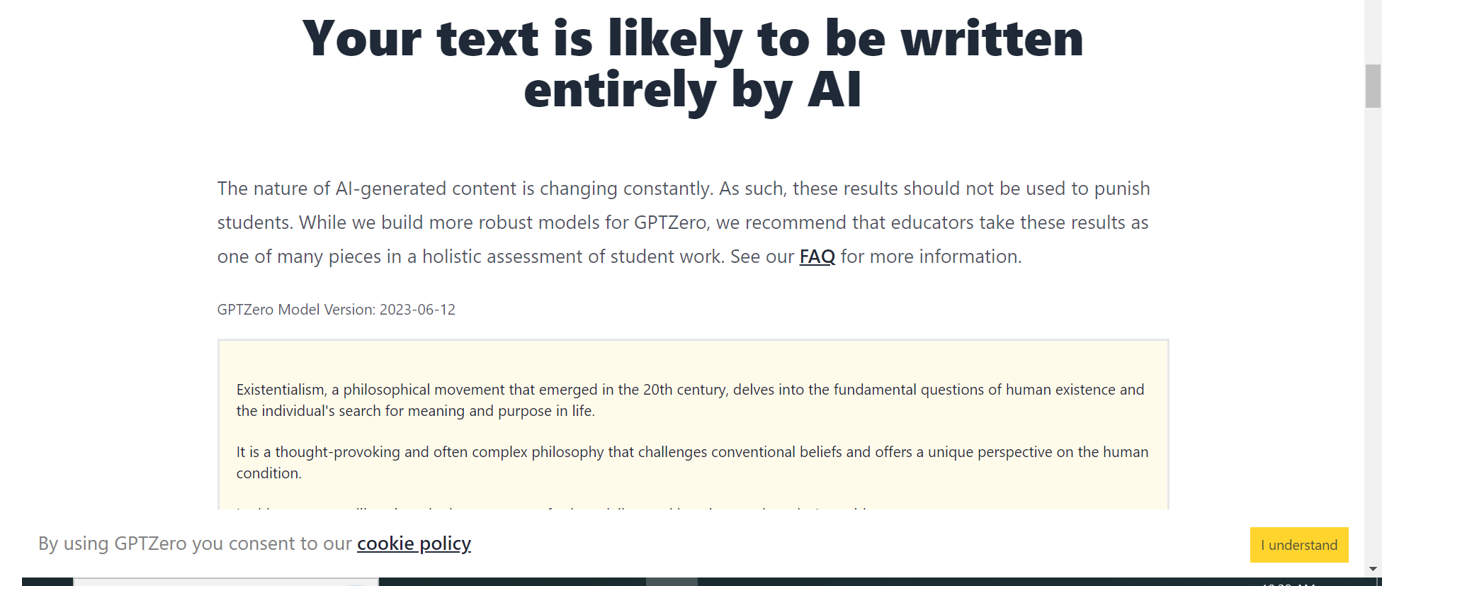 Started by a 22-year-old Princeton student, Edward Tian in a coffee shop, GPTZero is another great, free for all AI content detection tool which, according to its website, aspires to be the global standard of AI detection. And it seems to be in the right direction towards achieving that goal. After gaining quick popularity as a free for all tool, it recently updated and added new AI models and can now detect text written by GPT3, GPT4 and BARD. GPTZero has also been featured on BBC, WSJ, NYT and The Washington Post to name a few. All in all, this is a tool to look out for in the future.
Key Highlights:
A very easy to use user interface and has been hailed widely.
Multiple API integration options though they are through an access waitlist.
Although it highlights key sentences which are more likely to be written by AI, this feature is only available as a GPTZeroX feature. In order to access this, you will have to get verified as an educator.
Pricing: Completely free of cost for its basic features. Requires verification after that.
8. GLTR
The Giant Language Model Test Room (GLTR) has been designed through the collaboration between MIT-IBM Watson AI lab and HarvardNLP specifically dealing with GPT-2 model. Although it highlights the fact that it hasn't been trained on detecting the later models of ChatGPT, it still is reliable when it comes to analyzing already published online data based on GPT-2 models. Hence, we recommend you use this only for GPT-2 based texts.
Key Highlights:
It has a very scientific and analytic way of detecting and decoding AI written language.
Has the backing of the strong minds of IBM and Harvard.
Its main highlight of detecting GPT-2 specific text also makes it, it's only limitation as the latest models might go undetected by it.
Pricing: Free of cost.
9. Open AI Text Classifier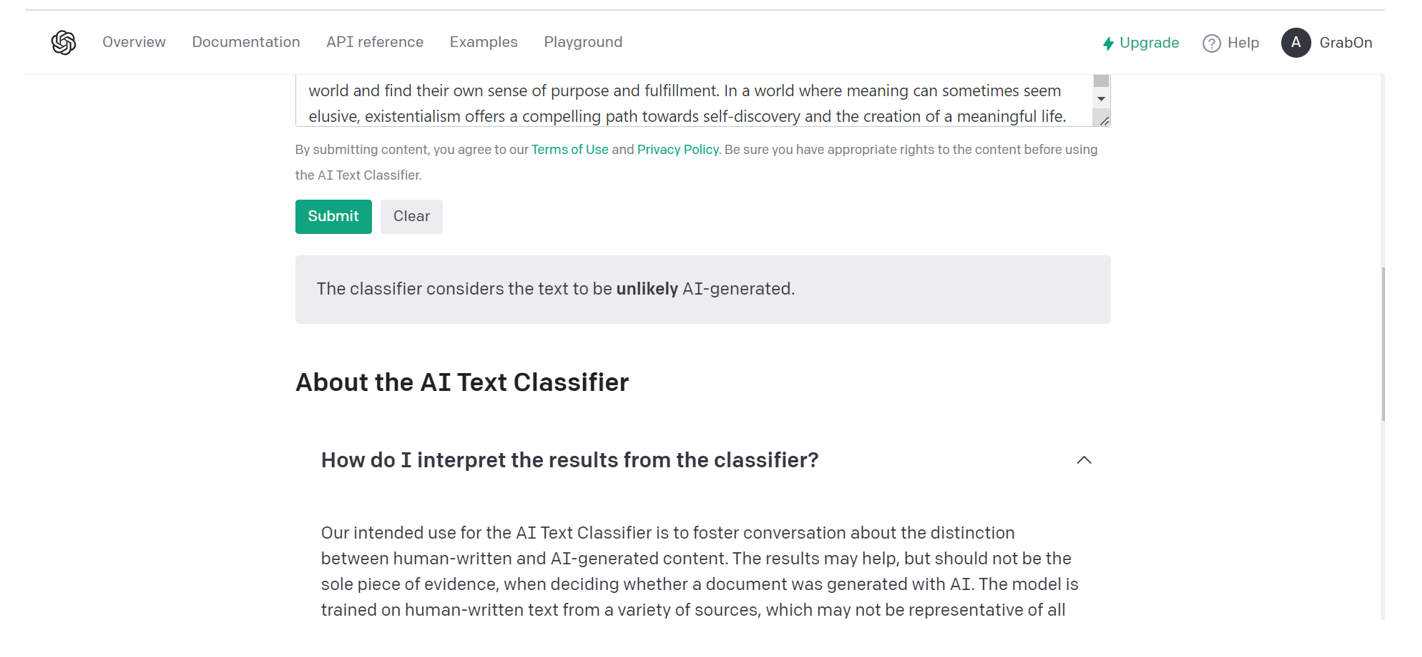 This one has been made by the makers of ChatGPT itself. So, it must be the most reliable AI content detection tool out there, right? Wrong. AI content detection is a much more complicated game than AI content creation. And this stands true for Open AI's detection tool as well. Although it is fairly okay at detecting texts which have been generated using AI, we have observed that its accuracy rate, surprisingly lower than the rest of its counterparts on the list. In fact, in our first test run, this is the only AI detector which failed at recognizing ChatGPT generated text! Now how weird is that? However, we definitely recommend you check this tool out as constant upgradations from the mother company of Gen-AI itself might make it the most accurate tool out there in the future.
Key Highlights:
Made by the same people who made ChatGPT.
Might be the first to have access to future language models and consequently have an advantage over its competitors.
Has a lower accuracy rate compared to others.
Pricing: Free of cost.
10. Cross Plag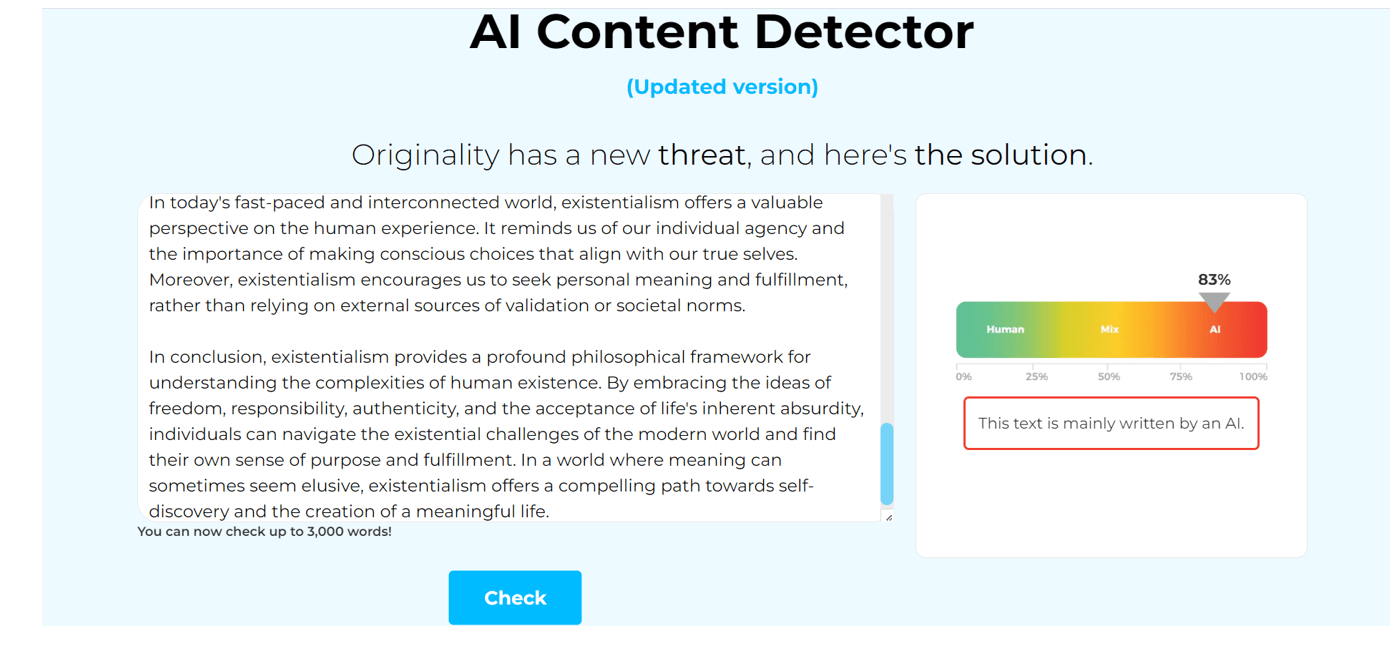 Crossplag is a fairly new entrant in the domain of AI content detection, but a highly accurate one at that. In our test run, it accurately predicted our 500-word ChatGPT written text input with 83% AI written prediction. Which would make it an ideal, free of cost solution for individual tutors or teachers looking to gain some insights into the texts at hand, although these results shouldn't be the only metric based on which the assessments should be made.
Key Highlights:
Claims to support AI detection in over 100 languages we are yet to test all 100 though.
Good to check texts below 1000 words free of cost.
Does not specify the parameters it internally considers while checking for AI content.
Pricing: Free for the first 1000 words. After which it has pay-as-you-go plans starting from 10$ for 5000 words up to 150$ for 100,000 words and the option to get a quotation for a bigger customized plan.
11. Writefull

Writefull is an innovative platform that offers a comprehensive suite of AI-based tools designed to support scientific and academic writing. One of its standout offerings is the AI content detector that leverages advanced artificial intelligence technology to determine if a given text has been generated by AI models like GPT-3, GPT-4, or ChatGPT. We've tested out this free tool, and it did a pretty good job.
Key Highlights:
It is a completely free ChatGPT detector.
Offers an API access on request to the GPT Detector.
Pricing: Free
12. AI Writing Check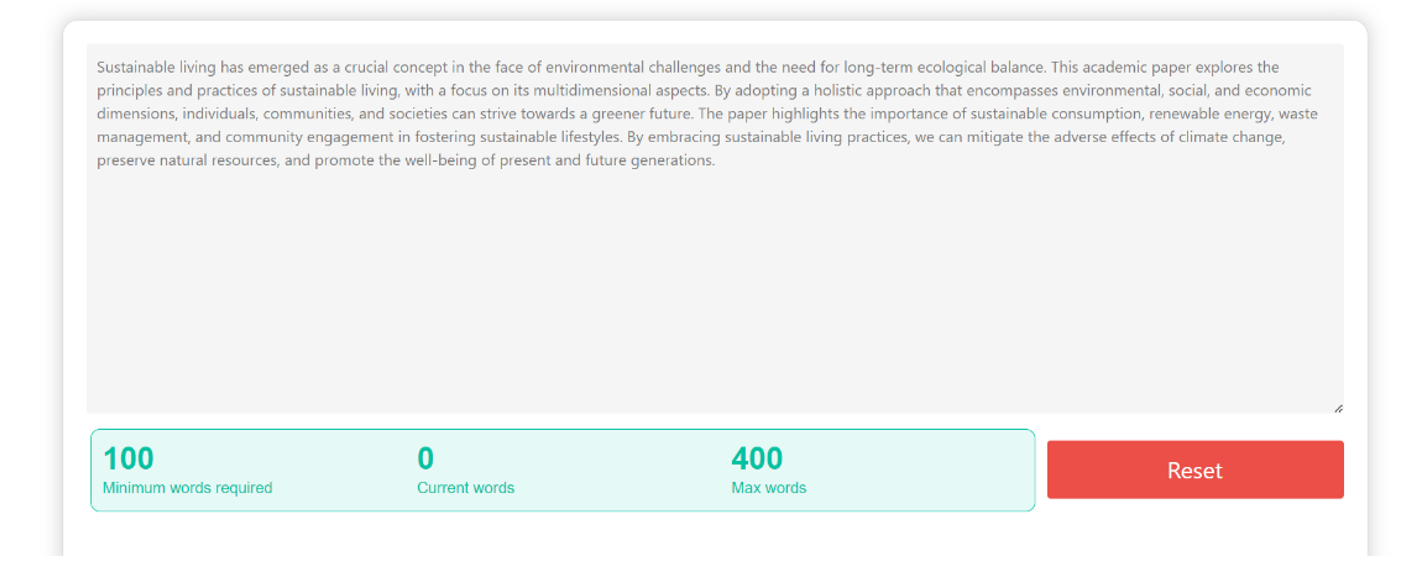 AI Writing Check is a cutting-edge AI content detection tool designed to help educators identify potential instances of academic dishonesty and maintain the integrity of academic assessments. Though relatively new, it has quickly gained traction due to its impressive accuracy in detecting plagiarized or copied content. While the creators do not claim absolute perfection, extensive testing with over 15,000 essays has shown that AI Writing Check achieves an accuracy rate of 80-90%, making it a valuable asset in the fight against academic fraud.
Key Highlights:
Super easy to use and most of the scores are close match to others.
It's free but is limited to 400 words.
Conclusion
Before we end this article, we would also like to mention that the reliability of the tools should be taken with a pinch of salt. We are not here to judge anyone, but we found that a simple prompt modification like "Write in the style of…, we used examples of distinguished speakers like Brain Cox, Neil Degrasse Tyson and Jordan Peterson, significantly changed the tone of the content produced by ChatGPT and was in most cases passed off as human written content. These cases of false negatives along with the multiple examples of false positives spread online should always be considered by anyone who is either trying to beat the system or anyone trying to detect who is trying to beat the system.
Happy hunting!