Smart Upscaling Made Easy: The Definitive List Of Best AI Image Enhancers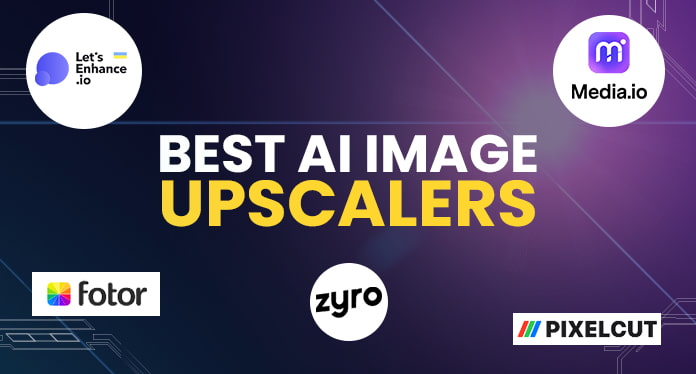 We all know how frustrating it can be to come across the perfect image only to realize its size and resolution are too small or unfit for your needs. Resizing or plain stretching the picture can lead to pixelation and distortion, rendering it useless for your project. But fear not, for there is a solution that harnesses the power of artificial intelligence – image upscalers.
With advanced AI algorithms, image upscalers can increase an image's resolution by up to eight times its original size without compromising quality. These tools can denoise, sharpen, and enhance images to make them look even better than before.
In this blog, we will introduce you to the best AI image upscalers, each with its unique features and benefits. Say goodbye to blurry images and embrace high-quality visuals with the help of these cutting-edge AI tools.
Why do we need AI Image Upscalers?
In the vast realm of digital media and content creation, the efficacy of images is pivotal in captivating viewers and conveying an impactful message. Nevertheless, the quality of images can vary drastically, often posing a challenge to creators.
Let us delve into the reasons why AI image upscalers are indispensable:
Revolutionary resolution boost:Harnessing sophisticated algorithms, AI upscalers can elevate image resolution without compromising on its sharpness or quality, enabling creators to use them in larger formats without any loss in visual appeal.
Unparalleled visual enhancement:Equipped with advanced features like denoising, sharpening, and enhancing, AI upscalers have the power to amplify the aesthetic impact of images, rendering them more striking and engaging.
Saves invaluable time and effort: The process of manually resizing or upscaling images can be an arduous and time-consuming ordeal. With AI image upscalers, we can achieve astounding results within seconds, eliminating the need for extensive effort or labor.
Expands creative vistas:With the help of AI upscalers, creators can push the boundaries of their imagination and leverage images that were once deemed unusable due to low resolution or small size.
Top 10 AI Image Upscalers
Without further ado, let's dive into the top AI image upscalers of 2023. These tools have been handpicked based on their features, performance, and user experience.
1. ImgUpscaler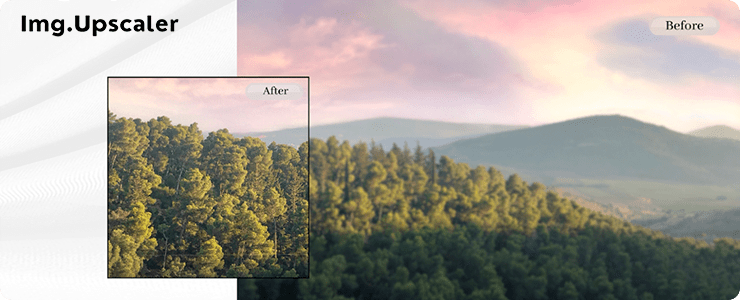 ImgUpscaler is the ultimate solution for those who want to upscale their images in bulk. It is a PNG and JPG image upscaler that harnesses the power of deep learning and super-resolution technology. Powered by ImgLarger's upscaling technology, ImgUpscaler provides a faster and bulkier image upscaling process.
With ImgUpscaler, you can upscale multiple images at once, saving you time and effort. You can upload up to 5 images with a maximum size of 5MB and maximum dimensions of 4000×4000. The tool offers 5 free credits per week, allowing you to try the product before committing to a subscription.
Top Features:
Bulk Image Upscaling: You can upscale multiple images at once, saving you time and effort.
Deep Learning Technology: The product harnesses the power of deep learning technology to provide better upscaling results.
Super-Resolution Technology: Uses super-resolution technology to improve the quality of upscaled images.
Dimensions and Size: You can upload images up to a maximum size of 5MB and with maximum dimensions of 4000×4000.
Free Credits:ImgUpscaler offers 5 free credits per week, allowing you to try the product before committing to a subscription.
User Privacy: Ensures high security, with uploaded photos being cleared within 24 hours.
Pricing: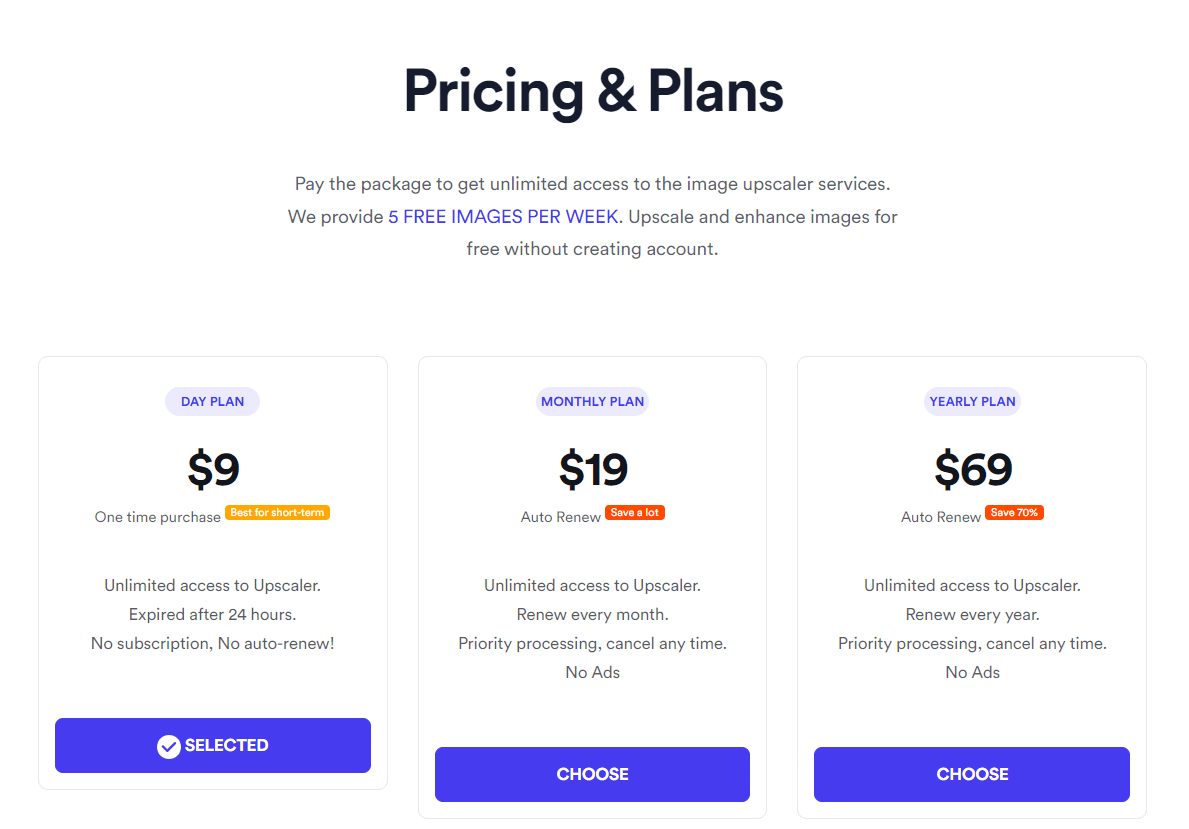 2. Lets Enhance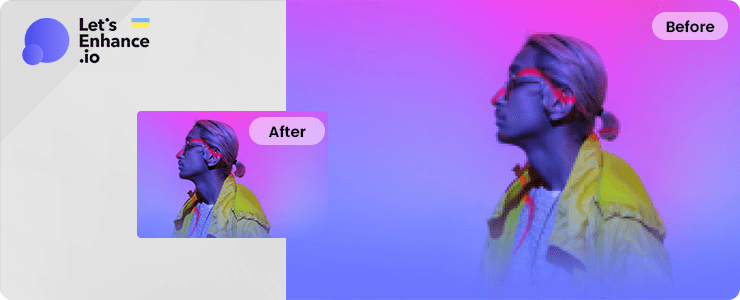 Let's Enhance is an AI-powered image upscaler that can enhance your low-quality images to high resolution without compromising on quality. With a single click, you can upscale your images up to 16x, making them crisp and clear for any print or web format.
Let's Enhance offers batch editing, one-click presets, and the ability to enlarge your images to any size up to 500 MP. This tool can save you time on creative tasks, enabling you to upscale anything from old photos to digital art, from portraits to landscapes, and from logos to product images.
Top Features:
Batch Editing: Save time by processing multiple images simultaneously with the batch editing feature.
One-click Presets:Choose from a variety of preset options to upscale your images in seconds, without having to adjust each setting individually.
Image Enlargement:Upscale your images for any print or web format, making them crisp and clear no matter how large you need them to be.
Image Size:Enhance your images for large format printing by increasing the image size up to 500 MP.
Auto-Enhancement:Automatically adjusts your images to improve the overall quality with just one click.
Color Correction:Adjust colors, white balance, and saturation of your images with color correction tools.
Pricing: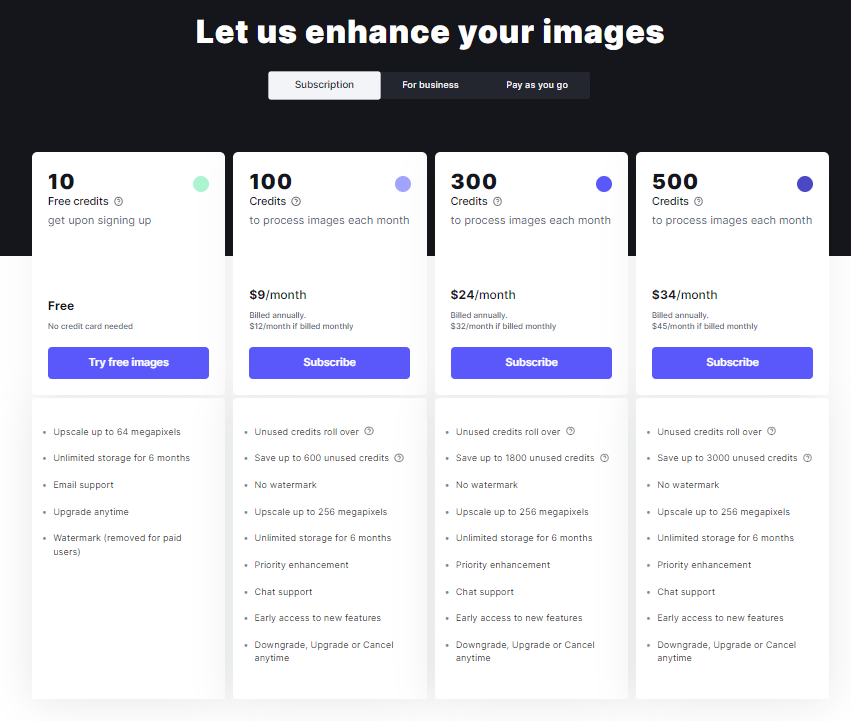 3. Upscale.media

Upscale.media is a cutting-edge image upscaling tool that uses advanced artificial intelligence algorithms to upscale and enhances images while retaining their natural appearance.
Whether you have low-resolution images or photos that need improvement, Upscale.media offers an impressive solution to enhance your images by up to 4 times without losing any details. Additionally, the tool comes with some amazing features, including the removal of JPEG artifacts, to reverse compression and smooth out edges while maintaining the natural aspect of the image.
Top Features:
Remove JPEG Artifacts: JPEG compression can make pictures pixelated and blurry. The reverse-compression feature removes artifacts and smoothes out the edges.
Natural Image Enhancement: The tool balances the sharpness and softness of your images, bringing out the details without making them look over-processed or artificial.
Free Credits:Offers 45 free credits per month, which allow you to perform up to 45 transformations.
Multiple Image Formats: Supports .png, .jpeg, .jpg, and .webp image formats. It can upscale images of resolutions up to 1,500 x 1,500 px and 25 MB file size.
Customizable Settings:This lets you adjust various settings such as noise reduction, color saturation, and sharpening to fine-tune the results of your image upscaling.
Pricing: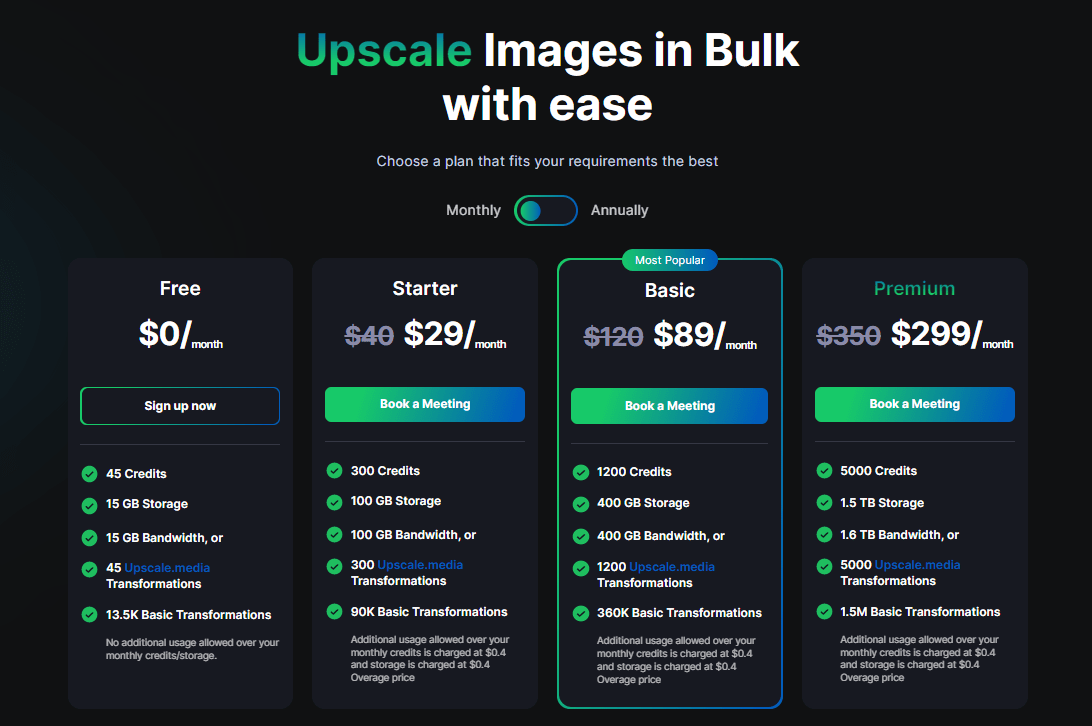 4. VanceAI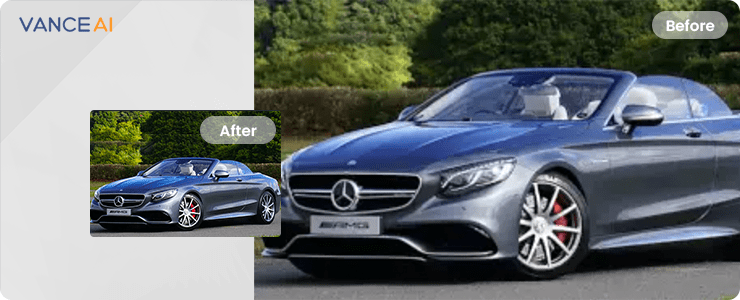 VanceAI is an exceptional tool to enlarge and enhance images by up to 800% without any quality loss, making them perfect for prints, e-commerce, presentations, and more. What's even better is that VanceAI's online upscaling model has a particular focus on AI text upscaling, allowing you to enhance text within your images.
The tool boasts abundant AI models that can upscale images to different scales, including 2x, 4x, 6x, and 8x and provides predefined workflows to help streamline the process. Plus, you get free credits upon sign-up and processed images don't have any watermark.
Top Features:
Image Upscaling: VanceAI allows you to enlarge your images up to 8 times their original size without any quality loss.
Abundant AI models: VanceAI offers a variety of AI models to choose from, each tailored to specific upscaling needs.
Data Privacy:Your processed images will be deleted from VanceAI servers after 24 hours to ensure privacy and security.
Free Credits: When you sign up for VanceAI, you'll receive 3 free credits that can be used to upscale your images.
Predefined Workflows: VanceAI offers predefined workflows for various types of images to make the upscaling process quick and easy.
Supported formats:VanceAI supports .jpg, .png, and .jpeg formats with a maximum size of 2.8 MP and a file limit of 5 MB.
Pricing: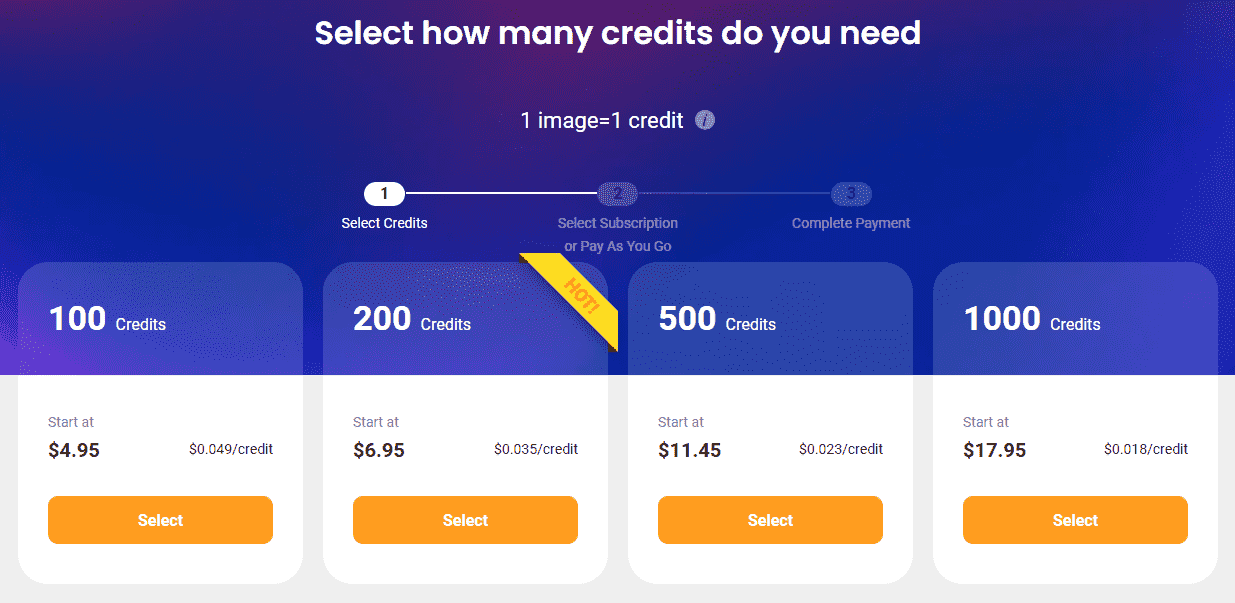 5. Zyro AI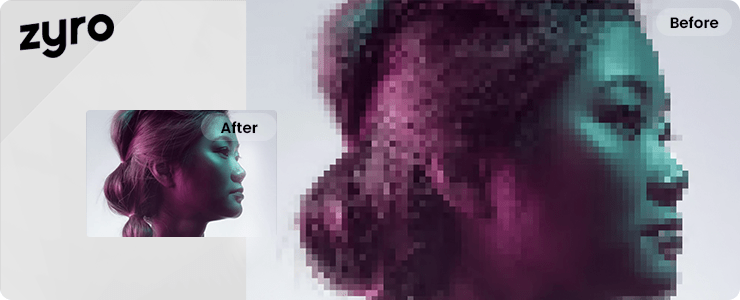 Zyro AI Image Upscaler, developed by Hostinger, is a powerful image enhancement tool that utilizes deep convolutional neural networks to upscale low-resolution images without compromising their quality.
With Zyro AI Image Upscaler, you can give your images a professional makeover and make them suitable for high-quality prints or use on your website. The best part? You can use the tool for free, as many times as you want. Zyro AI Image Upscaler supports the most common image formats – .JPG and .PNG – and can upscale images within seconds, saving you time and effort.
Top Features:
Advance AI Algorithms: Zyro AI Image Upscaler uses deep convolutional neural networks to upscale images while maintaining their quality.
Unlimited Usage: The tool is free to use with no hidden charges and offers unlimited usage.
Supported Formats: Compatible with .JPG and .PNG file formats, making it easy to upscale a wide range of images.
Fast Image Upscaling: Upscales images within seconds, saving valuable time and effort.
High-Quality Output: Delivers sharp and clear images, suitable for high-quality prints or use on websites.
Pricing:
6. Aiseesoft Image Upscaler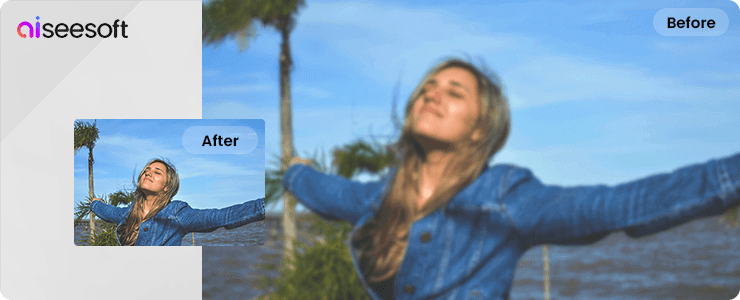 Utilizing AI super resolution technology, Aiseesoft can upscale images while preserving their quality. What sets it apart from other AI image upscalers is its ability to detect and fill in lost pixels, colors, textures, and details automatically, making it the perfect solution for fixing blurry images.
Additionally, Aiseesoft Image Upscaler can refine faces and retouch low-resolution photos, giving them a higher resolution with ease. With no installations required and compatibility with popular image formats like JPG, JPEG, and BMP, this tool is fast, convenient, and easy to use.
Top Features:
Free to Use: Aiseesoft Image Upscaler is a free tool that allows you to upscale images without additional costs.
Compatible Formats: Supports popular image formats like JPG, JPEG, and BMP to make it easy for all users, regardless of the image file format they are working with.
Fast Processing: Minimizes waiting time by processing images within a few seconds.
Preview Mode: You can see how the upscaled image looks before downloading it, ensuring you're satisfied with the result.
No Installation Needed:As an online tool, Aiseesoft Image Upscaler does not require software installation, allowing you to use the tool on any device.
Data Privacy: Keeps user data safe and secure by permanently deleting processed images from their servers.
Pricing:
7. Media.io AI Image Enhancer

Media.io's AI Image Upscaler is an intelligent solution that makes enhancing your photos a breeze. You can enlarge your images by up to 800% without losing quality, ensuring you achieve ideal proportions and crystal-clear clarity.
The tool is versatile and can handle a wide range of photos, from hazy landscapes to vintage pictures. The platform offers several practical features, such as sharpening portraits, unblurring images, and restoring old photographs. With Media.io's Image Upscaler, you can transform your snaps into high-quality masterpieces with just a few clicks.
Top Features:
Lossless Image Enlargement: You can enlarge your images by 200%, 400%, or 800% without any discernible loss in quality.
Sharpen Portraits:The tool uses AI technology to sharpen and enhance the clarity of your portrait photos.
Unblur Images: Intelligently reduces image noise, enhances low-light images, and improves blurry image quality.
Restore Old Photos: The tool can restore old, damaged photos and enhance their clarity using advanced AI technology.
Colorize Photos: Add vibrant colors to black and white photographs or old photos to bring them to life.
Color Correction: The tool can automatically adjust the colors of your images to make them look sharper and clearer.
Pricing: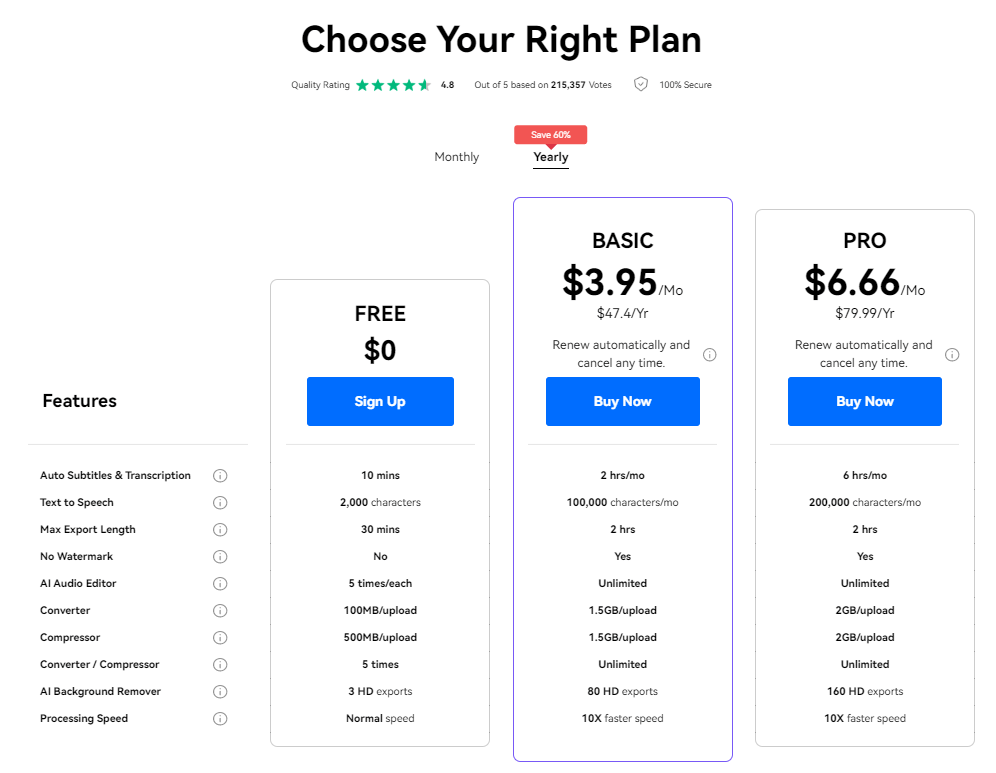 8. Pixelcut.ai

Pixelcut Image Upscaler is the perfect tool for anyone looking to upscale their photos quickly and easily. With its AI-powered technology, this tool can enhance your images to 4K resolution without losing any details or textures.
The process is simple – upload your image, select your desired resolution, and let the tool work magic. You'll have a high-quality image that's ready to use within seconds. And the best part? It's completely free to use. Whether you're a professional photographer or looking to improve your photos, Pixelcut has you covered.
Top Features:
File Format Support: Compatible with three popular file formats – JPG, PNG, and HEIC, ensuring image upscaling no matter which file format they are in.
Free to Use: The tool is absolutely free to use, with no hidden fees or subscriptions.
Fast Processing Time:The tool uses AI-powered technology to upscale your images quickly and efficiently, so you can get your work done faster.
Cross-Platform Availability: The tool is usable on both iPhone and Android devices, making it accessible to a large audience on the go.
High-Quality Upscaling: Enhances images up to 4x the original size while preserving details and textures.
Pricing:
9. Fotor Image Upscaler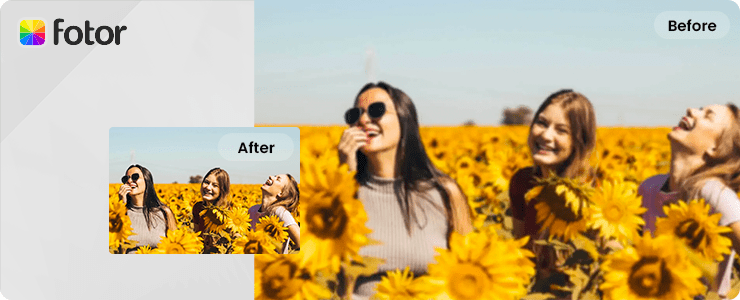 Fotor's cutting-edge AI technology allows you to upscale your images in mere seconds, resulting in sharper, more detailed, and high-quality images. From portraits and landscapes to anime and digital art, this tool works wonders on any type of image.
Simply upload your picture and let Fotor's advanced algorithms handle the rest. With Fotor's AI image upscaler, you can recover lost details and textures, reduce noise, and even unblur images in real-time. Don't settle for low-quality images- upgrade to Fotor Image Upscaler!
Top Features:
Instant Upscaling:Fotor's AI technology allows for quick and efficient image upscaling.
Image Types:The tool works on all sorts of images- portraits, landscapes, digital art, and more.
Improved Quality:Fotor's advanced algorithms result in sharper, more detailed, and high-quality images.
Real-time Enhancement:Reduce noise and unblur images in real-time with Fotor's AI image upscaler.
User-Friendly Interface: The user-friendly interface makes it easy for users to upscale images with minimal effort.
Pricing:
10. Clipdrop Image Upscaler

Clipdrop Image Upscaler is the perfect tool to upscale, denoise, and enhance your images in seconds. This advanced image upscaler uses an intelligent algorithm that can increase the size of your images by up to 4 times without compromising on the quality.
With just a click, the upscaler enhances your image and saves it as a larger version in JPEG format, ready to be used for any purpose. Whether you are a photographer or a designer, Clipdrop Image Upscaler is the perfect solution for you.
Top Features:
High-Quality Upscaling: Ensures your images are upscaled by up to 4 times without losing their sharpness.
Denoise Images: Remove noise from your images while raising their resolution, resulting in a cleaner and crisper image.
Enhance Compressed Images: Enhances the quality of images that have been compressed, making them look better and sharper.
Sharpen Images: This tool can make images, especially photos and screenshots, sharper and more crisp, resulting in a more professional-looking image.
Minimal Loss of Quality: Ensures that there is minimal loss of fidelity to retain image quality even after upscaling.
Pricing:
Conclusion
As we draw the curtain on this blog on the most extraordinary AI image upscalers, we hope that you've amassed valuable insights into the avant-garde tools and technologies that can effortlessly refine your images. Thanks to state-of-the-art AI algorithms, these upscalers can intensify the resolution of your images, while preserving their quality and sharpness.
While selecting an AI upscaler for your project, weigh the distinctive features and benefits of each tool. Some offer more sophisticated noise reduction abilities, while others may be better equipped to magnify compressed images or sharpen photos and screenshots. The decision rests on your specific needs and preferences.
In the ever-evolving realm of technology, AI image upscalers are poised to revolutionize the creation of high-quality visuals for both personal and professional usage. We aspire that this write-up has uncovered new and innovative approaches to elevate your images.