10 Best AI Scheduling Assistants to Amplify Productivity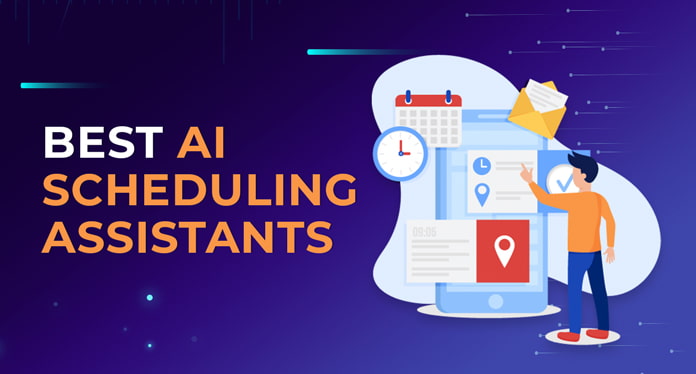 Juggling multiple responsibilities has become the norm rather than the exception these days. We find ourselves caught up in a whirlwind of tasks, cross-functional collaboration, and endless meetings that seem to dictate our every move. It's no wonder that organizing our calendars and schedules has become crucial to maintaining sanity in the chaos.
The truth is – productivity begins and ends with a well-structured calendar. The ability to manage our time efficiently can make the difference between a smooth, accomplished day and a hectic, overwhelming one. We've ventured into AI-driven scheduling assistants, testing and scrutinizing various tools to curate a list of the best of the best.
With the relentless demands of modern work, we believe it's essential to find an AI scheduling assistant that understands our needs, preferences, and unique work style. It must seamlessly integrate into our existing workflow to enhance our ability to manage tasks, communicate effectively, and collaborate. Our top selections have been carefully chosen to meet these criteria, offering various features and functionalities to suit diverse requirements.
So, if you wear multiple hats or want to regain control over your schedule, join us and navigate the world of organized calendars and unlock the true potential of your workdays.
Features To Look For Before Buying An AI Scheduling Assistant
Before we reveal the list, let's talk about the things one should consider before making the big leap. When considering a scheduling software, there are several important features to look for that can greatly enhance your experience and streamline your scheduling process. Some of them include:
Calendar Integration: Ensure the scheduling software seamlessly integrates with your preferred calendar system, such as Google Calendar, Outlook, or iCal. This allows for automatic syncing of events and availability, eliminating the need for manual updates.
Customizable Scheduling Options: Look for software that offers flexibility in creating different types of appointments or events, allowing you to define specific durations, buffer times, and availability rules. This customization ensures that the software caters to your unique scheduling needs.
User-Friendly Interface: The software should have an intuitive and user-friendly interface, making it easy for you and your clients to navigate and schedule appointments. A clean and well-designed interface can enhance the overall user experience.
Automated Reminders: An effective scheduling software should provide automated reminder functionality, sending timely notifications to all participants. This feature helps reduce no-shows and ensures that everyone is well-prepared for their scheduled appointments.
Time Zone Conversion: If you frequently schedule meetings with individuals or teams in different time zones, having a scheduling software that automatically detects and converts time zones can save you time and prevent scheduling errors.
Team Collaboration: If you work within a team or manage multiple calendars, look for software that supports team-based scheduling. This feature enables easy coordination, delegation of appointments, and collaboration among team members.
Integration with Other Tools: Consider the software's ability to integrate with other tools or platforms important to your workflow. For example, it must provide integrations with popular video conferencing software, some of the best CRM tools, and email marketing platforms to streamline your workflow.
Analytics and Reporting: Advanced scheduling software often provides analytics and reporting features that offer insights into appointment trends, client behavior, and resource allocation. These insights can help you make data-driven decisions and optimize your scheduling processes.
Customizable Branding: If you want to maintain a consistent brand image, look for software that allows you to customize the appearance and branding of your scheduling pages or emails. This feature ensures a cohesive and professional representation of your brand.
Customer Support: Consider the level of customer support provided by the software vendor. Responsive customer support can be crucial in addressing any issues or questions that may arise during your usage of the software.
Top 10 AI Scheduling Assistants
Now that we know what to look for in scheduling software, without further ado, here are the leading and most popular AI scheduling assistants that can revolutionize your scheduling process. These tools combine the power of artificial intelligence with intuitive interfaces to automate and optimize your scheduling tasks.
1. Motion AI
Our first pick, Motion, is an exceptional AI scheduling assistant streamlining daily routines efficiently. With just a click, you can instantly access your schedule, whether you're using a browser, mobile device, or desktop app.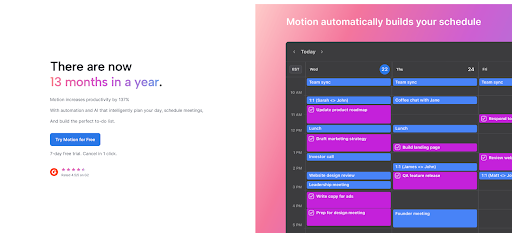 This tool has a remarkable ability to automatically prioritize tasks based on their importance. Moreover, Motion keeps a watchful eye on deadlines, sending timely reminders and alerts to prevent missed due dates.
What surprised us the most was that creating and managing tasks is a breeze with Motion. With a quick click, the task creator opens from any website window, allowing to swiftly jot down tasks in under 10 seconds.
But the tool goes beyond simple task management – it offers a comprehensive solution for projects of any size. The Kanban view gives an overview of all tasks and projects, enabling us to stay on top of complex endeavors.
Ah, also, Motion recognizes the importance of personal preferences when it comes to meetings. With customizable settings, you can control when meetings happen, avoiding those early mornings or pesky Friday gatherings.
Plus, it values your focus time and aims to minimize interruptions. By scheduling meetings continuously, Motion ensures you have uninterrupted stretches to dive deep into your tasks and maintain a state of flow. All this makes Motion a pretty complete scheduling assistant!
Here's the list of features we loved the most:
It automatically prioritizes the most important tasks so you can complete all your requirements before the deadline.
Allows us to integrate Google and Outlook calendars to get an overview of work and personal calendars in one place.
Guards and puts aside large chunks of time to deeply focus on deep and essential works.
Adds project tasks to the team's calendar, allowing you to take important notes and attach documents related to each task.
Helps gain insights on the team's efficiency and productivity with analytics.
Easily integrates with various video conferencing platforms, email providers, and Zapier to seamlessly fit into existing workflows.
Pricing: Individual Plan: $12/month; Team Plan: $12/user/month
2. Reclaim
Reclaim is another remarkable AI scheduling assistant that effortlessly enhances your time management skills, allowing you to reclaim control over your calendar.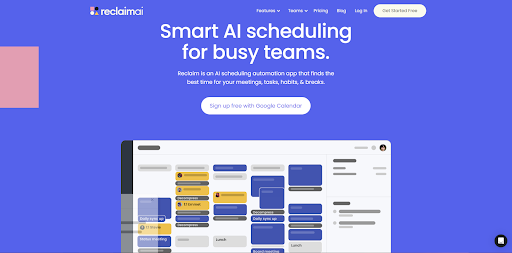 One of the standout features of Reclaim is its ability to integrate with your project management app or to-do list, automatically scheduling your tasks based on priority and ensuring you have ample time to complete them before their due dates.
The most exciting thing we found on Reclaim is that it excels in managing your 'Smart Habits.' Whether setting aside time for a daily lunch break, weekly planning sessions, or specific activities like coding multiple times a week, the tool intelligently finds the best time slots around your existing calendar events, ensuring you can consistently prioritize these recurring habits.
Reclaim also analyzes calendars for one-on-one meetings based on mutual availability. It automatically identifies the optimal time for your meetings and even reschedules them if conflicts arise.
If you maintain more than one calendar, Reclaim automatically keeps all your calendars in sync to ensure your availability and schedules are consistent across all platforms.
Furthermore, Reclaim's intelligent time blocking maximizes your availability without overwhelming your schedule. It adapts to changes in your calendar, shifting events from "Free" to "Busy" as your workload increases.
Here's the list of features we loved the most:
With Habits, Reclaim finds and guards time for things that you do regularly.
Integrates with your existing project management tools like Asana, Jira, Todoist, etc.
Finds mutually-available timings between attendees and the host to effortlessly conduct meetings.
Automatically reschedules meetings based on the attendees' RSVPs.
Flexible team scheduling links for better communication across internal and external teams.
Pricing: Lite Plan: Free Forever; 3 Paid Plans ranging from $8 to $18/user/month
3. Trevor AI
Trevor AI is a game-changing scheduling assistant that puts you in the driver's seat of your day, allowing you to schedule and prioritize work and personal tasks. Through our hands-on experience, we've discovered the unique value that Trevor AI brings to the table.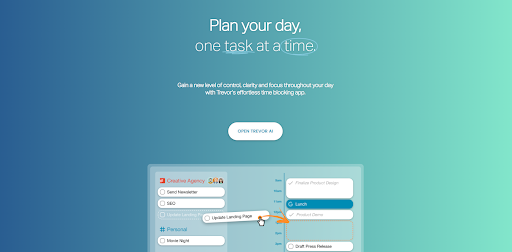 With Trevor AI, you have the power to take control of your day by scheduling important tasks as time blocks in your calendar. You can drag and drop to plan your day, visualizing everything that requires your undivided time and attention in real time.
The most significant advantage of Trevor AI is its ability to help you focus your attention on a single task during a specific time block, minimizing distractions and allowing you to enter a state of deep focus.
Trevor AI is not just a scheduling assistant; it's your trusted sidekick. It offers a range of intelligent features, including auto-assigning durations for your tasks, providing scheduling suggestions, crafting action plans, and reminding you of overdue tasks. These capabilities ensure you stay on track and never miss a beat.
We loved the 'Lightweight Task Manager' within Trevor AI, providing a seamless way to organize tasks. With color-coded lists, search and filter options, and the ability to write notes, it can keep your task list neatly categorized and easily accessible.
You can also share lists with your colleagues, assign tasks to collaborators, and integrate with popular tools like Todoist for a comprehensive task management experience.
Here's the list of features we loved the most:
The tool has a drag-and-drop task scheduling feature in the calendar for easy planning.
It provides smart scheduling suggestions based on its intelligence to help you make the most of your time.
Has a robust and intuitive calendar interface that syncs with Google Calendar and Outlook/Office 365 accounts.
The tool incorporates adaptive learning techniques that adapt to your scheduling patterns.
Empowers you with a Deep Work mode with timers and notes for focused and amplified productivity.
Pricing: Free Plan; Pro Plan: $3.99/month or $29.99/year
4. Kronologic
Kronologic is a remarkable tool that takes scheduling to a whole new level, especially for sales teams. At its core, Kronologic is designed to help sales teams to connect with interested leads, ultimately increasing conversion rates throughout the sales pipeline.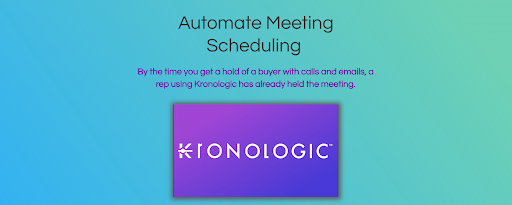 Unlike other tools, Kronologic goes beyond traditional scheduling by automating the process, tailoring messaging with proven templates and Generative AI, and orchestrating scheduling at scale across your tech stack with the power of AI.
The tool automatically schedules a date and time when both parties are available, eliminating uncertainty and ensuring timely interactions.
Moreover, Kronologic's natural language processing capabilities can detect rescheduling intents, updating invites accordingly. The best part? Sales team involvement can be minimal, streamlining the process and saving valuable time.
It's worth noting that Kronologic is best suited for more established businesses, and its onboarding experience reflects that. You can expect personalized assistance from their team, who will guide you through the platform's features, understand your objectives, and tailor the experience to maximize the value you gain from the app.
Here's the list of features we loved the most:
The tool provides high-density scheduling to efficiently schedule meetings with a large number of leads.
Sends a one-click email invite to buyers and adds it to the rep's calendar automatically upon acceptance.
Helps you ease the meeting request process with the help of editable email templates.
The Quick Launcher uses an automated 4-step process to schedule meetings including handling rescheduling requests.
The tool automatically provides immediate responses to high-intent buyers.
Pricing: Individual Plan: $6/month; Small Team (up to 5 users): 112/user/month; Teams Plan: $1000/team of 10/month; Enterprise Plan: Contact the Sales Team for customized pricing
5. Sidekick AI
Sidekick AI is a versatile scheduling assistant that offers multiple ways to streamline your meeting booking process. One of the most convenient scheduling options offered by Sidekick AI is the ability to schedule a meeting via email with a simple email forward. You can easily forward an email to Sidekick, and it takes care of the rest.

With Sidekick, you can set up individual or team pages, allowing others to book meetings effortlessly.
The tool's capabilities shine when it's about finding the best meeting times. It works seamlessly with other Sidekick users to instantly identify mutually convenient time slots. Moreover, you can also schedule meetings with non-Sidekick users, ensuring the scheduling process remains seamless and inclusive.
Integration with popular tools is a key feature of Sidekick AI. You can book virtual meetings with Microsoft Teams, offering a seamless experience for collaboration and communication. Additionally, you can connect your Google Calendars to allow Sidekick to find the best meeting times, ensuring scheduling is a breeze.
Team Pages are another fantastic feature for scheduling meetings with multiple people on your team who are connected to Sidekick AI. Whether coordinating client meetings or organizing partner sessions, Sidekick AI makes it simple and efficient.
Here's the list of features we loved the most:
Automatically sends email meeting requests to attendees and adds the meeting to the calendar upon acceptance.
Integrates with popular tools like Microsoft Teams, Google Meet, Zoom, etc. for virtual meetings.
Team members can join the Team Page at absolutely no cost.
When scheduling a meeting with fellow Sidekick users, you can see their available timings.
The tool can read emails, check for your availability, and schedule a meeting automatically.
Pricing: Hero Plan: Free; Superhero Plan: $5/month
6. Clockwise
Clockwise is an exceptional tool that optimizes schedules, creating more time in everyone's day. It understands how individuals prefer to work and when they are most productive. Leveraging this knowledge, Clockwise uses AI to create schedules that align with these preferences, helping individuals perform their best work every day.

Clockwise does not just help with scheduling; it automatically optimizes flexible meetings, such as one-on-ones, to their most efficient times. It intelligently resolves scheduling conflicts, ensuring meetings fit seamlessly into the schedule without causing unnecessary disruptions.
Uninterrupted focus time is essential for productivity, and Clockwise excels at creating blocks of dedicated focus time across calendars. By carving out these periods, Clockwise allows individuals to work with increased presence and focus, whether collaborating with others or working independently.
During focus time, Clockwise takes it a step further by minimizing distractions. Through integration with tools like Slack and Asana, Clockwise ensures that interruptions are minimized, allowing individuals to stay in the zone and maintain their productivity.
Additionally, Clockwise Links helps find the best meeting times while keeping focus time in mind, striking a balance between collaboration and individual deep work.
What we like most about the tool is that it offers valuable insights for managers. With real-time analytics, managers gain instant insight into team bandwidth and can better understand individual workloads. This visibility enables managers to support their team members, allocate resources effectively, and help individuals reach their goals faster.
Here's the list of features we loved the most:
Understands and incorporates individual work preferences and productivity patterns.
Automatically optimizes flexible meetings for efficiency and resolution of conflicts.
Integrates with tools like Slack and Asana to minimize distractions during focus time.
Creates blocks of uninterrupted focus time for enhanced productivity.
Allows you to instruct the tool on the routine and tasks you want to accomplish in the week and it will change schedules accordingly.
Pricing: Free Plan; Paid Plans: ranging from $6.75 to $11.5/user/month
7. Clara
Clara is a scheduling assistant that simplifies the back-and-forth of meeting scheduling. With this tool, all you have to do is add Clara to any email, and it takes care of the scheduling on your behalf.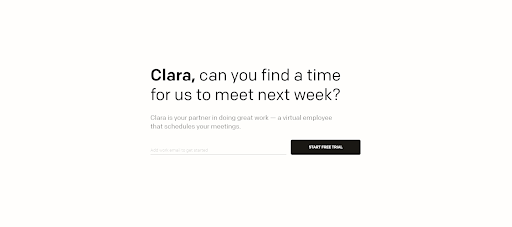 It seamlessly interacts with everyone in natural language, just like you would, ensuring a smooth and intuitive scheduling experience.
The tool proactively follows up with participants, saving you countless emails and ensuring that every meeting gets on your calendar without any additional effort on your part.
Clara is not just a virtual assistant; it is your dedicated full-time teammate, committed to managing your schedule and calendar. Whether you need assistance across time zones or in different parts of the world, the tool is attentive and ready to help.
Its responsiveness and adaptability ensure that you and your clients receive the support you need whenever and wherever it's required. Another remarkable aspect of Clara is its ability to adapt to your workflow, regardless of complexity.
Powered by AI and backed by experienced Executive Assistants, Clara promises a delightful experience for you and your meeting guests.
Here's the list of features we loved the most:
Uses natural language interaction to provide an intuitive and human-like scheduling experience.
Proactively follows up with attendees, saving you time and minimizing email exchanges.
Provides dedicated full-time support for managing your schedule and calendar.
Integrates with popular conferencing solutions and custom ATS for seamless workflows.
Sends a summary of all the meetings conducted in the past week and meetings scheduled for the current week every Monday.
Pricing: Clara Essential: $99/user/month; Clara Professional: $199/user/month; Clara Executive: $399/user/month
8. CalendarHero
CalendarHero revolutionizes remote meeting scheduling, eliminating the need for the tiresome back-and-forth dance of finding mutually available times.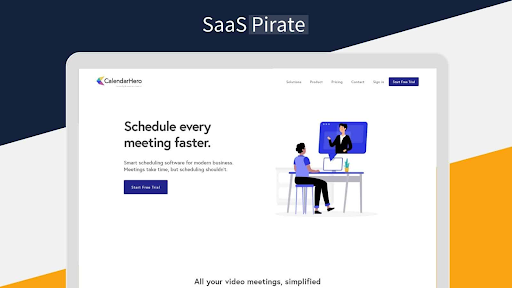 With CalendarHero, you can automatically book 1:1, group, and video meetings, leveraging your real-time availability and various scheduling methods.
It also provides daily briefings and attendee insights, ensuring you have all the necessary information at your fingertips. You can even integrate your CRM or ATS to access lead or candidate details, keeping your meetings well-informed and productive.
Calendar Hero reduces the chances of no-shows with reminders and notifications. It keeps your attendees informed and engaged, ensuring meetings remain top of mind for everyone involved. Additionally, it offers features like time zone detection, buffers, and minimum notice settings to optimize your scheduling experience.
The power of CalendarHero extends beyond scheduling alone. It seamlessly integrates with the tools you use every day, such as Zoom, Slack, HubSpot, Microsoft Teams, and Google Drive. This integration combines intuitive meeting scheduling technology with your preferred work applications, enhancing productivity and collaboration.
For Gmail or Outlook users, CalendarHero offers seamless integration – by adding this to your inbox, you can access your personal AI meeting assistant, making meeting scheduling a breeze without leaving your email environment.
Here's the list of features we loved the most:
Has the ability to sync unlimited calendars from Google, Outlook, Office 365, Exchange, and iCloud.
Provides scheduling links for easy self-booking in emails and direct messages.
Seamlessly integrates with popular work apps like Zoom, Slack, HubSpot, Microsoft Teams, and Google Drive.
Offers a library of customizable meeting templates for easy and efficient set-up.
The tool allows the creation of directory pages to showcase multiple meeting offerings.
Pricing: Basic Plan: Free Forever; Professional Plan: $8/month; Team Plan: $12/user/month
9. Schedule CC
Schedule CC empowers you to scale your appointments efficiently. This tool is capable of embedding your calendar on various platforms, including your website, blog, and emails. This accelerates appointment scheduling by providing a seamless and convenient interface for your clients to book appointments effortlessly.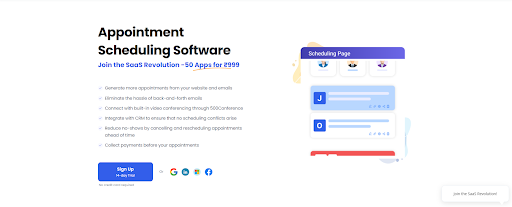 You can also leverage the built-in video conferencing tool, 500Conference, to connect with your clients effectively. This integrated communication feature ensures a smooth and professional experience for both parties.
Another valuable feature of Schedule CC is the ability to automatically schedule appointments after successful payment confirmation. This eliminates manual intervention and streamlines the booking process, making it more efficient for you and your clients.
You can also synchronize Schedule CC calendars with third-party apps with a single click. It simplifies collaboration and helps avoid double booking, ensuring your schedule remains accurate and aligned across various platforms.
Automating online booking confirmation emails, reminders, and updates keeps your clients informed and engaged throughout the appointment process. By providing timely communication, Schedule CC enhances the overall client experience and saves you time and effort.
Here's the list of features we loved the most:
Provides an embeddable calendar for streamlined appointment scheduling, website, and email.
Syncs with Google, Outlook, and iCal calendars for accurate and up-to-date scheduling.
Provides a client portal for a better client experience and control over online scheduling.
The tool has a Gmail extension for sharing schedule links directly within your email interface.
Offers visual reports for effective analysis and company management.
Pricing: Cloud Plan: $14.99/month; Enterprise Plan: $74.95/month
10. Calendly
Calendly is a scheduling automation tool offering a range of robust solutions. By connecting your calendar, you unlock a world of convenience. Calendly helps you create scheduling links and booking pages based on your availability.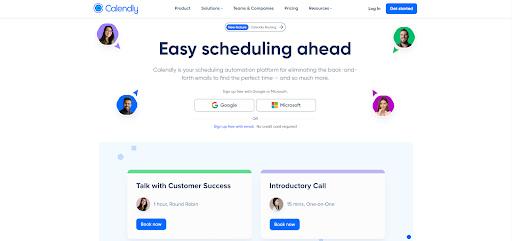 It can instantly surface your available timing across multiple personal and professional calendars. It allows you to connect up to 6 calendars, ensuring you have a comprehensive view of your schedule and availability.
The tool also eliminates the need for back-and-forth communication and empowers others to easily book time with you hassle-free. Calendly allows you to customize your booking links based on different event types and rules.
You can include other team members, route meetings to the right people, and collaborate around scheduling requirements. It also sends reminders and follow-ups to ensure that meetings are top of mind for everyone involved.
One of the remarkable aspects of Calendly is its seamless workflows and integrations. It integrates with your CRM, video conferencing tools, and even billing platforms, making it a comprehensive solution that streamlines your entire scheduling process.
Calendly is not limited to individual use; it's designed to power scheduling for your entire company. With meeting analytics, enterprise-ready admin features, advanced security, and IT-oriented functionalities, Calendly ensures that your team has the necessary tools and support to schedule effectively and efficiently.
Here's the list of features we loved the most:
Connects with your calendar to create shareable links for appointment booking in a single click.
Easily accessible by integrations with 70+ apps, including mobile and browser apps.
Provides account health monitoring and team insights for optimization and training purposes.
Follows the guidelines laid out by SOC 2, SOC 3, GDPR, and various other frameworks for advanced security measures.
Embeddable in websites and as CTA for providing a one-click meeting booking process.
Pricing: Basic Plan: Free Forever; Essential Plan: $8/seat/month; Professional Plan: $12/seat/month; Teams Plan: $16/seat/month
Ready to Save Some Extra Hours?
After researching and exploring some of the best AI scheduling assistants, we became aware of the significant amount of time we spend on scheduling tasks each day. For many of us, it can add up to a substantial portion of our day, hindering productivity.
That's why, we highly recommend trying out an AI scheduling app that resonates with your specific pain points. Give it a test run for a few weeks and observe how it transforms your time management and productivity. We're confident that you'll notice a significant difference, even within just a few days.
So take the leap and let AI assist you in optimizing your schedule and reclaiming valuable time for what truly matters. You'll be amazed at the positive impact it can have on your daily life.