10 Best AI Voice Generators: Giving Voice Over To Imagination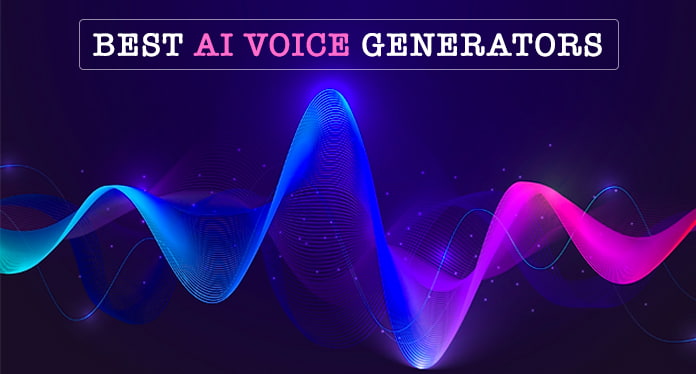 In a world where innovation dances hand-in-hand with imagination, storytelling has transcended traditional boundaries. Words that were once confined to the realms of ink and paper have now found a new voice that resonates from the realms of artificial intelligence. Among the many remarkable innovations AI has bestowed upon us, the one that stands out with its potential to revolutionize communication is AI voice generation.
As a writer and avid enthusiast of creative expression, I found myself fascinated by these intriguing software applications. The journey led me to uncover a diverse range of voice generators that demonstrated impressive accuracy, naturalness, and expressiveness. And as a result, I've curated a list of the best AI voice generators that offer unique features and captivate audiences with nuanced delivery and intonations.
Why are AI voice generators beneficial?
Time-saving:AI voice generators can quickly convert written content into audio, saving considerable time and effort compared to recording voice-overs manually.
Accessibility: They provide accessibility options for people with visual impairments or reading difficulties by converting text into spoken words.
Multilingual support: AI voice generators offer diverse languages and accents, enabling content creators to reach a global audience and localize their content.
Customization:Users can adjust parameters like pitch, speed, and tone to achieve the desired voice characteristics, making the generated voice-over align with their brand or project.
Cost-effective: AI voice generators eliminate the need to hire voice actors or professional narrators, reducing production costs for businesses and content creators.
Versatility: These tools find applications in various domains, such as e-learning, multimedia content creation, voice assistants, audiobooks, podcasts, and more.
Top 10 AI Voice Generators (Best Voice over Software)
In this blog post, we'll delve into the tool's distinctive features and discuss the practical applications that make each one shine. So, let's venture forth and discover the top AI voice generators that will give voice to your imagination.
1. Murf.ai
Murf AI goes beyond serving as a realistic voice generator to offer a complete voice solution that enables users to create high-quality voice-overs with ease. Its user-friendly interface, sleek design, and robust features make it a must-have tool for content creators, businesses, and individuals seeking natural-sounding voice generation.
With Murf AI, you can adjust elements such as pitch, punctuation, emphasis, and more to customize the AI-generated voice to your liking. Additionally, you can seamlessly integrate your own media files, including video, audio, and images, with the generated voice-overs.
Features:
Over 120 text-to-speech voices are available in 25 languages, providing various options to suit your project's requirements.
Automatic transcription tool that transcribes recorded speech into an editable text format, making the voiceover creation process more efficient.
AI voice cloning technology creates lifelike voices with natural diction and a full spectrum of human emotion.
Ability to upload and sync your media files with the generated voice-overs, allowing for seamless integration of visuals and audio.
Easy-to-use interface and intuitive controls make the voice-over creation process accessible to users of all skill levels.
Best For
Content creators, businesses, and individuals can bring their videos, podcasts, e-learning modules, promotional videos, advertisements, audiobooks, or even storytelling videos to life by harnessing Murf AI's ability to generate captivating voices that resonate with their creative vision. Regardless of the purpose, Murf AI empowers users to effortlessly produce voice-overs that engage listeners.
Pricing: $19 to $59/month (Free Plan Available with Limited Features)
Also Read: Best AI Face Generators
2. Play.ht
Play.ht, a cutting-edge AI voice generator, opens up a world of possibilities in creating realistic text-to-speech (TTS) audio that resonates with authenticity. With Play.ht, you can effortlessly transform the written text into captivating spoken content, immersing your audience in an engaging auditory experience.
The tool boasts diverse synthetic voices, meticulously crafted to sound natural and lifelike. You can instantly convert your text into high-quality speech and download it as MP3 or WAV audio files. Whether you need a warm and soothing voice, a crisp and professional tone, or something in between, Play.ht offers a wide range of options to suit your project's needs.
Features:
Supports 907 voices in 142 languages, opening up opportunities for global users to create voice content in their preferred language.
Provides a wide selection of natural-sounding voices from different accents to various age groups.
Easily adjust the pronunciation of specific words or phrases to ensure accuracy and clarity in their voice content.
Supports Speech Synthesis Markup Language (SSML), enabling users to control and fine-tune the voice output.
Add pauses, emphasize specific words, adjust speech rate, and more by adding a layer of customization to the generated voice.
Best For
Podcasters and broadcasters can enhance their shows and advertisements with professional-sounding voices generated by Play.ht. The tool improves accessibility by providing audio versions of written content for individuals with visual impairments or learning difficulties. Additionally, developers can leverage Play.ht to enhance the user experience of AI voice assistants and chatbots with natural-sounding voices.
Pricing: $29.25 to $99/month (Free Plan Available with Limited Features)
3. Lovo.ai
Lovo.ai is the ultimate AI voice generator and text-to-speech platform. Designed to save you valuable time and resources, the tool offers a seamless solution for producing realistic voice-overs that rival human voices. With an extensive library of over 100 languages and 400 voices, Lovo.ai ensures you find the perfect voice to bring your projects to life.
From dubbing videos to adding sound effects and background music, Lovo.ai empowers creators to unleash their creativity and captivate audiences with immersive audio experiences. Discover the endless possibilities and unlock the true potential of voice-over production with Lovo.ai.
Features:
Access over 400 voices in 100 languages and 26 emotions, offering a wide range of options for voice selection.
Offers an Emphasis tool to highlight keywords and phrases in your script to draw attention and emphasize important points.
Includes a Pronunciation Editor to teach the voice AI how to pronounce specific words, ensuring accuracy and clarity.
Allows you to save your work in the cloud and integrate it into other videos or projects as needed.
Seamlessly dub videos with realistic and high-quality voice-overs, enhancing the audiovisual experience.
Enhance your voice-overs by adding sound effects and background music to create a more immersive and engaging experience.
Best For
Content creators across various industries, including video production, podcasting, e-learning, and advertising, can elevate their projects with professional-grade voice-overs that capture the attention of their audience. For businesses expanding globally, Lovo.ai enables seamless localization by providing voices in multiple languages and accents, ensuring their content resonates with diverse audiences.
Pricing: $19 to $99/month (Free Plan Available with Limited Features)
Also Read: Best AI Video Generators
4. Synthesys
Synthesys is the epitome of next-generation AI voice generation, delivering lifelike human voices that breathe life into your text. With an intuitive interface and powerful features, this tool empowers users to create professional-grade voice-overs for diverse digital content. Customize your voice-over with options for gender, accent, style, and tone, ensuring a personalized and authentic result.
With its cloud-based studio, enjoy hassle-free access from anywhere, eliminating the need for complex software installations. Synthesys is the ultimate tool for producing captivating radio commercials, friendly greetings, documentaries, tutorials, and engaging podcasts that leave a lasting impression on your audience.
Features:
Access 254 different voices in over 66 languages, including 15 synthetic human voices in English.
Choose the gender, accent, style, and tone that best represents your brand or project, ensuring a personalized and authentic voice-over.
Enjoy the convenience of a 100% cloud-based studio, allowing you to work seamlessly from anywhere without complex software installations.
Fine-tune your voice-over by adjusting the reading speed and pause length between sentences, adding a natural and professional touch.
Best For
Synthesys is ideal for businesses and individuals looking to create radio commercials that leave a lasting impression on listeners. Documentary-style messages come to life with the help of Synthesys, allowing you to narrate compelling stories and engage your audience. Tutorials and instructional content become more accessible and engaging with the addition of voice-overs, providing a valuable learning experience.
Pricing: $27 to $52/month
5. Speechify
Speechify is the ultimate voice-over tool for professionals and amateurs alike. With its user-friendly interface, the tool enables you to create high-quality voice-overs for any project effortlessly. From the text, videos, explainers, and slides to even entire books, Speechify caters to the needs of businesses, content creators, podcasters, video editors, and anyone seeking professional-quality voice-overs.
With a vast library of natural-sounding voices and accents in multiple languages, you have the freedom to choose the perfect fit for your content. Export your audio in various formats, ensuring compatibility with diverse platforms. Speechify also provides free background audio to complement your voice-overs.
Features:
Choose from a collection of over 200 natural-sounding voices and accents in various languages, allowing you to find the perfect fit for your content.
Export your audio in OGG, MP3, or WAV formats, ensuring compatibility with a wide range of platforms and applications.
Access a library of free background audio to enhance your voice-over, creating a more immersive listening experience.
Enjoy precise word-level control over pitch, pronunciation, pauses, intonations, and more, enabling you to fine-tune your voice-over to perfection.
Best For
Businesses can elevate their promotional videos and presentations with professional voice-overs that effectively communicate their message. Content creators can transform their blog posts, articles, or e-learning materials into engaging audio content, expanding their reach and accessibility. For commercial purposes, educational content, or creative projects, Speechify empowers users to create impactful voice-overs.
Pricing: $239/year (Free Plan Available with Limited Features)
6. Speechelo
Speechelo is a powerful AI voice generator that effortlessly converts any text into captivating voice-overs. With its advanced text-to-speech engine, Speechelo goes beyond simple conversion, adding inflections and nuances to create a human-like audio experience. Compatible with Windows, Mac, Android, Linux, and Chrome platforms, Speechelo offers convenience and accessibility.
In just three simple steps, you can transform your text into a professional-grade voice-over that suits your project perfectly. Whether it's training videos, sales presentations, or educational content, Speechelo empowers you to create engaging and immersive experiences for your audience.
Features:
Provides an intelligent engine that analyzes your text and adds the necessary punctuation marks to ensure natural-sounding speech.
Choose from a library of 30 different voices available in 23 languages, allowing you to find the ideal voice that matches your content.
Customize your voice-over by adding breathing sounds, inflections, and longer pauses, creating a dynamic and realistic audio performance.
Works seamlessly with popular video creation software such as Camtasia, Adobe Premiere, iMovie, Audacity, and more.
Select from three tones—normal, joyful, and serious—to infuse the desired emotional impact into your voice-over.
Best For
Create engaging training videos that effectively convey information and captivate learners. Enhance sales videos with persuasive and compelling voice-overs to maximize their impact. You can also produce educational videos that bring lessons to life and engage students of all ages. No matter the requirement, Speechelo empowers you to deliver high-quality audio experiences every single time.
Pricing: $97 (One Time Payment)
Also Read: Best AI Translation Software
7. Listnr
Listnr is a powerful AI voice generator that transforms text into captivating speech for various use cases. Whether you're creating videos, eLearning content, audio articles, podcasts, or voice assistants, Listnr provides an intuitive solution. Its user-friendly interface allows you to paste your text or provide a link to a blog post, and Listnr automatically generates the narration.
With Listnr, you have complete control over your audio output. Easily edit pitch, add pauses, adjust pronunciation, and incorporate inflection points to enhance the delivery of your message. Once your voice-over is complete, Listnr allows you to export your audio files in WAV or MP3 formats, ensuring compatibility across different platforms.
Features:
Access over 900 voices in 142+ languages, providing a wide range of options to suit your content and target audience.
Utilize Listnr's audio player widgets to seamlessly embed your generated audio files anywhere, enhancing the user experience.
Export your voice-overs in high-quality WAV or MP3 formats, allowing easy integration into various projects and platforms.
Adjust the pitch and speed of the generated speech to convey messages accurately.
Easily add custom pronunciations to ensure the correct pronunciation of specific words or phrases to maintain clarity.
Best For
Content creators can create professional voice-overs to elevate their videos. You can also enhance eLearning modules by converting text into engaging audio, providing learners with a dynamic and immersive learning experience. Listnr can also transform articles into audio format, allowing users to consume content on the go through podcasts or audio articles.
Pricing: $19 to $199/month
8. Resemble.ai
Resemble.ai is the ultimate solution for incorporating your own voice into AI-powered voice-over projects. With this web-based platform, you have the power to upload, type, or speak, and generate your very own AI voice derived from your natural voice. While Resemble.ai provides a range of pre-existing voices for your convenience, it truly shines in its ability to help you create a unique, one-of-a-kind voice.
Whether you desire an AI voice crafted from text or your speech, Resemble.ai's editor empowers you to add inflections and emotions, and even convert them into multiple languages.
Features:
Infuse an infinite array of emotions into your AI voice effortlessly, with preloaded emotions like happiness, sadness, anger, and more.
Enjoy granular command over every inflection and intonation, ensuring your AI voice delivers the desired impact and matches your content's nuances.
Seamlessly connect with a global audience by leveraging support for over 50 languages.
Blend your real voice recordings with synthetic content using Resemble Fill.
Best For
Produce localized audio content by leveraging Resemble.ai's language capabilities, ensuring that your messages resonate with diverse audiences across the globe. Whether you're working on podcasts, audiobooks, eLearning modules, or interactive voice applications, Resemble.ai empowers you to bring a touch of authenticity to your projects.
Pricing: $0.006/second
Also Read: Best AI Music Generators
9. Clipchamp
Clipchamp is a dynamic video creation tool that combines intuitive editing capabilities with AI voice generation, allowing you to unleash the full potential of your video projects. With its user-friendly editor accessible directly from your web browser, you can effortlessly clip, merge, import, and record video clips to craft stunning visual content. Its powerful text-to-speech feature enables you to transform your written text into AI-generated voice-overs.
Once you input your text into the editor, you have the flexibility to customize the audio by fading it in, adjusting the speed, trimming, and clipping as desired. Additionally, Clipchamp facilitates video accessibility by generating captions from your AI voice-overs, ensuring that your content is inclusive to all viewers.
Features:
Choose from a vast library of 400 unique voices, ranging from different accents, ages, and options for feminine, masculine, and neutral tones.
Write your text directly in the editor and select from over 140 languages, ensuring your voice-overs can cater to a global audience.
Tailor the pacing of voice-overs with the option to select between slow, regular, and fast speech speeds to effectively maintain the rhythm in videos.
Best For
Clipchamp empowers content creators, video editors, and businesses to elevate their video projects with AI-generated voice-overs. Enhance tutorials, explainer videos, product demos, gaming videos, and educational content by seamlessly integrating AI voices that captivate and engage your viewers.
Pricing: $13/month (Free Plan Available with Limited Features)
10. Speechmaker
Speechmaker is an exceptional tool that effortlessly transforms your written content into captivating voice-overs. With its streamlined three-step process, Speechmaker empowers users to bring their scripts to life in just a few clicks.
Enter your text or script into the text box, and Speechmaker's advanced AI voice generator will analyze the content to generate natural-sounding speeches that can be previewed and downloaded. What sets Speechmaker apart is its ability to fine-tune the tone and pitch of the generated voice to perfectly match the script, ensuring a seamless and engaging audio experience.
Features:
Modify the pronunciation of specific words, acronyms, or abbreviations by adding your adaptations, allowing you to achieve precise and accurate voice-overs.
Adjust the sound of the voice and experiment with vocal effects by manipulating the pitch and speed parameters.
Convert multiple texts to speech simultaneously, saving you valuable time and effort.
Exercise greater control over how the TTS engine (SSML) reads the text, enabling you to customize and optimize the voice output.
Gain valuable insights into your speech generation activities, including metrics on the speech generated using different languages or voices.
The tool offers a preview feature, enabling you to listen and ensure that the voice-over meets your expectations and requirements.
Best For
Speechmaker caters to a wide range of use-case scenarios, making it an invaluable tool for content creators, podcasters, eLearning professionals, and anyone seeking to enhance their audio content. Transform written articles, blog posts, educational materials, and training scripts into engaging voice-overs that deliver information effectively.
Pricing: Contact the SpeechMaker Team for the Price Quote
Winding Up
AI voice generators are rapidly evolving, and there are several tools to choose from depending on your project's specific requirements. From Resemble AI's unique feature of creating your own AI voice from text or speech to Speechmaker's flexibility of changing the reading of particular words, acronyms, or abbreviations, these tools offer various features that cater to a wide range of needs.
All these AI voice generators use advanced algorithms to produce natural and expressive voices that can be used in various applications, including podcasts, video content, eLearning, and voice assistants. Overall, the integration of AI in voice generation has revolutionized how voice-overs are produced, providing both convenience and high-quality results.