10 Best Tools For VR Development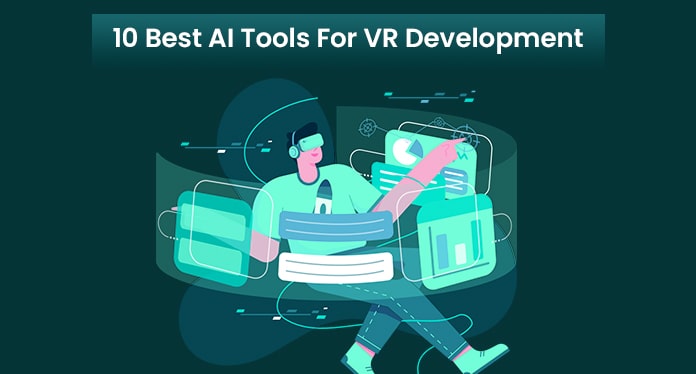 Virtual Reality (VR) Software development has become increasingly popular, revolutionizing various industries such as gaming, education, and healthcare. To create immersive and interactive VR experiences, developers rely on a range of powerful tools,. The integration of artificial intelligence (AI) in VR development has taken the technology to new heights.
In this blog, we explore the top Virtual Reality tools that are revolutionizing VR, enhancing graphics, optimizing performance, and enabling intelligent interactions. Discover how these cutting-edge tools are shaping the future of VR and pushing the boundaries of what is possible in virtual reality experiences.
1. Unity VR
Unity VR is a robust platform for creating virtual reality experiences, offering multiplatform support and powerful graphics capabilities.
Features:
Multiplatform support for reaching a wide range of VR headsets.
Flexible graphics pipelines for achieving amazing visuals.
Advanced performance tools and XR Interaction toolkit for streamlined development.
Compatibility with SteamVR, Meta Quest, PlayStation VR, and more.
Unity's Universal Render Pipeline (URP) enables smooth VR games at 90Hz.
Accessible for beginners with VR templates and visual scripting.
Advanced features like Unity DOTS and Addressables for experienced developers.
Customizable graphics pipeline for enhanced performance.
2. Blender
Blender is a leading 3D computer graphics software that puts the world's best technology in the hands of artists as free and open-source software.
Features:
Blender is equipped with a powerful rendering engine that provides stunning ultra-realistic rendering, bringing your 3D projects to life with exceptional visual quality.
Offers a wide range of modeling tools that simplify the process of creating, transforming, sculpting, and editing models. These tools streamline the 3D modeling workflow and enhance the artist's creative capabilities.
Includes digital sculpting tools that provide the power and flexibility required in various stages of the digital production pipeline. Artists can leverage these tools for character design, exploration, environment design, and more.
Enables artists to transform still characters into impressive animations, whether it's simple keyframing or complex walk-cycles. The software empowers artists to breathe life into their creations through captivating and dynamic animations.
Comes with a fully-fledged built-in compositor, allowing artists to post-produce their renders without needing to leave the software. This feature simplifies the workflow and provides convenient tools for refining and enhancing rendered images.
3. Unreal Engine
Unreal Engine is a powerful and highly advanced real-time 3D creation tool, renowned for its openness and versatility in bringing incredible real-time experiences to life.
Features:
Empowers users to create stunning real-time experiences, pushing the boundaries of what is possible in the world of interactive 3D content.
With hundreds of hours of free online learning content, a vast library of webinars, and options for instructor-led training, Unreal Engine provides diverse and accessible avenues for learning and mastering the platform.
Whether you prefer self-paced online learning, live webinars, or guided instruction, Unreal Engine offers learning options that cater to individual preferences and learning styles.
Boasts a vibrant and supportive community of developers and creators who actively contribute to knowledge-sharing and provide valuable insights and assistance.
The engine delivers industry-leading visual quality, enabling developers to create stunning and lifelike environments, characters, and effects.
Unreal Engine's real-time capabilities allow for interactive experiences, providing users with dynamic and immersive gameplay, simulations, and virtual worlds.
Supports multiple platforms, including PC, consoles, mobile devices, and virtual reality (VR) headsets, allowing developers to reach a wide audience.
4. Maya
Autodesk Maya is a professional 3D software that empowers artists and designers to create expansive worlds, intricate characters, and stunning visual effects.
Features:
Provides a range of powerful animation tools that bring characters to life, allowing artists to create engaging and believable performances.
Shape 3D objects and scenes with ease using Maya's intuitive modeling tools, enabling artists to bring their creative vision to reality.
From explosive simulations to realistic cloth animation, Maya offers a wide array of tools for creating lifelike effects that add depth and realism to your projects.
Maya's powerful tools and efficient workflows allow for faster iteration, enabling artists to focus on unleashing their creativity and meeting project deadlines.
Artists can add intricate details to characters and scenes, ensuring the delivery of high-quality work that exceeds client expectations.
Maya is relied upon by top artists in the industry for creating the most complex shots, characters, and worlds, making it a trusted tool for professional 3D production.
5. OpenVR SDK
The OpenVR SDK is an API and runtime that provides developers with access to virtual reality (VR) hardware from various vendors, eliminating the need for applications to have specific knowledge about the targeted hardware. This repository serves as an SDK that includes the necessary API and samples for VR development. The corresponding runtime is available under SteamVR in the Tools section on Steam.
Features:
Enables developers to build VR applications that can seamlessly interface with VR hardware from different vendors, ensuring broader compatibility and accessibility.
Abstracts the underlying hardware complexities, allowing developers to focus on creating immersive VR experiences without needing in-depth knowledge of specific hardware details.
Provides a comprehensive set of APIs and sample code that developers can utilize to integrate VR functionality into their applications efficiently.
Developers can streamline the development process and reduce the amount of code required to support multiple VR hardware platforms.
OpenVR runtime is integrated with SteamVR, a platform available on Steam. This integration further facilitates the deployment and management of VR applications.
6. Masterpiece Studio Pro
Masterpiece Studio Pro is a powerful 3D creation tool that harnesses the capabilities of 3D Generative AI. With this tool, users can easily generate game-ready 3D models compatible with leading game engines like Unity and Unreal Engine.
Features:
Use the power of AI to transform text into fully formed 3D models with meshes and textures, ready for use in game development.
Create custom animations by simply inputting a few words, allowing for quick and intuitive animation creation.
Modify and remix the generated 3D models to match your vision, providing flexibility and customization options.
All 3D models are securely stored, optimized, and easily deployed from the cloud, ensuring accessibility and scalability.
Focuses on pushing the boundaries of 3D creation, enabling users to explore innovative and advanced techniques.
From concept art to full-body avatars, the tool offers a wide range of features including drawing, sculpting, texturing, optimizing, rigging, skinning, and animating.
Export your creations to popular game engines, renderers, and standard animation software for seamless integration into your projects.
7. 3ds Max
3ds Max is a professional 3D modeling, rendering, and animation software that empowers users to create expansive worlds and high-quality designs.
Features:
3ds Max provides powerful tools for creating detailed environments and landscapes, allowing users to breathe life into their virtual worlds.
Offers intuitive tools for creating finely detailed designs and props, enabling users to add textures and shading with ease.
Allows users to iterate and produce professional-grade renders with complete artistic control, ensuring the desired visual outcome.
Fuel your imagination with the worldbuilding and asset creation tools in 3ds Max, enabling the creation of unique and captivating virtual environments.
Allows users to automate repetitive and time-consuming tasks, increasing productivity and helping meet project deadlines.
Features a user-friendly interface designed to keep artists in the creative flow, providing easy access to the tools needed for efficient and effective 3D modeling, rendering, and animation.
8. echoHD
echoHD is a comprehensive 3D asset management platform designed for developers. It offers a 3D-focused API and cloud infrastructure that enables efficient storage, updating, security, and streaming of 3D content for real-time applications.
Features:
Real-time cloud-based updates without the need to rebuild 3D applications or games.
Seamless streaming of optimized 3D assets to various platforms, including web pages, mobile devices, headsets, and game engines.
Fast loading of 3D content from anywhere in the world.
Automated content release process and support for location-aware content delivery.
Quick setup of a 3D app backend, allowing developers to focus on creating exceptional applications.
Platform-agnostic solution for developing once and deploying to multiple platforms.
Creation of immersive and personalized experiences for different target audiences.
In-depth insights into user interactions with the app and the ability to engage users with their desired 3D content.
9. VRED
VRED is a leading 3D visualization software that caters to designers and engineers, enabling them to create engaging product presentations, design reviews, and virtual prototypes. It offers interactive GPU ray tracing, analytic rendering, and cloud-rendering modes for immersive and realistic experiences.
Features:
VRED helps bring intricate data to life by providing advanced visualization capabilities.
Users can create stunning and realistic renderings either on their premises or in the cloud.
Simplifies the process of visualizing, reviewing, and validating designs with ease and precision.
The VR software facilitates collaboration among team members by allowing them to work on any device, including virtual reality (VR) devices.
Users can assemble and review digital twins of products, enabling effective decision-making.
Enables visual collaboration among team members, regardless of their physical location or the device they are using.
Encourages the expanded use of Extended Reality, such as VR, for evaluation, reviews, and data interaction.
10. CRYENGINE
CRYENGINE is a game development platform renowned for its power and capability in creating exceptional entertainment experiences. It is a real-time development platform that enables developers and teams to achieve the highest quality experiences in the gaming industry.
Features:
Delivers best-in-class visuals that have the potential to captivate and impress players, providing immersive and breathtaking gaming experiences.
Developers have access to a comprehensive set of tools that empower them to create stunning and visually rich gaming experiences with ease.
Allows developers to populate their game worlds with the most realistic characters ever seen in gaming, enhancing the level of immersion and engagement for players.
Provides audio artists with complete control over their creations, enabling them to unleash their talent and deliver exceptional audio experiences in games.
Take advantage of built-in high-end physics solution, which adds a layer of realism and interactivity to game worlds, enhancing gameplay and immersion.
Allows developers to accomplish real-time visualization, interaction, and immersion, creating seamless and dynamic experiences for players.
In the ever-evolving landscape of VR and 3D development, these tools continue to evolve and innovate, offering new possibilities and pushing the boundaries of what can be achieved. The future holds even more exciting advancements as technology continues to advance and empower creators to bring their imagination to life in immersive and captivating ways.