ChatGPT Plugin: Join the ChatGPT Plugin Waitlist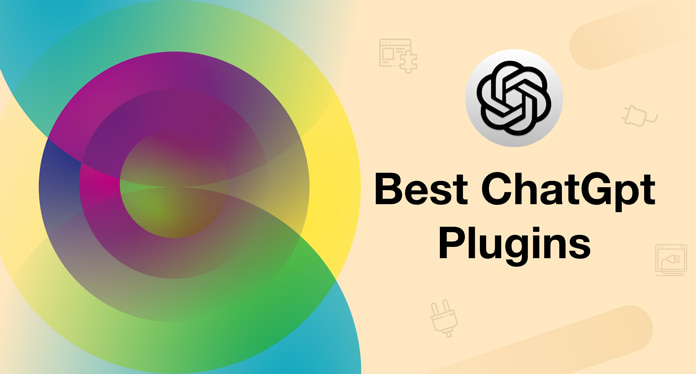 If you're already familiar with ChatGPT, then you know how incredible this AI tool is at generating natural language outputs. We've already talked about how to use this powerful chatbot and listed ChatGPT prompts that you can use to generate some creative outputs.
But today, we're here to talk about something even more exciting – the best ChatGPT plugins that can help you further expand the functionality of this already incredible AI tool.
Through rigorous research and testing, we've compiled a list of the most popular ChatGPT plugins you need to try! And that's not all – we've also found 80 upcoming plugins that can work wonders when combined with ChatGPT (check the image below).
So, buckle up and get ready to discover some outstanding plugins that can take your experience with ChatGPT to a whole new level!
What are ChatGPT Plugins?
Let's answer this question with an analogy because they simplify complex ideas by comparing them to something familiar.
Think of plugins this way: ChatGPT is like a sleek, shiny sports car. It's powerful, fast, and can take you places you've never been before.
But plugins are like the custom upgrades that make that car truly unique and personalized to your needs. Need a GPS to navigate new roads? Or want a killer sound system to blast your favorite tunes on long road trips? Use a plugin!
ChatGPT plugins work similarly. They're little programs that you can add to ChatGPT to give it extra functionality and make it work better for you.
Need to translate text to another language? Want personalized vacation itineraries? Or want a weather update for your city? Yep, there are plugins for all that!
But, what is the buzz about all those ChatGPT plugins? Read further!!
Also Read: Google Bard plugins
How To Add Plugins To ChatGPT:
By following these steps, you'll be able to seamlessly integrate plugins into your ChatGPT experience, enhancing the capabilities and interactions you have with the AI.
Ensure you're a ChatGPT Plus subscriber, which grants you access to ChatGPT-4. This subscription plan costs $20 per month and offers various benefits, including peak time access, faster response times, and priority access to new features such as plugins.
If you're using the free plan, consider upgrading to ChatGPT Plus. Click on 'Upgrade to Plus' located at the bottom left of your screen and follow the purchasing steps to avail of the enhanced features.
To use the plugins feature, make sure the Chat History & Training option is turned on in your 'Settings.' Without this, the option to add a plugin won't appear.
Locate the three dots at the bottom left of your screen, click on them, and select 'Settings.'
Within the 'Settings,' click on 'Data Control.'
In the 'Data Control' section, find 'Chat History & Training' and ensure it's toggled on.
Keep in mind that ChatGPT might send parts of your Initially, you can add plugins via the Settings menu. More details about this can be found in the following sections.
Benefits Of Using Plugins:
Expanded Functionality: Plugins inject a new dimension of capabilities into ChatGPT, empowering it to perform specific tasks beyond its core abilities. From translating languages on the fly to generating code snippets, plugins broaden the horizons of what ChatGPT can achieve.
Tailored Experiences: With a variety of plugins available, you have the freedom to personalize your interactions. Choose plugins that align with your interests, whether it's travel planning, content creation, or more, to craft a conversation that suits your needs.
Efficiency Boost: Plugins act as specialized tools that expedite tasks that would otherwise require multiple apps or searches. This streamlines your workflow and allows you to get things done faster within a single platform.
Diverse Applications: Plugins cater to a multitude of domains and industries. Whether you're a student seeking educational assistance, a traveler planning a trip, or a developer coding a project, plugins offer solutions tailored to your specific requirements.
Real-time Insights: Some plugins provide up-to-the-minute information, such as news updates, stock market trends, or weather forecasts. This real-time data integration keeps you informed and enables you to make informed decisions.
Seamless Integration: Adding plugins to ChatGPT is often a straightforward process. With a few clicks, you can augment your AI conversations with powerful functionalities, all within the familiar interface of ChatGPT.
Automation and Assistance: Plugins can automate repetitive tasks, saving you time and effort. Whether it's generating standardized responses or extracting key information, plugins can be your reliable virtual assistant.
Innovation and Evolution: The plugin ecosystem is continuously evolving, introducing new tools and features that align with emerging technologies and trends. Engaging with plugins keeps you at the forefront of technological advancements.
User-Centric Approach: Plugins are designed to cater to specific user needs, enhancing user experiences by delivering relevant and targeted information. This personalized touch makes interactions with AI more engaging and productive.
Future Potential: As the world of AI and plugins evolves, we can expect even more sophisticated functionalities to become available. The integration of plugins promises a future filled with possibilities, where AI becomes an indispensable tool for an array of tasks.
Join the ChatGPT Plugin Waitlist
OpenAI has created ripples in the AI world ever since it made its announcement regarding the ChatGPT Plugin Waitlist. The excitement surrounding this list can be attributed to it being specifically curated to showcase the most innovative plugins available in the market.
The company has stated that this update will enable ChatGPT to "access current information, perform computations, and utilize third-party services." It has also enlisted developers from the waiting list to create custom plugins for ChatGPT.
What is truly remarkable is the fact that access to such advanced technology is no longer restricted to a select few. OpenAI is bringing the world together under one umbrella of powerful technology by providing a window for interested individuals to get onboard this plugin ride by simply visiting OpenAI's website and filling out a brief form.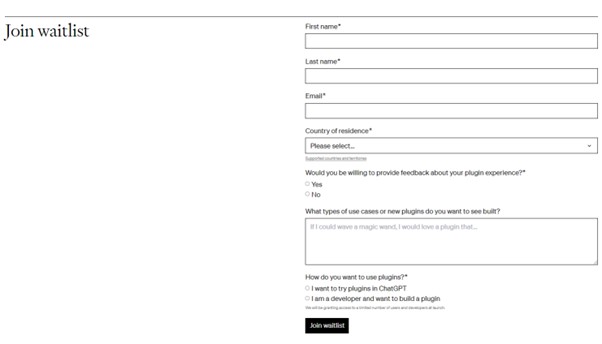 The first batch of plugins has already been launched, featuring a variety of companies such as Expedia, Klarna, Slack, Wolfram, OpenTable, Shopify, and others. If you are looking for tools similar to ChatGPT than you can check this list out.
Let's look at some of these plugins for ChatGPT that can do everything from automating conversations to planning personalized trips and generating enhanced reports.
Expedia:
This plugin turns the bot into a virtual tour guide, helping you plan unforgettable trips. Find flights, hotels, car rentals, or vacation rentals in minutes – get access to up-to-date information on availability and prices any time of day!
For What?: To book flights and hotels, as well as travel suggestions.
Slack:
Slack for ChatGPT is a game-changer for teams looking to boost productivity. Its conversational interface offers instant summaries, research tools, and writing assistance to make communication more efficient. Powered by OpenAI's language models, this plugin is perfect for anyone seeking to save time and get more done.
For What?: For easier communications
FiscalNote:
FiscalNote is a powerful tool for individuals and organizations seeking to stay informed about legal and regulatory developments. By harnessing the power of real-time data, you navigate the complex world of regulation and compliance with ease.
For What?: To train legal models
Klarna:
This plugin gives users access to Klarna's search and compare tool directly from the ChatGPT interface. It enables users to compare prices, ask questions, receive product recommendations, and make informed buying decisions.
For What?: For comparing prices from online shopping platforms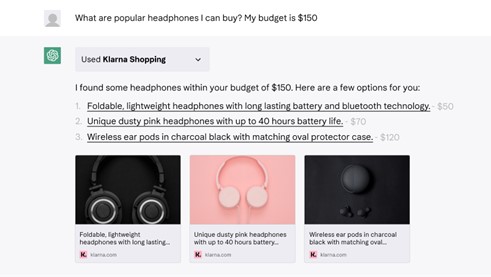 Zapier:
Zapier's plugin for ChatGPT can connect the chatbot with thousands of apps, making work easier and faster. From scheduling appointments to updating your social media pages, the possibilities are endless.
For What?: To connect numerous app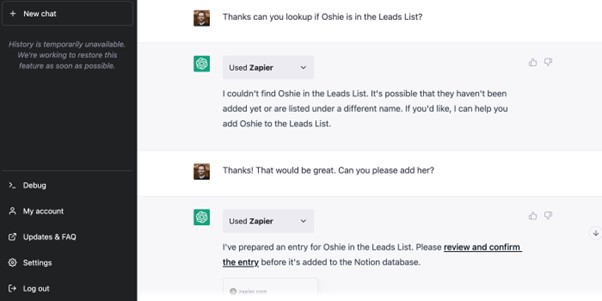 InstaCart:
InstaCart is an advanced plugin that enables users to place orders from local supermarkets. It boasts an extensive database of groceries and household items, providing users with detailed information on prices and availability.
For What?: To buy groceries through conversation with the AI
Wolfram:
This add-on equips the AI assistant with immense mathematical and computational capability. On integration with Wolfram, ChatGPT can perform complex calculations, generate visuals, and derive insights from vast databases of scientific knowledge.
For What?: For complex mathematical calculations
Shopify:
Shopify's AI plugin offers customers a truly personalized shopping journey. It gives shoppers tailored product recommendations from an extensive range of merchants, making it easy for them to find precisely what they're looking for.
For What?: To generate product descriptions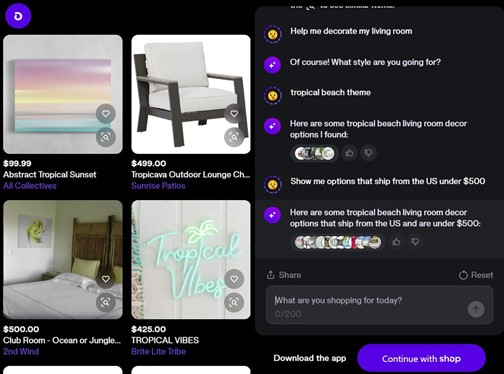 OpenTable:
With the OpenTable plugin, finding a restaurant and reserving a table has never been easier! Users can get personalized recommendations with a direct link to book on OpenTable, all from within the chat interface.
For What?: Used for shift management
Speak:
With the Speak plugin, users can improve their speaking and listening skills by having authentic conversations with an AI tutor, which can help them gain fluency and confidence in a foreign language.
For What?: To capture audio and video data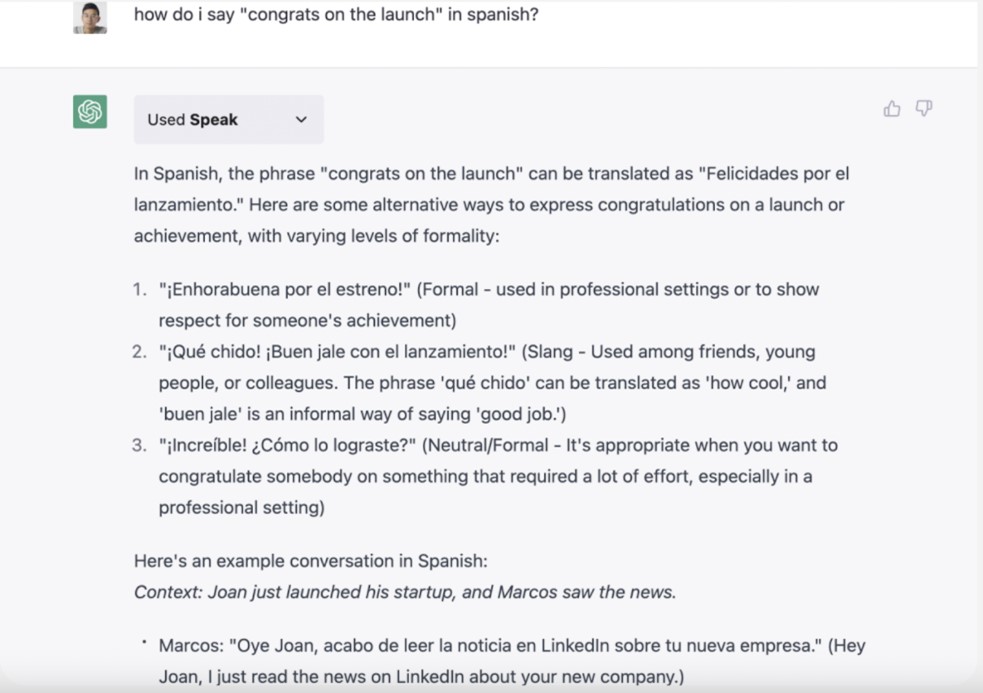 Plugins to Keep an Eye Out For
Let's now talk about what the hype is all about! The internet is abuzz with the latest news about a Twitter user, rez0, who breached the new ChatGPT API and retrieved information about 80 unreleased plugins. The Tweet below will give you all the information you need, especially the plugins that are expected to go live (fingers crossed).
This morning I was hacking the new ChatGPT API and found something super interesting: there are over 80 secret plugins that can be revealed by removing a specific parameter from an API call.

The secret plugins include a "DAN plugin", "Crypto Prices Plugin", and many more. pic.twitter.com/Q6JO1VLz5x

(@rez0__) March 24, 2023

The impact of these ChatGPT plugins on the tech ecosystem cannot be overstated. With its unmatched efficiency and accuracy, these new solutions could well herald a new era in artificial intelligence and machine learning.
Now that you know the insider scoop, which of these ChatGPT plugins are you most excited to try out? Let us know in the comment section below!