How to Choose the Right CRM for Your Business?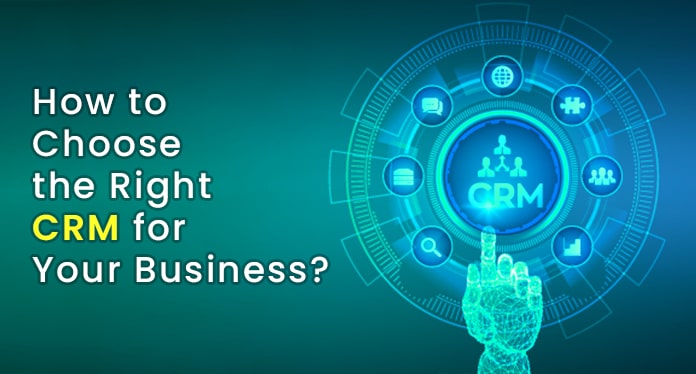 As a business owner or manager, you know how important it is to build and maintain strong relationships with your customers. A customer relationship management (CRM) system can help you do just that, but with so many options available, it can be overwhelming to choose the right one.
In this article, we will discuss how to choose the right CRM for your business by identifying your company's needs and priorities, studying different types of CRM, monitoring integration with other applications, requesting a demonstration, making room for customisations and training, keeping an eye on the total cost, and avoiding common mistakes while picking a CRM tool.
Take a quick look at the contents of the article:
What are CRM Tools?
Things to Consider While Choosing the Right CRM Tools For Your Company
Mistakes to Avoid While Picking a CRM Tool
What are CRM Tools?
A CRM tool is a software application that allows businesses to manage customer interactions, track sales and marketing activities, and analyse customer data. A CRM tool helps businesses comprehensively view customer's profiles, preferences, and behaviour patterns. This data enables businesses to better understand their customers and improve their experience.
Here are a few basic questions that need to be on your checklist before you buy a CRM tool:
What are my business goals and objectives?
What are my company's needs and priorities?
What are my customer's needs and expectations?
How will the CRM tool improve my customer experience?
How will the CRM tool fit into my existing business processes?
How much am I willing to invest in a CRM tool?
Things to Consider While Choosing the Right CRM Tools For Your Company
The right CRM tool can truly elevate your business structure, automate processes, help you save money, time and resources and drive in leads and customer loyalty. It is truly an asset to the business; thus, care and thought need to go into picking the right CRM tool.
Identify your company's needs and priorities
Understanding that there is a problem you are trying to solve in the first place is essential if you decide to employ a CRM solution. Be very clear about your goals with the CRM software. Sometimes, it may also happen that you do not actually require a CRM tool; instead, you need a CEM (Customer Experience Management) tool. While the two usually function together, there are significant differences between what the two address. Given below is a list of potential reasons for investing in a good CRM tool:
Your company is finding it difficult to collect valuable, accountable customer data
Communication with clients is poor
Your sales process needs work, and the cycles are usually long or extended
The quality of customer support and loyalty is poor
Difficulty in managing timelines, agents and products
These are a few possible scenarios that would warrant the addition of a CRM tool to elevate and streamline your business processes. Always remember, CRM tools are not supposed to solve all your problems; rather, they are supposed to order and augment your workflow so addressing issues within the business becomes easier.
Study the different types of CRM
The idea of a "one-size-fits-all" CRM is still a faraway dream. The closest you can get to the same is a basic operational CRM system with a common platform that addresses a set of pre-decided concerns that all businesses may face. However, this is a highly risky strategy as it may work wonders for your business or cause issues that weren't even present in the first place. It's advisable to explore the various CRMs and their distinctive characteristics after deciding on your priorities and goals.
Operational CRMs: This type of CRM focuses on automating sales and marketing processes. It allows you to manage customer interactions and sales pipelines, automate sales and marketing campaigns, and track sales performance.
Analytical CRMs: Analytical CRM is all about data analysis. It helps you gather, analyse, and interpret customer data to improve your marketing, sales, and customer service strategies.
Collaborative CRMs: This type of CRM is designed to facilitate collaboration among different departments within your organisation. It allows teams to share information, collaborate on projects, and track progress.
Monitor how the CRM integrates with other applications
You are not investing in a CRM tool as an individual asset; instead, it functions as a collection of tools and systems. They work together to automate your business processes. Thus, it is extremely important to ensure that all your current systems are authenticated and updated enough to integrate with your CRM and vice versa.
Nope, we are not talking about integrating your Office 360 with your CRM.
That's important too, but your CRM should also integrate with your accounting software, HRMS tools, website building tools, e-commerce platforms associated with the business, and the e-marketing solutions they possess. The scalability of the CRM software also needs to be equally considered. As your business grows, you are most likely to scale up your software game, and the CRM software should also be able to catch up with the same.
Always request a demonstration or use the free trial option
CRM vendors often make their CRM tools seem like the perfect solution to all your business problems but do not take them at face value.
Watch a live demonstration of the software or sign up to join the free trial of the CRM tool before investing in it. A live demonstration will make your job easier for you as they often highlight all of the important features of the tool and how it can be helpful to your business. Once you are done with the demonstration, get the tool, and test it out for free to determine its strengths and weaknesses for yourself. Try and narrow down your CRM options to a minimum of two so you have the advantage of comparison.
Ideally speaking, your CRM tool should have some of the following features:
Generate and nurturing leads for your business
Social media management
Compatibility with different devices and windows
Email tracking
Automated processes
Dashboards, reports and quick information
Management of contacts and information
Effective campaign delivery and management
Make room for customisations and training
There is no point in investing in a CRM tool unless your staff is trained in the functioning of the tool and its unique features. So, when quoting or negotiating a price for your desired tool, estimate the cost of reconfiguring the tool for your needs and personalise training sessions.
Simply said, the tool must be a user-friendly, role-based, ongoing, dynamic system that can adapt to your business' needs, requirements, strategies, processes and management routines.
Customisation options: Make sure the software can be altered to meet the particular requirements of your company.
Training options: Ensure the CRM software offers comprehensive training resources, such as user guides, tutorials, and webinars.
Technical support: Ensure the CRM software offers technical support to help you resolve any issues that may arise during its implementation and performance stages.
User experience is of key importance
The primary, long-term goal of any CRM tool is to elevate your customer's experience with your business. Be clear about exactly what you are trying to create, promote and encourage, especially in terms of your user base.
"The 'quality' in a service or product is not what you put into it. It is what the customer gets out of it"
-Peter Drucker
While you consider your needs and requirements with a CRM tool, make a separate checklist deconstructing the user's requirements and how well the features of the CRM tool align with the two. Customers come through various channels such as websites, emails, retailers, word of mouth, social media, etc. Whatever CRM tool you choose to invest in should be able to meet the customers at their level and get straight down to business in terms of handling their needs.
Keep an eye on the total cost
When selecting a CRM, it's essential to understand the costs associated with the software. Besides the initial price tag, several other expenses, such as integration costs, customisation, training, and support, may come up.
What should you consider?
Integration costs: You will need to integrate your CRM with other systems, such as marketing automation, social media, or e-commerce. Integration costs can vary, so check whether the CRM provides native integrations or whether you need to rely on third-party tools.
Customisation costs: Customszation can help you tailor the CRM to your specific business needs. However, customisation can come at an additional cost. Ensure to understand how much you'll need to pay to configure and tailor the CRM to suit your business processes.
Training costs: A CRM is only as effective as the people who use it. Investing in user training is essential to ensure that your staff can utilise the software to its full potential. Also, check whether training is included in the total fee.
Support costs: Technical support is crucial when implementing and using a CRM system. Understanding the types of help offered and their associated fees, such as live chat, email support, and phone support, is crucial.
Mistakes to Avoid While Picking A CRM Tool
When choosing a CRM tool, many mistakes can occur, leading to unsatisfactory results. Here are some common mistakes that people often make while choosing a CRM tool:
Focusing on Price Over Value: Selecting a CRM based only on the price can lead to choosing software that doesn't meet your business's requirements. Evaluate the value that the CRM brings to your organisation, along with the cost.
Not Considering Future Growth: As your business grows, so will your CRM needs. Ensure that the CRM can scale up to meet your future requirements, such as additional users, features, and integrations.
Neglecting User Experience: A CRM's user interface and usability can significantly impact user adoption and, ultimately, the system's effectiveness. Ensure that the CRM has a clean and intuitive interface and is easy to use.
Choosing the Wrong Type of CRM: Different types of CRM systems cater to different business needs. If you select the incorrect CRM, your needs may not be met by the system. Make sure you comprehend the several kinds of CRM, including operational, analytical, and collaborative, and choose the one that is most appropriate for your company.
Skipping Demos and Trials: Requesting a demo or using the free trial option to assess the CRM's functionality and features is crucial. Skipping demos and trials can result in selecting a CRM that doesn't meet your requirements or doesn't provide the value that you expected.
The Bottom Line
Choosing the right CRM for your business can be as tricky as choosing the perfect flavour of ice cream from a gelato shop with endless options. With the right considerations and research, you'll be able to find the CRM that's just as sweet and satisfying as your favourite frozen treat.
A CRM can help you manage your customer interactions, improve customer satisfaction, and boost revenue. However, selecting the wrong CRM can lead to wasted resources, frustrated users, and missed opportunities. It is often easy to get lost in the features and processes a CRM tool can offer and do for your business, but it is also necessary to recognise what you truly need and want before choosing your cool.
Sometimes you can simply get away without using one, and sometimes, you might need one, but it's probably not the most popular one in the market.
Remember to keep in mind your business goals, team size, budget, and desired features to help narrow down your choices. And just like how gelato samples can help you decide, don't be afraid to test out a few CRMs before committing to one.
FAQs
1. What are the advantages that come with using a CRM system?
Using a CRM system offers several benefits for businesses, including:
Better customer service and experience
Increased productivity and efficiency
Improved communication and collaboration among teams
Enhanced customer engagement and retention
More accurate sales forecasting and reporting
Increased revenue and profitability
2. What is the difference between on-premise and cloud-based CRM software?
On-premise CRM software is installed and hosted on the company's own servers, while cloud-based CRM software is hosted on the vendor's servers and accessed through the Internet.
The main differences between the two include:
On-premise CRM requires more upfront costs for hardware, software, and installation, while cloud-based CRM is typically offered as a subscription-based service with lower initial costs.
On-premise CRM offers more control and customisation options, while cloud-based CRM is more flexible and scalable.
On-premise CRM requires IT expertise to maintain and upgrade, while cloud-based CRM is maintained and upgraded by the vendor.
3. Can a CRM system be integrated with other business applications?
Yes, most CRM sstems offer integration with other business applications, such as marketing automation, email marketing, social media, accounting, and customer support software. Integration allows for better data management, more efficient workflows, and more comprehensive reporting.
4. How much does a CRM system cost?
The price of a CRM system is affected by several variables, including the vendor, the software type (on-premise vs cloud-based), the number of users, and the degree of customisation needed. On average, businesses can expect to pay anywhere from $50 to $300 per user per month for a cloud-based CRM system, while on-premise CRM software can cost several thousand dollars upfront, plus ongoing maintenance and upgrade expenses.
5. How long does it take to implement a CRM system?
Implementation can take a few weeks to several months on average. A successful launch can be ensured by careful planning and preparation, which can also help expedite the implementation phase.