15 Best Artificial Intelligence & Machine Learning Podcasts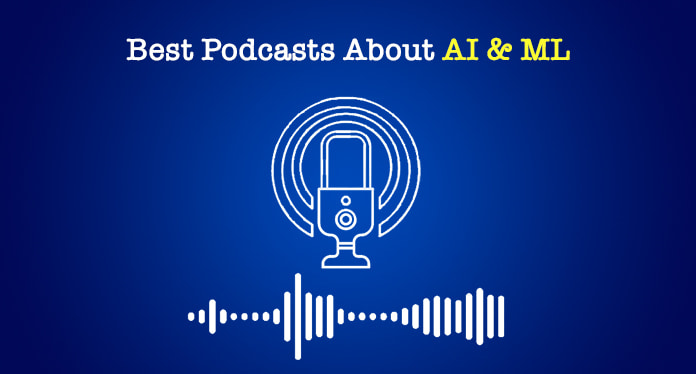 In the rapidly evolving world of artificial intelligence (AI) and machine learning (ML), staying up-to-date with the latest advancements and insights is crucial. Podcasts have emerged as an excellent medium for enthusiasts, professionals, and curious minds alike to delve into the fascinating realm of AI and ML. In this article, we present a curated list of the best podcasts, offering thought-provoking discussions, expert interviews, and valuable perspectives on the forefront of AI and ML.
Whether you're a seasoned practitioner or a novice looking to explore this cutting-edge field, these podcasts are bound to expand your knowledge and captivate your imagination.
15 Best Podcasts About AI & ML
The AI Podcast takes you on an enthralling journey into the realm of artificial intelligence, showcasing its profound impact on various aspects of our world. With each episode, this podcast brings to light the remarkable stories of individuals whose work revolves around AI, from wildlife biologists tracking endangered rhinos to astrophysicists deciphering ancient starlight in distant galaxies. Additionally, you'll gain insights from data scientists tackling complex parameters in a retailer's supply chain, such as Walmart.
This podcast serves as a valuable resource for anyone seeking to understand and appreciate the transformative power of AI. By exploring real-world applications and interviewing experts in the field, the AI Podcast sheds light on the latest developments, challenges, and possibilities in the AI landscape. It provides listeners with a nuanced understanding of AI's potential to shape industries, society, and our everyday lives.
Hosted by Noah Kravitz, a seasoned journalist based in the Bay Area, this podcast benefits from his extensive experience in covering personal electronics and mobile computing for over two decades. Noah's expertise, combined with his ability to present complex concepts in an accessible manner, makes the AI Podcast an engaging and informative listen.
You can subscribe to the AI Podcast on various platforms, including iTunes, Google Podcasts, Spotify, and more. With a wide range of distribution channels, this podcast ensures that you can access its captivating content conveniently.
Podcast.ai stands as a truly unique podcast that pushes the boundaries of innovation by being entirely generated by artificial intelligence (AI). Each week, this groundbreaking podcast delves into a new topic, providing in-depth exploration and analysis. What sets podcast.ai apart is its interactive nature, allowing listeners to suggest topics, as well as proposed guests and hosts for future episodes. This level of engagement ensures that the podcast remains relevant and caters to the diverse interests of its audience.
Hosted by a diverse range of influential personalities, including Oprah, Zach Galifianakis, Terence McKenna, and Lex Fridman, podcast.ai ensures a captivating and dynamic listening experience. Additionally, the podcast welcomes and values listener participation by allowing them to suggest and vote for episode ideas, making it a collaborative platform that truly reflects the interests of its audience.
To be a part of this exciting AI-generated podcast, you can suggest and vote for episode ideas on their website, which guarantees that your favorite topics will be explored in future episodes. Prepare to embark on an extraordinary audio journey that seamlessly combines the advancements of AI technology with the power of human curiosity and creativity.
The TWIML AI Trends Podcast has evolved from its humble beginnings as "This Week in Machine Learning & AI" to become a prominent voice in the field. With over seven million downloads and a dedicated community following, it has established itself as a leading platform for ML and AI enthusiasts. Alongside the podcast, TWIML offers a range of valuable resources such as online meetups, study groups, conferences, and educational content.
At the core of their mission, The TWIML AI Podcast aims to connect the ML and AI community with the brightest minds and groundbreaking ideas in the field. It serves as a conduit for ML/AI researchers, data scientists, engineers, and tech-savvy business and IT leaders to access top-tier insights and discussions.
By featuring renowned experts, the podcast provides listeners with a deep understanding of the latest advancements and real-world applications of intelligence technologies. Hosted by esteemed individuals such as Sergey Levine, Sameer Singh, and Robert Osazuwa Ness, the TWIML AI Podcast ensures engaging and insightful conversations. Their collective expertise and passion make each episode an enriching experience for listeners.
Whether you're seeking cutting-edge insights, practical advice, or a sense of belonging within the ML and AI community, The TWIML AI Trends Podcast delivers on all fronts. It is a testament to their commitment to advancing the field and enabling individuals to leverage the potential of intelligent technologies.
Hosted by Daniel Faggella, the founder of Emerj, this podcast features interviews with esteemed executives, investors, and researchers from globally recognized organizations. With millions of downloads and hundreds of episodes spanning over five years, AI in Business has established itself as the premier B2B AI podcast.
What sets AI in Business apart is its unwavering focus on addressing the interests and concerns of business and government leaders. The podcast dives into critical trends and applications of AI, providing valuable insights into which AI applications are driving tangible business value and which are still in experimental stages. It also explores strategic considerations for integrating AI into business planning and offers predictions on likely AI trends and disruptions. Through these discussions, top executives gain a firsthand understanding of how to leverage AI to their advantage and stay ahead of potential disruptions.
By featuring interviews with the best and brightest minds in the AI field, AI in Business ensures that its listeners receive valuable guidance and stay well-informed about the latest developments. Subscribing to this podcast allows business leaders to hear directly from industry experts and learn from their experiences, ultimately enabling them to make informed decisions and navigate the AI landscape with confidence.
Apple Podcasts stands as a platform that hosts an extensive range of podcasts, catering to diverse interests and featuring shows from renowned names as well as independent creators. With millions of podcasts available, it offers easy access to premium content through subscriptions, ensuring that listeners have a wide array of options to choose from.
The Artificial Intelligence Podcast covers a multitude of podcasts dedicated to the fascinating realms of artificial intelligence and machine learning. These podcasts are hosted by industry experts who bring their knowledge and insights to the table, offering listeners valuable perspectives and discussions.
By hosting numerous podcasts on these subjects, Apple Podcasts offers listeners the opportunity to explore the forefront of AI and ML, delve into thought-provoking discussions, and stay up to date with the latest advancements in the field. Whether you're a technology enthusiast, a professional in the industry, or simply curious about the world of AI, Apple's The Artificial Intelligence Podcast is a gateway to a treasure trove of knowledge and engaging content.
Adventures in Machine Learning is a podcast that delves into the practical applications of machine learning, deep learning, and the transformative impact of artificial intelligence on our future. Through their engaging podcasts, they provide valuable insights and knowledge to their audience.
Listeners can expect to gain a deeper understanding of various aspects related to machine learning. For example, the podcasts explore how the size of a company can influence the role and day-to-day work of a data scientist. Additionally, they cover the experiences of individuals transitioning from academia to the dynamic and complex world of the tech industry.
The podcast is hosted by a team of knowledgeable individuals, including Ben Wilson, Michael Berk, Charles Max Wood, Gant Laborde, and Daniel Svoboda. Their collective expertise and experiences in the field make for engaging and informative conversations that keep listeners informed and inspired.
Join Adventures in Machine Learning to explore the fascinating world of machine learning, gain practical insights, and discover how artificial intelligence is reshaping industries and opening new possibilities.
Artificial Intelligence Practical is a podcast dedicated to making artificial intelligence practical, productive, and accessible to a wide range of individuals. With a focus on real-world applications and tangible outcomes, the podcast aims to bridge the gap between AI theory and practical implementation.
By hosting conversations that delve into the practical aspects of AI, Artificial Intelligence Practical provides listeners with valuable insights, tools, and approaches to effectively implement AI solutions. Whether you are an AI enthusiast, a developer, or a business professional, this podcast offers a wealth of knowledge to help you navigate the world of artificial intelligence and make informed decisions in your own endeavors.
Join Chris Benson, Daniel Whitenack, and The Changelog podcast network on their mission to demystify AI and empower individuals to leverage its potential in practical and meaningful ways.
The Natural Language Processing podcast covers algorithms, technology, platforms, and perspectives on the world of real-time digital advertising. Listeners can expect to gain a deeper understanding of the latest advancements in digital advertising and how natural language processing plays a crucial role in optimizing advertising strategies.
Another area of focus is the exploration of current research, applications, and conversations with thought leaders in the field of artificial intelligence. The podcast brings together experts who share their insights, experiences, and perspectives on the ever-evolving landscape of AI. While recent advancements in deep learning techniques have brought us closer to this goal, there remain questions about the extent of our progress and how far we are from achieving true artificial general intelligence.
Whether you are involved in survey design, digital advertising, or interested in the advancements of AI, this podcast provides a platform for gaining knowledge and staying informed about the latest trends and developments in natural language processing and artificial intelligence.
Talking Machines is a podcast that serves as a gateway to the captivating world of machine learning. Hosted by Katherine Gorman and Neil Lawrence, the podcast offers clear and engaging conversations with experts in the field, insightful discussions on industry news, and valuable answers to questions related to machine learning.
Machine learning has transformed the way we approach and perceive the world, allowing us to ask new and profound questions. Talking Machines delves into the art of asking the best questions and explores the possibilities and implications of the answers we uncover.
Listeners can expect to gain a deeper understanding of the concepts, applications, and advancements in machine learning through the interviews and discussions featured on the podcast. Katherine Gorman and Neil Lawrence bring their expertise and passion to the conversations, ensuring that the content is accessible and informative for both experts and newcomers to the field.
The Podcast is a unique offering that provides news, insights, and data in the rapidly evolving field of artificial intelligence. With a target audience of industry professionals and the financing community, Eye On AI delivers original articles, comprehensive weekly ai newsletters, aggregated news, event coverage, and a biweekly podcast.
Hosted by esteemed New York Times correspondent Craig S. Smith, each episode of Eye On AI features engaging conversations with individuals who are actively shaping the AI landscape. The podcast not only explores incremental advances in machine intelligence but also places them in a broader context, considering the global implications of this rapidly developing technology.
Craig and his guests discuss the transformative impact of AI, shedding light on its potential to revolutionize various aspects of our world. By providing in-depth insights and thoughtful analysis, the podcast invites listeners to pay attention to the profound changes AI is bringing about.
Data Stories is a captivating podcast hosted by Enrico Bertini and Moritz Stefaner, focusing on the realms of data visualization, data analysis, and the significant role data plays in our lives. The podcast welcomes guests from diverse fields such as data journalism, design, machine learning, social sciences, and the arts, who share their unique perspectives on making information more tangible and extracting value from data.
Since 2012, Enrico and Moritz have been recording Data Stories, which primarily revolves around inviting guests to discuss specific topics of interest. The show covers a wide range of fascinating subjects, including visualizing data from space, creating data sculptures, and even visualizing poetry, among many others.
What sets Data Stories apart is its ability to engage listeners in thought-provoking discussions while keeping a light-hearted atmosphere that often leads to moments of laughter. The hosts' "exotic euro voices" have also garnered appreciation from their audience.
The Lex Fridman Podcast is a platform for engaging conversations that delve into various aspects of AI, human-robot interaction, autonomous vehicles, and machine learning, with a particular focus on research conducted at MIT. As technological advancements continue to progress, the discussions on this podcast become increasingly significant.
Hosted by Lex Fridman, the podcast features in-depth conversations with leading experts and influential figures in the field. Through these conversations, listeners gain insights into groundbreaking research, emerging trends, and the future implications of AI and related disciplines.
The podcast covers a wide range of topics, including the development of intelligent machines, the ethical considerations surrounding AI, the challenges and opportunities in human-robot interaction, and the advancements in autonomous vehicles. Lex Fridman's interviews bring together experts from diverse backgrounds, fostering multidisciplinary discussions that contribute to a deeper understanding of these complex subjects.
Learning Machines 101 is a podcast hosted by Richard M. Golden that explores the impact of smart machines and artificial intelligence on our everyday lives. With smart machines and AI becoming increasingly prevalent in various aspects of society, this podcast aims to provide an accessible introduction to the fascinating world of Artificial Intelligence.
The podcast is designed to cater to a broad audience, including the general public, and its objective is to popularize and demystify the field of AI by explaining fundamental concepts in an entertaining manner. While the podcast focuses on making AI accessible to all, it also touches upon advanced topics in artificial intelligence and machine learning, albeit at a high-level.
This makes the podcast beneficial for students, scientists, and engineers working in the machine learning field, as it can serve as a starting point for delving into more advanced statistical machine learning topics.
Hosted by Kathleen Walch and Ronald Schmelzer, the AI Today Podcast is a leading resource for individuals seeking practical and real-world insights into the current state of AI. Whether you're part of an enterprise, a public sector agency, or simply interested in the field, this podcast provides valuable perspectives from thought leaders, technology companies, experts, and pundits actively involved in AI.
The podcast covers a wide range of topics related to AI, including cutting-edge technologies, data analytics, automation, and big data. Listeners can expect in-depth discussions on the latest advancements, best practices, and successful case studies in these areas. By providing a platform for informative conversations and sharing expertise, the AI Today Podcast equips individuals and organizations with the knowledge and insights needed to navigate the evolving landscape of AI.
Artificial Intelligence Podcast published and sponsored by GigaOm. Through their interviews, they aim to provide a comprehensive understanding of artificial intelligence by featuring prominent authors, researchers, engineers, scientists, and philosophers who are at the forefront of this transformative technology. The conversations delve into the economic, social, ethical, and philosophical implications of AI, covering a wide range of perspectives and viewpoints.
Hosted by Byron Reese, the CEO of GigaOm, each episode showcases a single guest, engaging in a thought-provoking one-on-one interview. Guests share their valuable insights, enabling us to capture the essence of this pivotal moment in the AI landscape. Join them on the Artificial Intelligence Podcast as they embark on an intellectual journey, unraveling the complexities of AI and its impact on our world.
These artificial intelligence and machine learning podcasts that we have discussed in this article offer a diverse range of perspectives, covering topics such as the impact of AI on various industries, practical applications of machine learning, ethical considerations, cutting-edge research, and much more. Whether you are a technology enthusiast, a business leader, a researcher, or simply curious about the possibilities of AI, these podcasts provide valuable information and thought-provoking discussions.
FAQs On AI & ML Podcasts
1. What are AI and ML podcasts?
AI and ML podcasts are audio programs that focus on topics related to artificial intelligence and machine learning. They feature discussions, interviews, and insights from experts in the field, providing valuable information and perspectives on AI and ML technologies.
2. Why should I listen to AI and ML podcasts?
Listening to AI and ML podcasts allows you to stay informed about the latest trends, advancements, and real-world applications of artificial intelligence and machine learning. It provides an opportunity to learn from experts, gain practical insights, and stay up to date with this rapidly evolving field.
3. Who are these podcasts for?
AI and ML podcasts cater to a wide range of audiences. They are suitable for technology enthusiasts, professionals working in AI-related industries, researchers, students, business leaders, and anyone interested in understanding the impact and potential of AI and ML.
4. What topics are covered in these podcasts?
AI and ML podcasts cover a broad range of topics, including but not limited to: AI ethics, applications of AI in various industries, machine learning algorithms and techniques, AI research advancements, data analysis, deep learning, natural language processing, computer vision, and the societal implications of AI.
5. How can I access these podcasts?
Most AI and ML podcasts are available on popular podcast platforms such as Apple Podcasts, Spotify, Google Podcasts, and Stitcher. You can listen to them using a web browser or through dedicated podcast apps on your smartphone, tablet, or computer.
6. Are these podcasts free to listen to?
Yes, the majority of AI and ML podcasts are free to listen to. However, some podcasts may offer premium content or additional benefits through paid subscriptions.
7. Can I suggest topics or guests for these podcasts?
Some AI and ML podcasts allow listeners to suggest topics or even guests for future episodes. Check the podcast's website or contact the hosts to find out if they accept suggestions and how to submit them.
8. Are these podcasts suitable for beginners?
Yes, many AI and ML podcasts cater to beginners by providing introductory episodes and explaining concepts in a beginner-friendly manner. However, there are also podcasts that delve into advanced topics and assume some level of prior knowledge. It's recommended to check the podcast descriptions or listen to introductory episodes to gauge their suitability for your level of understanding.
9. Are transcripts or show notes available for these podcasts?
Some AI and ML podcasts provide transcripts or detailed show notes for their episodes. These can be helpful for referencing specific information, accessing recommended resources, or reviewing key points discussed in the podcast. Check the podcast's website or episode descriptions for the availability of transcripts or show notes.
10. How frequently are new episodes released?
The frequency of new episodes varies across different podcasts. Some release new episodes weekly, while others may have a bi-weekly or monthly schedule. Check the podcast's website or subscribe to their updates to stay informed about their release schedule.