10 Best AI Image Generators That Every Artist Must Try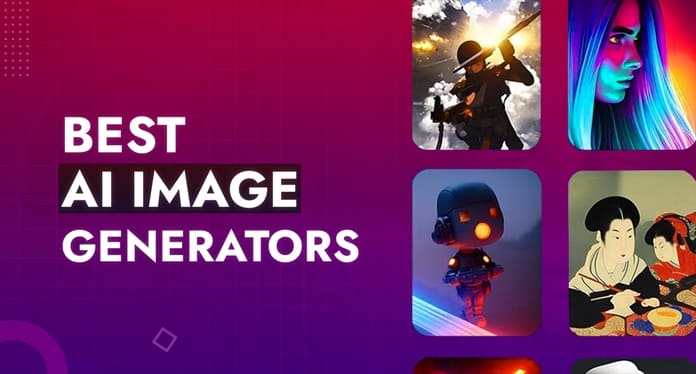 Scroll down your browser's news feed and we are sure you would find one article on some unimaginable breakthrough that AI may have made possible. Superintelligence is continuously changing the work processes across many fields. Like many other work areas, it is also redefining digital art and visual content.
Though AI-generated images have steered some of the most controversial debates among artists, it continues to ease work for others. Architect firms, graphic designers, filmmakers, interior designers, digital marketers, and many other professions that require visual creation are using artificial intelligence to make their businesses more efficient. If you are also in a profession that requires you to brainstorm image-related content, then do go try at least one of these best AI image generators from this list.
What Is an AI Image Generator?
Artificial intelligence image generator, also known as AI image generator in common language, lets users create images with a simple prompt. It is similar to watching each thought that you imagine turning into a beautiful image. The technology utilizes deep learning algorithms to generate images automatically. Users need to feed text or image-based input according to their requirements and in just a matter of seconds, the AI produces visual content. Till date, AI has successfully created sketches, photo-realistic images, portraits, faces, logos, and more. The prompts can be keywords, descriptions, or even rough sketches. Since this technology also learns on its own, the more you train your image generator the better images will be created. By employing neural networks, AI image generators can learn from vast datasets and mimic human-like creativity in generating unique visuals.
10 Best AI Image Generators That You Must Try
Now that we have a sound knowledge of what an AI image generator is, let's go through this ultimate list of the best AI image generators that everyone must try.
1. DALL-E 2 by OpenAI
This one made quite a buzz when Berlin-based artist Boris Eldagsen revealed that he had used Open AI's DALL-E 2 to develop his photograph PSEUDOMNESIA: The Electrician, when it won an award at the Sony World Photography Awards. This powerful tool enables users to create highly detailed and imaginative images based on text prompts. It uses a combination of unsupervised learning and reinforcement learning techniques to generate high-resolution images that exhibit exceptional creativity and realism.
Key Features:
Advanced Text-to-Image Generation: DALL-E 2 can generate images based on detailed text descriptions, allowing users to bring their ideas to life.
High-Quality Image Output: The generated images are of exceptional quality, with fine details and vivid colors.
Extensive Image Customization: Users can control various attributes of the generated images, such as style, color scheme, and composition.
Seamless Integration: DALL-E 2 offers easy integration with other applications and platforms, making it a versatile tool for various projects.
Pricing:
DALL-E 2 charges on the basis of resolution: –
| | |
| --- | --- |
| Resolution | Price |
| 1024×1024 | $0.020/image |
| 512×512 | $0.018/image |
| 256×256 | $0.016/image |
2. MidJourney
A great tool for anyone looking to connect with the artist community, MidJourney, was launched with the aim of expanding human imaginative power. The AI image generator can be accessed via a Discord account only. It offers a user-friendly interface and a wide range of customizable options, making it an ideal choice for marketers and designers.
Key Features:
Upscaling Images: This unique feature helps users in creating a larger and more detailed version of their image.
Create Variation: Users can easily create more variations of their upscaled images by clicking on the 'Make Variation' tabs at the bottom of their upscaled image.
Intelligent Image Recommendations: MidJourney employs AI algorithms to suggest relevant images based on user preferences and industry trends.
Collaboration and Sharing: The tool allows easy collaboration among team members and facilitates seamless sharing of generated images across platforms.
Pricing:
Here are the subscription plans that you can avail at MidJourney: –
MidJourney Subscription Plan
Monthly Subscription Rates
Yearly Subscription

Rates

Basic Plan
$10/mo
$96/year
Standard Plan
$30/mo
$288/year
Pro Plan
$60/mo
$576/year
Mega Plan
$120/mo
$1152/year
3. Jasper Art
Jasper is a quite well-known name in the superintelligence industry, especially for its AI content writing tool. Just like most of its competitors in the list, Jasper Art also takes text-based inputs to create AI images. Along with multiple art forms to choose from, the tool also allows users to select the artist in whose style they would like their images to be generated.
Key Features:
Artistic Style Transfer: Japer Art allows users to apply various artistic styles, inspired by renowned artists like Van Gogh, Picasso, or Monet, to their images, giving them a unique and artistic touch.
Customization Options: Users can adjust the intensity and blending of the artistic styles, allowing for precise control over the final output.
Artwork Collection: Japer Art offers a collection of curated artworks generated by the community, serving as a source of inspiration and showcasing the tool's creative potential.
Free-trial: The tool believes in inculcating trust; hence it offers a 7-day free trial on its various plans.
Pricing:
Jasper Subscription Plan
Monthly Subscription Rates
Yearly Subscription

Rates

Business
Custom Pricing
Custom Pricing
Teams
$125/mo
$99/mo billed yearly
Creator
$49/mo
$39/mo billed yearly
4. NightCafe
With multiple algorithms to experiment with, NightCafe has become a popular image generator in the AI Art community. This platform has the ability to create mesmerizing and dreamlike artwork. It specializes in generating surreal and imaginative visuals that evoke emotions and captivate viewers. You can also improve your prompting skills with their daily AI Art challenges.
Key Features:
Surreal Art Generation: Its AI algorithms excel in generating surreal and artistic images that push the boundaries of imagination.
Artistic Style Transfer: Users can apply various artistic styles to their images, transforming them into paintings, sketches, or other artistic forms.
Daily Challenge: NightCafe also has a daily art challenge in place that can help creators in bettering their prompt game.
Inspiration Showcase: The tool provides a curated collection of artworks generated by users worldwide, serving as a source of inspiration for creative projects.
Pricing:
NightCafe offers credit-based system: –
| | | |
| --- | --- | --- |
| NightCafe Subscription Plan | Credits per month | Monthly Subscription Rates |
| AI Beginner | 100 | $5.99/mo |
| AI Hobbyist | 200 | $9.99/mo |
| AI Enthusiast | 500 | $19.99/mo |
| AI Artist | 1400 | $49.99/mo |
5. Dream by WOMBO
Another free AI image generator tool that also has a mobile app, Dream by WOMBO focuses on transforming ordinary photos into visually striking and vibrant images. It utilizes state-of-the-art AI algorithms to enhance and stylize images, turning them into captivating visuals. Users can select a style and make variations of their generated image. However, to avail yourself of all these benefits you will have to register yourself at their official website.
Key Features:
Image Enhancement: It can enhance the quality and aesthetics of photos by adjusting colors, lighting, and other visual aspects, resulting in stunning visuals.
Artistic Filters and Styles: Users can apply various artistic filters and styles to their images, such as oil painting, watercolor, or vintage effects, to achieve unique visual effects.
Instant Preview and Comparison: Dream provides real-time previews and comparisons, allowing users to fine-tune their images and compare different styles before finalizing the output.
Mobile-Friendly Interface: The tool offers a mobile-friendly interface, making it convenient for users to generate images on the go.
Pricing:
Dream by WOMBO also offers both free and premium plans. They also give users 3-day free trial on their annual plans. Here are details on all their premium plans:-
| | |
| --- | --- |
| Dream by WOMBO Subscription Plan | Subscription Rates |
| Annual | $89.99/year |
| Monthly | $9.99/mo |
| Lifetime | $169.99 (One-time Payment) |
6. Deep AI
Deep AI is a versatile AI image generator that caters to various design needs, from creating illustrations to generating realistic landscapes for free. Users can generate an unlimited number of images, edit and share them wherever they like. The AI also lets users convert their selfies into perfect headshots.
Key Features:
Multiple Design Modes: Deep AI offers different design modes, including illustration, photo enhancement, and scenery generation, allowing users to choose the desired output style.
Interactive Image Editing: Users can make real-time adjustments to the generated images, fine-tuning details such as lighting, color grading, and composition.
Image Colorization: Lets users add colors to their black and white images or videos.
Export Options: The tool provides various export options, allowing users to download images in different formats and sizes, suitable for web or print usage.
Pricing:
Though Deep AI is a free platform, it does unlock some additional features at the following cost: –
| | |
| --- | --- |
| DeepAI Subscription Plan | Subscription Rates |
| DeepAI Pro | $4.99/mo |
| *Pay As You Go | $5 to $1000 |
*This is a credit-based system where you can buy credits starting at $5 and use them to unlock exclusive features at Deep AI.
7. Craiyon
Craiyon which was earlier known by the name DALL-E mini, is an intuitive free AI image generator that caters to both beginners and professionals alike. Novices who would like to get their hands on an AI image generator tool must try this one. The free version gives four image formats to the usersArt, Drawing, Photo and None.
Key Features:
Free for All: The platform neither asks users to sign-up nor register on its site to use its image generator.
Negative Words: When creating images users can enter keywords or description in the Negative Word box to exclude the elements that they do not want in their final output.
Save and Share: Creators can not only generate images for free but also save and share them as screenshots.
Multiple Variation: Users can create different variations with one prompt in a single click.
Pricing:
You can either use Craiyon for free or buy any of the following plans: –
| | | |
| --- | --- | --- |
| Craiyon Subscription Plan | Monthly Subscription Rates | Yearly Subscription Rates |
| Supporter | $6/mo | $5/mo |
| Professional | $24/mo | $20/mo |
| Custom | Varies | Varies |
8. SoulGen
When we first looked at SoulGen we knew this one was for anime fans. The platform creates some of the most beautiful feminine images both realistic as well as animated. The platform offers a free trial, allowing the user to try it before making any investment. With its pro version you can generate up to 9 images in a single click.
Key Features:
Portrait Generation: SoulGen specializes in generating lifelike portraits, capturing facial features, expressions, and emotions with remarkable accuracy.
Customization and Variations: Users can customize various attributes of the generated portraits, such as age, ethnicity, hairstyle, and more, ensuring diverse and unique outputs.
Pose and Composition Control: It allows users to adjust the pose and composition of the generated characters, providing flexibility and creative freedom.
Facial Expression Manipulation: The tool enables users to modify facial expressions, adding emotions and personality to the generated characters.
Pricing:
SoulGen offers a pro version prices for which are: –
| | |
| --- | --- |
| #SoulGen Subscription Plan | Subscription Plan Rates |
| 1- Month | $19.99/mo |
| 12-Month | $239.88/year |
#If you sign-up now you can find these SoulGen plans at 70% off.
9.Starry AI
Starry AI is an AI image generator that will help lead you into an incredible and unique AI art journey. With over 1000+ styles, you can create a world as fascinating as a Tim Burton movie. You can use this tool on your mobiles as well. To make its use easier, Starry AI has also provided a prompt builder that lets users create the right prompt for their requirements.
Key Features:
Upscaling: Starry AI can generate realistic landscapes and also help users upscale the original version created by users.
Full Ownership: AI art creators can take complete ownership of all the works that they generate on the platform.
Bulk Generation: With Starry AI creators can generate their artwork in bulk in just a few minutes.
Interactive Controls: Users can interactively adjust various parameters, such as lighting, weather conditions, and composition, to create the perfect visual atmosphere.
Pricing:
Starry AI is a free tool that offers five free credits upon sign-up. Besides, users also get five free credits every day in their accounts.
10. Fotor
Fotor is a comprehensive online design platform that includes an AI-powered image generator among its features. It offers a wide range of design tools, making it suitable for both image generation and graphic design projects. We recommend it for both creative as well as marketing purposes.
Key Features:
AI-Powered Enhancements: Fotor's AI algorithms enhance photos by automatically adjusting colors, exposure, and other aspects to optimize visual quality.
Collage and Layout Options: Users can create stunning collages and layouts using Fotor's pre-designed templates and customizable elements.
Graphic Design Tools: The platform provides a comprehensive set of graphic design tools, such as text editing, layer management, and special effects, allowing users to create professional-grade visuals.
Social Media Templates: Fotor offers a collection of templates tailored for social media platforms, making it effortless to create eye-catching posts and cover images.
Pricing:
Along with Fotor's free plans you may also want to try the following plans: –
| | |
| --- | --- |
| Fotor Subscription Plans | Subscription Plans Prices |
| Fotor Pro | $3.33/mo |
| Fotor Pro+ | $7.49/mo |
| Credit Plan | Starting at $19.99 |
How to Generate Images With AI?
Generating images with AI is a straightforward process that can be accomplished using the following steps:
Choose an AI image generator: Select one of the AI image generators mentioned above based on your specific requirements and desired features.
Explore the interface: Familiarize yourself with the user interface of the chosen AI image generator. Most platforms provide intuitive and user-friendly interfaces to streamline the image generation process.
Input your requirements: Depending on the AI image generator, you will have different options for inputting your requirements. This can include text prompts, keywords, rough sketches, or even uploading existing images.
Customize the output: Once you have provided the necessary inputs, you can start customizing the generated images. This may involve adjusting various parameters, such as style, color scheme, composition, or specific attributes related to the generator's specialization.
Preview and refine: Take advantage of real-time previews or comparison features offered by the AI image generator to evaluate the generated images. Make any necessary refinements or adjustments to achieve the desired outcome.
Download or export: Once you are satisfied with the generated images, download them in the desired format and resolution. Some platforms also provide options for direct sharing on social media or integration with other design applications.
By following these steps, you can leverage the power of AI image generators to create visually appealing and customized images for your various projects.
Wrapping Up!
From the advanced text-to-image generation of DALL-E 2 by OpenAI to the surreal artworks of NightCafe and the magical creations of Starry AI, each AI image generator brings its unique strengths to the table. Whether you need lifelike portraits, artistic illustrations, stunning landscapes, or enhanced photos, there is an AI image generator tailored to your specific needs.
Remember to explore the pricing details of each AI image generator to find the plan that best suits your requirements and budget. With these powerful tools at your disposal, you can unlock your creativity, save time, and elevate your visual content to new heights.
FAQs
1. Which AI image generator is the best for DND?
DALL-E 2 by OpenAI is highly recommended for generating images related to Dungeons and Dragons (DND). Its advanced text-to-image generation capabilities allow you to describe scenes and characters from your DND campaign and bring them to life visually.
2. What are some of the best websites for AI image generators?
The top AI image generator websites include DALL-E 2 by OpenAI, MidJourney, Craiyon, NightCafe, Dream by WOMBO, Japer Art, Deep AI, SoulGen, Starry AI, and Fotor. Each platform offers unique features and focuses on different aspects of image generation, catering to a wide range of user preferences.
3. How to write effective prompts for AI image generators?
To write effective prompts for AI image generators, be specific and descriptive. Include details about the desired style, composition, colors, and any other specific requirements. Providing clear instructions and references can help the AI algorithms generate images that closely align with your vision.
4. Can AI image generators be used for designing logos?
Yes, AI image generators can be used for designing logos. Many platforms offer customizable elements, such as shapes, icons, and text, which can be combined and manipulated to create unique logo designs. However, it's important to ensure that the generated logo aligns with your brand identity and legal requirements.
5. What are some of the best AI image generators for Mac?
The AI image generators mentioned in this article, including DALL-E 2 by OpenAI, MidJourney, Craiyon, NightCafe, Dream by WOMBO, Japer Art, Deep AI, SoulGen, Starry AI, and Fotor, are web-based platforms accessible on Mac and other operating systems. These platforms provide browser-based interfaces, making them compatible with Mac devices.