Top 10 AI Text Generator Tools For Content Writing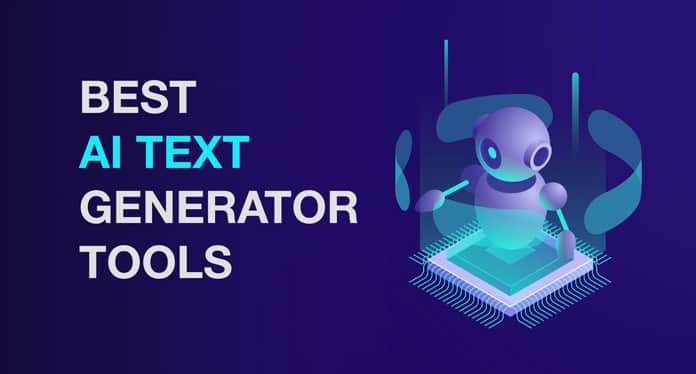 Businesses of all sizes are facing new challenges when it comes to producing engaging content. The need for high-quality content has never been more important in order to capture the attention of potential clients, customers, and audience members alike. Fortunately, advances in artificial intelligence (AI) have made generating text easier than ever before. In this blog post, we will take a look at some of the best AI text generators available and how they can help you create captivating content quickly and efficiently.
If you are looking for more, apart from content generators, you can take a look at the world's best generative AI tools directory on our platform. From various categories, you can browse and find interesting tools that may come in handy for your projects. But before you take a leap any further, here's the best of the best AI text generators.
What are AI Text Generators?
AI text generators are language models powered by artificial intelligence. These remarkable systems can understand and analyze human language and then use that knowledge to generate coherent and contextually relevant text. In essence, they mimic human-like writing by processing vast amounts of data and learning patterns from various sources.
Using natural language processing (NLP) techniques and machine learning algorithms, AI text generators can be used for a variety of purposes, such as content creation, language translation, and conversation simulations. They have been trained on massive datasets that include books, articles, websites, and more, allowing them to grasp the intricacies of language usage and syntax.
How Did We Determine Which AI Text Generators Are The Best?
In determining the best AI text generators, we followed a rigorous evaluation process to ensure the selection was unbiased and based on objective criteria. Our approach included the following key steps:
Extensive Research: We conducted in-depth research on the current AI text generator landscape, exploring various platforms, tools, and technologies available in the market. We examined user reviews, expert opinions, and industry reports to gain insights into each tool's capabilities and user experiences.
Feature Analysis: We thoroughly analyzed the features and functionalities offered by each AI text generator. This included assessing their ability to generate coherent and contextually relevant content, support for multiple languages, writing styles, and the ease of use of their interfaces.
Performance Testing: To validate the claims of AI text generators, we put them to the test by running sample content generation tasks. We evaluated the quality, speed, and accuracy of the generated output across different writing scenarios.
User Feedback: We considered real-world user feedback and testimonials to understand the practical implications and user satisfaction with each AI text generator. This helped us gauge the tools' effectiveness in real-life applications.
Industry Reputation: The reputation and credibility of the companies behind the AI text generators were an important factor. We looked at the track record, customer support, and user satisfaction levels associated with each tool's provider.
Scalability and Integration: We assessed how well each AI text generator integrated with existing workflows and other tools used by businesses and content creators. Scalability and flexibility were also crucial aspects to consider for different use cases.
Our Top Picks
| | |
| --- | --- |
| Best Overall | Jasper AI |
| Best for Copywriting | Writesonic |
| Most Affordable | Rytr.me |
| Best for SEO Optimized Content | Scalenut |
10 Best AI Text Generators
The future of writing is here, and it's more efficient, versatile, and exciting. Stay tuned with us for an insightful journey through the best AI text generators that are reshaping the world of written communication.
1. Jasper AI
You can craft engaging blogs, social media captions, and copies effortlessly with Jasper AI. This powerful and one of the most well-known text generators saves you time, eliminates writer's block, and delivers sharable content that converts. Its user-friendly interface makes content creation a breeze – simply input your requirements, and Jasper AI will generate content that resonates with your brand voice. Interestingly, Jasper also helps you create amazing art and images in just a few seconds.
Jasper AI Use Cases
Article Generation
Marketing Tools
Copywriting Tools
eCommerce Tools
Website Tools
Blog Post Topic Ideas

Blog Post Outline

Blog Post Intro Paragraph

Blog Post Conclusion Paragraph

Content Improver

Engaging Questions

Explain It To A Child

Paragraph Generator

Perfect Headline

Sentence Expander

SEO Title and Meta Descriptions

Text Summarizer

Creative Story

Email Subject Lines

Marketing Angles

Personal Bio

Persuasive Bullet Points

Photo Post Captions

Quora Answers

Review Responder

Ridiculous Marketing Ideas

Short Social Posts

Video Topic Ideas

Video Script Outline

Video Titles

Video Script Hook and Introduction

Video Description

AIDA Framework

Facebook Ad Headline

Facebook Ad Primary Text

Feature to Benefit

Google Ads Headline

Google Ads Description

Problem-Agitate-Solution (PAS) Framework

Amazon Product Features (Bullets)

Amazon Product Description (paragraph)

Product Descriptions

Real Estate Listing Residential

Blog Posts Title and Meta Descriptions

Company Bio

Homepage Title and Meta Descriptions

Product Page Title and Meta Descriptions

Services Pages Title and Meta Descriptions

Unique Value Propositions

Website Sub-Headline
Impressive Features of Jasper AI:
The 'Document Editing' feature helps move the text, add headings, and bold text, and even allows adding/inserting pictures.
The 'Voice Command' feature allows you to tell Jasper what you want it to write.
The SEO Keyword Input tool ensures your content is well-fit for SEO rankings and has all the keywords needed.
Helps set the tone of voice for all your content pieces with ease per the requirements or target audience.
Offers additional tools like a plagiarism checker and paraphraser and integrates with Grammarly.
Also Read: Best Free Article Rewriters
2. Rytr.me
Rytr.me is a versatile AI writing tool that generates unique and original content for various verticals. With 40+ use cases and templates, it covers all your writing needs, in over 30 languages. Express the right emotions with 20+ tones of voice, while benefiting from scientific copywriting formulas like AIDA and PAS for premium-quality output with minimal editing. You can now say goodbye to writer's block and hello to effortless and engaging writing with Rytr.me.
Rytr.me Use Cases
Article Writing Tools
Branding Tools
Copywriting Tools
Social Media Tools
SEO Tools
Blog Idea & Writing

Blog Section Writing

Tagline & Headline

Text Editing (7 Tools)

Brand Name

Business Idea Pitch

Business Ideas

Job Description

Landing Page & Website Copies

Newsletter

Product Description

Testimonial & Review

Copywriting Framework: AIDA

Copywriting Framework: PAS

Call To Action

Facebook, Twitter, LinkedIn Ads

Google Search Ads

Post & Caption Ideas

Profile Bio

SMS & Notifications

Video Channel Description

Video Description

Video Idea

Keywords Extractor

Keywords Generator

Meta Description

Meta Title
Q&A Tools
Email Tools
Creative Content Tools
Interview Questions

Question & Answer

Reply to Reviews & Messages

Cover Letter

Email

Poem Generator

Song Lyrics

Story Plot
Impressive Features of Rytr.me:
Language selection choices like English, Bulgarian, Chinese, Russian, etc.
20+ tone selection options from formal and humorous to thoughtful.
3 content variant choices to generate content.
6 creativity level options from highly creative, medium to no creativity.
Rephrase and plagiarism options, with capabilities to add images and download documents in various formats.
Also Read: How to Write ChatGPT Prompts?
3. Scalenut
Scalenut offers a comprehensive SEO platform that covers the entire content lifecycle. It includes advanced tools for keyword research and content planning, along with AI-generated blog posts, website copy, and social media content. Scalenut helps you stay ahead of your competition with the leading SEO blog creator, Cruise Mode, by benefitting from automated optimization technology and powerful keyword planning.
Scalenut Use Cases
Article Copywriting
Product Descriptions
Copywriting Tools
Copywriting (Frameworks)
Website Copy
Active to Passive Converter

Blog Ideas

Blog Outline Creator

Blog Title Creator

Conclusion Paragraph

First Person to Third Person Converter

Heading to a Paragraph

Introduction Paragraph

Meta Description

Paragraph Generator

Passive to Active Converter

Sentence Rewriter

Simplify a Sentence

Customer Review Responder

eCommerce Product Description

Online Review Generator

Product Descriptions

Product Feature List

Facebook Headlines

Facebook Primary Text

Google Descriptions

Google Headlines

Google My Business Description

Linkedin Text Ads Headline

Linkedin Text Ads Description

Attention Interest Desire Action (AIDA)

Before After Bridge (BAB)

Feature to Benefit

Problem Agitate Solution (PAS)

Compelling Bullet Points

Landing Page Hero Text

Landing Page Sub-Header Text

Unique Value Proposition
Q&A Tools
Video Content
Email Copywriting
Answer a Question

Answer a Question in Bullet Points

Engaging Questions

Quora Answers

Video Description

Video Hook & Introduction

Video Title

Video Script Outline

Catchy Email Subject Lines

Sales Email Generator
Impressive Features of Scalenut:
Offers 40+ templates to generate content that meets your needs in just a few seconds and limitless options to re-generate new content.
Provides a Chrome extension that makes creating/generating a breeze.
Integrates with one of the world's leading SEO platforms SemRush, and plagiarism checker tools Copyscape.
A 'Cruise Mode' feature to create SEO-friendly blogs/long-format articles in just a few minutes.
Features an SEO Hub that helps you analyze and research effectively against top competitors for specific keywords.
Also Read: Best Free Article Rewriters
4. Writesonic
Writesonic is an advanced long-form AI writer that helps users create SEO-friendly and text-rich content, including blogs, Google ads, meta tags, YouTube video descriptions, and much more, with ease. The platform also offers a great range of editing tools, like Paraphraser, Shortener, Expander, etc., to polish your content. The all-new 'Chatsonic' is another must-try tool to create creative content using voice commands.
Writesonic Use Cases
Blog Content
Social Media Tools
Copywriting Tools
eCommerce Tools
Business Tools
AI Article & Blog Writer

Analogy Maker

Article Summarizer

Blog Ideas

Blog Intros

Blog Outlines

Content Shortener

Instant Article Writer

Keyword Extractor

Listicle Ideas

Paraphrasing tool

Sentence Expander

Sonic Editor (GPT-3)

Story Generator

Personal Bio

Quora Answers

Short LinkedIn Posts

Tweet Generator

YouTube Descriptions

YouTube Ideas

YouTube Intros

YouTube Outlines

YouTube Titles

AIDA Framework

Facebook Ads

Feature to Benefit

Google Ads

Google Ad Titles

Google Ad Descriptions

LinkedIn Ads

LinkedIn Ad Descriptions

LinkedIn Ad Headlines

Pain-Agitate-Solutions

SEO Meta Tags (Product)

SEO Meta Tags (Blog Post)

Amazon Product Descriptions

Amazon Product Features

Amazon Product Titles

Amazon Sponsored Brand Ads Headline

eCommerce Product Descriptions

Product Descriptions

Real estate listing descriptions

Review Responder

Cold Emails V2

Company Bio

Company Mission

Company Vision

Emails

Email Subject Lines

Growth Ideas

Landing Pages

Landing Page Headlines

SEO Meta Tags (Homepage)

Startup Ideas

Short Press Releases
Impressive Features of Writesonic:
The 'Sonic Editor,' a modified Google Docs, allows users to write essays, ebooks, reports, and even sales emails.
A 'Link Sharing' feature that allows sharing of files with your colleagues to foster better collaboration.
Offers file downloading options in various formats, including PDF and Microsoft Word.
Ability to publish content on platforms, such as Wix, Shopify, and WordPress, with a single click.
Chatsonic, similar to ChatGPT, takes voice commands to generate text and turns your text into art in minutes.
5. ContentBot
ContentBot is an AI text generator that simplifies content creation with custom AI Content Workflows, Imports, and an AI Writer. You can streamline your tasks with automation tools and save valuable time to focus on strategic growth. It allows you to generate long-form content in a flash, edit with ease, and publish effortlessly. With a drag-and-drop blog post builder, short-form templates, and a powerful "Discover" SEO tool, ContentBot empowers digital and content marketers, SEO specialists, and everybody else to excel in their content endeavors.
ContentBot Use Cases
Blog Content
Branding Content
Website Copy
Full Blog Posts

Blog Topic Ideas

Blog Introduction

Bullet Point Expansion

Tone Changer

Paraphrasing Tool

Plagiarism Checker

Ad copies

Brand Names

Campaign Management

Marketing Ideas

Product Descriptions

Slogans

Landing Page Creator

Landing Page Copy
Impressive Features of ContentBot:
Ability to write in more than 110 languages, including English, French, Arabic, Portuguese, Italian, and Swahili.
Allows creation of blog posts of up to 2000 words in less than 30 seconds with 35+ highly skilled features to select the tone, keywords, etc.
With the 'Discover' SEO tool, you can enter the query and select the keywords to get in-depth insights about the potential of the search query.
Offers a unique drag-and-drop blog post builder with impressive commands to help you write effortlessly.
6. Neuroflash
Neuroflash is a leading marketing copy-generation tool that helps create highly-effective short-form copies with ease at scale. The platform is intuitive versus others on the market and doesn't limit its offerings to marketers alone. HR professionals worldwide also use Neuroflash to create personal bios, job ad descriptions, interview questions, and much more, all in a single platform. On top of all this, it also offers tools to create avatars and images with a single click.
Neuroflash Use Cases
Blog Content
Social Media Tools
Creative Content
eCommerce Tools
Business Tools
Answering A Question

Article Headline

Blog Conclusion Paragraph

Blog Post Inspiration

Blog Post Intro

Blog Post Outline

Blog Title Ideas

Keywords to Paragraph

Listicle Ideas

Paragraph From Bullets

Passive to Active Rewrite

Pros and Cons Generator

Question Generator

Rewrite From Tone To Tone

Summarize

Summarize A Text In One Sentence

Text Punch Up

Tone Rewriter

Writing A Blog Section

Clickbait Headlines

Connection Request

Instagram Caption

Linkedin Post

Push Notification

Scroll Stopper

Slogans

Twitter Tweet

YouTube Channel Description

YouTube Video Description

YouTube Video Script

YouTube Video Title

Arguments for Thesis

Associations

Blurb Writing a Scene Novel

Book Research

Checklist

Creative Writing

Emotions Detector

Find Your Book Idea

Freestyle

Ideas For Your Book Outline

List of Potential Problems

Love Letter

Metaphor Generator

Neutral Text

Outline (Non-Fiction)

Rephrase For 2nd Grader

Story "I Perspective

Storytelling

Text From Bullets

Title Ideas (Non-fiction)

Title Ideas (Novel)

Word Definitions (Bullets)

Amazon Product Description

Amazon Product Title

Category Text

Customer Service Answer

Product Benefits

Product Descriptions

Product Description Bullets

Product Description Social

Product Name Generator

Review Responder

Video Script Letter

About Us Text

Campaign Ideas

Company Growth Ideas

Company Vision

Compelling Offer

CTA Button

Futuristic Product Idea

News Headline

Presentation Headlines

Press Notification

Problem Statement

Real Estate Expose

SEO Headlines

SEO Meta Description

Talk Title

Value Proposition

Website Headline (H2)

Website Hero Text

Webinar Title
Copywriting Tools
Email Tools
HR Tools
eCommerce Tools
AIDA Framework

Banner Ads Text

Facebook Ad Headline

Facebook Ad Primary Text

Facebook Link Description

Google Ads Description

Google Ads Headline

PAS Framework

Email From Bullets

Email Preheader

Email Subject Lines

Email Text

Event Promotion Email

Launch Email

Newsletter Introduction

Reactivation Email

Sales Email

Thank You Email

Thematic Email

Welcome Email

Job Ad

Job Interview Questions

Personal Bio

Quiz Questions + Answers

Amazon Listings

New Product Ideas

Pain Benefit Solution

Product Descriptions
Impressive Features of Neuroflash:
Offers an AI Tester feature that helps predict the performance of newsletters, lead generation, and email opening rates.
The Explorer tools allow users to strategize their content effectively by providing unique ideas to stand out from competitors.
The consumer insights feature provides insights into all your marketing messages and gives you a clear picture of their potential for betterment.
While the Premium plans are fairly priced, users get various benefits, such as access to AI and Unsplash images.
7. Copy AI
Copy AI revolutionizes AI text generation by providing highly-optimized blog posts in minutes. With a vast array of 90+ tools and templates, you can streamline your long-form blog posts and create engaging content like never before. All you need to do is select a template from various options, share a few sentences about your brand and products, and let Copy AI's text generator work magic by providing multiple campaign options. You can also utilize the built-in editor to refine paragraphs and polish sentences.
Blog Content
Social Media Tools
Copywriting Tools
Email Tools
Writing Tools
Blog Conclusion

Blog Ideas

Blog Intro

Blog Outline

Blog Title

Blog Title Listicle

Bullet Point to Blog Section

Bullet Point to Paragraph

Keyword Generator

Listicle

Rewrite With Keywords

Sentence Rewriter

Simplify Sentences

Tone Changer

Add Emoji To List

Carousel Post

Crazy Youtube Ideas

Hashtag Generator

Hook Generator

Instagram Captions

Instagram Product Showcase

Launch Your Product

Relatable Experiences

Short Text Hook

TikTok Brainstorm Topics

Video Call To Action

YouTube Description Intro

YouTube Video Title

Ad Copy Variants

Facebook Headlines

Facebook Link Descriptions

Facebook Listicle

Facebook Primary Text

General Ad Copy

Google Descriptions

Google Headlines

LinkedIn Ad Copy

Cancellation Email

Catchy Email Subject Lines

Confirmation Emails

Cover Letter

Follow Up Email

Thank You Note

Welcome Email

Adjective Accelerator

Analogy Generator

Cliffhanger

Freestyle

Essay Intro

Essay Outline

Explain Like I'm 5

Freestyle

Hero Story Intro

Hero Story Villain

Passive To Active Voice

Press Release Intros

Two Sentence Stories

Verb Booster
Startup Tools
Website Content
Copywriting Frameworks
Personal Tools
Audience Refiner

Brand Mission

Brand Voice

Growth Ideas

Motto Generator

Name Generator

Next Product

Startup Ideas

Value Proposition

Viral Ideas

Call To Action

Event Copy

Landing Page Hero Text

Meta Descriptions

Microcopy

Question Generator

Social Proof Text

Subheader

Testimonial Rewriter

Attention-Interest-Desire-Action

Before-After-Bridge

Feature to Benefits

Feature-Advantage-Benefit

Marketing Angles

Pain-Agitate-Solution

Problem-Promise-Proof-Proposal

QUEST Copywriting

Birthday Card

Clubhouse Bio

Love Letter

Resume Bullet Points

Shower Thoughts
Impressive Features of Copy AI:
Allows users to create content in countless formats like social media posts, long-form content, social media posts, and more.
The 'Blog Post Wizard' is easy to use and helps you prepare your 'blog draft' in less than 5 minutes.
The 'Write More' and 'Re-generate Content' in the 'Blog Post Wizard' section allows adding more content, while the re-generator gives more versions.
Allows users to style their content tones per their preferences, such as Friendly, Bold, Relaxed, Witty, Persuasive, and more.
8. Smart Copy by Unbounce
This AI-powered text generator outputs original and persuasive content for your marketing campaigns in seconds. You can also quickly write and expand landing page copies using the Chrome extension within Smart Builder or Classic Builder. Additionally, it helps boost visitor engagement with Smart Traffic, directing them to the best-performing landing page variant. With Smart Copy, it is also easy to customize page copy for different audience segments and transform it into compelling emails and ads.
Smart Copy Use Cases
Website Content
Email Tools
Copywriting Tools
eCommerce Tools
Branding Tools
Article Headlines

Benefits Generator

Blog Ideas

Features Generator

Headlines and Descriptions

Landing Pages

Listicle Ideas

Meta Descriptions

404 Pages

Email Subject Lines

Sales Outreach Emails

VC Pitch Emails

Angel Investor Emails

AIDA Copywriting

Amazon Ads

Facebook Ads

Facebook Headlines

Facebook Primary Text

Google Ads

LinkedIn Ads

Amazon Listings

New Product Ideas

Pain Benefit Solution

Product Descriptions

Thank You Email

Brand Statements

Catchy Hooks

Mission Statements

Podcasting Ideas

Taglines

Video Ideas

Viral Growth Ideas

YouTube Channel Description
Impressive Features of Smart Copy:
Offers some of the best templates, such as Facebook Primary Text Creator and Google Ads Generator, to help create ad copies.
Smart writing capabilities to generate high-quality, meaningful, and easy-to-understand content.
Provides a Chrome Extension that aids in writing with ease, apart from offering capabilities to rewrite, expand, or even summarize it.
Helps build landing pages, sticky bars, and even popups, all with the help of the Landing Page Copy Generator.
9. AI Writer
What is the most accurate AI text generation platform, you ask? AI Writer it is. It helps you generate a full-fledged article in just 2 minutes or probably less and requires only the headline. It's that powerful! Also, it displays relevant citations for information verification and holds content quality and accuracy as its topmost priority. So does AI Writer create SEO-friendly content? The answer is yes, all to power traffic and drive revenue.
AI Writer Product Features
Blog Content
Research & Write

SEO-Focused Text Editor

Source Summarizer

Text Rewording

Topic Discoverer

Verifiable Citations
Impressive Features of AI Writer:
Presents two versions of a blog in different styles, tones, and information for you to pick one that suits your needs.
The 'Source Summarizer' provides an overview of any topic in just a few seconds. It presents information from the top 20 results from Google.
Every article is SEO-friendly and meets all the Google ranking factors/parameters.
Provides citations to offer its users the most relevant and verified information.
10. Copysmith
Whether you need product descriptions, digital ads, emails, or social media copy, Copysmith's AI text generator has you covered. It seamlessly integrates with your online tools, which saves time and improves copy quality, enabling faster launches. You can also experience the power of Describely, Copysmith's latest launch, for high-quality, SEO-optimized product content at scale.
Copysmith Use Cases
eCommerce Tools
Business Tools
Copywriting Tools
Blog Tools
Marketing Tools
Amazon Product Description

eBay Product Description

Etsy Product Description

Flipkart Product Description

Instagram Product Description

Landing Pages

Product Description

Product Review Replies

Brand Essence

Growth Ideas

Landing Pages

Pitch Yourself

Sales Email Generator

Sales Email Subject Lines

SEO Meta Tag

Short Email Marketing Template

Taglines

Unique Value Proposition

Ad Headlines

Ad Ideas

AIDA Framework

Before After Bridge

Carousel Ad

Facebook Ad

Google Ad

Instagram Ad

LinkedIn Ad Text

Pain Benefit Solution

Article Summary

Blog Ideas

Blog Intro

Blog Kickstarter

Blog Outline

Blog Title

Bullet Point Expander

Content Enhancer

Content Expander

Content Ideas

Content Rewriter

Content Rewriter V2

Editor

FAQ Ideas

Listicle

Event Press Release

Social Media Captions

YouTube Video Description
Impressive Features of Copysmith:
Offers an extensive library of 60+ templates that can meet all your copy/content marketing needs.
Capable of generating bulk short-form copies in just a few hours.
The Plagiarism Checker does all the checks before delivering the copy to you, ensuring the content is 100% original and unique.
Integrates with 10+ applications, such as Shopify, Google Ads, Google Docs, Zaiper, Frase, etc.
Benefits Of Using AI Text Generators For Content
Time-Saving: Automated text generator tools reduce the time spent on manual writing and editing. Also, AI algorithms can quickly generate high-quality content in minutes.
Consistency and Accuracy: AI algorithms use data and algorithms to produce accurate and consistent content. It reduces the chances of human errors and makes the content reliable and trustworthy.
Cost Effective: AI text generator tools are cost-effective as compared to human content writers. It makes it ideal for businesses and organizations that produce large amounts of content.
Personalization: AI algorithms can analyze data and create personalized content that appeals to the target audience. It improves content relevance and increases engagement with your target audience.
Scalability: AI text content generators can produce a large amount of content in a short time, making it ideal for businesses and organizations that need to scale their content production quickly. It helps organizations reach their target audience faster and more effectively.
Conclusion
AI text generators offer diverse applications across industries – from crafting engaging blog posts to generating persuasive marketing copy.
However, it's important to remember that while AI text generators offer impressive capabilities, they are not infallible. Human review and editing are essential to ensure the accuracy and coherence of the generated content, particularly in specialized or technical fields.
As technology advances, we can expect AI text generators to become even more sophisticated and user-friendly. The future promises even more refined tools to enhance our ability to communicate and share information effectively.
Frequently Asked Questions
1. What kind of data does an AI text generator require to generate text?
An AI text generator requires large amounts of data to train its algorithms and generate accurate text, such as news articles, trendy and comprehensive newsletters, customer reviews, or marketing copy.
2. How does an AI text generator work?
An AI text generator uses natural language processing (NLP) and machine learning algorithms to analyze large amounts of data and generate written text based on patterns and relationships found within that data.
3. Is an AI text generator the same as a language model?
Yes. An AI text generator is a language model that utilizes artificial intelligence algorithms to generate written text.
4. How accurate is an AI text generator compared to human writers?
The accuracy of an AI text generator varies based on the quality of its data inputs and algorithms, but it can be as accurate as a human writer, and sometimes even more so, depending on the complexity of the task.
5. Can an AI text generator write in different languages?
Yes, AI text generators can generate text in different languages, but their accuracy and fluency may vary based on the language and data inputs.
6. Can an AI text generator generate creative content?
Yes, AI text generators can generate creative writing, such as short stories, poems, and song lyrics, but its creativity is limited by the data inputs and algorithms used.
7. Are AI text generators suitable for all industries?
Yes, AI text generators can be used in various industries, such as journalism, marketing, and customer service, where accurate and high-quality text is needed quickly and efficiently.