17 Best SEO Tools & Platforms (Free + Premium) – 2023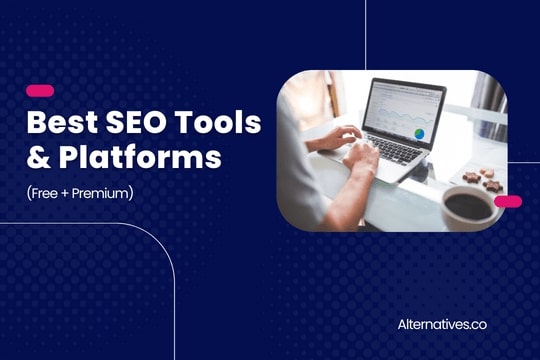 SEO is an essential part of any digital marketing strategy, and there are many tools to help your company get the best results. The purpose of an SEO tool is to help companies in their digital marketing efforts. These tools aim to help companies in the areas of web development, content creation, outreach, and customer engagement. The best way to understand how they work is to take a look at what is available on the market. Here is a list of the best SEO tools & platforms, both free, and premium that can help you get your companys online presence optimized in no time and stay ahead of the competition.
17 Best SEO Tools and Platforms
Here is a list of the best SEO tools, and platforms we have curated for you as per your needs. Some of the best on our list include Ahrefs, Searchmetrics, SEMrush, Keyword Planner, Google Analytics, and more.
1. Ahrefs
Ahrefs is the most powerful tool that is used by top researchers in the SEO field to analyze and track their competitors backlinks. It contains a huge amount of data and you can access the information through a web interface. Users can conduct keyword research for Google, Amazon, and YouTube.
Ahrefs helps in identifying the audience, provides a better understanding of website user behavior, checks on competitor performance-optimized keywords for search engines, and increases social media engagement. By looking at your competitor's backlink profile, you can know which keywords, phrases, or websites your competitor is linking to. It also allows you to monitor a website's progress over time.
The platform is widely used by small business owners with their own websites that do SEO themselves, SEO agencies with multiple clients, in-house marketers, affiliate marketers, and SEO consultants.
Here are some benefits of Ahrefs:
Supports 10 Search Engines: Ahrefs is the only platform to allow keyword research and provide metrics and data for ten search engines. Most of the keyword tools, even those that are popular, show metrics for Google, or just any one of the other search engines. But Ahrefs is magical in its own way. Here are the search engines Ahrefs supports: Google, YouTube, Amazon, Bing; Yandex (Russia), Yahoo, Baidu (China), Daum & Naver (South Korea), Seznam (Czech Republic).
Search Traffic Estimations: Ahrefs provides total search traffic estimates for the top ten ranking pages. This is a vital element to knowing which target keyword is projecting organic growth and what potential keywords one can target. Get insights into keyword density, search volume, monthly organic estimates, and many more using Keywords Explorer. The data presented to you will be country-wise.
Content Explorer: Provides insights into the most popular topics by organic monthly traffic from search engines, referring domains, domain ratings, and the number of social shares it gets. You can also get insights into traffic value if obtained via PPC.
Features:
Search For Websites For Backlinks: Search for keywords and get a list of websites that match your taste. You may reach out to these websites for getting backlinks, which adds much value to your website.
Identifying Broken Links: Identifying broken links and having to look for them by each page is a challenge for most of them. And it is tiring. This is where Ahrefs can do the work for you.
Price
| | | | |
| --- | --- | --- | --- |
| Lite | Standard | Advanced | Agency |
| $99Monthly Billing | $179Monthly Billing | $399Monthly Billing | $999Monthly Billing |
| $82Annual Billing | $149Annual Billing | $332Annual Billing | $832Annual Billing |
In A Nutshell– Get to know your competitors' backlink footprint.- Find out which keywords they are dominating.
– Discover the most influential pages on your competitors website to help you rank higher in search results.
2. SEMrush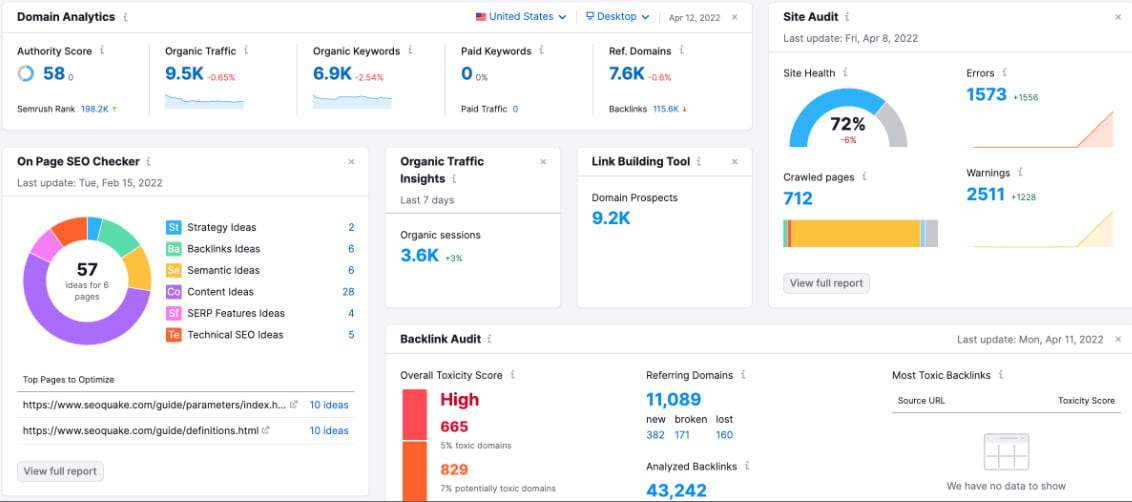 Search engine optimization is arguably the most important marketing issue on the web today. With competition so thick on almost every page, it's extraordinarily difficult to rank highly in search engines. However, SEMrush is a great tool for setting up targeted campaigns that ensure that visitors to your site actually end up arriving at your website and help your organizations website hit the first page of Google.
With SEMrush you can also make your website more attractive to search engines. This way it will be easier for people to find you. With included SEO tools, you can evaluate your website and make changes accordingly.
Semrush includes plenty of features which include creating a sitemap, finding broken links, finding duplicate pages, finding backlinks, competitive PR monitoring, rank tracking, and many more. It is a very valuable tool for any website owner or business that wants to increase its ranking on search engines.
Here how SEMrush can benefit:
Local SEO: Helps you optimize your site for local search and reach local audiences. This feature provides ZIP code-level insights and key information to boost your website traffic, onboard more customers, and drive growth.
Competitive PR Monitoring: Know your competitors mentions in both social and traditional media mediums. Also, know what people are talking about them. This apart, you can build a strong presence of your brand by listing out relevant and important topics that can boost organic sharing. Onboard influences to power your brand reputation and relevant backlinks to make a greater impact.
Website Monetization Tools: SEMrush offers the most powerful website monetization tool for bloggers, affiliate managers, and AdSense publishers to make sure of competitive intelligence. This will help you monetize your website traffic.
Features:
Display Advertising: Helps you analyze your competitors in all possible ways and showcases ad placements, where they are advertising, the interest of their customers/audiences, what devices their audiences come from, and many more.
Topic Research: Offers content ideas on any given topic and location. Helps you discover your competitors headlines, and uses your audience's questions to create high and driving content.
Social Media Kit: Helps you improve your social media strategies. Allows cross-networking publishing, ads management, etc.
Price
| | | | |
| --- | --- | --- | --- |
| | Pro | Guru | Business |
| | $119.95/month | $229.95/month | $449.95/month |
| Listing Management (Local SEO) | From +$20/month | From +$20/month | From +$20/month |
| Additional Users | +$45 per user | +$80 per user | +$100 per user |
| Semrush .Trends | +$200/mo | +$200/mo | +$200/mo |
| Agency Growth Kit | +$100/mo | +$100/mo | +$100/mo |
In A Nutshell
– Gain access to real-time data of your competitors.
– Monitor your competitor's content, websites, keywords, and social media activities in one place.
– Quickly identify what other companies are doing to get more visibility online.
3. Screaming Frog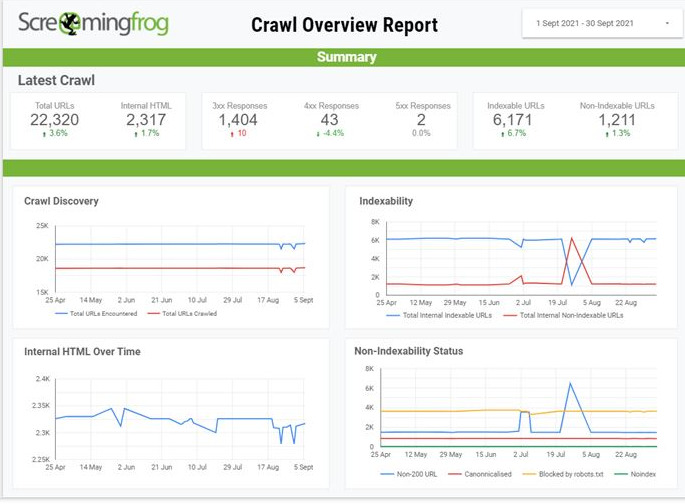 Screaming Frog is a fast and advanced SEO site audit tool that allows you to identify any issues with your website's optimization. This includes identifying dead links, incorrect title tags, duplicate content, and more. Additionally, Screaming Frog can offer solutions for each of these problems.
This tool has been developed by an experienced team of SEO experts who understand the importance of an effective online marketing strategy. As a result, they are able to provide you with actionable advice on how to solve each issue quickly and easily. By using this platform, you can ensure that your website is performing at its best in search engines!
Additionally, the tool assists you in enhancing your onsite SEO by assessing typical SEO issues and data extraction. Users of this platform have the option of using it for free to crawl 500 URLs or purchasing a subscription to gain access to more advanced features, such as unlimited URL crawling.
Benefits of Screaming Frog:
Broken Links: This platform provides a powerful broken links finder that crawls a website to identify broken links and learn more about server problems. In order to repair the issues, one can also export them in bulk and source the appropriate URLs.
Discover Duplicate Content: Screaming Frog allows users to understand duplicated elements of various pages using an md5 algorithmic check. Elements include descriptions, page titles, low-content pages, headings, and more.
Generate XML Sitemaps: You can create XML Sitemaps as well as Image XML Sitemaps using this feature. This comes with an advanced configuration over URLs that induces priority, last modified, and change frequency.
Crawling of JavaScript Websites: This impressive feature in the offering by Screaming Frog helps users to render web pages to crawl dynamic, JavaScript-rich websites and frameworks like React, Angular, Vue.js, etc using the integrated Chromium WRS.
Features:
Compare Crawls and Staging: Users can use this function to monitor the development of SEO issues and determine what needs to be fixed. It also makes it easier to recognize the differences between crawls. Another choice is to compare staging environments to production environments using enhanced URL mapping.
Audit Redirects: Users can identify loops and redirect chains by using them to locate temporary and permanent redirects. Additionally, users can upload the URL list for an audit during a site migration.
Data Extract: Enables users to gather data from a web page's HTML using XPath, CSS Path, or regex, which may also include additional headings, social networking tags, and others.
Price
Screaming Frog Free
Screaming Frog Paid
$0
$209 Per Licence

Per Year
In A Nutshell
– Screaming Frog is a great tool for technical SEO audits.
– Offers a limited URL crawling option in the free version.
– Is used to crawl small and very large websites.
4. UberSuggest

UberSuggest is a leading SEO platform that empowers users to make informed decisions about how to improve their search engine rankings. In comparison to most SEO tools on the market, Neil Paten's UberSuggest is extremely affordable, has a variety of features, and is extremely simple to use.
With UberSuggest, you can quickly and easily perform keyword search volume and CPC analysis, as well as get insights for all of the keywords you're interested in. This platform integrates seamlessly with YouTube, Google, and Amazon, and it also offers a free chrome extension that provides useful information about a specific keyword query on Google and other popular sites. UberSuggest will display a list of keywords regardless of which platform you use, ensuring that you are making the right decision.
Here are some benefits of UberSuggest:
Domain Overview: This section primarily covers a variety of features on a single dashboard, allowing you to get an overview of your or your competitor's domain's online visibility. You can view your domain's paid traffic search traffic data, organic traffic data, backlinks data, etc to make necessary corrections and boost rankings. Besides, this, you can be notified about critical issues on your website, your SEO health, and much more.
Chrome Extension: The Chrome extension from UberSuggest will come in handy when you need to find the best keyword strategy and some reliable SEO insights while you are browsing the web. The platform provides strong keyword insights for search results on Google, Amazon, YouTube, and many other platforms with ease, as was previously mentioned. You can obtain paid and organic analytics, related keyword suggestions, a summary of your traffic, backlink data, and much more with this extension.
Keyword Suggestions and Content Ideas: This is one of the most-loved features by millions of users as it offers users the ability to search for hundreds of suggestions for all your keyword requirements. From long-tail keyword phrases to anything you could ask for, it has you covered. You can also get insights about what content pieces are attracting most traction, social shares, and backlinks, which can help you write about those top-performing topics as per the niche. Besides this, you can also get to see the volume each keyword drives, its competition, and seasonal trends.
Features:
Site Audit: This will help you understand and fix all aspects related to your SEO on your website. Using this feature, you can get a clear picture of your overall SEO health, know how your sites traffic is performing, get relevant instructions, and also check the speed of your site as per Googles standards.
Traffic Analyzer: UberSuggest provides a detailed list of all the most successful pages and keywords that your competitors are ranking for. This will help you get an idea about what can be done to better your content (if already live), or target the right kind of content to rank better. This feature will also help you get details about the overtime website traffic your competitors are getting by month, the top keywords that are being used, and more.
Price
Individual

1 Website

Business

2-5 Websites

Enterprise

6-10 Websites

$12

Per Month

$20

Per Month

$40

Per Month

$120

Lifetime

$200

Lifetime

$400

Lifetime
In A Nutshell
– The most affordable and easy-to-use SEO tool.
– Understand how your site is performing, get details suggestions about SEO issues and fixes, etc.
– Get an overview of your competitors top-ranking keywords, pages, and more.
5. Moz Pro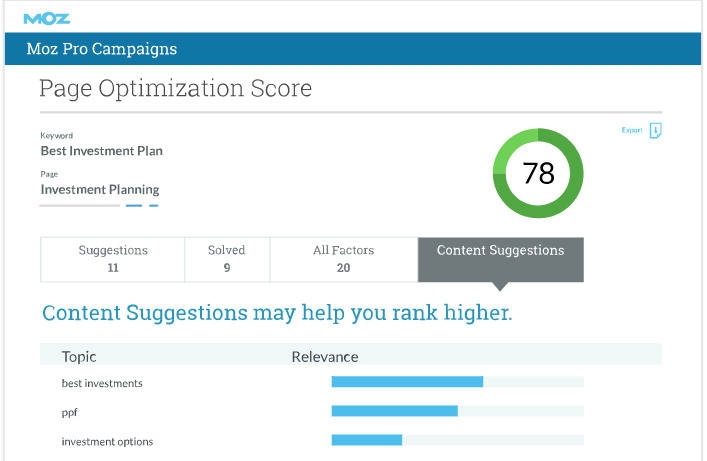 Moz Pro is the next one on our list of the top SEO tools and platforms. This most well-liked SEO toolkit available today helps increase your rankings, traffic, and search engine visibility. Site audits, backlink analysis, keyword search tools, and ranking tracking are some of the essential features. These capabilities are driven by top-notch SEO metrics including Domain Authority, Page Authority, and more.
In addition, Moz assists customers in honing their content and marketing strategies to differentiate themselves from rivals by comparing, classifying, and prioritizing phrases and keywords. It also includes a crawl test to identify badly built site sections and correct them accordingly. Additionally, Moz runs weekly automated site audits and notifies site administrators of any problems.
Moz Pro comes with a 30-day free trial with full access to all its features. You get access to full-suite SEO tools, along with a personalized session with an expert, and 24/7 online assistance. If you check other SEO tools if you want other Moz Pro alternatives software.
Here are a few ways you can benefit from using Moz Pro:
Link Building: Moz Pro allows you to conduct detailed competitor analysis and track the progress of your campaigns over time. This information can help you to determine where resources should be allocated in order to optimize your site for the best results.
SEO Auditing & Monitoring: Provides comprehensive audits and reports that show how well your website is performing against the competition, as well as insights into how content is being optimized.
SERP Rank Tracking: This allows you to see how your site is performing relative to other websites in the same category and region.
Competitor Analysis: The tool also enables you to research new keywords and see which ones are currently generating the most clicks through traffic sources like search engines, social media sites, and other online channels.
Features:
Custom Reports: Enables users to produce reports with the most compelling images. With the help of the simple drag-and-drop functionality, all of these can be personalized as PDF reports. These reports can be sent to your clients immediately or on a timetable of your choosing.
Page Optimization: This feature ensures that your website has the best chance possible of ranking for all of the keywords you are targeting. It aids in content auditing for your specific pages and recommends modifications that are called for.
Price
Standard
Medium
Large
Premium
$99/Month

(Billed Monthly)

$179/Month

(Billed Monthly)

$299/Month

(Billed Monthly)

$599/Month

(Billed Monthly)

$99/Month

(Billed Yearly)

$143/Month

(Billed Yearly)

$239/Month

(Billed Yearly)

$479/Month

(Billed Yearly)
In A Nutshell
Provides intuitive keyword suggestion tools to outrank the competition.
It helps track competitors ranking.
Helps find link opportunities to improve your rankings.
6. BrightEdge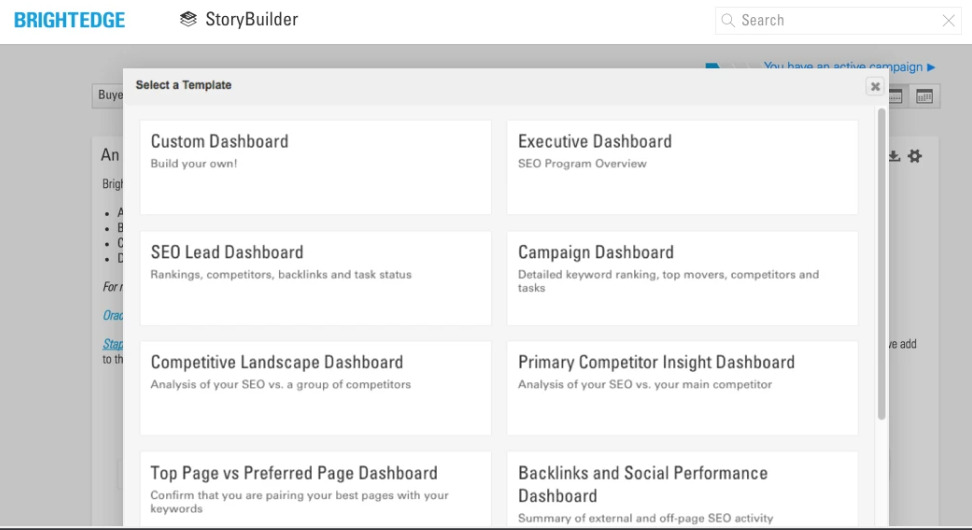 SEO is the kind of marketing that doesn't require a lot of resources but can be very effective if done properly. The solution that BrightEdge offers is just the right mixture of search marketing and content performance marketing to drive more organic traffic to your site, conversions, and revenue.
The global leader with its easy-to-use platform brings all the tools and insights you need to know about your online presence and how it can be improved. It specializes in understanding the macro and micro details of customer experience. It is powered by a deep learning engine and provides real-time content engagement measurements across various digital channels, that also includes social, search, mobile, etc.
Share of Voice is a unique proprietary metric by BrightEdge that measures the overall visibility of local carousels, images, videos, links, and eCommerce signals to tackle complex SEO challenges. It is most feasible for use for small teams with less SEO expertise. As Conductor Searchlight, it provides significant analysis of your competitors, their performance, their search results, pages, page templates, and what is driving their ranks.
Learn how you can benefit from BrightEdge:
Search: What are your customers searching for? What do they want? What are the words they are using for searching? How are they describing it? What are their likes/dislikes? What can you do to meet their requirements? Does their search match your Brand… Discover and know all of it, and get started before your competitors do.
Content: Content is King. No matter how amazing your site looks, without great content, businesses experience nothing but failure. Understand your customers, and create a content marketing strategy that can target potential audience/customers, performs beyond your expectations, and delights with unexpected results. For those looking to up their content game, they can find the best tools for long-form writing as well as short form to create content that is not only of high-quality but will help rank on the search engines. Users can take the assistance of BrightEdge to understand the ins and outs of their search competition, and use these tools for the best results.
Social: Looking at creating brand visibility, increasing sales, or measuring the success of your social media campaigns or want to get powerful insights, higher conversation rates, and better customer satisfaction? Understand the specifics and work accordingly to power the performance of all your social media campaigns for better results and better growth.
Local: Offers a unique feature to bridge the gap between physical and digital locations using intelligent content. It helps with lowering CPIs and improving impressions and customer satisfaction.
Features:
Backlink Management: Offers the most accurate backlink management feature to track, and discover high-quality and competitive backlink insights.
Social Recommendations: Know the areas to focus on social media activities by receiving a set of clean and clear recommendations. Get insights into what keywords and pages to target for rank improvisation on search engines.
Keyword Discovery: This helps you identify sites that are dominating specific keywords, keyword clusters, the strength of their positions, and more.
Price
BrightEdge has not provided pricing information on its website. However, as of reviews, the pricing starts at $2,5000 and ends at a maximum of $6,000 per month.
In A Nutshell
– Optimize content across the entire website.
– Increase organic traffic and conversions.
– Track performance on your website.
– Grow an audience that's engaged, excited about your brand, and ready to buy.
7. Google Analytics 4

Google Analytics is one of the most preferred platforms that tracks, and reports website traffic. It has a massive adoption worldwide due to its impressive features. Some of them include the ability to track website activity like page per session, session duration, bounce rate, and more information about the source of the traffic.
Google Analytics can be integrated with Google Ads which helps create and review campaigns, apart from tracking the quality of landing pages, and conversion goals such as lead generation, sales, etc. With Analytics, you can also improve your ROI like never before.
Benefits of Google Analytics 4:
Smarter Insights: This feature is powered by machine learning, and helps you discover all new and predictive insights that help improve your ROI. This tool understands how your users are interacting, and keeps you informed about potential users who are likely to convert or purchase a product.
Understanding Your Customers: Analytics will help you understand your customers better by tracking their journey across apps, and sites. This will help you know what is working, and what is not. Based on the insights, you can now measure the engagement, users will have with your business, and the importance various channels will play using the reporting and analysis feature.
Results To Insights: The tool will assist you in using the insights to improve your marketing performance through the use of other Google solutions and partner products. Search Ads 360, Google Ads, Google Cloud, Display & Video 360, and many other products can be connected to Analytics. All of these platforms will undoubtedly aid in increasing your marketing ROI.
Features:
Built-In Automation: This helps you get answers to all your questions faster than expected. All your answers to Analytics data, user behavior, and more will be available.
Tag Management: Supports all leading tag management systems like Google Tag Manager, Tag Manager 360, and more.
Monetization Reports: This gives you all the information you'll ever need to understand and know how much money your site or app is making. These reports cover eCommerce, ads, and subscriptions, as well as details such as per-user average revenue, average purchase revenue, transactional data, high-performing products, and subscriptions, ad revenue data, and more.
Price
Google Analytics pricing information is not available. Contact the sales team to find out more about the most recent price alternatives or to obtain a quote that is customised to your needs.
In A Nutshell
Analyze your data with ease.
Get a complete understanding of the customer's journey.
It helps improve your marketing ROI with its top-notch features.
8. SimilarWeb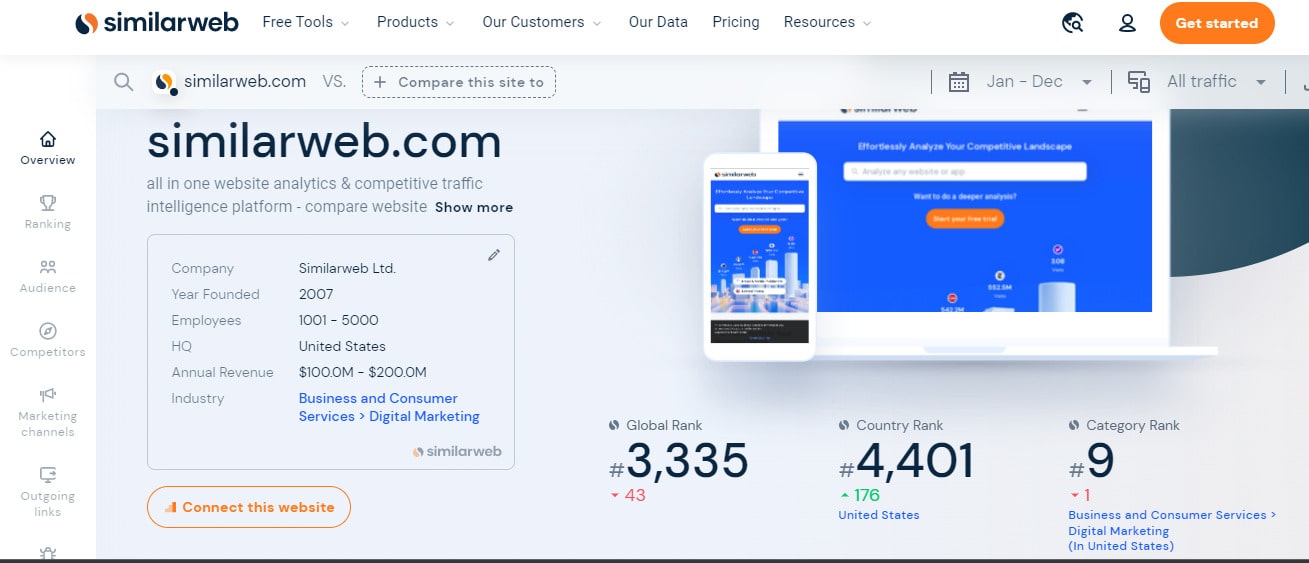 One of the best web analytics businesses, SimilarWeb focuses on traffic and performance. This platform not only enables businesses to perform top-notch analysis about particular websites, or industries but also gives users access to detailed data insights about the website traffic and mobile applications of their competitors.
Additionally, users may receive analytics information for a specific website using SimilarWeb, which includes information on geographic traffic patterns as well as metrics for user engagement (monthly visits, visit duration, page views, and bounce rate).
SimilarWeb displays analytics including the source of traffic, its patterns, and all information on outgoing links. Providing a list of related websites and their search competitions, it also aids in the analysis of competitors. It is also similar to BrightEdge SEO tool.
Benefits of SimilarWeb:
Competitive Tracker: Helps you track, and easily monitor the websites of your competitors for actional insights. Using this particular feature businesses can track up to a maximum of 10 websites, and make a quick side-by-side comparison. One can monitor trends such as ranking, organic traffic, paid performance, referrals, social, display, and more.
Ranking Distribution: Provides users with a clear, and quick understanding of how well websites are ranking on Google over the years. This helps you discover the relevant keywords they are targeting, and the top three positions the competitors are ranking for. This tool can help you find your high SERP ranks versus your competitors, deep analysis on volume, rank position, CPC, etc.
Zero-Click Search: Users will benefit from this feature as it explains why specific results for their search appear at the top of the search results page when using Google. These SERP elements, including Knowledge Boxes, Quick Answers, Top Stories, etc., lead to this zero-click search. This makes it easier to determine which keywords are relevant to targeting and better understand search intent.
SERP Snapshot: Using this tool, you may expand your keyword list and effectively track your Google ranks. It provides you with a concise summary of all the SERP's pertinent keywords, including long-tail keywords together with the top results, any rank changes, and any other elements that are available.
Features:
Keyword Gap: Helps users analyze the list of keywords that send traffic to a specific site such as yours, or your competitors for prioritization.
Amazon Keyword Generator: This feature generates thousands of high-intent keyword ideas to help you get better visibility on Amazon, apart from driving massive sales.
Youtube Keyword Generator: Just like for Amazon, this feature is targetted towards Youtube to help you optimize your video content with ease. Find qualifying keywords, topics, and more to build your video content. There are also some best tools online for text generation like Copy AI, Scalenut, etc that have these impressive features to help you succeed in generating quality content with ease. Using these tools, you can ideate on the topics, write powerful descriptions, titles, and more on the go.
Price
Pricing details are absent from SimilarWeb's website. To learn more about the most recent pricing options or to request a quote specific to your needs, contact the sales team.
In A Nutshell
Get detailed insights into competitors traffic, etc.
Know more about source traffic, its origin, behavior over time, and more.
Has top-notch features to help you stand out from the rest.
9. MarketMuse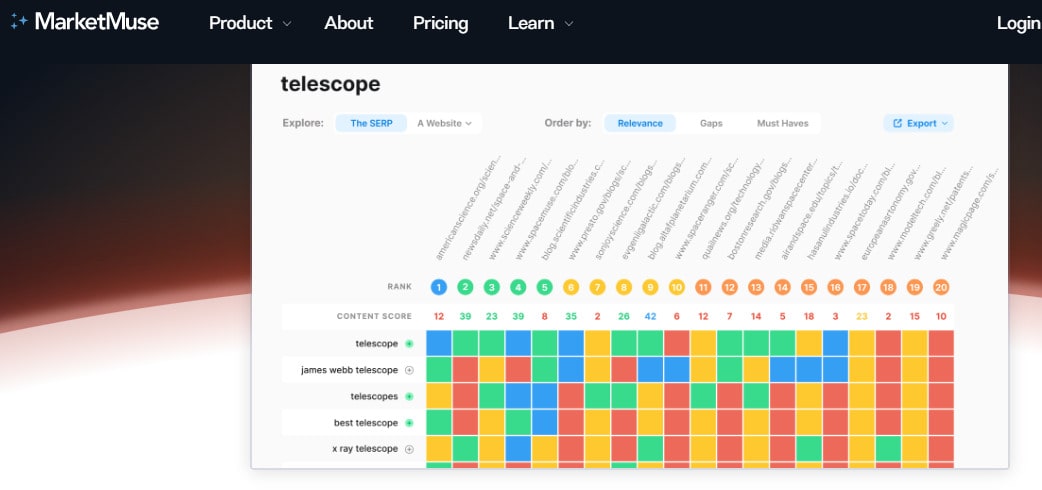 MarketMuse is a unique company with a very distinguishable approach to strategy. Its innovative technology platform not only provides marketers with access to the most relevant and up-to-date information, but it also offers exceptional insights into customer satisfaction.
MarketMuse has developed an AI system that improves the quality of its customers' digital marketing decisions by analyzing millions of data points in order to create actionable insights. It can help increase the tempo of your publications, build customer journeys driven by content and locate people who would need you the most. It perfectly fits your budget and targets.
If you seek to know how your content would perform, the tool will predict it prior to it going live and comes with a natural language generator that can write the firsts of your content. Users can come across related topics, or act on internal linking recommendations with additional features to get measured with Content Score.
Here are some benefits of MarketMuse:
Optimize: Get real-time feedback and know how well your content matches the topic model using the text editor and get real-time feedback. You can also perform a 1-1 comparison with any of the top 20 ranking pages with that of yours. Identify content gaps, and get insights to create quality content.
First Draft: First Draft helps you create content that is free of plagiarism and offensive language. You can give yourself or your team a base to build content that can drive. You can also measure your content with Content Score. MarketMuse can also generate content as per your business style or content standards.
Inventory & Applications: Helps in automating your inventory as well as content audit process by collecting and organizing pages. It also allows you to analyze through easy access. It helps save your time to deliver the best by focusing more on researching, planning, and executing content.
Features:
Technical SEO: SEO web crawler to identify and monitor technical challenges within a website.
Link Building: Identifies apt link-building opportunities and provides a wide set of tools for backlink analysis.
Competitor Analysis: Competitor data analysis on metrics like SERP rankings, backlinks, organic search traffic, domain strength, etc.
Price
Free
Standard
Premium
$0

No CC Required

$149

Monthly Billing

$999

Starting Price, Monthly Billing

$0

No CC Required

$1,500

Annual Billing

Custom Quote

Starting Price, Billed Annually
In A Nutshell
– Build, manage and measure the performance of your content.
– Measure all aspects of your content marketing strategy.
– Make smarter content decisions.
– Easily create and share templates for your digital assets.
10. Google Search Console

Google Search Console is a service provided by Google to help you find out if there are any errors on your website and to see your website's performance. The tool also allows you to debug and optimize your website's code and site structure to make your website more engaging and thus increase the number of visitors that visit your site.
You can also see how many keywords are getting indexed, the level of engagement with your website, which pages are getting listed first, and also view technical information about the pages. You can submit sitemaps, and individual URLs for crawling purposes. With a few quick clicks, you can get a better idea of how your site appears in the search results and determine the areas that need improvement.
Using the Search Console tools and reports, you can monitor, test, and track your AMP pages, and also test and shine your websites mobile usability. Till 2015, the service was known as Google Webmaster Tools and was later named Google Search Console with major changes to UI.
Here are some benefits of Google Search Console
Content Optimization: Allows you to optimize your content using Search Analytics which lets you see which queries attract users to your website. This will help you analyze your sites clicks, impressions, and position on Google Search.
Site Issue Alerts: Allows you to stay updated with all the issues on your site via email alerts. Fix those affected URLs and let Google know you are fixed them all.
URL Inspection: Know how Google Search sees your pages by using the URL inspection tool. The tool allows you to get an overall understanding of crawls, indexes, and page-serving information.
Features:
Search Console Training: Offers training to help you learn how you can optimize your search appearance on the Google platform for increased organic traffic.
AMP Status Report: This helps you in fixing errors in all your AMP pages that prevent them from appearing in Google Search results.
Mobile Usability Report: This helps you understand pages with usability problems when being viewed on mobile devices.
Price
Google Search Console is a free service.
In A Nutshell
– Get accurate search engine rankings.
– Check the indexing status for your website.
– Find out why your site is missing from search engines.
11. Searchmetrics
Searchmetrics is the definitive search marketing benchmark, with an unparalleled view of the global search economy. Searchmetrics is driven by the world's leading analysts, who provide a series of detailed, benchmarked reports covering a range of topics from the role of AdWords and SEO to social media and mobile to help companies develop a complete understanding of business performance and learn how it compares against their competitors.
Searchmetrics' holistic approach to search analytics empowers businesses to maintain and grow market share, as well as to predict and prepare for future developments. To do so, Searchmetrics applies the power of modern search data science to deliver domain expertise, strategic insight, and actionable advice.
You can perform SEO content research, SEO-optimised content briefs, reporting, competitor research, content experience, site experience, search experience, etc. The interface is easy to use and helps in collaborating with teams.
Here how Searchmetrics can benefit your business
Increased Revenue: Searchmetrics offers powerful data and analytics that will help scale your traffic, eventually bettering your ROI goals. It understands Googles latest moves and works accordingly to make sure you are making the best of it.
Increased Growth Opportunities: Offers real-time market insights that drive growth. This will help you understand what should be your priority to reap maximum benefits.
Optimised Content: Offers guidance and strategies as and when required to achieve the best performance. It helps in developing and updating content backed by big-data analytics.
Features:
Topic Explorer: It is interesting to see the dynamic content marketing features Searchmetrics has. The topic explorer picks a keyword and then identifies semantic associations that can also be grouped.
SEO Altering: Alerts users in the event of significant issues that may compromise a websites SEO health via notifications.
Competitive Analysis: Learn how to outperform your competitors with top-notch competitive analysis, custom reporting, and targeted recommendations.
Price
Searchmetrics has not provided pricing information on its website. However, as of reviews, the pricing starts at $397.00 per feature, per month. It offers a free version and a free trial.
In A Nutshell
– Competitive search results.
– Better customer experience.
– Measure and improve websites quickly and easily.
– Improved ROI for businesses.
12. Majestic SEO
Majestic SEO is one of the best SEO marketing tools on the market today, and experts all over the world recommend it because of its unique and impressive features. This top SEO backlink checker and link-building toolset enables users to learn about top-ranking websites with its Site Explorer tool, find relevant links near you and your competitors with Link Context, top backlinks on all sites, and track their favourite sites with Majestic Campaigns.
The best part about Majestic SEO is that it allows users to perform web-based link investigation by providing filters such as quality, topic, language, and so on. Apart from finding the possibility of mutual links between any two websites, Majestic allows you to compare all top-level metrics for URLs and websites, learn about your competitor websites, and find the perfect link building opportunities, among other things.
Benefits of Majestic SEO:
Trust Flow: If you're struggling to get the best backlinks to your page and don't know how to boost it, Majestic's Turst Flow, one of the most popular features, is the way to go. This will help you understand more about quality links that are directed to a specific URL and website, how trustworthy they are, and how everything is interpreted based on backlinks' proximity to established and trustworthy domains. Meaning, a web page with a high Trust Flow score has some of the best quality links in the industry, or links from such trusted close sites are more powerful than links from untrusted sites. This is where Majestic SEO can assist users in learning about high-quality websites that can help them build their businesses.
Keyword Genetaror: Majestic SEO's keyword generator tool enables users to discover golden keywords by delving deeper into the content links of various websites. This is ideal for users who are looking for advertising-specific keywords and generate unique content ideas to target a specific niche. When compared to other keyword generation tools available today, Majestic is unique in that casen as it sources data using its AI-based NLP algorithms rather than third-party sources.
Link Context: This makes it simple to find and analyse backlinks. Users can filter, browse, or search for links using the Link Context feature to determine whether they are a part of the directory or the editorial linking system. Additionally, you can find out whether a page is high up on the page or in the footer, as well as whether the surrounding content is made up of text, images, links, etc.
Features:
Data Extracts: Allows users to upload nearly one million websites in a single batch for CSV files containing key metrics. Users can also access SEO browser plugins to get details about relevant data, or directly push page URLs and domains to Majestic.
Visibility and Topical Trust Flow: This feature assists users in locating the most preferable editorial-style links with high Trust Flow scores rather than giving preference to directory-style links with high Trust Flow scores. While Topical Trust Flow assists in understanding where a specific website is present/positioned in comparison to the best of sites in over 800 categories. On a larger scale, Topical Trust Flow is more about a web page with greater topical relevancy.
Price
Lite
Pro
API
$49.99

Billed Monthly

$99.99

Billed Monthly

$399.99

Billed Monthly

$499.99

Billed Annually

$200

Billed Annually

$400

Billed Annually
In A Nutshell
– Majestic SEO is a great tool that crwards the web for relevant and trustable links, helping build a stronger rank and authority in search engines.
– Helps discover potential keywords with its powerful keyword generator tool.
– Is simple to use and provides superior features that ensure you are far ahead of your competitors in finding and utilizing quality links.
13. Conductor
Conductor Searchlight is an organic marketing platform designed to help businesses find their authentic voice and grow through engaging relevant content. Content marketing is the most powerful driver of growth for companies today, as research has shown that building a strong online presence can lead to up to 200% higher revenue. The organic marketing platform integrates Adobe Omniture and Moz OpenSite Explorer to produce an overall snapshot of your search ranking.
It helps small and medium-sized companies in the marketing space in a wider variety of ways that will help businesses not only reach out to new clients or generate leads, but increase conversion rates or audience engagement. In addition, it can also help you identify loopholes and make necessary changes that will improve your page rankings.
With Conductor, get everything you need to understand your customers extensively and create the content they want to drive your ROI.
Here are a few ways you can benefit from using Conductor:
Research Keywords & Competitors: Understand your customer behavior, attitude, and intent across search and social platforms. Identify strategies to rank better using Conductor's 20+ billion keywords. Know your competitors and get insights into their ranking for better performing search results as well as for rankings those that they have failed to rank. This will allow you to strategically stay ahead of them.
Create Winning Content: Create winning using Artificial Intelligence recommendations that help you with a blueprint to create high-performing content to drive great traffic and conversions. It will also help you brief your content teams with integrations with task managers like Trello, Asana, etc.
Optimize Site Health: Conductors world-class technology offers technical site auditing to help you maximize your website for organic visibility. It runs A/B testing, makes changes to any pages, and goes live instantly.
Track Keyword Ranking: Provides unlimited keyword rank tracking access to hundreds and thousands of global search engines, locations, etc. This will make sure that your website is staying at the top of the search platform.
Performance Measurement: Provides you with a detailed report on your content performance and overall impact made. Stay updated with these reports, and keep your content team in the loop to know what is driving or limiting growth. Options to receive custom reports via automation are also made available.
Features:
Amazon Rank Tracking: Ensures your brand gets found on Amazon and helps increase conversion, sales.
Voice Search: Creates opportunities for your brand, tracks visibility to win a share in voice search results on Amazons Alexa, Google Assistant, etc.
Digital Presence Tracking: Track your digital content visibility across all social media platforms, press coverage, or on Google SERP to stay ahead of competitors.
Price
Conductor has not provided pricing information on its website. However, as of reviews, the pricing starts at $1,995 per month.
In A Nutshell
– Create engaging content with ease.
– Get discovered by the right people.
– Seamlessly grow your business through authentic, engaging content.
– Get results quickly and easily from one platform that works across social, the web, etc.
14. seoClarity
seoClarity is the worlds first AI-driven enterprise SEO platform that provides brands with Search Engine Optimization (SEO) best practices, editorial SEO experts, publishers, and content experts, all under one umbrella. It provides brands with the tools to help them achieve their organic results by increasing organic traffic, converting visitors into buyers, and increasing brand awareness.
Create customizable SEO dashboards using seoClarity that helps perform site audits and detect duplicate content and 404 errors, via deep crawls. It also allows users to add descriptions, meta titles, and alt tags for missing pages. It comes with customizable reports that will show the most important metrics as per your preference.
The team at seoClarity will assist your content team with all content requirements. If you are someone who would like to work on your own content in-house, you can use seoClaritys product – Content Ideas for brainstorming.
Here are some benefits of seoClarity:
Content Marketing: Analyse content marketing strategies combined with SEO strategies to bag impressive results. You can also understand the needs, demands, and wants of your target customers/audiences.
Keyword Research: seoClarity has the world's largest and freshest keyword data of 28 billion-plus across 170 plus countries. Interestingly, the platform adds 1 billion-plus keywords month-on-month and helps you with keyword variations, categories, etc, that Google usually hides.
Technical SEO: seoClarity helps you create a powerful website foundation with its technical SEO site audit that houses over 100 plus checks that can find, monitor, and fix issues. It also offers unlimited crawls on pages or projects. Built-in site crawler, internal link analysis, ultra-fast reporting, and log-file analyzer are a few aspects.
Features:
Content Growth: This allows users to write content that is of high quality that requires no expertise backed by Natural language processing (NLP) and Artificial Intelligence (AI).
Competitive Comparisons: This allows you to compare and understand the keywords your competitor is using and the entire list of ranking keywords.
Ranking Data: Get access to ranking data on a daily or weekly basis for mobile and desktop.
Price
seoClaritys pricing is based on the number of domains and the keywords tracked. Users can also get a custom quote for all the packages available.
| | | | |
| --- | --- | --- | --- |
| Essentials | Core | Professional | Agency |
| $0.15 per keyword query Starts at $750 / month | Starts at $3,000/month | Starts at $4,500/month | Contact seoClarity Sales |
In A Nutshell
– Increase your organic search traffic.
– Generate more leads and sales.
– Learn how to optimize your content for maximum results.
– Save time and money by learning how to do SEO the right way.
15. SpyFu
SpyFu is an American search analytics company that makes search analytics simple to use and accessible for all users who want to improve their websites. SpyFus technology is automated and easy to integrate, so you can focus on creating and improving content without worrying about how best to implement search engine optimization and pay-per-click campaigns. That is why SpyFu is the perfect tool for publishers, agencies, developers, and marketers who want to leverage their expertise in SEO and understand their customers needs
Since its inception, the company has been contributing useful insights to businesses worldwide. With a number of different reports, you'll be able to learn more about the trends that affect your business. In simple terms, it offers keywords that websites purchase on Google Ads and also keywords that are used for search engine results. Interestingly, it provides key insights or data about ad spending by various websites.
Here are some benefits of SpyFu
SEO – Instant Access: Offers instant access to leverage your site by providing backlinks strategies, rankings for top pages, and others. Get insights and stay up-to-date with- competitor analysis, keyword research, SERP analysis, and compare domains.
PPC – Uncover Competitors: Offers insights into your competitors' keywords, ads on Google using PPC tools. What else does it offer? Google Ads advisor, Ad history, compare domains, Google Ads templates, competitor analysis.
Competitive Intel: Get to know and see everything about your competitors. Offers traffic analysis, helps compare domains, and tap new players in the market.
Features:
Unlimited Projects: This allows users to create limitless projects to organize keywords, keyword groups and helps stay updated with the latest changes. Offers seamless integration with other SpyFy tools.
SEO Recon + Google Ads Advisor: Provides top-notch insights with SEO Recon reports and Google Ads Advisor to create a strong impression among your client network and get insights into missed opportunities.
Competitor Analysis: Provides valuable insights to use high-quality data to understand your competitors as well as yours.
Price
Basic
Professional
$33/month

Annual Plan (Billed Annually)

$58/month

Annual Plan (Billed Annually)

$39/month

Monthly Plan

$79/month

Annual Plan (Billed Annually)
In A Nutshell
– Track where your competitors are going online.
– Get a heads up on their SEO and PPC campaigns.
– Understand how Google sees your site from a search engine optimization point of view.
– Get a complete view of your competition's digital footprint.
16. Clearscope
Clearscope, the SEO content optimization platform for content curation, helps optimize each piece of content so that it delivers search traffic to your website. If you're looking for a quick and easy way to get quality search traffic to your website, look no further than Clearscope.
The platform will not only drive content that is sharable, readable, or clickable but produces highly relative content that people are searching for on the internet. With features like keyword research, content creation, optimization, and built-in analytics and reporting, Clearscope helps your customers find solutions that have never been easier.
Here how Clearscope can benefit:
Easy-To-Use Integrations: Offers easy-to-use integrations to provide the best for your workflows. You can create the content of your choice with the tools that you have been already using like Google Docs, WordPress, etc.
Keyword Target: Helps you target the right kind of keyword by providing powerful insights into monthly search volume and search intent. To measure your content quality, it offers an easy-to-understand content grading scale.
SEO Change Tracking: Allows maintaining a full record of changes to your websites content. Also provides access to historical backups.
Features:
Content Insights: Provides you with a variety of tools to optimize SEO content like audience insights, long-tail keywords, or AI writing assistant.
Search Rank: Provides accurate metrics on the performance of your search ratings when compared to your competitors.
Competitor Analysis: Offers in-depth data on your competitors — backlinks, organic search traffic, SERP ranking, and more.
Price
| | | |
| --- | --- | --- |
| Essentials | Professional | Enterprise |
| $170/month | $350/month | Custom Pricing |
In A Nutshell
– Improve the visibility of your content.
– Increase traffic and rankings for your website.
– Accelerate your online business growth and development.
17. Google Keyword Planner
One of the most popular keyword tools available today, Google Keyword Planner has a variety of capabilities. For improved conversion rates, you may get all of your ads displayed first and in front of your target audience by using the appropriate keywords from this platform.
The data from this platform, which is solely sourced from Google, may not be as accurate as that from other sites, according to our study. However, the results work well with AdSense monetization, and there are alternative ways to find commercial keywords by using the big range at the top of the page.
Benefits of Google Keyword Planner:
Your Budget, Your Choice: enables customers to choose their budget for spending so that the platform may just display anticipated outcomes depending on your advertising spending. All of such data is shown before you create your campaign.
New Keywords Discovery: Provides users with necessary keyword suggestions as per their business, product, services, or website.
Monthly Searches: With the help of this tool, you can also determine the monthly volume of searches for a certain item or keyword. This will enable you to strategically design your promotions for higher conversion rates.
Features:
Organizing Keywords: This will enable you to comprehend how your keywords relate to your business across different categories. The more relevant the keywords are, the better chance brands have of increasing their visibility and, in some situations, sales.
New Campaign Creation: Provides assistance to users in the creation of their campaigns utilizing a keyword strategy that is based on extensive keyword research.
Price
The Keyword Planner is a free tool that helps you research your keywords for all your campaigns that rely heavily upon Search.
In A Nutshell
Helps you carry out keyword research with ease.
Provides all relevant data, from discovering new keywords to creating new campaigns.
Shows estimates for your campaigns as per your budget.
Is easy to use, and after all, it's free.
Our Top Picks:
| | |
| --- | --- |
| Best for Performance Analysis | Semrush |
| Best for Rankings Analysis | Ahrefs |
| Best for Technical Analysis | Screaming Frog |
| Best for Competitor Analysis | Ubersuggest |
Conclusion
These tools and platforms not only boost your companys visibility but also increase revenue! Since most of these tools are free, you should use them to explore the best ones for your business.
The premium ones generally provide more features and advanced analysis as well. In case you just want some basic tips, we have listed a few that can get you started too!
We hope this article helped you discover the best SEO tools and platforms in one place and we hope it would boost your online presence too. If you think we missed out on any such tools, then do share them with us in the comments section, and we will add them to our list.
Best SEO Tools – FAQs:
1. How do I use SEO tools for my website?
SEO tools can be used to track your website's ranking, keyword performance, backlink profile, and other important metrics. Simply sign up for an account, add your website, and start analyzing your data.
2. How does an SEO platform help improve a website's ranking?
SEO platforms provide a comprehensive suite of tools and features that help website owners analyze and improve their website's search engine optimization. These tools can help you identify and fix technical issues, optimize your content for relevant keywords, and build high-quality backlinks.
3. How do I choose the best SEO platform for my business?
When choosing an SEO platform, consider your business's specific needs and budget. Make sure the platform provides the tools you need to optimize your website, has a user-friendly interface, and offers reliable customer support.
4. Are there any free SEO platforms available?
Yes, there are free SEO platforms available such as Google Analytics, Google Search Console, and Moz's Open Site Explorer.
5. Can an SEO platform guarantee my website will rank #1 in search results?
No, an SEO platform cannot guarantee your website will rank #1 in search results. However, using an SEO platform can significantly improve your website's ranking by providing insights and recommendations for optimization.
6. What are some of the best SEO tools for keyword research?
Some of the best keyword research tools are Google Keyword Planner, Ahrefs Keywords Explorer, Semrush Keyword Magic Tool, and Moz Keyword Explorer.
7. What are some of the best SEO tools for backlink analysis?
Some of the best backlink analysis tools are Ahrefs Backlink Explorer, Moz Link Explorer, Semrush Backlink Audit Tool, and Majestic Backlink Analyzer.
8. What are some of the best SEO tools for on-page optimization?
Some of the best on-page optimization tools are Google Search Console, Semrush Site Audit Tool, Ahrefs Site Explorer, and Moz On-Page Grader.
9. What are some of the best SEO tools for technical audit?
Some of the best SEO tools for technical audit are Google Search Console, Semrush Site Audit Tool, Ahrefs Site Explorer, and Screaming Frog SEO Spider.
10.What are some of the best SEO tools for tracking my website's ranking?
Some of the best ranking tracking tools are Semrush Rank Tracker, Ahrefs Rank Tracker, Moz Pro Campaign Tracker, and AccuRanker.
11. How much does an SEO tool cost?
The cost of an SEO tool varies depending on the platform and the features included. Some platforms offer free plans with limited features, while others have monthly or annual subscription plans that start at $50 and can go up to $1,000 or more.