11 Long-Form Writer Tools That Will Elevate Your Writing Game!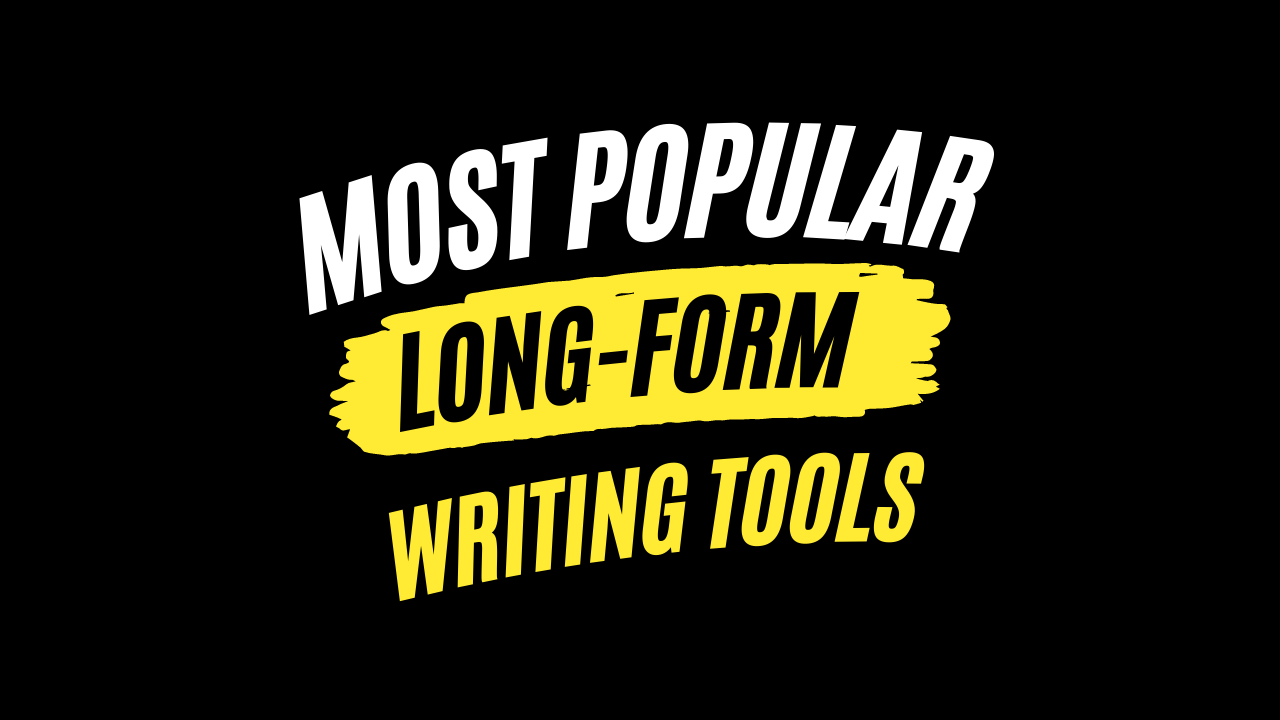 Artificial Intelligence has been a game-changer in many fields, including writing.
Many AI-powered tools now offer long-form writing capabilities to help writers enhance their skills, shorten writing time, and improve content quality.
With the right tool, you can easily compose well-crafted and engaging articles or even books.
To help you find the best of the best AI Writing tool for long-form blog creation, we've got you covered that help you write like a pro.
Here, we'll explore the top AI long-form writer tools based on their features, affordability, and user-friendliness.
These tools not only help in the creative process but also automate mundane tasks like grammar and spell checks.
They learn from your writing style and suggest words and phrases to improve your content's fluency and coherence.
Moreover, they can help in generating ideas based on your topics and provide a wide range of templates to customize your writing's tone and structure.
So, are you ready to power your productivity, and streamline your writing process?
Let's dive in and explore the best long-form AI writer tools. But before this, a quick comparison, please!!!
| | |
| --- | --- |
| Top Long-Form AI Writer Tools | Why Opt? |
| Content At Scale | Is best to produce SEO-optimized articles, also offers a free AI Content Detection tool |
| LongShot AI | Comes with an easy-to-use interface and rich feature sets like Content Rephraser,, Fact Checker, etc |
| WriteSonic | Offers content optimization, generates high-quality content with minimal input |
| Hypotenuse AI | Best for creating SEO-optimized blogs, articles, product descriptions, artwork, and more |
| Article Forge | Writes content as smart as a human |
| Jasper AI | Offers a user-friendly interface for easy content creation |
| Bramework | Comes with keyword and SERP analysis features for writing super-rich SEO content |
| Rytr | Can generate content in multiple languages and styles |
| Anyword | Supports multiple content formats and niche-specific content |
| AI-Writer | Capable of generating high-quality content in a short amount of time |
| ZimmWriter | Can generate up to 1,000 articles in a single click |
11 Most Popular Long-Form AI Writer Tools
Here are some popular long-form AI writer tools that would up your content game and appeal to readers. These tools offer features like SEO optimization, style and tone suggestions to produce high-quality content ranging from 500 words all the way to 7000 words and beyond. If you are looking to have an edge when creating digital content, these popular tools are well worth checking out. Don't just create it; create it better!

1. Content At Scale
Content At Scale is the perfect tool for content marketers looking to scale their content production without sacrificing quality.
This cutting-edge AI automation platform produces over 40 million research-based words every month, making it one of the best long-form AI writer tools available in the market.
Another fantastic feature is its ability to produce blog posts of an average of 2,667 words. Also, it adjusts your post length based on your preference.
So, whether you want your post to be 750 words or 3,000+ words long, Content At Scale has got you covered.

Here are three incredible features of Content At Scale that make it stand out from the competition in the long-form AI Writers category:
A) Comprehensive Dashboard:
Content At Scale comes with an impressive dashboard that highlights the 'Time Saved' and 'Cost Savings' of your content creation processes based on the number of blogs produced.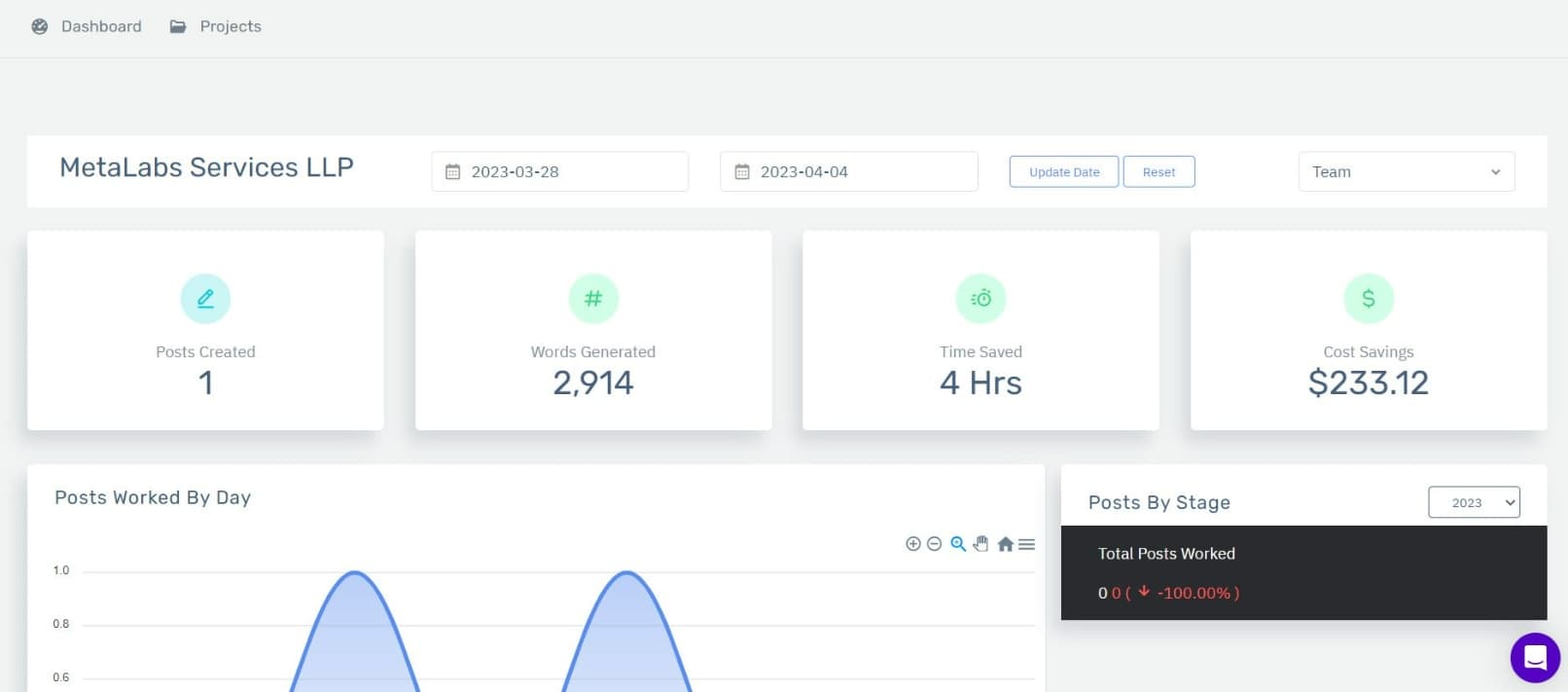 This feature helps you understand the true impact of your content marketing efforts. If you are looking for a tool that can help you create the best long-form text, this tool is a must-try.
B) Keyword Optimization:
The platform generates a list of keywords that can be used to rank higher in search engines and optimize the content for better performance.
This feature ensures that your content is optimized to achieve maximum reach and impact.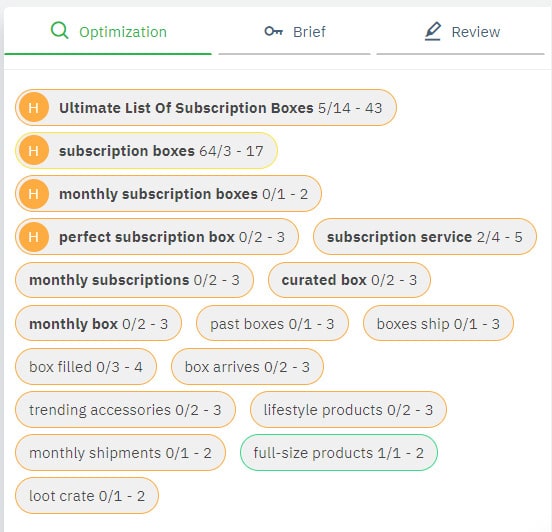 The best part? Once you are done creating the blog post, you are provided with a list of On-Page Checklists with relevant '✓' and '' signs for better optimization.
On-page Checklist:
Title includes primary keyword
Meta includes primary keyword
URL includes primary keyword
1st paragraph includes primary keyword
A subheading include primary keyword
Primary keyword twice in first 4 paragraphs
Primary keyword after last subheading
Periods at end of long list items
Paragraphs are 3 sentences or less
Featured image + media added
No images within first/last 3 paragraphs
Table of contents in place
C) Saving and Publishing options:
Content At Scale provides an easy-to-use interface for saving and publishing your content effortlessly. You can choose to save your content in multiple formats and publish it across various platforms, ensuring your message reaches your target audience effectively. Content At Scale has an AI Content Detector. Do take a look at it to understand if the content generated is through an 'AI Bot' or 'Human'.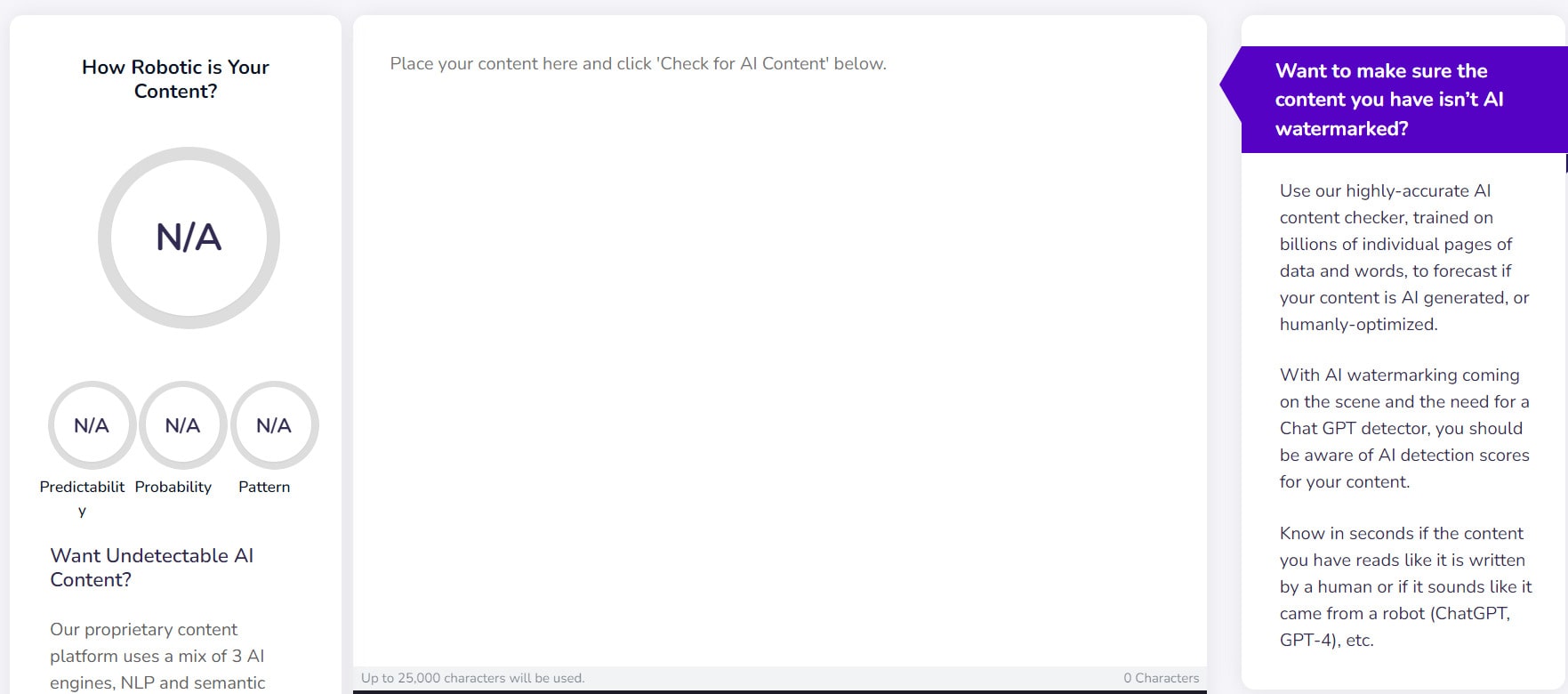 But what sets Content At Scale apart?
We've tried generating a few blogs using Content At Scale. But did the blogs pass the AI Detection? Yes, they did.
And what is the pricing like?
Content At Scale has various plans with the lowest at $150 to generate 4 blogs. Maybe on the expensive side, but does the job for you in just a few clicks.
Also Read: Best Free Article Rewriters
2. LongShot AI
LongShot AI is an advanced long-form AI writer tool that enables you to generate factually accurate, topically relevant, and user-centric content with ease.
This leading AI writing tool helps you create SEO-friendly content that can significantly improve your SERP ranking.
Using LongShot AI, you can create content based on what users search via People Also Asked (PAA) questions, and ensure your content answers them in a comprehensive and informative way.
Apart from this, the platform also offers a range of templates to create content on the go. For example, you can generate FAQs, Headlines, Rephrase Content, Generate Blog Ideas, and much more.

Here are three incredible features of LongShot that make it stand out from the competition in the long-form AI Writers category:
A) One of the standout features of LongShot AI is its ability to generate factually accurate content that is free of errors and inconsistencies.
This makes sure that writers are provided with high levels of accuracy and precision when generating content using this leading AI text-generation tool.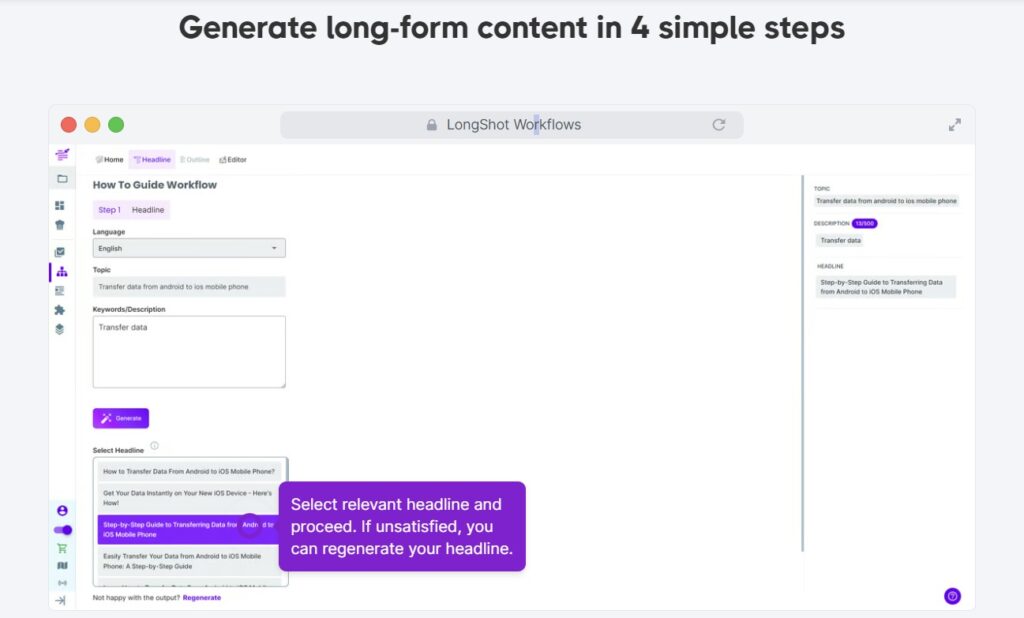 One can use LongShot to create blogs in 4 simple steps, and that's pure magic. You are sure to game up your content and be sure of producing high-quality and informative blogs like never before, all while resonating with your audience.
B) Additionally, LongShot AI allows you to create and share templates that match your workflow, helping you automate your writing process to suit your specific use case.
You can also share relevant prompts or provide an example to the AI and ask it to replicate it for your use case.
C) LongShot AI also integrates an analytics dashboard that provides valuable insights into your content performance.
This has proven to help keep a track of the engagement of content, the traffic, and the behaviors of the users.
But what sets LongShot apart?Â
LongShot AI offers integrations with many third-party applications including Semrush, Hubspot, WordPress, Medium, Grammarly, and many more platforms. Probably, one can even call it an all-in-one content writing assistant.
And what is the pricing like?Â
LongShot when compared to Content At Scale has a pretty decent pricing plan. The Basis Plan — Pro, is priced at $19/month (billed annually) with the support of 50K words per month, per user.
3. WritesonicÂ
Writesonic is a powerful AI writer tool that enables users to create high-quality content that is optimized for search engines.
This tool boasts a variety of impressive features, with the AI Writer being the most popular one.
It helps users in creating blog posts of up to 1500 words in just 20 seconds.
It's that powerful and easy to use.
The process is simple: users provide a topic in just 4-5 words, specify a keyword (optional), and select a language from 25+ options.
Step 1: Enter The Topic Of Your Choice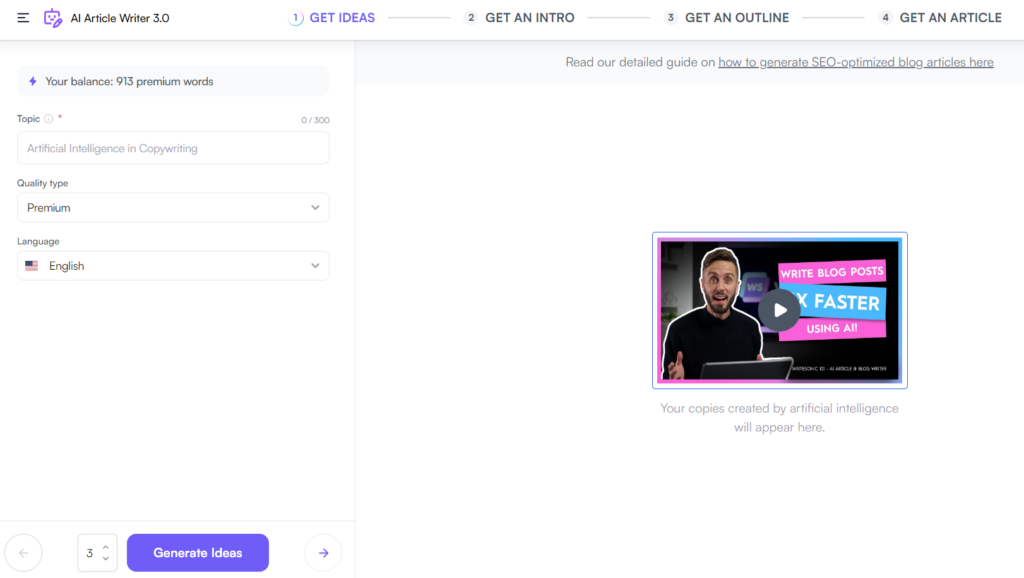 Step 2: Generate Ideas > Select The Title Of Your Choice

Step 3: After this, Generate an Introduction, and pick the one that fits your preference. Once done > Head to the Generate the Outline section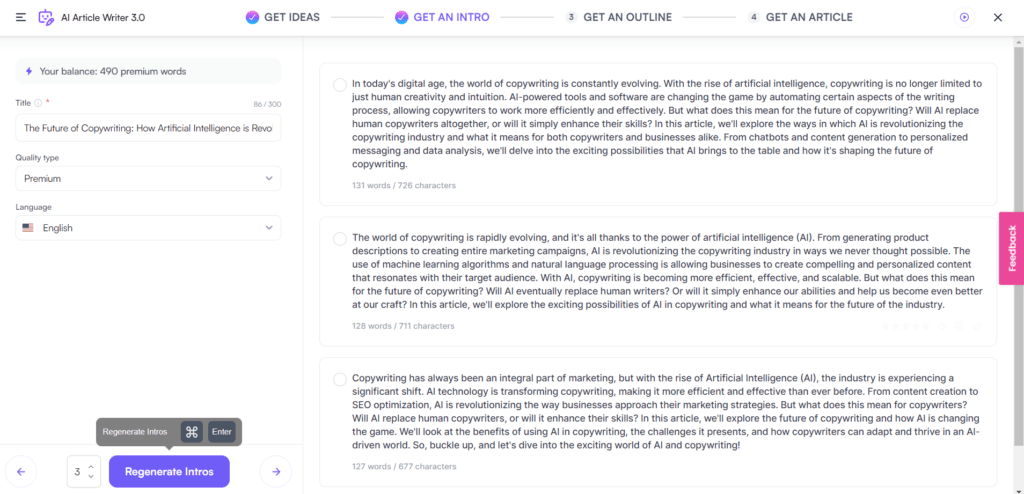 Step 4: Here's what you get once you generate the outline. (See Below)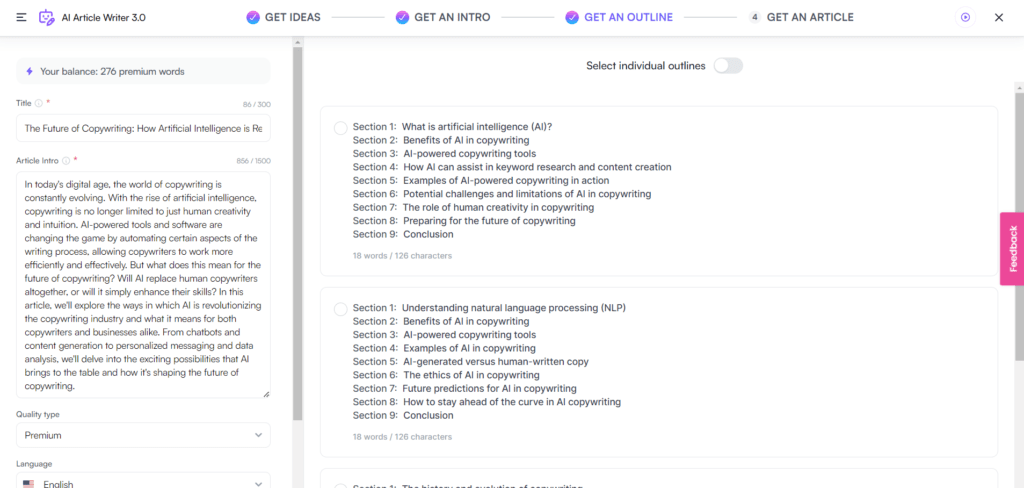 Now, generate the article, and viola, there you have your full blog, all good for publishing.
The good part? Writesonic even offers the opportunity to specify one keyword they desire to "snake rank", or jump to the first page searched for on Google.
As a bonus, individuals also get to choose their preferred language.
The tool accelerates the writing process by producing SEO-optimized content ideal for a range of mediums like blog posts and essays.
In fact, its versatile framework creates content appropriate for use in Google Ads, Facebook ads, Quora answers and sales emails just to name a few.
Here are three incredible features of WriteSonic that make it stand out from the competition in the long-form AI Writers category:
A) SEO-Optimized Blogs:
Writesonic boasts an impressive feature that generates SEO-optimized blogs and articles with highly relevant keyword suggestions, intros, and outlines.
The output is highly effective in ranking higher on search engines in just a few seconds.
B) Readability:
The AI article generator provides highly coherent and readable text with well-formatted paragraphs, sentences, and grammar.
It ensures complete originality and plagiarism-free content, making it a perfect solution for website owners.
C) Editing Tools:
Writesonic provides an in-built Sonic Editor that ensures that you can always edit or customize any generated text to suit your preferences.
With the handy CMS integration, you can publish your content on popular platforms like WordPress, Medium, and others with just a single click.
These features help you get your content out there and make your brand stand out in the crowd.
4. Hypotenuse AI
Hypotenuse AI is a powerful tool that enables writers to produce high-quality content quickly and easily.
With its AI-powered article and blog writer, the platform streamlines the writing process by generating factual and unique content in just a matter of minutes.
Hypotenuse AI is praised for its ability to incorporate SEO keywords into articles and blog posts.
This allows writers to easily optimize their content for search engines and improve the visibility of their work online.
In addition to its SEO capabilities, Hypotenuse AI offers a variety of tone and perspective options that users can customize to their specific audience, ensuring that the tone of the writing resonates with the target readers.
The platform's versatile export capabilities lets writers share their creations in any format of their choice: CSV and DOCX to name a few.
Anyone can send content to clients, and colleagues or simply compile work for later use.
For those selling products online, you will be pleased to learn that direct publishing through Shopify and WordPress is immensely helpful in increasing the reach of your material.
Enjoy the convenience of getting your message out there with speed and ease.
How to generate a blog post on Hypotenuse AI?
Describe the topic > Enter keywords > Select tone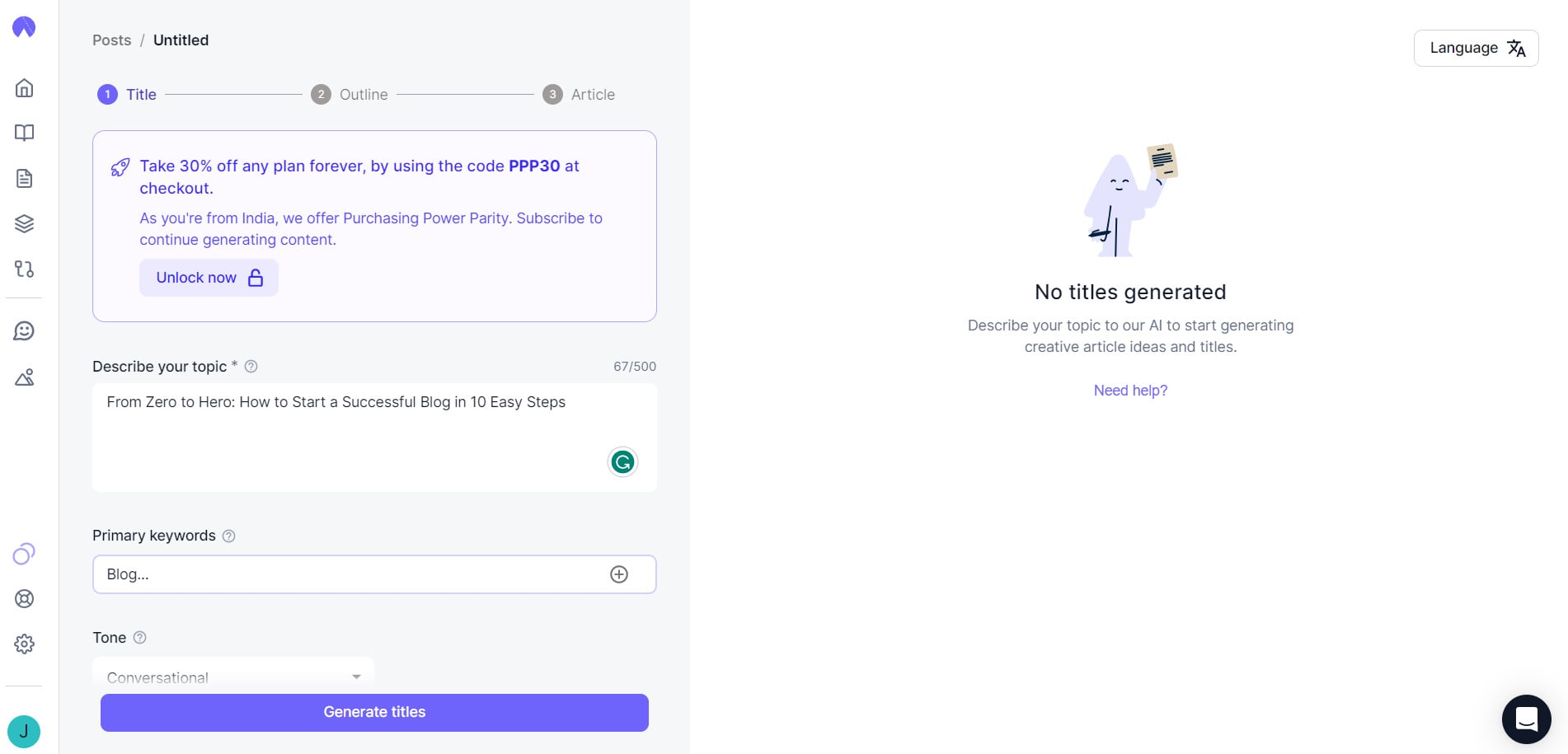 Generative titles
Select the title, and generate online (select the best-suited headers/add more), Once done, click on generate for the full blog.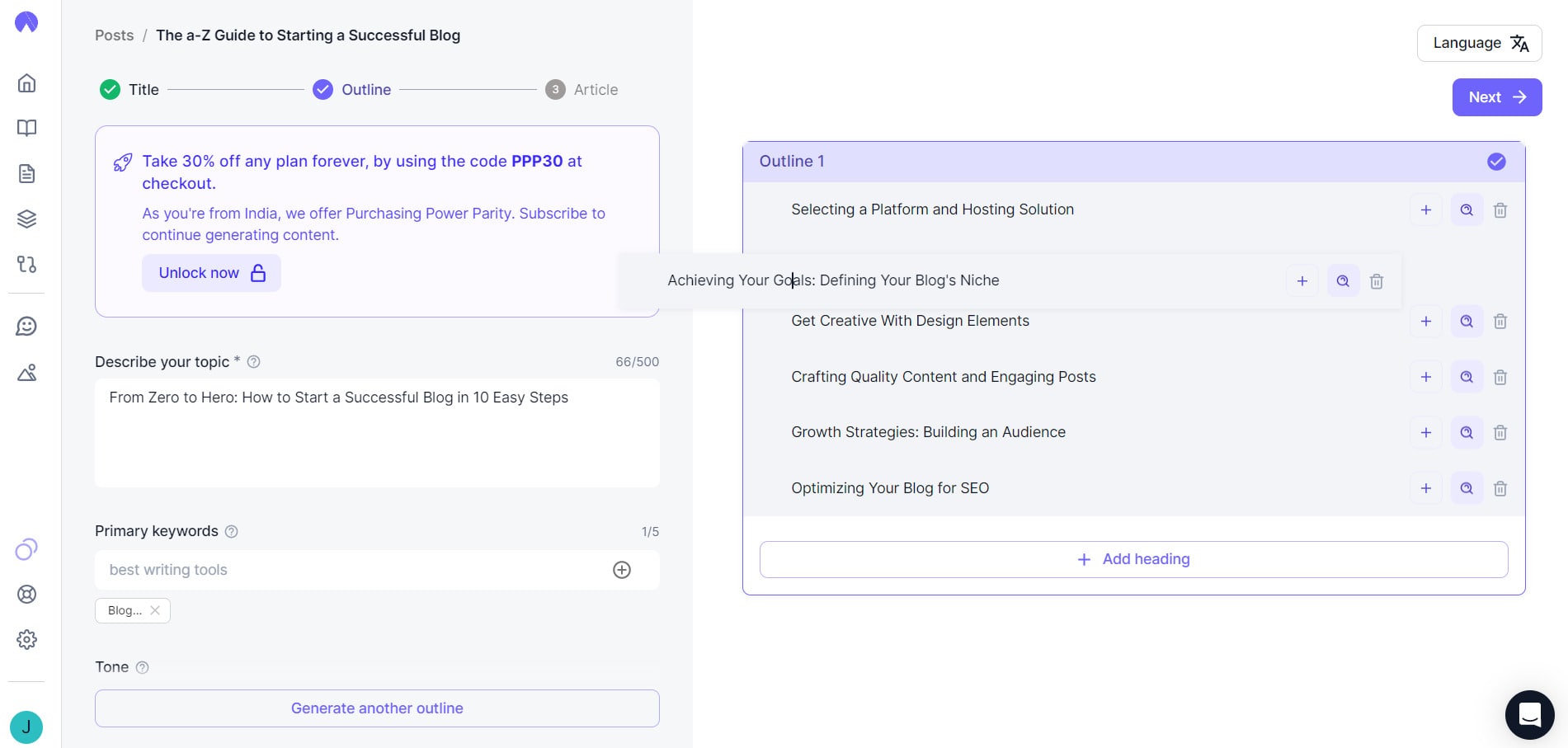 Here are three incredible features of Hypotenuse AI that make it stand out from the competition:
A) Your brand voice, in 25+ languages:
Hypotenuse AI makes it easy to pick your desired tone of voice and use it consistently throughout your content – even if you're writing in multiple languages.
B) Publish anywhere:
Once you've created your content, Hypotenuse AI makes it simple to publish it anywhere you want.
Whether you're using platforms like Shopify or WordPress, or you want to publish through an API, Hypotenuse AI can integrate seamlessly with the tools you're already using.
C) Batch generation tool:
For those times when you need to generate a large amount of content quickly, Hypotenuse AI's batch generation tool is a lifesaver.
5. Article Forge
Article Forge is an easy-to-use AI tool that fuels SEO content that is tailor-made for any blog or website.
It'd be remiss to not look further into the impressive three features of Article Forge – prepare to delve beyond its surface-level capabilities.
First off, its advanced artificial intelligence & deep learning solutions differentiate it from many other existing articles generators available on the market.
These mechanisms result in more original, fully optimized material perfect for businesses looking to increase their marketing efforts in strides.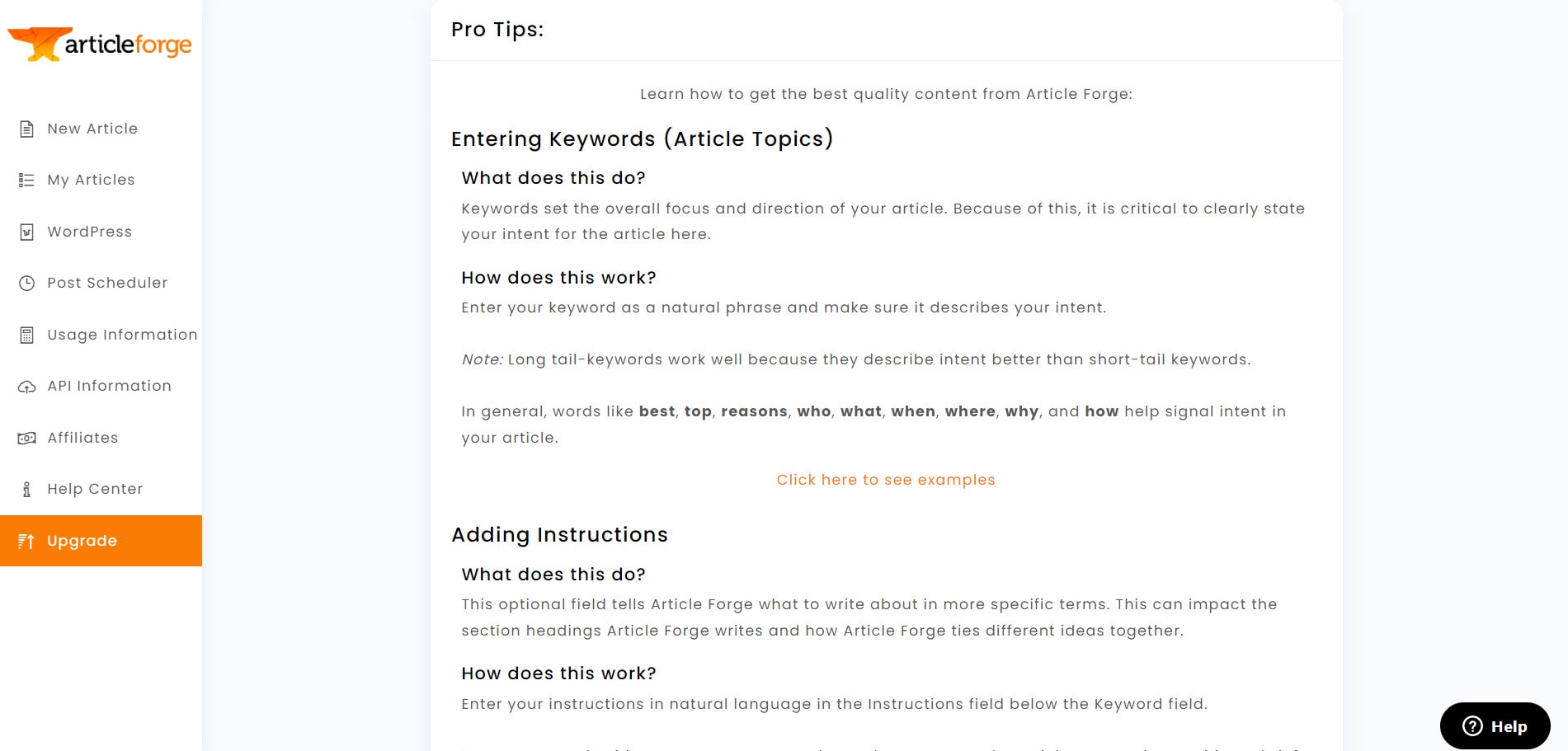 Here are three incredible features of Hypotenuse AI that make it stand out from the competition in the long-form AI Writers category:
A) Article Writer:
With Article Forge, creating a large amount of content has never been so easy.
In just one click, Article Forge can generate up to 1,500 articles for whatever project you have in mind.
That's right: no writers, no waiting around.
All you need to do is feed it your desired keywords and it's already hard at work writing results tailored to your needs – optimized, timely content when no other viable options are available!
Don't worry about trying to manage multiple websites or the arduous task of creating dozens of pieces of content by yourself – Article Forge has you covered.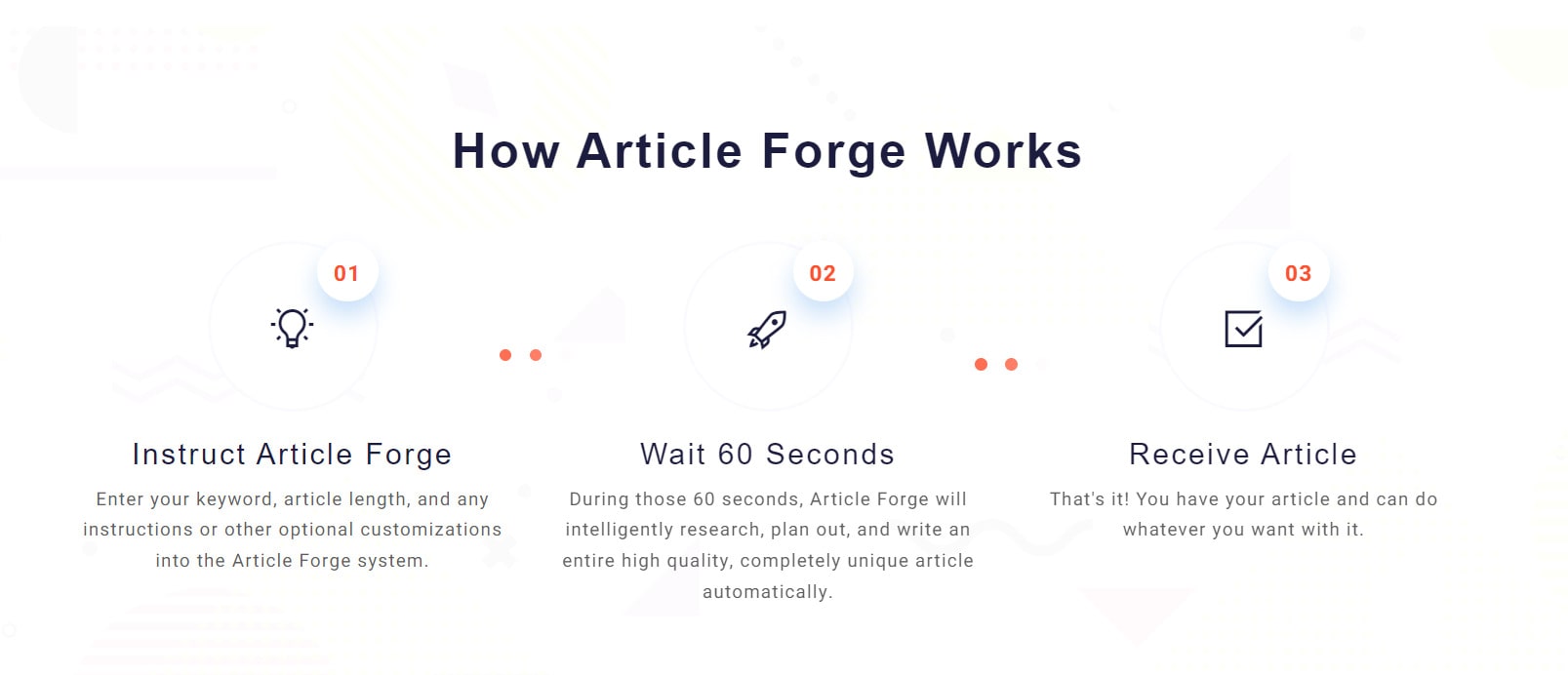 B) Avoid AI Content:
One of the challenges of using AI-powered content writing tools is that the content often comes across as robotic or generic.
However, with Article Forge, you can trust that your content will be top-notch and user-friendly.
The tool's AI technology ensures that your content is unique and engaging, without any of the awkward, robotic phrasing that can be a dead giveaway for automated content.
C) Plagiarism-Free Content:
Utilizing an AI writing tool isn't without concern.
Accidental plagiarism could lead to legal trouble and severe damage to your website's reputation, something that no webmaster wants.
With Article Forge, plagiarism worries quickly become a problem of the past.
Every content it produces is guaranteed to be original and free from plagiarism – guaranteeing that everything on your site is up to standard.
Allowing AI-powered technology to drive your website can raise its traffic and engagement exponentially.
6. Jasper AI
Jasper AI is the perfect AI platform for businesses looking to create high-quality content that is tailored to their brand.
With this cutting-edge technology, you can expect to create content 10X faster than traditional writing methods.
Jasper AI offers a Long-form Document Editor that can greatly simplify the process of creating and editing long documents.
The platform offers an easy-to-use and distraction-free text editor, allowing writers to focus on writing their hearts out without any interruptions.
This eventually helps power their productivity and get more done in a shorter time.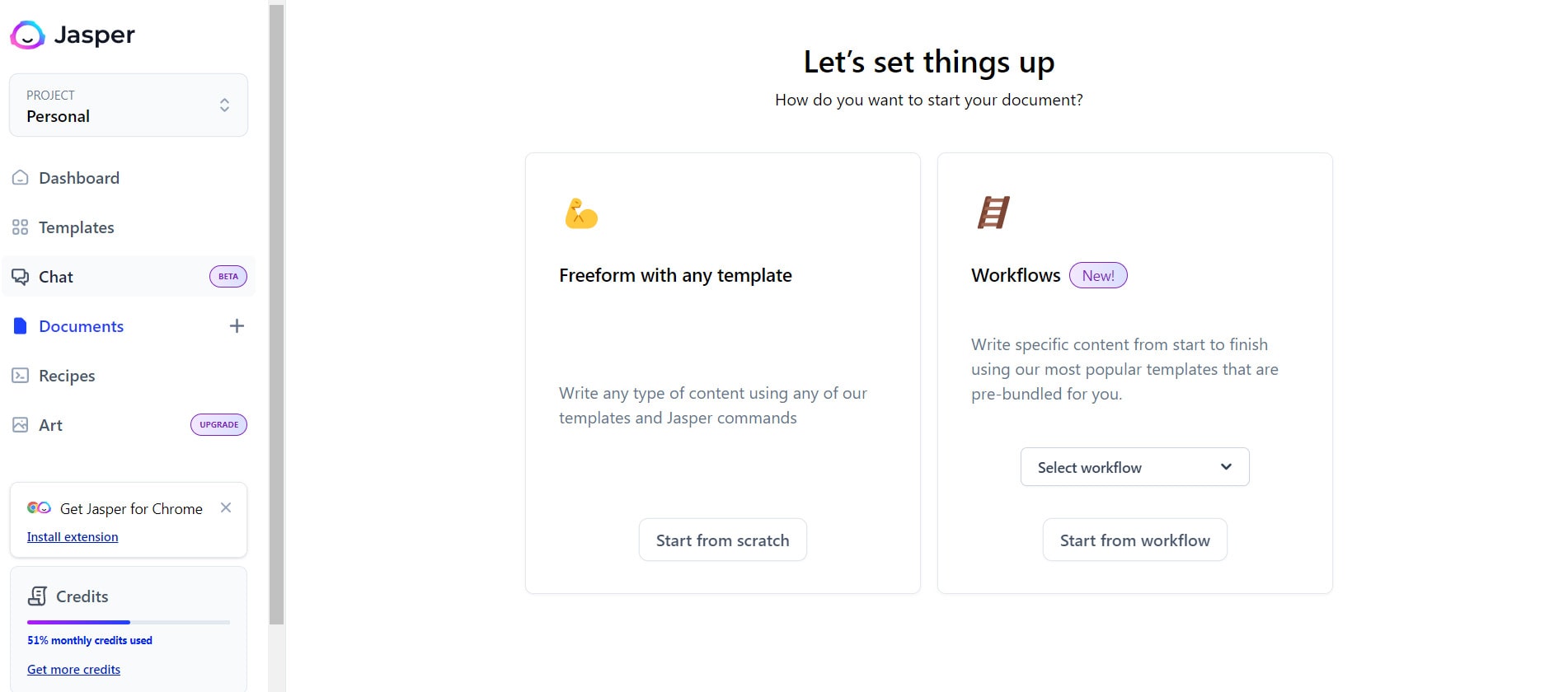 Here are three incredible features of Jasper AI that make it stand out from the competition in the long-form AI Writers category:
A) Boss Mode AI Content Generator:
Allows you to use Jasper Commands and generate full-length blog posts, entire books, and even children's stories.
This mode is ideal for those who need to generate content quickly without sacrificing quality.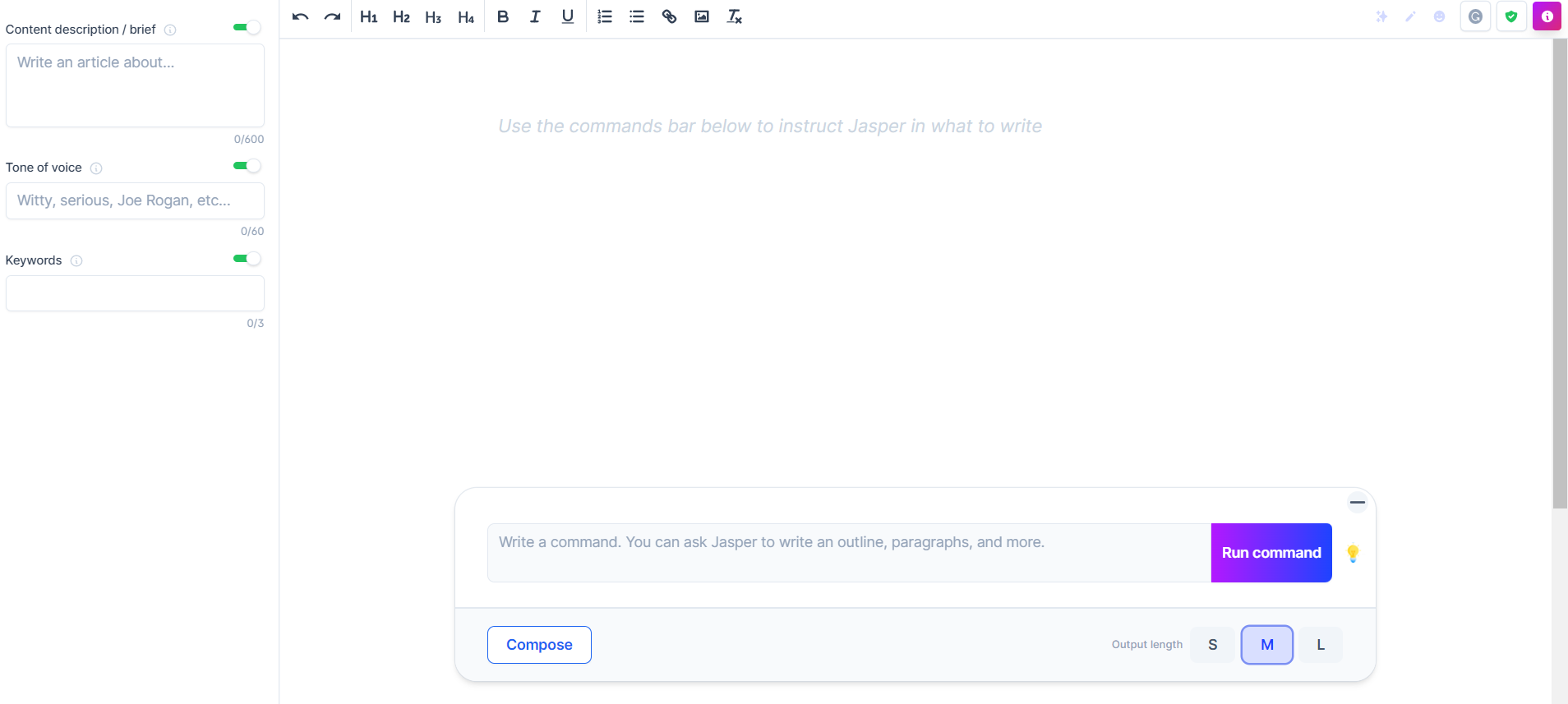 B) In addition to its content generation capabilities, Jasper AI is multilingual, offering creative content in over 25 languages and dialects.
With Jasper, you can create content that speaks to your audience in their preferred language, giving your brand a global edge.
C) Jasper AI also integrates with Surfer SEO, one of the leading SEO tools, giving you access to the latest SEO technology that helps you figure out what keywords to use and how to make your content better for search engines.
This feature ensures that your content remains relevant, while also helping you climb up the search engine rankings. Besides these, the offers a range of templates for various use cases.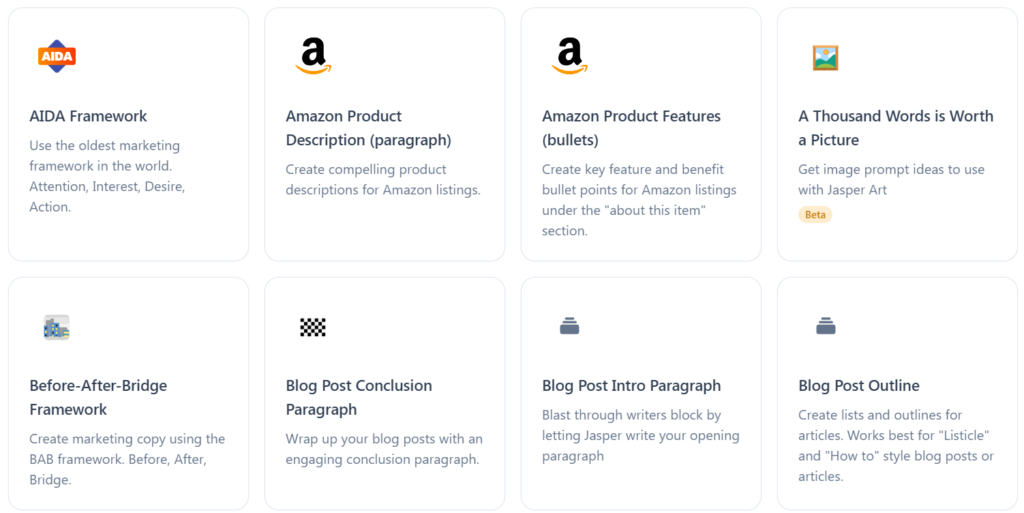 7. BrameworkÂ
Would you like to revamp and speed up your blog writing process?
Perhaps Bramework could help – a long-form AI writer that's renowned for both its user-friendliness and accuracy.
Working in its AI tailormade system couldn't be simpler: select a topic, choose some keywords, and the system will generate an outline and introduction straight away.
That way, bloggers, freelancers and agencies can achieve far quicker results than ever before – completing blog posts five times faster!
To add to this advantage of swiftly creating longer pieces, with less effort comes more appeal as Bramework ensures each post delivers comprehensive analysis and comprehensive expressions from any topic given.
Making it the perfect fit for professional writers who wish to transform their craft for the better or someone just starting out looking for an easier way to create content richer in detail and accuracy.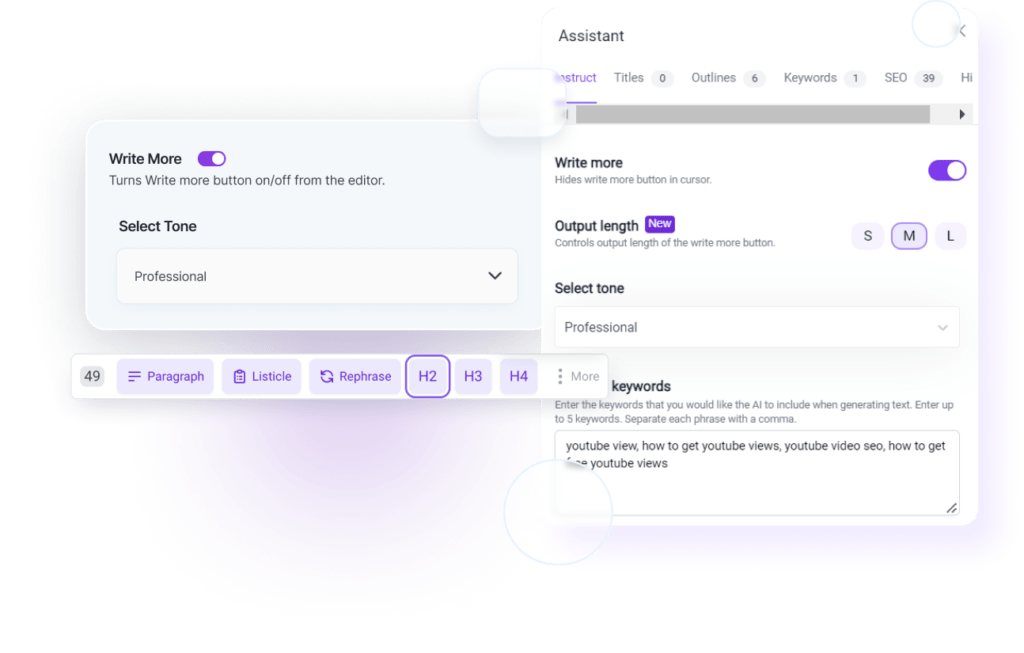 Here are three incredible features of Bramework that make it stand out from the competition in the long-form AI Writers category:
A) Semrush Integration:
With Bramework's Semrush integration, you can take the pain out of keyword research and optimizing your blogs for SEO.
You can quickly select the best keywords and create SEO-friendly content that has a higher chance of ranking highly on Google.
B) Plagiarism Check:
Worried about accidentally duplicating content? No need to worry!
Bramework integrates CopyScape, which means you can check for plagiarism and ensure that your work is 100% original.
C) Unlimited AI-Generated Words:
With Bramework, you can generate unlimited words of AI-generated content, which means you can quickly create outlines, overviews, and even full blog post drafts in just minutes.
8. RytrÂ
Rytr is among the best long-form AI writer tools available that is specifically designed to help you write like a pro.
With over three million users from different walks of life, including content writers, entrepreneurs, and marketers from prominent companies, Rytr is indeed a go-to tool for anyone who is seeking to improve their writing potential.
Rytr stands out from the crowd for its sophistication, which is underpinned by AI technology.
By leveraging AI features, this writing assistant can quickly create high-quality content in a matter of seconds, making it far more efficient than other writing tools available today.
Additionally, compared to hiring a human writer, Rytr is only a fraction of the cost, making it more accessible to small business owners and individuals.
One of Rytr's most impressive features is its ability to offer over 20 tones of voice – this allows you to express the appropriate feelings in your writing, whether you're looking to create content that's appreciative, awestruck, candid, or anything in between.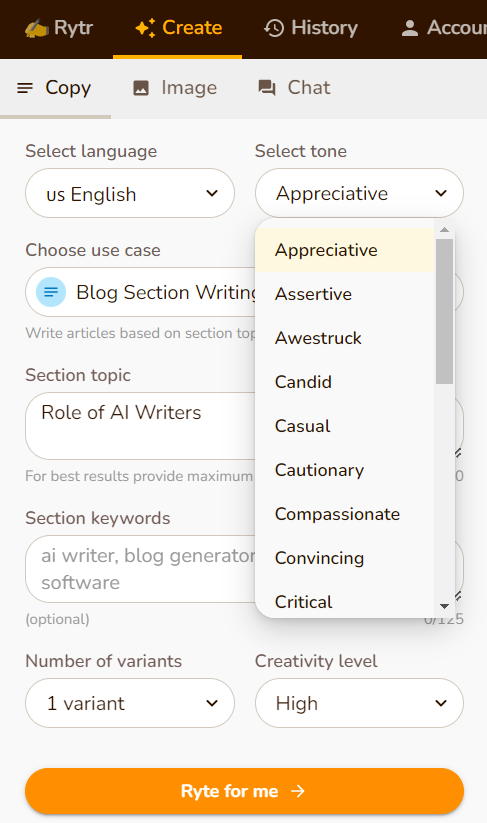 Creating a blog post is easy.Â
Select language > tone > use case > topic > keywords > variants > creativity level > and Ryte!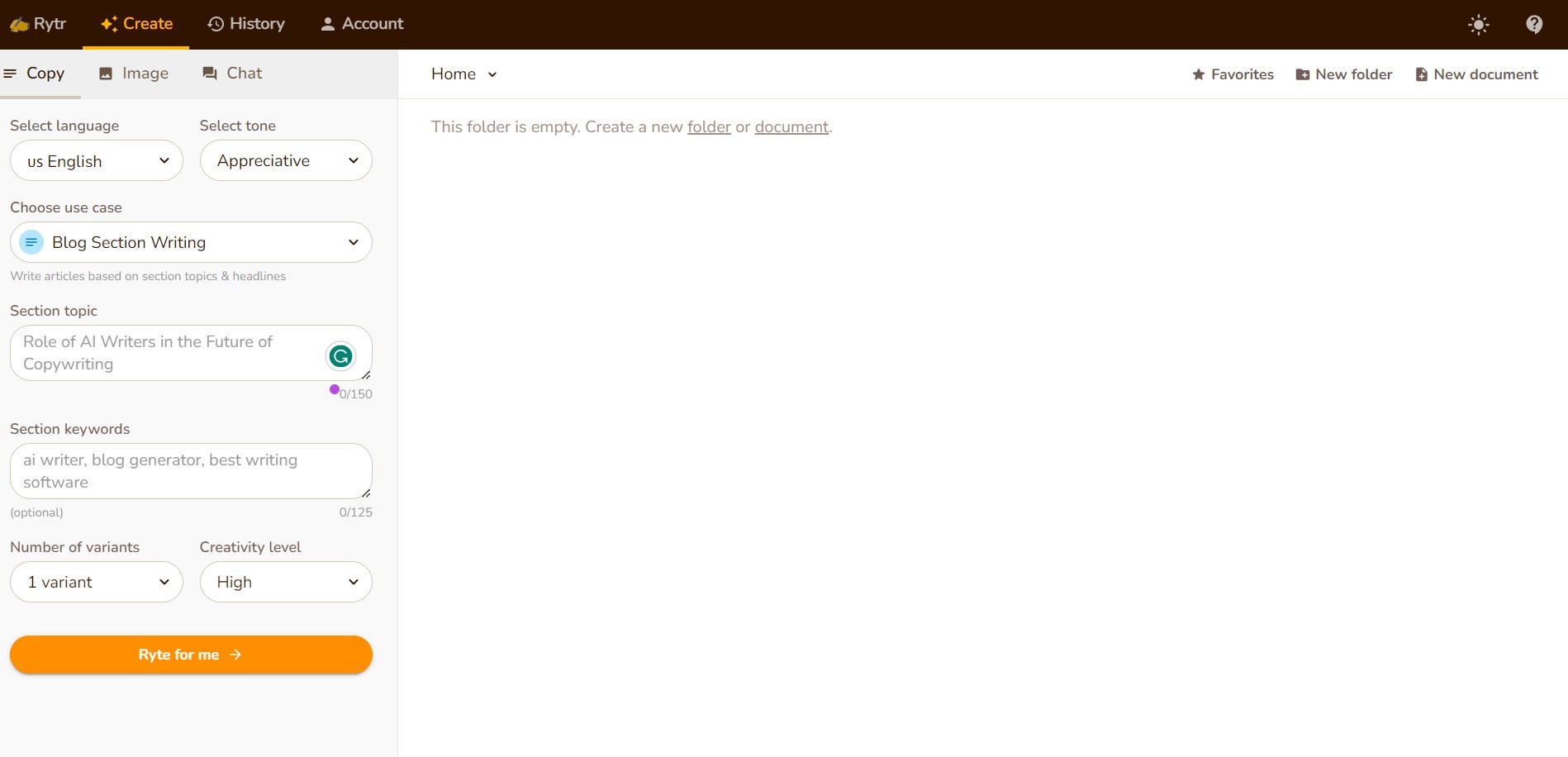 Here are three incredible features of Rytr that make it stand out from the competition in the long-form AI Writers category:
A) Text Editing:
This feature helps you write text sentences and paragraphs using AI text completer.
It also includes Paragraph, Rephrase, Improve, Expand, and Shorten functions that help you present your ideas more effectively.
B) Generates Blog Ideas and Outlines:
You can use an AI writing helper to create content structures and interesting blog, article, and essay topics, thanks to this feature.
This tool offers suggestions for your content ideas in a matter of seconds, saving you time and providing you with more inspiration.
C) SEO Optimization:
Rytr offers SEO optimization features, so you can attract more traffic to your website by optimizing your content for search engines.
This tool makes sure that your content is more search engine optimized, enabling it to rank higher in search engine results pages (SERPS).
9. Anyword
Ready to create a compelling blog that grabs your target audience and drives more visibility to your website?
Anyword's AI Writer makes it easy.
In a matter of minutes, you can watch a blank page turn into a piece of brilliance!
The platform is an all-in solution – crafted specifically to help marketers and writers generate captivating content. Start writing strategically today with Anyword's AI Writer.
Anyword's AI Writer stands out as a tool for producing content. It goes beyond just grammar correctness and instead creates engaging, informativepieces of content that truly stand out.
How?
By using natural language processing (NLP).
But there's more – the tool incorporates deep learning algorithms too.
These enable it to analyse inimitatalbe data to detect the language patterns that effectively capture the reader's attention.
Anyword's AI Writer offers an array of features that make creating content to fit your needs easier and more efficient.
For example, it gives you access to pre-made templates and frameworks that make guiding your writing a breeze.
But take things a step further by creating original custom templates that bring consistency to anything you write, while keeping its brand voice and style true.
Before we read through the features, here's how you can create perfect content in a few minutes.
Step 1: Enter the description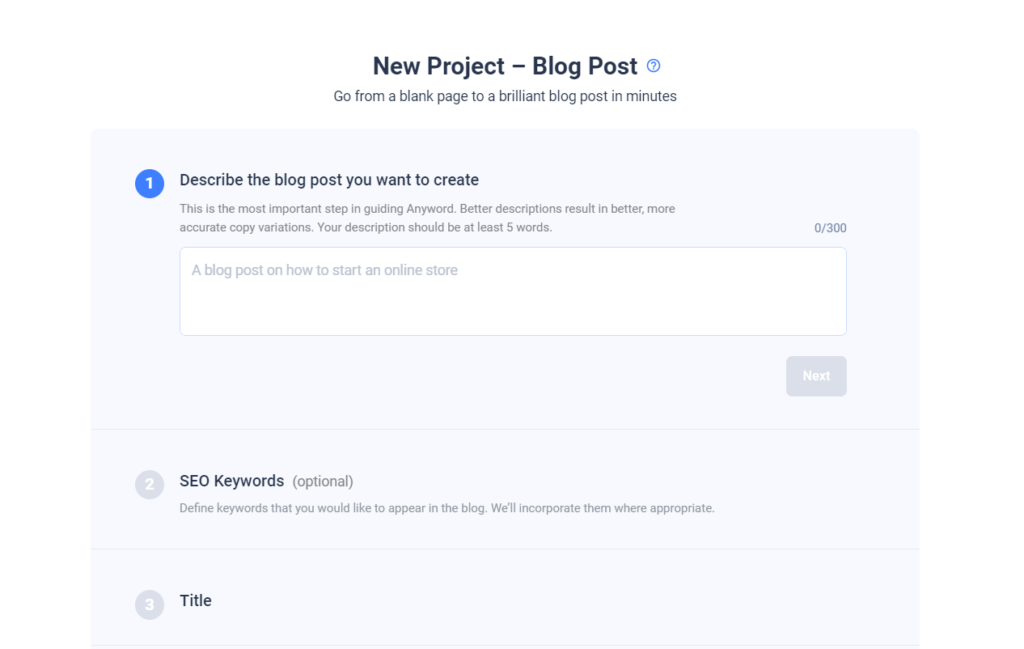 Step 2: Define the keywords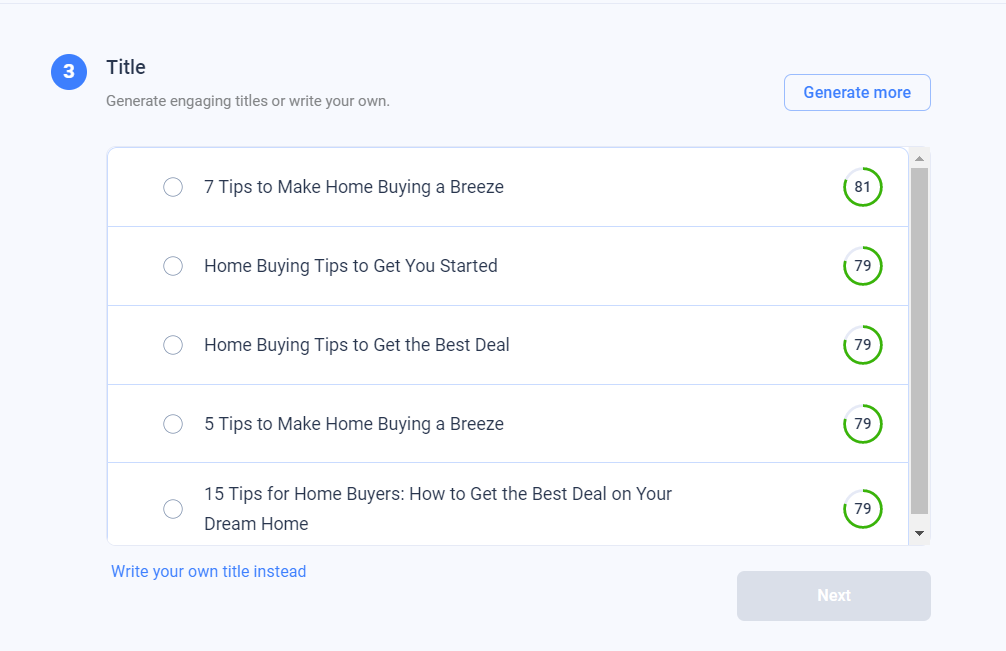 Step 3: Generate titles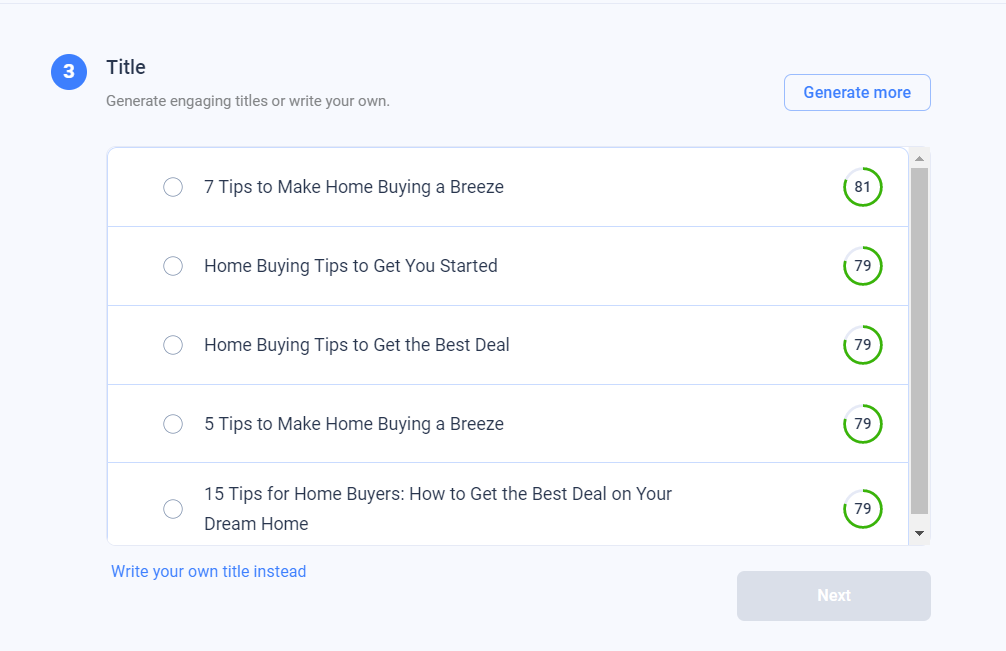 Step 4: Generate the perfect outline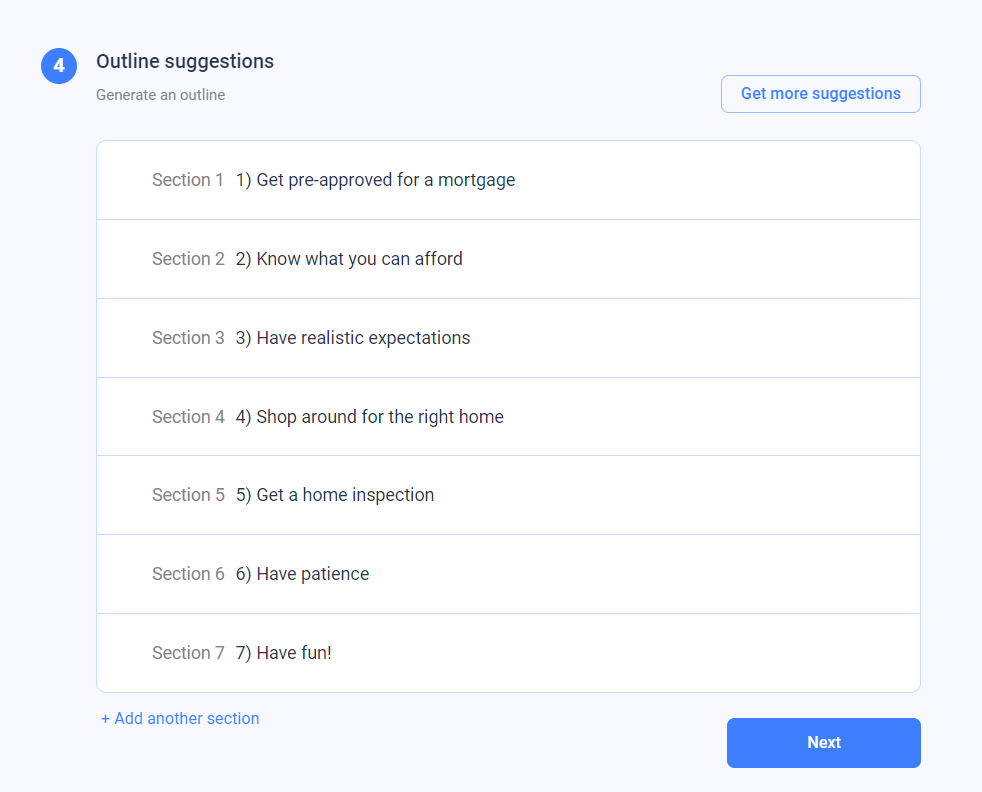 Step 5: Generate introduction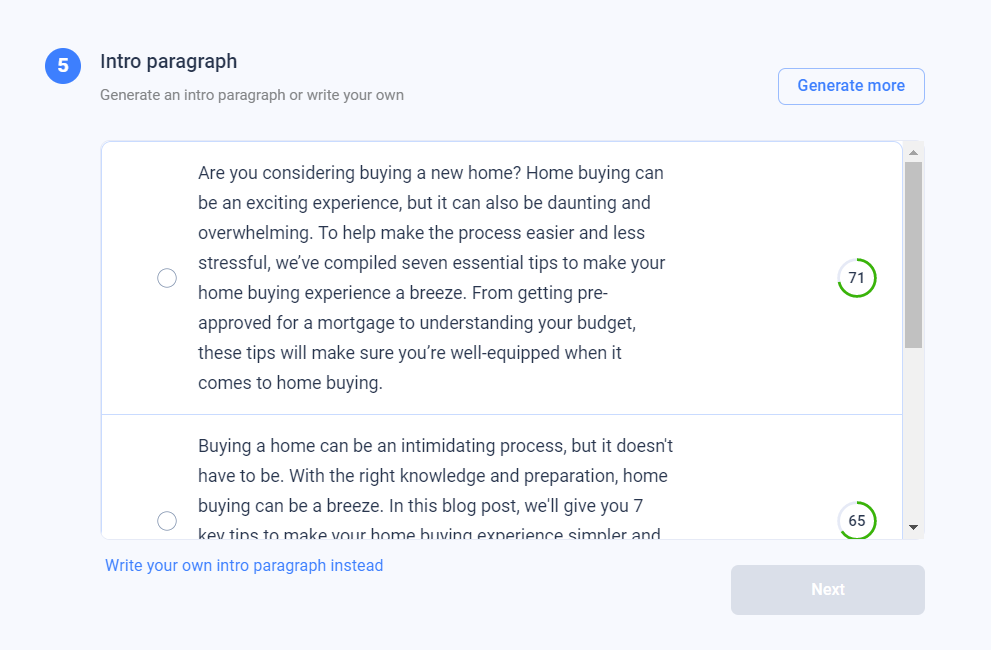 And you're done. Get to the Editor, and enjoy reading through the blog post, or regenerate sections – as you like.
Here are three incredible features of Anyword that make it stand out from the competition in the long-form AI Writers category:
A) AI instructions:
Allows you to tell the software exactly what you want to write about. This means you can specify your topic, target audience, and style preferences to create content that resonates with your readers.
This level of customization ensures that your content is always on point and achieves your desired outcomes.
B) Plagiarism Checker:
Enables you to create 100% original content. The tool scans the internet for duplicate content and ensures that the articles and blogs you produce are unique to your brand, generating greater trust with your audience.
By using Anyword's plagiarism checker, you can gain a competitive edge and ensure that your content stands out in a crowded marketplace.
C) Multiple Languages:
Anyword supports over 30 languages, making it a perfect writing tool for organizations that operate in multiple countries and regions.
10. AI-WriterÂ
AI-Writer is a powerful AI-based tool that uses state-of-the-art language models to generate accurate, relevant, and unique content from just a headline.
With its advanced algorithms, AI-Writer guarantees SEO-friendly and authoritative text that is always fresh and relevant.
The tool's key features include automatic publishing to WordPress and a 100% satisfaction guarantee.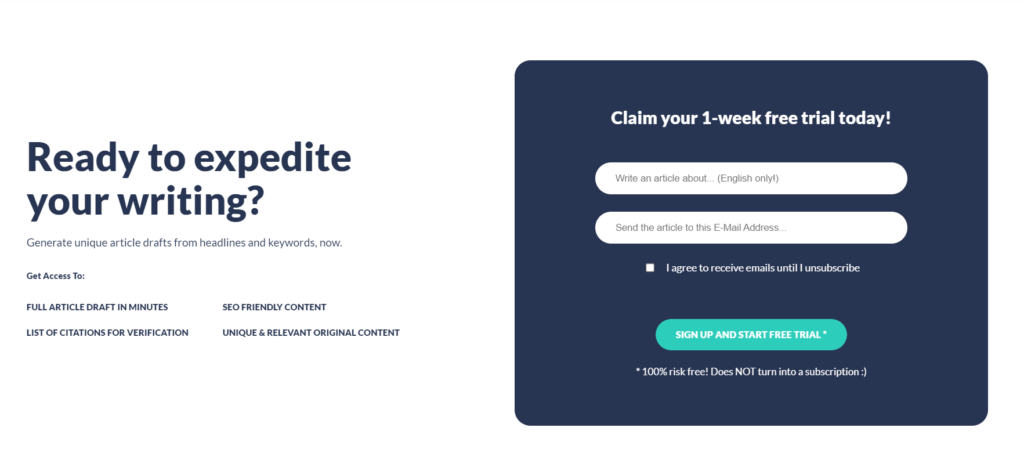 Overall, AI-Writer is a game-changer for content creators and marketers looking to save time and generate high-quality content effortlessly.
How to generate a long-form blog post using AI-Writer?
All you have to do is enter the title and let AI-Writer do the magic – all in a single click.

Here are three incredible features of AI-Writer that make it stand out from the competition in the long-form AI Writers category:Â
A) Subtopic Discoverer:
This helps you find plenty of subtopics to write on.
It will suggest different ideas related to your topic, giving you plenty of inspiration to create high-quality content.
B) SEO Editor:
With its advanced SEO Editor, you can optimize your content for better search engine rankings.
This feature helps you identify and fix common SEO issues like keyword stuffing, missing meta descriptions, and more.
C) WordPress Integration:
If you're a WordPress user, you'll love the seamless integration of AI-Writer with the platform.
You can create and publish content without ever leaving your WordPress dashboard.
AI-Writer's WordPress plugin allows you to perform all of the necessary tasks, from research to editing to publishing, without ever having to switch between platforms.
It saves you time and increases your efficiency.
11. ZimmWriter
ZimmWriter is a cutting-edge tool for leveraging artificial intelligence in long-form writing.
It offers unparalleled flexibility, allowing users to work in a variety of applications and websites on a Windows platform.
The tool can be used in popular applications such as Word, Google Docs, Grammarly, Hemingway App, MarketMuse, WordPress, LinkedIn, Visual Studio Code, Facebook, Gmail, Frase, and Surfer, greatly enhancing the capabilities of these platforms.
ZimmWriter stands out from the rest for its automated blog writing functionality.
It offers some impressive features for creating perfect long-form blog posts in a few minutes.
Using SEO keywords sourced from your preferred SEO tool, ZimmWriter can craft blog posts of up to 6,000 words that are well-optimized for search engines.
This level of automation can save users hours of tedious work, writing and optimizing blog posts manually.
Here are three incredible features of ZimmWriter that make it stand out from the competition in the long-form AI Writers category:
A) 1-Click Blog Post Wizard:
Allows you to generate an article in a single click. Simply enter the title, and there you go.
B) SEO-Blog Writer:
Helps create SEO-rich blog posts in just a few minutes, and a few clicks. Enter the topic, let AI come up with H2s (option to add custom H2s), and also add keywords, apart from many other features. See the below image for more features.
C) Bulk Blog Write:
Allows users to create up to 1,000 blogs on the go with similar features offered in the SEO Blog Writer feature that allows text generation of up to 6,000 words.
That's massive, right?
It's a wrap!!!Â
In conclusion, long-form AI writer tools are becoming increasingly popular for their ability to generate high-quality content in a matter of minutes.
These tools are ideal for businesses in need of large quantities of content, but the quality is of utmost importance.
With the right long-form AI writer tool, content creation is no longer a headache.
If you're looking for a reliable tool, try one of the most popular options mentioned above and experience hassle-free content creation like never before.
Start exploring ones that provide higher semantic richness and produce laser-targeted content that sets your brand up for success.