Join.me Vs GoToMeeting: Which One is Better?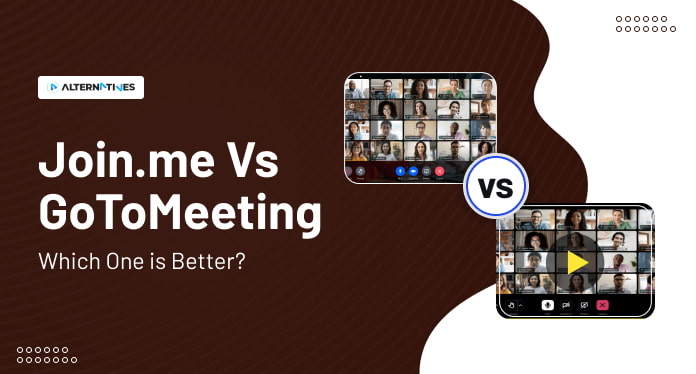 In the modern business world, online meetings and collaboration are essential for success. With so many tools to choose from, it can be difficult to decide which one is the best fit for your company. Join.me and GoToMeeting are two of the most popular options on the market, but which one is better?
In this article, we will compare Join.me vs GoToMeeting to help you decide which one will work best for your business needs. We will look at user-friendliness, ease of access, security features, pricing options, annotation & drawing tools, desktop sharing capabilities, audio & video features, and file transfer functionality to give you a comprehensive understanding of what each tool has to offer.
Let's take a closer look at Join.me vs GoToMeeting so that you can make an informed decision about which one is right for you.
Overview of Join.me
If you're looking for an easy-to-use solution with flexible pricing plans, then Join.me is the way to go! This online meeting and collaboration tool offers a user-friendly interface and no sign-up or software download requirements – making it ideal for smaller companies and startups.
It also provides several collaborative features, such as annotation and drawing tools, application sharing, desktop sharing, audio options, file transfer capabilities, and even user authentication encryption for added security.
Additionally, affordable pricing plans are available that can be customized according to individual needs.
With its intuitive design and intuitive UI, Join.me makes online meetings easier than ever before.
Whether hosting virtual team meetings or brainstorming sessions over video conferencing platform – this tool has all the customization options needed to make sure every participant gets the most out of their experience.
Overview of GoToMeeting
GoToMeeting is an ideal choice for businesses with a global presence, due to its international features and one-time password facility for added security. It provides comparison features such as annotation tools, application sharing, desktop sharing, audio options, and file transfer capabilities.
The user interface of GoToMeeting is easy to use and intuitive, making it simple to set up meetings quickly. Additionally, the tool has mobile integration options so that users can access their virtual meeting rooms on the go. Furthermore, there are chat options available in order to keep everyone connected during the session. Finally, GoToMeeting also offers various integration options that allow users to bring other applications into their online sessions.
User Friendliness
Join.me offers a user-friendly and simple structure that requires no sign-up or software download, making it easier for small companies and startups to set up their meetings quickly. The intuitive user interface is designed to be easy-to-navigate, with an array of options available to customize the experience according to individual needs. Platform support is also comprehensive, offering both desktop and mobile versions as well as proximity collaboration for remote teams.
In addition, Join.me allows users to add custom branding elements such as logos and backgrounds to ensure consistent presentation across all platforms. This makes Join.me an attractive option for small businesses who don't want the hassle of setting up complicated accounts or downloading additional software. As such, Join.me remains one of the most user-friendly online meeting tools on the market today.
Ease of Access
Accessing Join.me and GoToMeeting is like riding a bike: once you learn the basics, it's easy to get going. Logging into either platform is straightforward and users can access their meeting rooms with just one click. The user interface for both tools is simple and intuitive, allowing new users to quickly understand how to use the features available. Both platforms offer accessible features that make them easily usable by anyone in any location.
Additionally, both provide support services should users encounter any difficulties while using the platforms. With its user-friendly sign-up process and no software download required, Join.me offers an easier way of accessing meetings compared to GoToMeeting which requires a more complicated setup process before logging in. Ultimately, choosing between these two popular online collaboration tools depends on individual needs and preferences.
Security Features
When it comes to security, both Join.me and GoToMeeting provide a fortress-like defense for their users' data. Join.me offers user authentication and encryption through multi-factor authentication. It ensures that only authorized users are able to access the platform, making sure that all data is kept private and secure from third parties or malicious actors. Additionally, its comprehensive encryption protocols ensure that all sensitive information remains safe from prying eyes even if intercepted during transmission. This feature is particularly useful for businesses dealing with sensitive customer information such as financial records or personal details.
GoToMeeting also implements strong security measures in order to protect user data from external sources. It provides a one-time password facility that adds an additional layer of safety to prevent unauthorized access attempts. Its advanced end-to-end encryption protocol guarantees full privacy and confidentiality between sender and receiver regardless of network conditions. These features make GoToMeeting suitable for businesses with international presence since they can rest assured knowing their data will remain secure even when crossing borders or jurisdictions.
Both tools offer robust protection against malicious threats by providing secure data transmission with extra layers of password protection. These powerful security features allow businesses to keep their data protected at all times whilst maintaining compliance with industry standards. By implementing these safeguards, companies can enjoy peace of mind knowing their business assets are safe from potential risks posed by cyber criminals or other malicious actors.
Pricing Options
When it comes to online meetings and collaboration, both Join.me and GoToMeeting offer free plans as well as paid plans with more features, making them suitable for businesses of any size.
Join.me has a simple pricing structure that includes a free trial period which allows users to test out the platform before committing to a plan. Their monthly plans start at $10 per month and they also have an enterprise option for larger companies.
GoToMeeting offers additional pricing options such as annual payment options and discounts for non-profits or educational institutions. They also have a 30-day risk-free guarantee so potential customers can try out their services without having to commit immediately.
When comparing the two tools in terms of price, Join.me is generally cheaper than GoToMeeting but does not include some of the extra features offered by GoToMeeting such as international support or one-time passwords for added security measures.
Both platforms also offer discounts on longer term commitments if you are willing to make a bigger investment upfront. Despite this, many small companies prefer using Join.me due to its low cost and user-friendly interface even though it may lack in certain areas when compared to GoToMeeting's more advanced features.
At the end of the day, choosing between Join.me and GoToMeeting will depend on your budget, needs, and preferences; although both platforms provide similar services with slightly different feature sets depending on which plan you choose. Consider what your business requires from these tools in order to determine which one best suits your needs while keeping within your desired budget range.
Annotation & Drawing Tools
Join.me's whiteboard collaboration feature offers users an intuitive interface for sharing their thoughts in real time, while its screen recording feature allows meeting participants to capture important information or replay the discussion later on. Additionally, its multi-device support and cross-platform compatibility make it easy to connect from any device or operating system.
GoToMeeting also features a whiteboard collaboration tool which makes it easier for teams to work together remotely. It also includes workflow automation capabilities that allow businesses to streamline processes such as scheduling, customizing settings, and more. Furthermore, its audio quality is excellent regardless of the number of attendees joining the meeting.
Desktop Sharing
Sharing desktops is a great way to get everyone on the same page, and both tools offer robust desktop-sharing options that make it easy to collaborate remotely.
Join.me allows for remote access so users can join meetings from any device with an internet connection. It also has scheduling options that allow you to set up recurring or one-off meetings in advance as well as collaboration tools like text chat and file transfers.
GoToMeeting offers similar features plus meeting limits so you can control who joins your meetings and custom branding options if you want to customize the look of your conference room. Both tools provide reliable desktop-sharing solutions that enable teams to work together effectively regardless of location.
Audio & Video Features
Just like a conductor leading an orchestra, both Join.me and GoToMeeting offer audio and video features to keep everyone in sync during online meetings. With Join.me, users can access real-time messaging, whiteboard collaboration, screen recording, text chatting, audio conferencing and more. It also allows up to 250 participants in one session with HD video quality for clear visuals.
On the other hand, GoToMeeting's audio conferencing feature is powered by InterCall which supports up to 1,000 people on one call with phone or VoIP options available. Both tools provide built-in chat while presenting so that all attendees can communicate easily without disruption.
Additionally, they both have recording capabilities so you can review discussions at any time afterwards if needed. Ultimately, it comes down to individual needs when choosing between Join.me and GoToMeeting for their audio and video features.
File Transfer Functionality
When it comes to file transfer capabilities, both Join.me and GoToMeeting provide a convenient way for teams to share documents during their online meetings. With Join.me, users can easily send files up to 250MB through the drag-and-drop feature or use voice commands for simple transfers. They also have integration with Dropbox and Google Drive, allowing them to access shared folders directly from within the app.
In addition, they offer screen capture functionality which enables users to take screenshots of their desktop and quickly share them with other participants in just a few clicks. GoToMeeting offers similar features but adds some extra customization options such as file compression before sending large files. They also provide an option for creating links that allow others to download files even if they don't have access to the meeting itself.
Additionally, they offer a file-sharing feature that allows users to upload multiple files at once into a secure folder which everyone in the meeting has access. In conclusion, when it comes to file transfer capabilities, both Join.me and GoToMeeting are equally suitable solutions depending on individual user needs and preferences. Both tools provide easy ways for teams to share documents during their virtual sessions without any hassle making collaboration smoother and more efficient than ever before!
Alternatives To Join.me vs GoToMeeting
For those looking for alternatives to Join.me and GoToMeeting, there are a variety of other options available that offer similar features and capabilities. Zoom is one such alternative to GoToMeeting that provides excellent audio and video quality as well as screen sharing, annotation tools, recording facilities, breakout rooms, and more.
Another alternative is Microsoft Teams which offers interoperability with other Office 365 applications like Skype for Business, Outlook calendar, and others. It also has advanced features like live events, whiteboarding tools, private chats, and integration with third-party apps. Additionally, Cisco Webex is another popular choice which offers an array of collaboration services along with its own troubleshooting strategies to ensure seamless meetings.
When comparing these solutions in terms of support services and user reviews, each platform has its own advantages. For instance, Zoom offers 24/7 customer support through emails or phone calls while Microsoft Teams provides online documentation resources as well as chatbot-driven help service.
On the other hand, Cisco Webex comes equipped with a dedicated self-service portal where users can find answers to common queries without having to contact their support team directly. Similarly, in terms of mobile application availability, all 3 platforms have comprehensive mobile versions on both Android and iOS devices so that users can access them from anywhere at any time.
In conclusion, it can be said that when selecting between Join.me vs GoToMeeting alternatives, it's important to consider your specific requirements before making any decisions. Each solution may vary slightly but they all provide the same basic functions required for successful virtual collaborations.
By carefully evaluating factors such as interoperability comparison, troubleshooting strategies, support services, user reviews, mobile app availability etc., companies will be able to make informed choices about the right solution for their needs.
Review and Analysis of Join.me vs GoToMeeting
Comparing Join.me and GoToMeeting can help companies determine the right solution for their needs, offering user-friendly options, international features, annotation tools, audio capabilities, and more.
Both platforms provide great collaboration benefits with support quality that helps users get the most out of their meetings. Additionally, both offer customization options to meet individual team requirements, such as meeting scheduling or platform integration.
When it comes to security, Join.me offers user authentication and encryption while GoToMeeting provides a one-time password facility. In terms of pricing plans both offer free plans but also paid plans with added features. For small businesses or startups looking for an easy-to-use option without needing to sign up or install software Join.me is the better choice due to its simple structure and flexible pricing plans.
On the other hand, global businesses may prefer GoToMeeting over Join.me given its international features and ability to connect people from different countries easily via video conferencing technology. Ultimately when deciding between Join.me vs GoToMeeting it comes down to what your business needs in terms of functionality and cost effectiveness – so make sure you weigh all factors before making a decision!
Frequently Asked Questions
1. How easy is it to set up Join.me and GoToMeeting?
Join.me is easy to set up with no sign-up or software download required. GoToMeeting, on the other hand, requires users to create an account and install the app. Both tools provide a range of features such as chatting options, security features, mobile access, pricing plans, and meeting plans. Join.me has flexible pricing plans that make it suitable for small companies and startups. GoToMeeting offers international features ideal for businesses with a global presence.
2. Are there any limits on the number of participants in a meeting?
Join.me and GoToMeeting both have scheduling limits, meaning you can only host meetings up to a certain number of participants depending on the plan you choose. You can also adjust your meeting settings for video conferencing or online invitations according to your needs. Both tools offer security protocols such as user authentication and encryption, so that all participants' data remains safe during the meeting.
3. Is it possible to record meetings with Join.me and GoToMeeting?
Both Join.me and GoToMeeting allow users to record meetings, with audio quality depending on the type of plan selected. Both tools offer user authentication and encryption for added security, as well as customization options that let users personalize their meetings. They both also have a user-friendly interface, making them suitable for team collaboration. Ultimately, it comes down to the individual needs of the business when deciding which tool is better for recording meetings.
4. What type of support is available for Join.me and GoToMeeting users?
Join.me and GoToMeeting offer streaming options, video conferencing, live chat, phone support, and help desk for their users. Join.me provides 24/7 customer service via phone or email while GoToMeeting offers a comprehensive online knowledge base as well as access to customer service representatives through live chat and telephone during business hours. Both tools also provide tutorials on how to use the software, detailed FAQs, and other helpful resources.
5. Is it possible to integrate Join.me and GoToMeeting with other applications?
Both Join.me and GoToMeeting offer features such as data sharing, custom scheduling, live polls, network security and pricing options. Join.me has user authentication and encryption for added security while GoToMeeting provides one-time password facility. They also both have the ability to integrate with other applications like Slack, Zoom or Microsoft Teams for better collaboration.
Conclusion
Ultimately, when it comes to the Join.me vs GoToMeeting comparison, there is no one-size-fits-all solution. Companies must consider their individual needs and preferences before deciding which online meeting tool best suits them.
With its user-friendly interface and flexible pricing plans, Join.me makes for a great choice for small businesses and startups; but if you need international features then GoToMeeting may be your best bet.
Both tools offer annotation and drawing tools, application sharing, audio & video capabilities as well as file transfer functionality so whichever option you choose will provide all the necessary features for effective collaboration.