Pipedrive Vs. HubSpot: Which CRM is Best for You?
pipedrive-vs-hubspot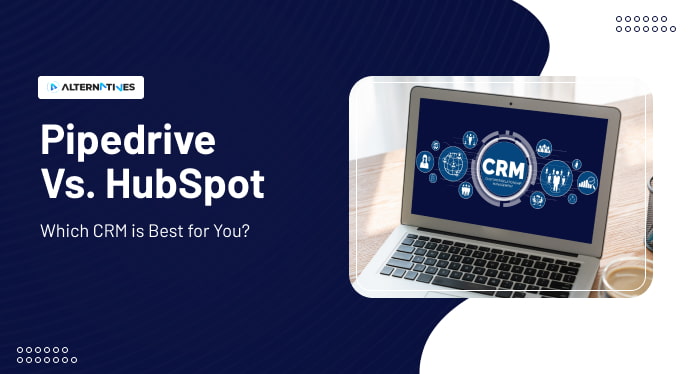 In the world of Customer Relationship Management (CRM) software, two of the most popular and widely used options are Pipedrive and HubSpot. Both offer a variety of features to help businesses manage their customer relationships effectively, but which one is best for your organization?
In this article, we'll compare these two CRMs side by side, looking at their features, pricing, ease of use, integrations, and more so you can make an informed decision about which one is best for your business.
Overview of Pipedrive
The journey down the winding path of customer relationship management can be likened to navigating a maze – one wrong turn and you find yourself hopelessly lost. A good guide is essential for finding your way in this complex landscape, and Pipedrive could just be the one you need.
Pipedrive is an award-winning cloud-based CRM designed to help businesses focus on sales activities, track leads, manage contacts, close deals, and more. It offers an intuitive user interface that makes it easy to get started quickly with minimal setup time, as well as customization options so users can tailor their experience to fit their unique needs.
For those looking to streamline processes even further, Pipedrive also provides powerful automation tools such as email tracking capabilities and automated notifications when tasks are due or deals are closing soon. Additionally, its integration capabilities make it easier than ever before to sync data across multiple platforms and systems. Finally, it has various pricing plans available depending on what type of features you require from the system.
Overview of HubSpot
See how HubSpot can help you streamline your customer relationship management process and make managing customer relationships easier than ever! HubSpot, a software company, offers an all-in-one platform for marketing, sales, and service needs. The product is specifically tailored to meet the needs of small businesses by providing them with powerful tools that are easy to use. With this comprehensive CRM system, users have access to features such as contact management, lead scoring, pipeline tracking, automated workflows and more. Additionally, it's customizable and integrates seamlessly with other business applications.
This review provides insight into what makes HubSpot so successful in its market: integration capabilities beyond just their own products; customizability for different markets; robust sales functionality including lead enrichment; industry specific knowledge base articles; and data privacy options for customers who need additional security measures. This allows companies of any size or industry to benefit from utilizing the power of this fully featured CRM solution.
When it comes to leveraging the benefits of HubSpot's technology, there's no shortage of possibilities. From automating routine tasks like sending emails or creating reports on contacts' activities within the app itself, to providing visibility into sales pipelines with real time reportingcompanies get access to valuable insights that wouldn't otherwise be available without using a dedicated CRM tool like Hubspot.
Plus, users can customize the system with their own preferences thanks to its open API structure which gives developers endless opportunities when it comes to integrating new features unique to their individual requirements. Finally, setting up HubSpot doesn't require any technical expertise since most of it is already preconfigured out-of-the-box making it incredibly user friendly right off the bat.
| | | | | |
| --- | --- | --- | --- | --- |
| Product Overview | Sales Benefits | Customization Options | Setup Process | Industry Knowledge |
| Integration Capabilities Beyond Their Own Products | Automates Routine Tasks Like Sending Emails & Reports On Contact Activities | Open API Structure For Developers To Integrate New Features Uniquely Required By Clients | Preconfigured Out-Of-Box Making It User Friendly Right Away | Robust Knowledge Base Articles Specific To Different Industries |
Features of Pipedrive
Pipedrive offers powerful tools such as contact management, lead scoring, pipeline tracking and automated workflows to help streamline customer relationship management. Sales reps can track their deals in real time with the customisable sales pipeline feature which makes it easy for them to stay on top of every deal they have worked on. The Lead Management tool allows users to easily segment leads into different categories so that sales agents know who is interested in what product or service.
Pipedrive also provides an automation feature that helps keep tasks organised by automatically assigning tasks specific due dates and reminders whenever needed. This ensures that nothing falls through the cracks when managing customer relationships. Additionally, activity logging allows users to get an overview of all activities associated with customers from emails sent, phone calls made, meetings scheduled and more. This information can then be used to create a comprehensive view of each customer's journey throughout the entire lifecycle.
Finally, contact management within Pipedrive enables businesses to store essential client data such as contact details, company information and communication history in one place. Being able to quickly access this data simplifies the process of connecting with new prospects while staying up-to-date on existing clients' needs – a key component for successful CRM implementation. With these features combined, Pipedrive is a great choice for any business looking for an efficient way to manage customer relationships.
Features of HubSpot
HubSpot offers powerful features such as contact and account management, automated workflows, personalized marketing campaigns, email tracking and more. Over 1 million sales professionals use HubSpot to streamline their customer relationships – making it one of the most popular CRM solutions available.
One key feature of HubSpot is its customization flexibility. The platform allows users to customize settings and processes based on user preferences and needs. Additionally, users have access to advanced automation tools which can significantly reduce manual tasks and streamline workflows. This provides users with an efficient way to manage contacts, leads, deals, opportunities and other data associated with customers.
Another great feature of HubSpot is its social media integration capabilities. Users can connect accounts from various social networks directly into the platform allowing them to monitor conversations in real-time across multiple channels. This helps ensure businesses are engaging with customers efficiently while also having insight into how people perceive their brand online. All in all, HubSpot offers a wide range of features designed to help businesses build stronger relationships with customers through effective communication strategies.
Pricing and Total Cost of Ownership
When considering a customer relationship management solution, it is important to consider both the pricing and total cost of ownership. Both Pipedrive and HubSpot offer different plans with various features that can vary in price depending on the size of your business. It's also important to conduct a cost comparison, as well as an analysis of what kind of value each platform offers for its price.
The pricing structures between Pipedrive and HubSpot are fairly similar. They both offer several subscription plans based on user numbers, ranging from basic packages to enterprise-level solutions. However, HubSpot's pricing tends to be slightly more expensive than Pipedrive's overall, though they do offer occasional discounts. Additionally, you should take into account any additional costs related to setup fees or integrations when doing your research.
Finally, you will want to factor in the long-term costs associated with using either CRM software over time. This includes things like training employees to use the system effectively, ongoing technical support needs, and upgrades or changes made due to evolving technology requirements. Taking all these elements into consideration can help you make an informed decision about which platform best meets your company's unique total cost of ownership.
Pricing Comparison
Plan
Price
Users Included
Additional User Cost
Features Included
Sales Hub Free
100% Free
Available
N/A
– Contact Management

– Deal Pipeline

– Quotes

– Meeting Scheduling

– Live Chat

– Reporting Dashboard

Sales Hub Starter
Starting at $18/mo
2 paid users
$9/mo per additional user
– Conversation Routing

– Calling SDK

– Multiple Currencies

– Simple automation – Repeating tasks and task queues – Everything in Free

Sales Hub Pro
Starting at $450/mo
5 paid users
$90/mo per additional user
– Sequences – Forecasting – Product library – ABM Tools & Automation – eSignature – Playbooks – Everything in Starter
Sales Hub Enterprise
Starting at $1,200/mo
10 paid users
$120/mo per additional user
– Advanced permissions – Custom objects – Conversation intelligence – Recurring revenue tracking – Predictive lead scoring
Ease of Use
Choosing the right CRM software for your business can be a daunting task, but ease of use should be a key factor in your decision-making process. Both Pipedrive and HubSpot offer intuitive user interfaces with drag-and-drop navigation tools that make it easy to manage customer data. However, there are subtle differences between the two products that could help you decide which one is better suited for your company's needs.
Pipedrive has an advantage when it comes to ease of use due to its clean design and lack of complexity compared to other CRMs. It also offers out-of-the box functionality meaning users don't need any technical knowledge or experience to get started using the product. Furthermore, the learning curve is relatively short as new users can quickly become comfortable working within Pipedrive's environment. Additionally, data input is straightforward thanks to several features such as contact forms and task automation.
In comparison, HubSpot's UI may take some time getting used to since it contains more advanced features than Pipedrive's comparatively simple design. This means that while it does have robust capabilities, they come at the cost of a longer learning curve before mastering all the functions available on their platform. That said, once customers understand how to navigate around HubSpot's interface and utilize its various tools, they will find many useful features like reporting analytics and custom fields designed specifically for sales teams who want detailed insights into their operations.
Integrations
When it comes to connecting with other software, both Pipedrive and HubSpot offer extensive integrations that make it easier for businesses to streamline their workflow and increase efficiency. Whether you're looking for third-party integration options, automation tools, data transferability, API connectivity, or customization capabilities, both platforms have a lot to offer:
Pipedrive provides access to hundreds of pre-built integrations across popular applications such as Salesforce, MailChimp, QuickBooks Online, ZoomInfo, and many more. It also has an open API system which allows users to create custom integrations based on their unique needs. Additionally, the platform offers customizable automation features that allow users to automate repetitive tasks like lead assignment and contact updates.
HubSpot, likewise, offers several hundred native app integrations that enable seamless data transfer between different systems. Its open API enables teams to build customized solutions tailored specifically for them. Plus, its automated workflows let users quickly set up processes like email follow-ups and assigning leads without any manual labor involved. The platform also supports powerful customization tools so users can customize their customer journey from start to finish.
Overall, both Pipedrive and Hubspot provide great opportunities for businesses when it comes to integrating with other software programs through third-party integrations, automation tools, data transferability, API connectivity, and customization capabilities. By taking advantage of these capabilities offered by either CRM solution business owners are well positioned to improve productivity while still providing excellent customer service experiences.
Reporting and Analytics
Both Pipedrive and HubSpot offer comprehensive reporting and analytics capabilities, enabling businesses to gain valuable insights into sales performance and customer behavior. Both CRMs allow for data visualization, giving users the ability to create custom visuals of important metrics in order to better understand their data. In addition, both provide robust reporting capabilities, including a suite of pre-defined reports that can be modified or used as-is.
The primary difference between Pipedrive and HubSpot is found in their automated reporting options. While HubSpot offers users a range of customizable templates for regular report delivery via email, Pipedrive does not currently have this feature. However, it does offer automatic tracking of key events, such as emails sent or deals won/lost. Additionally, both platforms support sophisticated data segmentation, which allows users to break down large datasets into manageable chunks for more detailed analysis.
Finally, while both systems provide an array of customization options when creating reports and dashboards, HubSpot stands out from its competition by providing additional access control features that limit who can view certain types of information within an organization. This helps companies keep sensitive data secure while still allowing employees to get the information they need quickly and easily. All in all, whichever platform you choose should depend on your individual business needs when it comes to reporting and analytics tools.
Customer Support
Visualizing customer support needs with clarity, Pipedrive and HubSpot offer a range of features to help businesses deliver the highest quality experience for their customers. Both have strengths when it comes to customer service, but some differences should be taken into consideration before making an informed decision about which software is best suited for your business.
Pipedrive offers live chat capabilities that allow you to quickly resolve issues or answer questions as they come up. Additionally, its self-service feature allows customers to find answers on their own, reducing response times from both sides. This helps keep customer satisfaction high while also freeing up resources within the company. In comparison, HubSpot does not provide live chat directly in its CRM system; however, it can be integrated with other tools such as Zendesk or Intercom if needed.
Though neither provides a robust onboarding process specifically tailored for customer support, HubSpot has a few more options than Pipedrive when it comes to tracking and managing customer interactions and customer care. For example, its ticket management system allows users to assign tickets based on priority level and track progress across multiple teams simultaneously.
Meanwhile, Pipedrive's reporting system only gives basic insights into customer interaction history without any advanced reporting features. Ultimately, depending upon what type of data analysis you need for your customer service operations, either software could serve as a viable choice.
Security and Compliance
No matter the size of your business, ensuring proper security and compliance measures are in place is essential for protecting customer data. Pipedrive and HubSpot have both taken steps to ensure their customers' data is secure.
When selecting a CRM solution for your organization it is important to look at the security and compliance features offered by each platform:
Compliance Standards: Both Pipedrive and HubSpot adhere to industry-standard compliance protocols such as GDPR, SOC2 Type II, ISO 27001, HIPAA/HITECH.
User Permissions: Using user permissions you can control who has access to what information within the system.
Auditing Capabilities: Both provide audit trails that enable users to track changes made over time along with detailed reporting capabilities.
Password Policies: Strong password policies help protect against unauthorized access while enabling users to create strong passwords quickly.
Understanding how each platform handles security and compliance will be key when deciding which CRM best fits your company's needs. Both Pipedrive and HubSpot offer robust solutions designed to keep customer data safe & secure but they have different approaches so it pays off to do some research before making a decision.
Scaling Options
As businesses grow, it is essential for them to find a CRM solution that can scale up with their needs. Both Pipedrive and HubSpot offer scaling options, but the extent of these features vary depending on which platform you choose. This article will compare each program's scaling capabilities in terms of automation, multi-user access, data capacity, customization options, and collaboration tools.
Pipedrive offers several useful scaling features that allow users to keep pace with the growth of their business. The platform offers an automation feature that enables users to automate tedious tasks like sending emails or creating reports. Additionally, there are customizable dashboards where users can create unique views according to their specific needs. Furthermore, customers can benefit from multiple user access, allowing teams to collaborate more effectively on projects. Lastly, Pipedrive has no limits when it comes to data capacity; its cloud storage allows for unlimited file sharing and storage space across team members.
HubSpot also provides a range of scaling features designed to help companies manage the growth of their business. The software boasts powerful automation capabilities, enabling businesses to save time by automating routine tasks such as lead management and customer segmentation. It also has strong multi-user access, allowing teams to work collaboratively on projects through shared workspaces.
In addition, HubSpot's vast data capacity ensures all important information is securely stored without taking up too much server space or slowing down operations during peak times. Finally, HubSpot's extensive list of customization options, coupled with advanced collaboration tools, make it easy for businesses to customize their experience while working together on projects quickly and efficiently.
| | | |
| --- | --- | --- |
| Feature | Pipedrive | Hubspot |
| Automation | Offers automation feature | Boasts powerful automation capabilities |
| Multi-User Access | Allows teams to collaborate | Strong multi-user access |
| Data Capacity | Unlimited file sharing & storage | Vast data capacity |
| Customization | Customizable dashboards | Extensive list of customization options |
| Collaboration Tools | No | Advanced collaboration tools |
Customer Reviews
Comparing customer reviews is a compelling way to contrast the capabilities of Pipedrive and HubSpot. Both CRMs have garnered positive user experience, but there are some key differences in their setup processes, features, and value propositions that make them better suited for different types of businesses.
For instance, users who prefer a streamlined setup process tend to lean toward HubSpot's intuitive dashboard over Pipedrive's more complex navigation system. In addition, many customers appreciate HubSpot's ability to integrate with existing software programs like Gmail or Outlooksomething Pipedrive does not offer. On the other hand, experienced sales teams often find that Pipedrive offers more powerful customization options when it comes to analyzing data and creating pipelines.
Ultimately, choosing between these two platforms depends on what you need from your CRM as well as how comfortable you are comparing features. Customer reviews can provide valuable insight into which platform best fits your needs by giving an honest account of the user experience. However, it's also important to consider each company's value proposition and feature comparison if you expect to get the most out of your chosen CRM.
| | | |
| --- | --- | --- |
| User Experience | Setup Process | User Reviews |
| Positive | Streamlined | Honest |
| Intuitive | Complex Nav. | Valuable |
| Integrated | Customizable | Insightful |
Pros and Cons of Pipedrive
Making an informed decision about which CRM to choose often comes down to weighing the pros and cons of each platform. When it comes to Pipedrive, some of the major advantages are its easy setup, robust automation tools, and comprehensive reporting features. These make it a top choice for sales teams who need a reliable way to track leads and manage their pipelines.
Pipedrive also provides users with access to customer support. This includes training videos, email support, webinars, and more. The customer service team is knowledgeable and helpful when it comes to troubleshooting any issues that may arise. Additionally, many customers appreciate the fact that they can get help in multiple languages, making the process even smoother.
On the other hand, there are certain drawbacks associated with using Pipedrive as well. For instance, it doesn't have as many sales pipeline options as HubSpot does. Moreover, while its automation tools are powerful, they can be somewhat complex for novice users. Finally, pricing plans tend to be higher than those offered by competing platforms like Salesforce or Zoho CRM. However, this cost increase usually makes up for itself with increased efficiency due to enhanced organizational capabilities and streamlined processes.
Pros and Cons of HubSpot
For those looking for a more comprehensive sales pipeline and automation platform, HubSpot could be the perfect choice. It offers data sharing, automation flexibility, powerful contact management, live chat capabilities, and an array of customization options that can cater to any company's need.
The biggest advantage offered by HubSpot is its powerful live chat feature which allows customers to quickly get help or answers from customer service representatives in real-time. Additionally, data sharing between departments within a business is much easier with HubSpot since it has built-in integrations with other popular systems such as Salesforce and QuickBooks. Furthermore, its wide range of customization options also makes it easy for companies to tailor their experience according to their individual needs.
On the downside, one major con of using HubSpot is its cost – depending on the plan you choose, it can become quite expensive over time. Additionally, while they offer a variety of APIs (Application Program Interface), these are limited when compared to other solutions like Pipedrive or Zoho CRM. Lastly, some users have complained about how confusing and difficult to use the user interface can be at times.
Frequently Asked Questions
1. Can I trial both Pipedrive and HubSpot before making a decision?
Yes, both Pipedrive and HubSpot offer free trials so you can easily compare the two before making a decision. You'll be able to test out different features like costs, user experience, analytics tracking, team collaboration, API integration and more in order to determine which CRM is best for your needs.
2. Is there a way to easily migrate data between Pipedrive and HubSpot?
Yes, there is a way to easily migrate data between Pipedrive and HubSpot. This can be done through system integrations that ensure the security of your data while enabling you to maximize efficiency gains by streamlining processes. Cost analysis may also be necessary in order to determine which CRM best suits your needs, as well as user training for staff so they are able to use either platform with ease.
3. Are there any additional fees associated with using Pipedrive or HubSpot?
Pipedrive and HubSpot both have additional fees associated with their usage. Pipedrive's pricing structure is based on the number of users, while HubSpot has multiple tiers that offer different features depending on your business needs. Both companies offer support options such as onboarding assistance, training and tutorials in addition to feature comparison tools and integration options. Additionally, they provide data security for your customer information.
4. What kinds of customer support are available for each product?
Pipedrive and HubSpot both offer customer support through live chat, phone support, online tutorials, as well as access to documentation and a knowledge base. However, Pipedrive also offers 24/7 email support while HubSpot only provides limited hours of assistance. Both companies have extensive resources available for customers who need help with their products.
5. Does Pipedrive or HubSpot offer more advanced features than the other?
Pipedrive and HubSpot both offer advanced features such as automation, collaboration tools, analytics, security protocols, integration options, and more. However, when comparing the two CRMs in terms of price points, feature comparison, user experience and integration options Pipedrive is typically seen as offering a better value for money than HubSpot.
Conclusion
When it comes to choosing a CRM, the decision between Pipedrive and HubSpot can be difficult. Both platforms have their strengths and weaknesses, and both provide an excellent level of service for businesses looking to manage customer relations more effectively.
After reviewing the features, pricing, usability, integrations, reporting capabilities, customer support options, security protocols, mobile accessibility options, scalability opportunities and customer reviews it's clear that both platforms are capable of helping businesses reach their goals.
Ultimately it is up to each individual business to decide which platform works best for them but with the right data in hand they will be able to make an informed decision on Pipedrive vs HubSpot CRM Comparison.