Revolutionize Your Startup's Marketing Strategy with These 15 Must-Have SaaS Automation Tools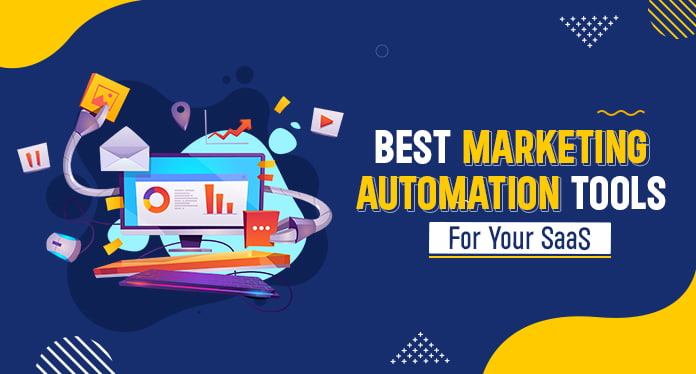 As the world speeds toward digital adaptation, having a commanding online presence is increasingly vital for a startup's growth and success. Established marketing models are no longer enough in this ever-changing climate of rising competition, unprecedented data accumulation and customer needs that continuously evolve. For startups to keep up with technology and the demands their target audiences place upon them, a hybrid marketing strategy is necessary—one able to adjust and refurbish efficiently according to innovation and industry trends.
Fortunately, advances in campaigning automation are revolutionizing the process of marketing tasks all around the globe right now. Automation tools offer big benefits: think data analysis skills and insights that help companies save time, and money plus statistically increase conversion rates while driving up customer loyalties in droves. Finding reliable software with a savvy SaaS reputation can dramatically improve any startup's chances of growing its venture by really speaking to its prospective customers effectively using more modern processes.
This article sets out benchmark automated tools intended to take your startup's announcing game up another notch. Let's explore each in detail but before that…
What are Marketing Automation Tools?
Marketing automation tools provide an indispensable solution for business owners looking to simplify their marketing campaigns and boost lead generation without the inconvenience of manual work. Consider them your very own marketing assistant that never sleeps, continuously optimizing your marketing efforts for maximum impact.
These tools offer a comprehensive solution for businesses to manage their marketing campaigns effortlessly, enabling them to automate email sends, social media postings, lead tracking, and data analysis from a single, centralized platform. With such capabilities at their disposal, marketers and entrepreneurs can streamline and target their campaigns with greater precision, freeing up valuable time to concentrate on scaling their businesses.
How to Choose the Best Marketing Automation Tool?
Choosing the best marketing automation software is crucial to managing all your marketing activities from one place. It helps you track and analyze the performance of your campaigns and ultimately boost your business growth. But the question is: how do you choose the best marketing automation tool? Here are our top tips for choosing the best marketing automation software:
Understand your business needs and goals: Consider your current marketing strategy, your target audience, and your business goals. Look for software that aligns with your specific requirements.
Evaluate the software features: Look for software that provides features such as lead scoring, email marketing, lead management, landing pages, analytics, and social media integration. These features are necessary for creating a streamlined sales funnel.
Consider Integration with other tools: Decide on software that can integrate with other tools such as customer relationship management(CRM), content management, social media management tools, and email clients.
Pricing model: Check whether the chosen software can scale with your business growth and future needs. Ensure that the pricing model aligns with your budget and business model.
User-friendly interface: A user-friendly interface makes using the software much more accessible and provides a rewarding experience. Look for software with intuitive interfaces that are easy to navigate, and offer excellent technical support to ensure a smooth experience.
Top SaaS Marketing Automation ToolsÂ
We've curated some of the best and must-have SaaS automation tools for startups. These tools cover everything from email marketing, lead generation, social media management, and more. So, whether you're a bootstrapped startup or a funded venture, read on to find the automation tools that can take your marketing game to the next level.
1. Adobe Marketo Engage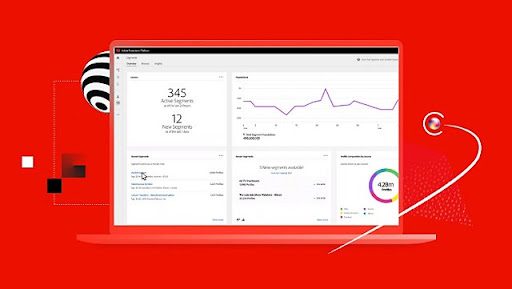 Adobe Marketo Engage is a tool that helps businesses of all sizes to engage their customers in a personalized way, ultimately driving greater ROI. Imagine having an all-knowing, omnipresent assistant at your beck and call, always working towards making your communication with your customers more effective and satisfying. That is precisely what Adobe Marketo Engage is to modern marketers- a powerful, intelligent, and engaging platform that helps them maximize customer engagement through targeted campaigns and personalized interactions.
This renowned software uses AI and machine learning to automate repetitive tasks while providing actionable insights to improve engagement. From comprehensive lead management and account-based marketing to customer retention, analytics, and beyond, Adobe Marketo Engage offers a diverse range of features tailored to suit the needs of businesses across industries.
Features:
Email Marketing: Create, test, and send emails to target audiences using a drag-and-drop interface.
Lead Management: Manage and score leads based on their behavior, demographics, and interests.
Marketing Analytics: Measure and analyze the effectiveness of marketing campaigns across multiple channels.
Account-Based Marketing (ABM): Target key accounts with personalized messages and content to improve conversion rates.
Web Personalization: Personalize web content and experiences based on visitors' behavior, preferences, and demographics.
Social Marketing: Manage and publish social media content across multiple platforms from a single interface.
Campaign Management: Plan, execute, and measure marketing campaigns across multiple channels.
Event Management: Manage and promote events, track attendance, and measure ROI.
Sales Insights: Get real-time insights into customer behavior, interests, and preferences to help sales teams close more deals.
Mobile Marketing: Engage with customers on mobile devices through targeted campaigns and personalized experiences.
Landing Pages: Create and optimize landing pages to convert website visitors into leads and customers.
Lead Nurturing: Nurture leads with personalized content and messages to improve conversion rates over time.
Marketing Automation: Save time and increase efficiency by automating repetitive marketing tasks and workflows.
Predictive Analytics: Use machine learning and predictive models to identify and target high-value leads and customers.
Account-Based Experience (ABX): Deliver personalized experiences across multiple channels to improve engagement and conversion rates
| | |
| --- | --- |
| Pros | Cons |
| Versatile marketing automation platform | Steep learning curve |
| Excellent lead management capabilities | Expensive pricing |
| Robust reporting and analytics | Some users have reported slow loading speeds |
| Wide range of integrations available | Limited customization options |
2. Oracle Eloqua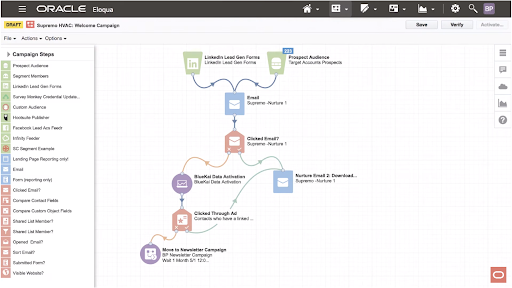 Oracle Eloqua is a powerful marketing automation platform designed to empower businesses with the intelligence and precision they need to drive success. With this tool at the helm, enterprises can collect a vast array of customer data, analyze it, and turn it into actionable insights that help them personalize their campaigns on a granular level.
Oracle Eloqua's secret lies in its intelligence that drives a business's marketing automation. Its advanced algorithms help marketers predict the behavior of their customers and adjust their campaigns accordingly. It also enables marketers to create dynamic campaigns that modify according to how customers interact with them.
Features:
Marketing automation: Automate marketing tasks and workflows to save time and increase efficiency.
Campaign management: Plan, execute, and measure multi-channel marketing campaigns.
Email marketing: Create and send targeted and personalized email campaigns.
Landing pages and forms: Build custom landing pages and forms to capture leads and track conversions.
Lead management: Manage leads from acquisition to conversion, with lead scoring and nurturing.
Segmentation and targeting: Segment your audience based on behavior and demographics to target the right people with the right message.
Marketing analytics: Measure and analyze campaign performance, ROI, and customer engagement.
Web personalization: Deliver personalized content to website visitors based on their behavior and preferences.
Sales and marketing alignment: Align sales and marketing teams with shared data and integrated workflows.
CRM integration: Integrate with customer relationship management (CRM) systems to share data and improve lead management.
Data management: Manage and maintain clean and accurate marketing data for better campaign targeting and analysis.
Account-based marketing: Create and execute targeted marketing campaigns for specific accounts or groups of accounts.
Multi-channel marketing: Engage customers across multiple channels, including email, social media, web, and mobile.
Mobile marketing: Create and execute mobile-specific campaigns to engage customers on the go.
| | |
| --- | --- |
| Pros | Cons |
| Easy to use drag-and-drop email builder | Lack of seamless integration with some CRMs |
| Integration with Oracle Sales Cloud creates automatic data enrichment | Requires technical expertise to set up and manage effectively |
| Advanced reporting and analytics features | Some users reported slow customer support |
| Can accommodate the needs of small businesses and large enterprises | Limited social media monitoring |
3. Salesforce Marketing Cloud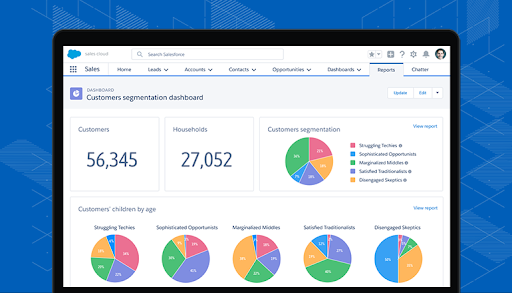 Salesforce Marketing Cloud is a powerful marketing automation platform that offers intelligent insights to help businesses optimize their marketing performance and drive ROI. With unified, AI-driven analytics, this tool aids marketers in making data-driven decisions and maximizing their spending, resulting in more effective and efficient campaigns.
One of the standout features of Salesforce Marketing Cloud is its ability to personalize moments using real-time data from Data Cloud for Marketing. With this feature, businesses can meet customers in the moments that matter and unlock value using real-time data to serve them with the right content at the right time.
Features:
Email Marketing: Send emails to your customers with customizable templates and advanced segmentation to ensure your emails are always relevant.
Mobile Marketing: Create personalized mobile campaigns that integrate with your other marketing efforts.
Social Media Marketing: Manage all your social media channels from one platform, including posting, monitoring, and analyzing engagement.
Advertising: Create and execute digital advertising campaigns across various channels, including social media, display ads, and search engines.
Journey Builder: Map out and execute customer journeys across various channels to provide a seamless and consistent experience.
Data Management: Collect, analyze, and activate customer data from various sources to drive targeted marketing efforts.
Personalization: Use customer data to personalize messaging and offers, increasing engagement and conversion rates.
Analytics: Track and analyze campaign performance across various channels to make data-driven decisions and continually improve your marketing efforts.
Predictive Intelligence: Use machine learning to predict customer behavior and automate marketing efforts based on those predictions.
Content Management: Create and manage content across various channels, including email, mobile, social media, and web pages.
| | |
| --- | --- |
| Pros | Cons |
| Excellent at managing customer journeys | Fairly expensive for most users |
| Provides an ecosystem of marketing functionalities | Limited end-user personalization |
| Easy-to-build reporting capabilities | Complicated data extension tools |
| Integrates well with various data sources | |
4. Zapier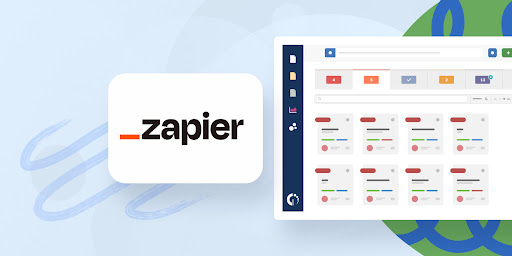 Zapier is a remarkable automation tool that revolutionizes the way professionals manage their workflow and optimize their time. This powerful tool empowers users to easily integrate various apps without coding, making it an essential asset for busy professionals seeking to boost productivity.
Zapier helps users stay organized and monitor their marketing campaigns accurately, which is critical in ensuring maximum impact. A standout feature of Zapier is its ability to simplify lead management, allowing users to connect and organize lead sources while minimizing data errors. This feature lets users prioritize lead conversion and turn prospects into loyal customers.
Features:
Automation: Connect your favorite marketing tools and automate repetitive tasks to save time and effort.
Integration: Easily integrate your marketing tools, including CRM, email marketing, social media, and more, to work seamlessly together.
Multi-step workflows: Create multi-step workflows with conditional logic to automate complex marketing processes.
Custom triggers and actions: Customize triggers and activities based on your unique needs, to create workflows that perfectly fit your business.
Real-time alerts: Receive live alerts and notifications when significant events happen in your marketing workflows.
Custom filters: Use custom filters to narrow down data and ensure only the relevant information passes between your apps.
Error handling: Automatically handle errors and ensure data accuracy in your workflows.
Data synchronization: Keep data in sync across multiple apps to avoid inconsistencies and reduce manual data entry.
Multi-user collaboration: Collaborate with your team to build and manage your workflows.
App marketplace: Access over 5,000 apps to find and connect to the tools you need.
| | |
| --- | --- |
| Pros | Cons |
| Easy to use with a simple drag-and-drop interface | Some integrations may require technical expertise to set up correctly |
| Provides a wide range of pre-built templates | Takes time to sync data from different environments |
| Offers a free plan with limited features | Lacks flexibility on social channels |
| Advanced security features to ensure data is protection | Unavailability of documentation for complex automation |
5. HubSpot Marketing Hub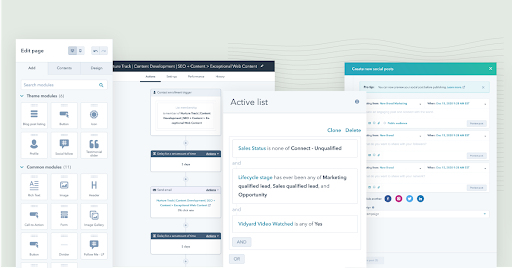 HubSpot Marketing Hub is a comprehensive marketing software solution that transforms the way businesses grow and succeed. With its powerful suite of tools and advanced features, this platform helps companies drive revenue, save time and resources, and measure and optimize investments.
What makes HubSpot Marketing Hub one of the top marketing automation tools is its ability to empower businesses to build highly personalized customer experiences, better understand their target audience, and create meaningful connections with their customers. With robust analytics and reporting capabilities, HubSpot Marketing Hub allows businesses to track their performance and adjust their strategies in real time.
Features:
Online Form Builder: Generate leads for businesses with powerful online forms that are easy to create and customize.
Live Chat: Engage site visitors with targeted welcome messages and chat automation, providing them with support in real time.
Salesforce Integration: Connect HubSpot to Salesforce for a fast and reliable bidirectional sync without technical work.
Contact Management: Easily keep records up-to-date by adding company and contact logs with a single click.
Campaign Management: Stay on track with marketing campaigns by managing campaigns directly within HubSpot.
Marketing Automation: Nurture and score lead, personalize emails at scale, automate cross-functional operations, and manage data in bulk.
Marketing Analytics: Make smarter, data-backed decisions with built-in analytics, reports, and dashboards.
Dashboards and Reporting: Integrate data from your existing business apps in HubSpot to unite all your data and build powerful custom reports.
Advanced Marketing Reporting: Make budget decisions with certainty to track their marketing ROI.
| | |
| --- | --- |
| Pros | Cons |
| Straightforward initial setup process | Only has annual contracts |
| Dynamic and customizable templates | Does not offer A/B testing on lower-priced plans |
| Incredible at tracking and updating records | One of the most expensive marketing platforms |
| Simple, intuitive, and fool-proof interface | |
6. EngageBay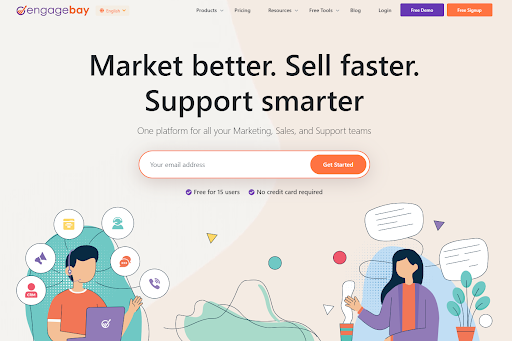 EngageBay is a unified sales, customer service, and marketing solution that takes businesses to the next level with a seamless automation of sales and marketing processes. The all-in-one platform integrates every aspect of customer engagement, empowering companies to optimize operations, increase efficiency, and deliver unparalleled customer experiences.
Unlike other marketing automation software, EngageBay's exceptional approach to integrating marketing, sales, and service workflows stands out. By interconnecting all departments and automating every task, EngageBay guarantees a personalized and seamless experience in every customer interaction. With advanced features like lead scoring and lead nurturing, businesses can elevate ROI and expand growth opportunities.
Features:
Lead Generation: Create web forms and pop-ups to capture leads from your website and social media profiles.
Email Marketing: Send personalized emails and newsletters to your leads and customers with advanced email marketing tools.
Marketing Automation: Create automated workflows to nurture leads, score them based on their behavior, and automate sales follow-up.
Landing Pages: Create custom landing pages to convert leads into customers with built-in templates and drag-and-drop editors.
CRM: Manage all your customer data and interactions with a comprehensive CRM system that includes contact management, deal tracking, and more.
Sales Automation: Automate your sales process with advanced tools like pipeline management, task automation, and appointment scheduling.
Web Analytics: Analyze your website traffic and track your leads' behavior with advanced analytics and reporting tools.
Social Media Management: Schedule and publish social media posts across all your social media profiles and track engagement metrics.
Integrations: Connect with your favorite apps and tools like Zapier, WordPress, Shopify, and more to streamline your workflows and increase efficiency.
| | |
| --- | --- |
| Pros | Cons |
| Multiform that can manage all user data in one place | Task management is a little inefficient |
| Rich functionalities | Limited landing page templates |
| Proactive customer support team | |
| Good value for money | |
7. Mailchimp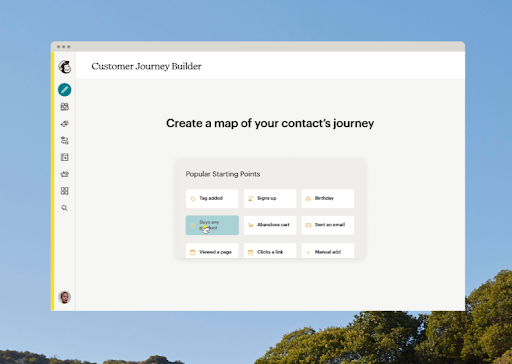 Mailchimp is the ultimate digital marketing toolbox that empowers businesses of any size to conquer the ever-changing digital landscape. Its email marketing platform is one of the most significant features that help users create and send personalized, visually stunning emails to their subscribers.
However, Mailchimp is much more than just an email marketing platform. It's a comprehensive marketing solution that consolidates advertising, social media management, and analytics, empowering businesses to oversee all facets of their marketing initiatives from a single platform. From executing targeted Facebook and Instagram ads to tracking website traffic and conversion rates, Mailchimp helps businesses make data-driven decisions that drive growth and revenue.
Features:
Trigger-based automation: Automate marketing by setting up triggers that activate during specific events, such as a customer signing up for a newsletter or making a purchase.
Multi-channel marketing: Use a variety of marketing channels, including email, social media, and postcards, to reach customers where they are.
Personalization: Tailor messages to each customer based on their behavior and preferences, making them more likely to engage with the brand.
Segmentation: Divide the audience into segments based on their interests or behavior to send targeted messages that resonate with them.
Pre-built automation: Choose from various workflows to achieve specific marketing goals, such as welcome campaigns or abandoned cart reminders.
A/B testing: Test different elements of the campaigns to see what resonates best with the audience and improve marketing effectiveness over time.
Reporting and analytics: Track the performance of campaigns and use data insights to optimize the marketing strategy.
Integrations: Connect with other tools, such as Shopify or Salesforce, to create a seamless marketing experience across all channels.
Lead nurturing: Use automation to build relationships with leads and move them through the sales funnel, from initial awareness to making a purchase.
Behavioral targeting: Create custom workflows that respond to customers' actions, such as clicking on a particular link or abandoning a cart.
| | |
| --- | --- |
| Pros | Cons |
| Powerful automation features and email sequencing | Does not provide many customization options |
| Comprehensive knowledge base and resources | Limited segmentation and website integration options |
| In-depth reporting and analytics | Unavailability of adequate automation features in the free plan |
| A/B testing capabilities for email campaigns | |
8. IFTTT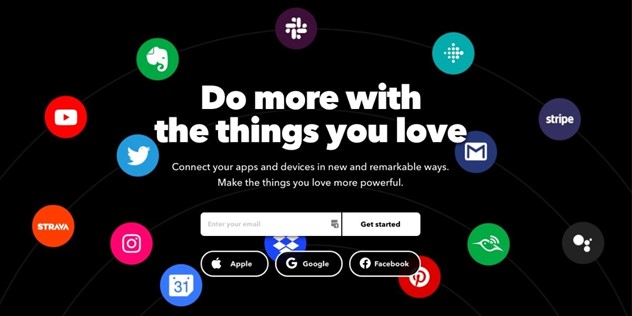 IFTTT is a groundbreaking web-based service that simplifies daily routines and increases productivity for users. This innovative platform connects an array of devices, services, and applications to develop customized "applets" that can execute infinite automated tasks. With IFTTT, users can simplify their digital lives and save valuable time for what matters most.
But IFTTT's utility goes beyond personal usage. This platform is an excellent option for businesses and organizations seeking to enhance their workflows and efficiency. With its advanced capabilities, including multi-step applets and performance tracking, IFTTT is an indispensable tool for any company looking to improve productivity and accomplish more with fewer resources.
Features:
Automation: Create custom automation, referred to as "applets," to connect different apps and devices.
App integrations: IFTTT supports popular apps, including Gmail, Slack, Instagram, and more.
Triggers: Define triggers to start automation based on specific conditions, such as a new email in the inbox.
Actions: Set tasks to be performed automatically when a trigger occurs, such as sending a message on Slack or saving a file to Dropbox.
Multi-step applets: Create more complex automation with multiple triggers and actions.
IoT integration: Connect IoT devices to automate tasks.
Location-based triggers: Set up triggers to activate actions when entering or leaving a specific location, such as turning on the lights when the user arrives home.
Applet sharing: Share applets with others and discover new applets created by other IFTTT users.
Automatic backups: Automatically back up photos, documents, and other important files to cloud storage services.
Schedule-based triggers: Set up triggers based on schedules, such as triggering an action at a specific time of day or week.
| | |
| --- | --- |
| Pros | Cons |
| Wide range of integrations | Limited customization and security features |
| Free to use | Occasional reliability issues |
| Offers mobile app integration | |
| Helps connect disparate systems | |
9. Keap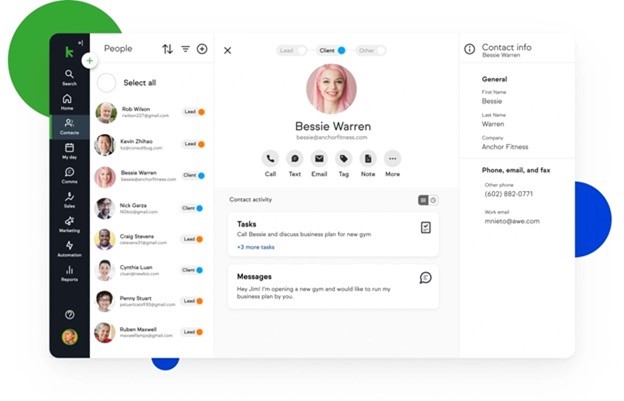 Keap is a powerful, intelligent, and highly efficient tool that helps businesses of all sizes better organize their leads and automate repetitive tasks without third-party tools. The platform boasts an array of features designed to help sales and marketing teams work smarter, from email marketing and lead capturing to invoicing and payment processing.
What sets Keap apart is its level of semantic richness – its ability to understand and analyze complex data sets to unveil actionable insights. Keap's AI-powered algorithms are constantly learning and evolving, helping businesses stay one step ahead of the competition by providing tailored recommendations and suggestions based on customers' unique behavior and preferences.
Features:
Automation: Create campaigns that automatically send personalized messages to leads and customers based on their actions and behavior.
Email Marketing: Send targeted, personalized email campaigns to leads and customers.
B2B Capabilities: Capabilities designed specifically for B2B businesses to help manage leads, opportunities, and deals.
Invoices: Create and send professional invoices and accept online payments.
Appointments: Make it easy for clients to book appointments with online scheduling.
Keap Business Line: Text and call clients using a designated phone number from the mobile app.
Reminders & Reports: Stay on top of tasks with reminders and get valuable insights into the business with reports.
Landing Pages: Build beautiful, high-converting landing pages to capture leads and drive sales.
A/B Testing: Test and optimize campaigns with A/B testing to improve performance.
Lead Scoring: Score the leads based on their behavior and engagement to prioritize outreach.
Analytics: Gain insights into the business with customizable reports and dashboards.
Pros
Cons
Is a comprehensive CRM and comes with powerful automation features
Some users report slow performance at times
Mobile app for on-the-go management
Limited B2B capabilities compared to competitors
Advanced features like lead scoring and A/B

testing

Limited integrations with third-party software
Great for small businesses looking to grow
10. WebEngage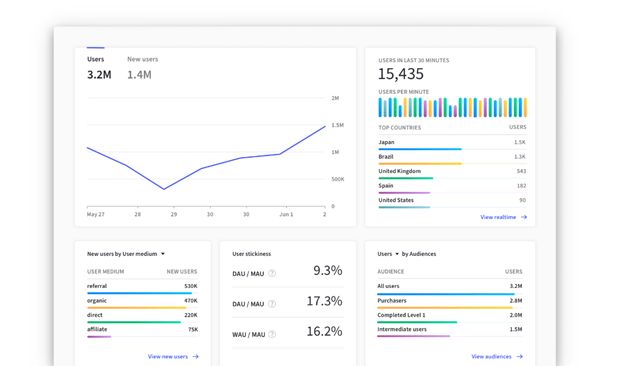 WebEngage is a top-tier omnichannel marketing automation solution crafted to support data-driven marketing teams. Through its robust set of features, WebEngage enables organizations to curate dynamic, engaging, and pertinent customer experiences spanning multiple channels.
WebEngage capitalizes on data-driven insights to provide laser-targeted and personalized messaging across multiple channels. This results in delivering the most appropriate message to the most fitting person at precisely the opportune moment. The software seamlessly integrates with third-party tools and platforms, consolidating marketing teams' data and insights into a unified platform.
Features:
User Engagement: Connect with users across channels, including web push notifications, in-app messages, SMS, email, and more
Personalization: Deliver personalized experiences based on customer behavior, preferences, and interests.
Journey Designer: Create automated campaigns that trigger based on user behavior, including abandonment, conversion, and retention journeys.
Surveys and Feedback: Collect user feedback through surveys, feedback forms, and NPS surveys.
Mobile Marketing: Reach a mobile audience with in-app messaging, push notifications, surveys, and feedback.
Marketing Automation: Create automated campaigns that deliver personalized messages at the right time using triggers, dynamic content, and multi-channel delivery.
Analytics: Get insights into user behavior and campaign performance with real-time analytics, including user-level tracking, funnel analysis, and A/B testing.
Marketing Cloud: Consolidate the marketing stack with a single platform that offers multiple channels, including email, SMS, web push, and in-app messaging.
Integrations: Allows integration with existing tools and platforms, including CRMs, marketing automation tools, and analytics tools, to streamline workflow.
AI-Powered Automation: Use AI-powered automation to deliver hyper-personalized experiences to users, including product recommendations.
| | |
| --- | --- |
| Pros | Cons |
| Advanced personalization capabilities | Limited segmentation capabilities |
| Highly effective at increasing engagement | The platform can take some time to set up and learn |
| Excellent campaign automation capabilities | Integrations with certain tools can be complex |
| Seamless integrations with other tools | |
11. Drip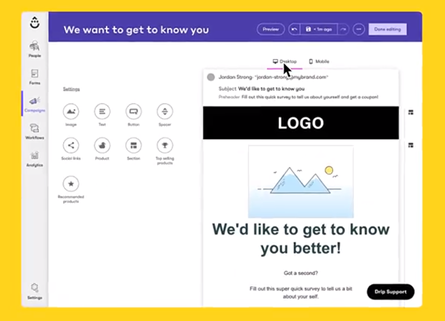 Drip is an innovative and sophisticated marketing automation platform that is revolutionizing how eCommerce brands engage with their customers. The tool allows eCommerce brands to create highly personalized and targeted email campaigns that deliver valuable content to customers at the right time.
Drip offers a suite of onsite tools that seamlessly integrate with a brand's website to provide even greater customer engagement opportunities, all while capturing valuable data that can be used to enhance marketing efforts. With their intelligent automation workflows, Drip can trigger highly personalized messages based on a customer's behavior, preferences, and previous interactions with a brand.
Features:
Automation: Create personalized and targeted email campaigns based on customer behavior and preferences.
Email Personalization: Use dynamic content to personalize email messages for each customer.
Customizable Templates: Choose from a variety of customizable email templates or create your own to match your brand.
Multi-Channel Marketing: Expand your reach with multi-channel marketing, including Facebook ads and SMS messaging.
eCommerce CRM: Get a complete view of your customer's behavior and preferences to provide personalized experiences.
Integrations: Integrate with popular eCommerce platforms, such as Shopify and WooCommerce, as well as other tools and services.
Custom Fields: Create custom fields to capture unique customer data and personalize email campaigns.
Advanced Segmentation: Use advanced segmentation to create highly targeted campaigns based on complex conditions and behaviors.
Event Tracking: Track customer behavior and actions on your website to trigger automated campaigns.
Campaign Templates: Choose from a library of pre-built campaign templates to meet specific marketing objectives.
Insights: Gain valuable insights into your customers' behavior and preferences with detailed analytics and reporting.
| | |
| --- | --- |
| Pros | Cons |
| Customizable templates and forms | Lack of a built-in landing page builder |
| Strong CRM functionality | Resource-intensive platform with slow loading times |
| Advanced segmentation and A/B testing capabilities | Limited customer support options and delayed response times |
| Integrations with popular eCommerce platforms | |
12. ActiveCampaign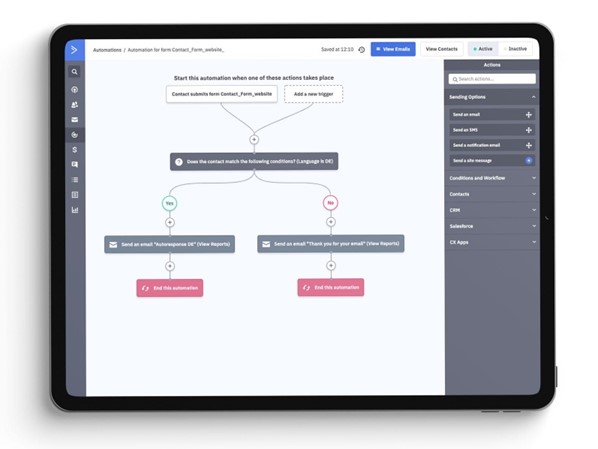 ActiveCampaign is a marketing automation tool revolutionizing how businesses interact with their customers. This powerful platform offers a wealth of features and functionality that streamline marketing efforts and lead to better customer experiences. With ActiveCampaign, businesses can automate tasks, track behaviors, and tailor messaging to every individual customer for a truly personalized experience.
This tool also offers a suite of intelligent features that help businesses make the most of their marketing efforts. For example, ActiveCampaign's predictive analytics engine can help businesses identify which leads are most likely to convert, allowing them to focus their efforts on those most likely to become loyal customers.
Features:
Email Marketing: Create and send targeted, personalized email campaigns to the audience.
Personalization: Personalize messages with dynamic content that changes based on the audience's behavior and preferences.
Site Tracking: Track visitors' behavior on the business website to personalize marketing and sales messages.
Landing Pages: Create high-converting landing pages that integrate with email and marketing campaigns.
CRM: Manage sales pipeline and customer relationships in one place.
Win Probability: Predict the likelihood of closing a deal based on the lead and customer data.
Inbox Extensions: Manage emails directly within the CRM with Gmail and Outlook integrations.
Integrations: Connect online stores to automate the marketing and sales processes.
SMTP Email: Use the SMTP service to send email messages from the server.
Message Streams: Automate messaging across multiple channels, including email, SMS, and social media.
Transactional Email Templates: Create and send transactional email messages with customizable templates.
| | |
| --- | --- |
| Pros | Cons |
| Excellent automation capabilities for personalized campaigns | Design editor lacks flexibility |
| Easy-to-use visual automation builder | May not be very intuitive for beginners |
| Affordable pricing options for small businesses | Some users have reported issues with email deliverability |
| Comprehensive reporting and analytics capabilities | |
13. Klaviyo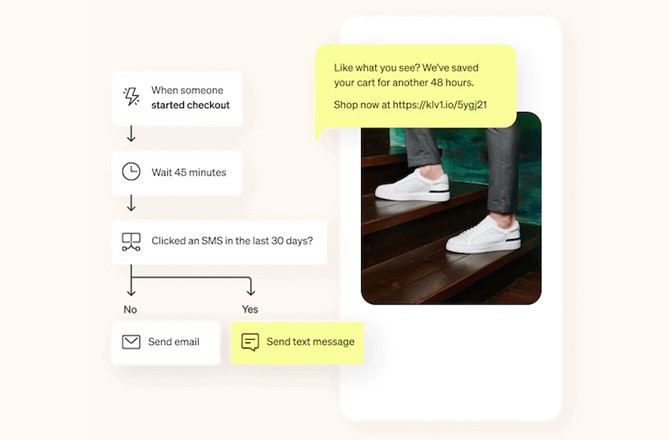 Klaviyo is the marketing automation platform of the future. With its built-in Customer Data Platform (CDP), businesses can seamlessly track customer behavior and create personalized experiences that generate better engagement, higher conversions, and more profits. Klaviyo is the solution for enterprises that want to stay ahead of the curve in their marketing strategies.
Klaviyo also offers a robust suite of analytics tools that give businesses more in-depth insights into their customers' behavior. Whether it's tracking clicks, opens, or purchases, the platform provides a wealth of data businesses can use to refine their marketing strategies and improve their ROI. And with its easy-to-use interface and drag-and-drop functionality, even non-tech-savvy users can create sophisticated campaigns in no time.
Features:
Email Marketing: Create and send targeted email campaigns to the audience using a drag-and-drop email builder.
SMS Marketing: Engage with the audience via text message campaigns to reach customers on the go.
Segmentation and Personalization: Use advanced segmentation and personalization features to send targeted and relevant messages to specific groups of customers.
Marketing Automation: Automate repetitive marketing tasks, such as welcome emails and abandoned cart reminders, saving time and effort.
Analytics and Reporting: Use analytics and reporting tools to track marketing performance and make data-driven decisions.
Integrations: Connect with other marketing tools and platforms to streamline the marketing processes.
eCommerce Marketing: A suite of eCommerce marketing tools, such as product recommendations and personalized product follow-up emails, to grow the online business.
Signup Forms: Create customizable signup forms and landing pages that integrate with the website and social media channels to grow the email list.
A/B Testing: Test and optimize marketing campaigns with A/B testing capabilities to identify what works best for your audience.
| | |
| --- | --- |
| Pros | Cons |
| Offers a wide range of email marketing features | Limited reporting and analytics features |
| Has advanced email personalization options | Occasional email deliverability issues |
| Integrates with a variety of eCommerce platforms | Higher pricing for premium features like SMS marketing |
| Has a strong focus on customer retention | |
14. Customer.io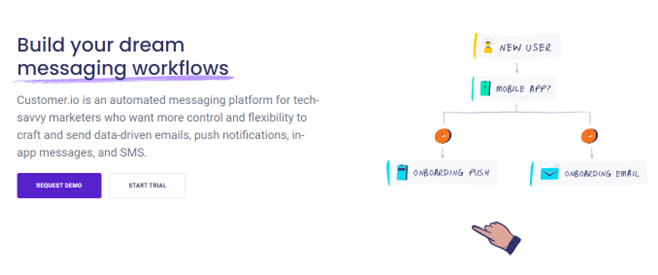 Customer.io is a game-changing automated messaging platform for marketers, offering an unparalleled level of control and flexibility in crafting personalized, data-driven messaging campaigns. The advanced automation engine enables marketers to create and distribute compelling emails, push notifications, in-app messages, and SMS.
What sets Customer.io apart from the competition is its ability to provide a complete, 360-degree view of the customer. Using sophisticated data tracking and analysis, marketers gain a deep understanding of their audience's behavior, preferences, and interests. Furthermore, the platform is highly scalable, making it a suitable choice for businesses of all sizes.
Features:
Behavioral tracking: Track user behavior across the website or app to better understand their actions and create targeted campaigns.
Segmentation: Divide the audience into groups based on behavior or attributes to create highly personalized campaigns.
A/B testing: Test different messaging variants to see what resonates best with the audience.
Automation: Automate emails and push notifications based on triggers such as user behavior or time-based events.
Personalization: Use dynamic content to personalize messages for each user based on their behavior and attributes.
Integration: Integrate with third-party tools, such as Zapier, Segment, and Shopify, to streamline workflow.
Campaign tracking: Track the success of the campaigns with detailed analytics and reporting.
Mobile optimization: Optimize messages for mobile devices to ensure a seamless user experience.
API: Use the API to access and manipulate data programmatically.
Email and push notifications: Send targeted and personalized emails and push notifications to engage with users.
| | |
| --- | --- |
| Pros | Cons |
| Easy to use and set up | Integration with other platforms and tools can be challenging at times. |
| Advanced A/B testing and personalization capabilities | Limited designs in the email editor |
| Detailed analytics and reporting functionalities | Platform can be slow to load at times |
| Has a reputation for providing excellent customer support | |
15. SharpSpring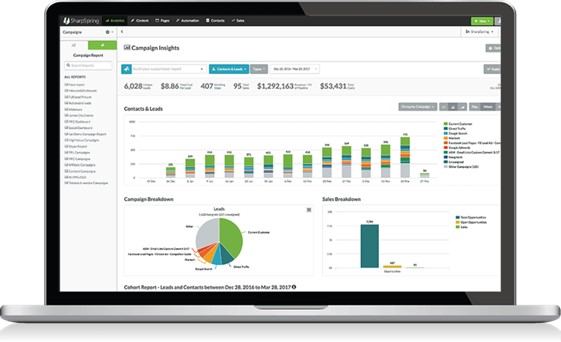 SharpSpring has transformed the digital marketing landscape with its all-in-one marketing platform. This tool is designed to offer business owners and marketers a seamless and efficient way to execute their marketing campaigns. With a highly intuitive user interface and robust feature set, SharpSpring provides everything businesses need to attract, convert, and retain customers, from email marketing to social media advertising.
What sets SharpSpring apart is its powerful analytics tools that provide users with real-time data and insights. This data is crucial for making informed, data-driven decisions. Users can monitor their conversions, track their visitors, and analyze their metrics to optimize their campaigns and achieve better results. With SharpSpring, businesses can save time, increase efficiency, and ultimately drive growth.
Features:
Dynamic Forms: Create and customize dynamic forms for the website to capture more leads.
Landing Pages: Design and publish custom landing pages that convert more visitors into leads.
Lead Scoring: Score leads based on their behavior and demographic data to identify the most qualified prospects.
Attribution Reporting: Measure the ROI of marketing campaigns and attribute revenue to the right channels.
Social Media Management: Manage all social media accounts from one place, schedule posts, and track performance.
Third-Party Integrations: Connect with third-party apps and tools, such as Salesforce, Google Analytics, and more.
Marketing Automation: Automate marketing tasks such as email campaigns, lead nurturing, social media, and more.
CRM & Sales Automation: Manage customer relationships, automate sales tasks, and track leads and opportunities.
Analytics & Reporting: Track and analyze the marketing and sales performance with advanced analytics and reporting tools.
Blogging: Create and publish blog content to attract and engage the audience.
| | |
| --- | --- |
| Pros | Cons |
| Robust marketing automation features | Lacks some essential features like a mobile app |
| User-friendly interface with drag-and-drop functionality | Reporting and analytics features are limited |
| Strong lead management capabilities | Customer support is not very responsive |
| Multi-channel campaign management including social media, SMS, and ads | |
Winding Up…
In conclusion, marketing automation tools are a must-have for any startup to have an edge in the digital age. With the right software, you can take your marketing strategies to the next level and revolutionize your approach. Take the time to assess your business's goals when selecting a software program and consider its features and ease of use to find the most appropriate marketing automation tool.
Understanding how the pros and cons balance out can also help you make an informed decision on whether this will be a beneficial investment or not. Finally, consider what other successful startups are using, but pay attention to trends so you choose one on the cutting edge of technology instead of falling behind with outdated models.