ClickUp Vs monday.com: Which Tool Is Right For You?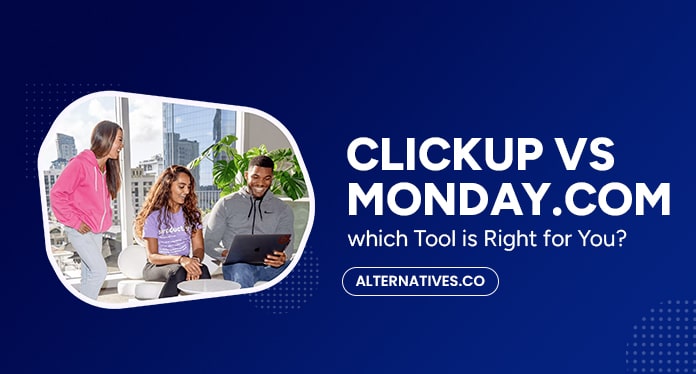 Are you looking for the best project management tool to help you and your team stay organized? If so, you've likely come across two of the most popular options: ClickUp and monday.com. Both are comprehensive project management solutions that can help teams collaborate more effectively, and streamline workflows.
While both tools offer similar features, they each have their own strengths and weaknesses. In this article, we'll take a closer look at ClickUp and monday.com to help you decide which one is right for you. We'll cover pricing, ease of use, task management capabilities, collaboration features, integrations, customization options, and more. So, whether you're just getting started with project management or looking to upgrade your current solutionthis article will provide all the information you need to make an informed decision.
ClickUp vs monday.com: Overview
If you're trying to decide between two popular project management apps, this overview will help you figure out which one's perfect for you. ClickUp and monday.com are both powerful tools that offer a range of features to make managing projects easier. In terms of task assignment, ClickUp offers email alerts whenever new tasks are assigned or updated, making it easy to stay on top of who's doing what. It also allows users to set up automation rules to streamline workflows and automate repeating tasks. Meanwhile, monday.com provides user permissions so managers can control exactly who has access to each project they create.
When it comes to the user interface, ClickUp's design is simple yet effective with drag-and-drop functionality for quick setup as well as customizable views that allow users to organize data according to their preferences. On the other hand, monday.com is known for its intuitive dashboard where teams can easily track progress at a glance using visuals like charts and graphs. Additionally, both platforms have excellent customer support if users ever run into any issues while setting up their accounts or completing tasks.
Overall, whether you choose ClickUp or monday.com depends entirely on your team's specific needs when it comes to task assignment, automation rules, user permissions, user interface, and customer service expectations. Both applications have unique strengths and weaknesses but either way you go will ensure success in your project management endeavors.
Did You Know
ClickUp and monday.com are two of the most popular project management tools available, but did you know that monday.com has over 152000 users across 45 countries, while ClickUp has only 10 million users in over 120+ countries?
Pricing
Comparing ClickUp's and monday.com's pricing can help you decide which one is best for you. Both platforms offer subscription models, with varying levels of features based on the plan chosen. Here are some things to consider when comparing prices:
When it comes to the pricing of ClickUp, the platform offers four different plans depending on your needs Free Forever, Unlimited, Business, and Enterprise. The free plan includes many basic functions that a small business may need but lacks more advanced tools. The Unlimited and Business Plan adds additional features such as automated workflows, integrations, and custom branding at an affordable price point. Finally, the Enterprise Plan provides larger organizations access to all of ClickUp's features plus IT support and training.
Coming to monday.com's pricing, it offers several plans that vary in terms of cost and features Free, Basic, Standard, Pro, and Enterprise. For those looking for something simple yet powerful enough to get their job done without breaking the bank then the Free or Basic package should be considered. If this isn't suitable then they have higher packages available like Standard, Pro, or Enterprise with more features including automation capabilities, analytics dashboards, and priority customer service support.
It's important to compare both services side by side to figure out which one might be better for your budget and long-term goals. In general, if you're just starting out or don't need any fancy extra features, then ClickUp's free version could be a good choice because it has a lower cost to get started compared to competitors like monday.com, which has slightly higher base costs per user per month. However, if you need more features, like project management solutions, it might be a good idea to invest in a premium plan from either platform, as they often come with extras like unlimited storage space or integrated apps and integrations.
When considering different options between ClickUp and monday.com it's important to take into account what each product has been designed for so that users can properly evaluate them before making a decision about which tool would suit their specific needs better overall. In general, ClickUp is perfect for task management while Monday focuses more on project collaboration aspects; however, both provide team communication functionality together with mobile app accessibility across Android / IOS devices meaning customers will always stay connected regardless of where they are located. Ultimately it comes down to personal preference as there isn't necessarily any clear winner here because each platform caters to different types of teams depending on size & operational requirements so do your research ahead of time.
Did You Know
ClickUp offers a free option with limited features, while monday.com also offers a free plan but it also charges customers based on the number of users, with prices increasing as the number of users increases.
Ease of Use
Both ClickUp and monday.com offer intuitive user interfaces and drag-and-drop functionality, making them both incredibly easy to use. In fact, ClickUp was voted the world's most user-friendly project management platform in 2020.
Ease of use is an important factor to consider when selecting a project management tool, as the platform should be intuitive and easy to navigate. Both monday.com and ClickUp offer user interfaces that are straightforward and don't require extensive training or special skills. The table below summarizes some of the key features related to ease of use:
| | | |
| --- | --- | --- |
| Feature | ClickUp | monday.com |
| User Interface | Intuitive & Easy-to-Use | Intuitive & Customizable |
| Collaborative Editing | Real-Time Editing for Every Member | Individuals can Edit Items Independently with Comments/Tasks To Show Progress Updates |
| Automated Notifications | Instant Alerts on task changes | Email Syncing |
Both tools make it simple for users to collaborate on projects in real-time with automated notifications and email syncing capabilities. Furthermore, both allow multiple users access, giving teams greater flexibility over how they manage their workflow. With ClickUp, members have unrestricted real-time editing capability, while monday.com offers individuals control over their own items via comments or tasks showing progress updates. As you can see from this comparison, each tool has its own unique advantages when it comes to ease of use depending on your team's needs and preferences so take time to evaluate both before making a choice.
Did You know
Both ClickUp and monday.com offer intuitive user interfaces and drag-and-drop functionality, making them both incredibly easy to use.
Task Management Capabilities
When it comes to task management, each project management platform offers a different set of capabilities and features to help teams stay organized and on track. ClickUp and monday.com both offer an array of tools that can be used for effective task management and organization.
ClickUp allows users to prioritize tasks with labels such as 'urgent' or 'high priority', assign tasks based on skill sets or availability, create custom workflows to automate repetitive processes, sync calendars across devices, and generate notifications when deadlines are approaching. Additionally, by using the advanced search feature in ClickUp you can easily find exactly what you're looking for within seconds.
monday.com also has plenty of task-oriented features like assigning tasks automatically according to individual skillsets or availability, creating custom rules and automation for workflow processes, calendar synchronization between colleagues, and setting up timely reminders about urgent tasks coming due soon. With monday.com's visual boards view you can see all your team's progress at once from one central place which makes it easier to keep everyone aligned while managing multiple projects simultaneously.
Ultimately, whether you choose ClickUp or monday.com depends on your specific needs when it comes to project management and task organization. Both platforms have great options available so make sure you weigh out the pros and cons before making a decision.
Did You Know
ClickUp's task management capabilities allow you to create checklists with up to 10,000 items that's 5 times the amount of items that monday.com offers.
Collaboration Features
When it comes to collaboration, both ClickUp and monday.com offer a wide range of features to help teams work together efficiently and effectively. Here is an overview of the most important features they each have:
| | | |
| --- | --- | --- |
| Feature | ClickUp | monday.com |
| Collaborative Editing | Yes | Yes |
| Group Chatting | Yes | Yes |
| User Permissions | Yes | Yes |
| Team Visibility | Yes | Limited visibility options available for larger teams with multiple divisions or departments |
| Shared Calendars | Yes | No |
Both tools provide their users with collaborative editing capabilities, allowing them to make changes in real time while keeping track of who made what change. In addition, both also feature group chatting which helps team members communicate more easily without having to leave the app itself. Furthermore, user permissions can be assigned to different individuals according to their roles within the company, making sure that only authorized personnel are able to access the information they need. Finally, although ClickUp provides its users with full visibility into all areas of their project at any given time, Monday's version allows only limited visibility options for larger teams with multiple divisions or departments. However, when it comes to shared calendars neither tool offers this functionality yet.
Did You know
Both ClickUp and monday.com have collaboration features that allow team members to work together in real time. However, ClickUp has a unique advantage in that it allows users to create a collaboration space that can be branded with custom logos, backgrounds, and colors, without sacrificing user-friendliness.
Team Management
Team management is a critical component of ensuring the success of any project, and both ClickUp and monday.com offer features to facilitate this process. When it comes to resource allocation, both platforms provide an intuitive way for team leaders to create schedules and assign tasks based on each individual's availability or role in the project. Task prioritization is also made easy with customizable strategies that allow teams to focus their energy on what matters most.
monday.com goes one step further by offering specialized training for managing large teams as well as tools designed specifically for team dynamics such as conflict resolution and decision-making facilitation resources. It also offers user interfaces tailored towards different roles within the organization, allowing team members to access relevant information quickly without having to search through irrelevant data.
ClickUp shines with its wide range of integrations with other popular productivity applications like Google Calendar and Asana, making task delegation easier than ever before. Team leaders can easily add multiple users at once using Slack notifications or even email reminders for upcoming meetings or deadlines. The platform also allows you to generate reports about how your team is performing against goals so that everyone remains focused on achieving them together.
Did You know
Both ClickUp and monday.com offer powerful team management features, but did you know that ClickUp offers a unique feature that allows you to assign multiple people to a task at once? This feature makes it easy to collaborate and manage a team in an efficient and organized way.
Integrations
Integrating with the world's most popular productivity apps, ClickUp and monday.com give teams a powerful suite of tools to take their collaboration to the next level. Both platforms offer different integration strategies depending on which tool works best for you. With these integrations, teams can easily connect and synchronize data across various Click Up systems using an array of API connectors and cross-platform links.
| | |
| --- | --- |
| Integration Strategies | Description |
| API Connectors | Allows users to access multiple systems |
| Cross-Platform Links | Enables connection between cloud services |
| Automation Links | Automates processes such as task management |
| Data Synchronization | Keeps information up to date in real time |
ClickUp offers more than 1000+ integrations that allow users to connect external applications into workflows while Monday provides over 200+ integrations including Zapier, Slack, Trello, Gmail, etc. Moreover, both provide essential features like automation links and data synchronization that help streamline manual processes so your team can focus on getting things done faster.
Did you know
Integrations are becoming increasingly important to the success of any business, and both ClickUp and monday.com offer a wide range of integrations with other popular apps. In fact, ClickUp currently integrates with over 800 apps, with new integrations being added regularly.
Customization
Customizing the experience to fit team needs is easy with both ClickUp and monday.com, offering a range of options that enable users to tailor their workflows. With customizable widgets, teams can view all sorts of information at once without having to click around and search for it. Visual branding allows you to customize your workspace's look and feel so it matches your company's aesthetic while still being functional. Workflow automation helps streamline project management by allowing tasks and projects to move through the process seamlessly based on user actions or predetermined criteria. And data visualization makes complex performance metrics easier to interpret by transforming them into visual elements like graphs and charts.
Advanced filtering capabilities are also available in both tools, enabling teams to create custom views for different types of jobs, people, and other resources. This means that everyone will be able to access only the most relevant information they need instead of wading through an ocean of irrelevant data points. Finally, each platform offers integrations with popular third-party apps such as Slack, Dropbox, Google Drive, Zapier, Asana, Trello, Salesforce, Jira Cloud, GitHub Enterprise, etc., enabling even further customization possibilities thanks to integration with external services.
In the realm of project management, ClickUp and monday.com provide ample flexibility for teams to tailor their workflow processes to their unique requirements. Both platforms offer a range of features, including customizable widgets, visual branding, workflow automation, data visualization, advanced filtering capabilities, and integrations with external services like Slack and Dropbox. These customization options empower organizations to create a highly efficient and personalized workflow environment, optimizing their chances of success. When seeking alternatives to ClickUp, these factors should be considered to ensure that the chosen platform aligns with the team's specific needs.
Did You know
Both ClickUp and monday.com offer extensive customization options for users, allowing them to customize the look and feel of their workspace and tailor it to their specific needs. However, did you know that ClickUp offers an additional level of customization, allowing users to customize their workspace down to the individual task level? This means users can create custom fields, assign custom task lists, and even add custom notifications to individual tasks.
Reporting and Analytics
Having the ability to track and monitor progress is a key component of successful project management, and both ClickUp and monday.com offer powerful reporting and analytics capabilities to help teams stay on top of their work. With ClickUp, users can create custom reports using data from various sources such as tasks, comments, time tracking, checklists, and more. These reports are then available in PDF or Excel formats for easy sharing with stakeholders. Additionally, ClickUp offers an intuitive dashboard design that allows users to quickly view performance metrics at a glance.
monday.com also provides robust reporting tools including customizable dashboards with widgets like charts and graphs for visualizing data, automated report templates with user-configurable filters and scheduling options, exportable reports in CSV or XLS format for further analysis outside of the platform, as well as real-time notifications when conditions within projects change or new updates become available. This makes it easy to keep tabs on important information without having to manually review every task detail.
Overall, both ClickUp and monday.com provide comprehensive reporting capabilities to ensure teams have access to critical insights into their project performance. By leveraging these features along with other collaborative tools like shared calendars and communication channels, teams can make informed decisions based on accurate data visualization while improving efficiency across the board.
Did You know
Reports can be generated in ClickUp in real time, allowing users to get the most current and accurate data. monday.com offers a suite of advanced analytics capabilities, including data visualization and forecasting.
Mobile App
With ClickUp and monday.com, users can stay connected to their projects on-the-go with dedicated mobile apps designed for each platform. Both tools offer an easy user interface that makes navigating through tasks and projects simple from any location. The design of the respective applications has been optimized to fit smaller screens so that they are both functional and aesthetically pleasing when used on a mobile device.
The main difference between the two platforms lies in their app store ratings: while ClickUp currently sits at 4.6 stars out of five, monday.com's rating is slightly lower at 4.4 stars. However, this does not take away from the fact that both services have put significant effort into making sure their mobile apps provide the same features as their desktop versions such as task management, notifications management, team collaborations, etc..
Ultimately, it's up to you which tool best suits your needs when using its mobile application version but rest assured that both ClickUp and monday.com will make managing project workflow easier no matter where you go. With robust mobile navigation systems integrated into these tools, staying organized has never been simpler or more accessible than before.
Did you know
Both ClickUp and monday.com offer mobile apps for iOS and Android devices that allow users to access their accounts on the go. However, only ClickUp offers a free mobile app for both platforms, while monday.com requires a paid subscription for access to their mobile app.
Security
When it comes to security, both ClickUp and monday.com provide users with a high degree of assurance that their data is safe and secure. Both platforms utilize High Availability (HA) architectures in order to maximize uptime for customers. Additionally, they offer two-factor authentication, encryption protocols, access control, and role-based permissions as part of their security features.
ClickUp offers advanced security measures such as an end-to-end encrypted connection between the user's device and its server. This means that any information sent or received by the user remains confidential at all times. It also provides granular access control settings which allow administrators to assign different levels of visibility based on roles within the organization. Furthermore, it has an extensive range of audit logs that allow admins to monitor activities performed by individual team members in real-time.
monday.com takes extra steps to protect customer data through its enterprise-grade security infrastructure which includes two-factor authentication as well as 256-bit SSL encryption across all network connections used by its services. In addition, it utilizes identity management systems for authenticating user accounts and enforcing access control rules across multiple environments while providing role-based permission controls so teams can share workspaces safely without compromising sensitive information. Lastly, it also offers an API token system which helps ensure only authorized applications have access to customer data stored on their platform.
Did You know
Security is a top priority for both ClickUp and monday.com, and both offer industry-leading encryption and data privacy protocols. However, ClickUp goes beyond standard security practices and uses advanced AI-driven technologies to protect your data from potential threats.
Support
For those seeking assistance, both ClickUp and monday.com provide comprehensive support options to ensure their customers are always taken care of. Both tools offer:
Live Chat – Allowing users to connect with a customer service representative in real-time for quick answers to any questions they may have.
Issue Tracking – Enabling teams to report and track bug reports or feature requests so that the company can respond quickly and efficiently.
Ticket System – Providing users with an easy way to submit tickets about technical issues or requests and get help from the support team within 24 hours.
Help Desk – Offers a centralized hub where customers can find helpful resources such as FAQs, tutorials, webinars, documentation, etc., which helps them solve common problems on their own without needing assistance from the support staff. Additionally, some platforms use chatbots which allow customers to ask questions directly through natural language processing (NLP).
ClickUp offers its customers access to dedicated Customer Success Managers who are available 24/7 for urgent inquiries while monday.com has implemented a robust ticketing system that allows users to track progress on submitted trouble tickets.
Furthermore, both companies prioritize user feedback by actively listening to customer suggestions and using it as input for product development decisions. Finally, both providers also enable users to take advantage of self-service options such as online guides, forum discussions, video tutorials, and more if they need help troubleshooting something themselves before reaching out for assistance.
Did you know
Both ClickUp and monday.com offer exceptional customer support. In fact, ClickUp has become known for its fast response time, with most users receiving a response within the hour.
Data Migration
Data migration can be a complex process, but both ClickUp and monday.com provide resources to help make the transition smoother. When it comes to data migration options, ClickUp offers features such as:
monday.com also has strong data migration capabilities with an easy-to-use interface that allows users to quickly import their project data into the platform. Additionally, monday.com provides useful comparison reports that allow you to easily compare different versions of your projects before making any changes. This helps ensure that your imported data is accurate and up-to-date.
Both platforms offer great user experiences when it comes to migrating data, so choosing one largely depends on the specific needs of your team or organization. With both platforms having similar features, comparing them side by side in terms of how they handle data migration will give you a better understanding of which tool best fits your workflow needs.
Did You know
Data migration is a complex process that can take a significant amount of time and effort. It's estimated that the average cost of a data migration project ranges from $5,000 for smaller workloads to over $500,000 for larger tasks and beyond and that more than half of all projects fail.
Project Templates
Project templates are a great way to quickly get your team up and running on a new project, saving time and effort in the process. When it comes to choosing between ClickUp or monday.com for project templates, there are some key points you should consider:
Agile Methodology: Does either tool support an agile methodology that can be easily adopted by the team? Can tasks be broken down into smaller chunks with milestones set along the way?
Multi-projects: Are you looking to handle multiple projects at once? Is there room for customization if needed?
Task Prioritization & Project Scheduling: How easy is it to prioritize tasks within each project and schedule them accordingly? What tools does each platform offer such as Gantt charts or timeline features?
Resource Allocation: Does the platform have any resource allocation capabilities built in so you can assign people and track their workloads effectively?
Both ClickUp and monday.com offer powerful yet user-friendly task management solutions but depending on your exact needs one may prove better suited than the other. It's important to weigh these factors before making a decision about which tool is right for you.
Did you know
Project Templates are one of the most powerful ways to streamline workflow and maximize efficiency. In fact, research shows that companies that use templates are up to 80% more likely to finish projects on time.
Kanban Boards
boards, team members can easily view task scheduling, project boards, workflows, and email notifications all in one place. This helps to ensure that everyone on the team is aware of what needs to be done and when as well as who is responsible for it. Moreover, these tools also provide ways for users to engage with each other by leaving comments and assigning tasks directly from the board.
ClickUp and monday.com both offer comprehensive kanban boards that allow you to effectively organize your projects and keep your team up-to-date on progress. Both feature drag-and-drop organization capabilities which make rearranging tasks a breeze. Additionally, they have powerful automation features so you can set up specific triggers to notify people or take certain actions automatically based upon someone's action. For example, ClickUp offers "Goals which allow you to create custom goals and assign them out to the relevant individuals while Monday allows users to customize their own "Workflows so they can quickly move items through various stages of their process from start to finish without having to manually do anything.
Ultimately, selecting the right tool will depend on personal preference as well as the specifics of your workflow requirements. Both ClickUp and Monday offer strong organizational capabilities but may differ slightly in how they present information or how easy it is to access certain functions within the platform itself. It's important that you evaluate each option carefully before making a decision so you choose the best fit for your team's needs.
Did you know
Kanban boards originated in the 1940s as a way to help Japanese car manufacturers improve their production processes and workflow. Kanban boards are an effective way to manage tasks and visualize progress, helping teams stay organized and on track. With kanban
Time Tracking
Accurately monitoring how time is spent on projects can be a daunting task, but with the right tools, it doesn't have to be an overwhelming one. ClickUp and monday.com both offer comprehensive solutions for tracking project progress in terms of time management. Both allow users to set up time-blocking scenarios, scheduling rules and activity streams that make seeing where their team's time has gone easier than ever before.
ClickUp offers many features when it comes to tracking progress including custom views within its timeline feature, which makes assigning tasks and managing them from start to finish much simpler. With this feature, users are able to track each step of progress with ease while also being able to see who's working on what at any given moment as well as better understanding how various tasks fit together over time. Additionally, they provide meeting notes integration so teams can get real-time updates about their planning discussions without having to look through emails or other documents.
monday.com takes things a step further by providing detailed insights into team performance via its analytics dashboard, allowing managers to clearly identify trends in productivity as well as easily measure individual efforts against the agreed-upon targets. The platform boasts powerful drag-and-drop functionality combined with powerful search capabilities that enable users to quickly find information related to projects they're working on or need quick access to something not available in ClickUp's offering. Finally, last but certainly not least is the fact that Monday allows users to customize notifications according to their preferences ensuring important updates don't go unnoticed no matter where someone may be located geographically speaking.
In conclusion, there are multiple options available when looking for an effective tool for tracking time; however, if you're looking for a comprehensive solution then either ClickUp or Monday will do just fine depending on your specific needs and requirements. Numerous alternatives to monday.com exist, aiding users in seamlessly overseeing all facets of project management, even when handling intricate operations involving multiple stakeholders dispersed across various locations or departments.
Did you know
Time tracking software can save businesses up to 1-7% of payroll costs.
Project Portfolios
Managing multiple projects at once can be a challenging task, but with the right project portfolio solution, it doesn't have to be an overwhelming one. ClickUp and monday.com both offer comprehensive solutions that allow users to create, organize, and manage complex portfolios of projects from start to finish. The following table provides side-by-side comparisons of how each platform approaches key areas like project scope, resource planning, feature prioritization, task assignment, and risk analysis:
ClickUp
monday.com

Create high-level summaries for all your projects Visualize progress & dependencies between tasks

Customizable boards to easily plan out project plans

Detailed reports & timelines to track progress

Gantt charts for detailed scheduling.

Automated workload balancing based on availability & skillset.

Drag n' drop interface for flexible team assignments.

Real-time updates when changes are made to the schedule.

Custom fields & tags for easy organization & tracking.

Data views that let you quickly sort by priority levels.

Built-in prioritizer tool that helps keep everyone focused.

Integrated Kanban boards for organizing tasks into columns.

Real-time collaboration tools with comment threads.

Dynamic checklists and templates to streamline repetitive tasks.

Assignments can be delegated across teams or individuals.

Automatically tracked due dates so no deadlines slip through the cracks.

Robust analytics dashboard to track any metrics over time.

Track KPIs & performance data points against goals set within each project.

Automated alerts system lets you know when something needs attention fast.

Powerful search functionality allows you to identify potential risks before they become problems.
Both platforms provide users with robust options for managing their entire portfolio of projects. ClickUp offers more flexibility through its customizable features while Monday is better suited for larger organizations who need a streamlined approach. Ultimately which option you choose depends on your specific needs as well as budget constraints but both solutions are great choices if you're looking for a reliable way to stay organized during those busy times.
Did you know
Project portfolios can be incredibly complex, with each one requiring up to 17 different types of information.
Task Dependencies
Visualizing the intricate web of task dependencies can be daunting, but having an effective system in place to track them can make all the difference. Both ClickUp and monday.com offer comprehensive tools for managing task dependencies within project portfolios. A comparison table below outlines some of their features:
| | | |
| --- | --- | --- |
| Feature | ClickUp | monday.com |
| Task Prioritization | Uses a priority matrix for easy sorting of tasks by urgency or importance | Allows users to move cards across columns that represent different stages of progress along with setting due dates and priorities |
| Estimation Techniques | Provides time-tracking capabilities for accurate estimation | Utilizes techniques like weighted averages and standard deviation calculations to estimate completion times accurately |
| Visual Workflows | Offers automated workflows to visualize projects through Gantt charts | Create custom boards, lists, and kanban views for better visibility into any stage of workflow process |
| Workload Balancing | Automatically assigns tasks based on workloads during scheduling processes | Smartly allocates resources and balances workloads among team members while creating assignments |
| Assignment Scheduling | Easy assignment scheduling between teams using drag-and-drop feature | Has simple yet powerful sharing functions with clear communication channels so everyone is always on the same page |
Both solutions provide excellent ways to manage task dependencies with ease. However, depending on a user's individual requirements, one might be more suitable than the other.
Did you know
Task dependencies can be easily managed with project management tools – ClickUp and monday.com both offer a variety of automated features to help keep project progress on track. In fact, ClickUp uses AI to detect and prevent task dependencies from becoming blockers.
Resource Management
Organizing resources for a project can be challenging, but the right system can make it manageable. Both ClickUp and monday.com offer comprehensive resource management tools to help teams plan projects efficiently. With features like Resource Allocation, Scheduling Algorithms, Task Prioritization, and Team Roles, these platforms provide an effective way to keep track of your team's workload.
ClickUp provides visibility into how resources are allocated across tasks with its advanced scheduling algorithms so you can quickly identify any potential problems or areas where more resources need to be applied. It also allows you to prioritize tasks based on individual needs and create custom workflows that automatically assign roles and responsibilities to specific members of the team as needed. This makes sure that everyone is working at their full capacity without overloading them.
monday.com takes resource management one step further by allowing users to automate complex workflows in order to streamline processes and eliminate redundancies. You can set up automated triggers for certain tasks in order to ensure they always stay on top of priority items while freeing up time for other important activities. Additionally, this platform offers real-time insights into each user's performance which allows you to adjust assignments accordingly if someone is falling behind schedule or taking too long with a task. Overall, both ClickUp and monday.com offer helpful tools when it comes to managing resources effectively so it really depends on what kind of features your team needs most in order to accomplish their goals successfully.
Did you know
Resource management tools like ClickUp and monday.com have become increasingly popular in the workplace over the past few years, with over 3 million users between them.
Automation
Automation can be a powerful asset for teams looking to streamline workflows and reduce redundancies, allowing them to focus more time on important tasks. Both ClickUp and monday.com offer great automation features that allow users to take advantage of the latest technologies in order to increase efficiency and productivity.
The primary purpose of automation is task scheduling. With both ClickUp and monday.com, you can set up automated reminders, notifications, and progress tracking so your team never misses an important deadline or action item again. You can also create custom alerts when specific events are triggered, such as when certain milestones are reached or deadlines passed. Additionally, both platforms provide team communication tools which make it easy to keep everyone informed about what's happening with any given project or task.
Finally, both ClickUp and monday.com offer integration with hundreds of other apps via their API integrations which enable users to take advantage of third-party services like Zapier or Integromat in order to build out customized automation workflows tailored specifically for their needs. This allows users to automate mundane actions quickly and easily while maintaining complete control over how much (or how little) they want these automations to do giving them access to powerful reporting capabilities not available elsewhere.
Did you know
Automation is estimated to save businesses around $878,000 a year globally by 2022.
Reviews
In the ever-evolving landscape of project management software, ClickUp, and monday.com stand out as two prominent solutions, each with its own set of strengths and features that cater to diverse organizational needs.
ClickUp excels in providing a highly customizable workspace, allowing teams to sculpt their workflows with precision. Its extensive toolkit includes customizable widgets, visual branding options, workflow automation, and advanced data filtering. This level of flexibility empowers teams to create workspaces tailored to their specific requirements. What sets ClickUp apart is its robust data visualization capabilities, which offer invaluable insights for informed decision-making throughout the project lifecycle. According to the reviews of industry experts, at ClickUp, its customization options make it a top choice for businesses looking to fine-tune their project management processes to align with their unique workflows.
On the other hand, monday.com takes a user-centric approach, focusing on simplicity and collaboration. It boasts an intuitive interface that simplifies even the most complex project structures, making it an excellent choice for teams seeking efficient task management and seamless communication. When considering monday.com reviews from experts, it's clear that the platform truly stands out due to its effortless integration capabilities. It seamlessly connects with external services like Slack and Dropbox, a feature that has garnered praise from industry specialists. Their acclaim for monday.com revolves around its exceptional user-friendliness, making it an ideal choice for organizations seeking to streamline project management while boosting team collaboration.
Choosing between ClickUp and monday.com ultimately depends on the specific needs and preferences of your organization. If your team values extensive customization and adaptability, ClickUp is the way to go, as our team of experts suggests. Its rich set of tools allows for the creation of tailored workspaces.
Conversely, for those who prioritize user-friendliness and straightforward collaboration, monday.com offers a hassle-free solution that streamlines project management, as confirmed by our team's assessments. Both platforms deliver robust performance, empowering teams to efficiently manage projects of all sizes and complexities. Whether you opt for ClickUp or monday.com, you can expect a powerful project management tool that significantly enhances your team's productivity and efficiency, making project management a smoother and more streamlined process.
Frequently Asked Questions
1. Does either tool have a free trial?
Both ClickUp and monday.com offer free trial periods to their users so they can try out the tools before committing. With each tool, you'll be able to explore its user interface, customer support, learning curve, data security, and feature comparison in detail. This will help you make an informed decision on which one is best suited for your business needs.
2. How easy is it to switch between the two tools?
Switching between ClickUp and monday.com is very easy due to their low integration complexity, reliable customer support, robust collaboration features, user-friendly experience, and customizable options. Both the tools have proven to be efficient when it comes to project management and task automation. The choice of which tool to use ultimately depends on your specific needs and preferences.
3. Can I use both tools together?
Both ClickUp and monday.com offer integration benefits, customization options, automation capabilities, a user-friendly interface, and an easy learning curve. While their individual features differ from each other in some areas, both tools can be used together to benefit from the best of what they have to offer. In addition, users can customize how they integrate the two platforms to maximize efficiency and leverage automated processes to streamline workflow.
4. Does the pricing plan change with the size of my team?
When comparing ClickUp and monday.com, the pricing plan typically changes depending on the size of your team. The larger your team is, the more features you'll get access to such as task automation, integration costs, customer support, user experience, and data transfer. Both tools offer different plans for teams of all sizes so make sure to research which one best fits your needs and budget before making a decision.
5. Are there any limits on the number of projects I can manage in either tool?
ClickUp and monday.com both offer plan options with varying project limits: – ClickUp has a free version for unlimited projects, while monday.com offers up to 10 projects in the basic plan. – Both tools have collaboration features such as group chats and task management, automation tools like calendar view and checklists, and training resources to help you get started quickly.
Conclusion
Overall, it's a close call when comparing ClickUp and monday.com. They both offer robust task management and collaboration features with great customization options to fit your team's needs. However, there are some key differences that may make one stand out for you more than the other depending on what you prioritize most in a project management tool. Despite their similarities, each has its own pros and cons so be sure to do your research before committing to either of them. Ultimately, our comparison between ClickUp and monday.com should help you decide which is right for you based on pricing, ease of use, task management capabilities, integrations, and more.