Google Workspace vs. Microsoft 365: Side-By-Side Comparison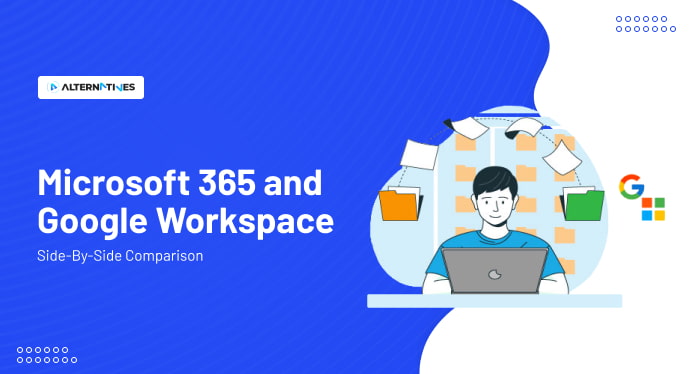 Google Workspace and Microsoft 365 are both popular cloud-based solutions designed to help businesses become more productive and efficient. With their deep feature sets, these tools enable companies to collaborate effectively, manage data securely, and access critical applications from anywhere in the world. But how do the two stack up when compared side-by-side?
In this article, we will take a detailed look at both Google Workspace and Microsoft 365 to see how they compare in terms of user interface and ease of use, storage and collaboration options, applications and features, and more. We'll also provide an overall review of Microsoft 365 vs. Google Workspace so you can make an informed decision about which solution is right for your business.
Google Workspace vs. Microsoft 365: Overview
Comparing two of the most popular cloud solutions? It's time to get an overview of their differences! Google Workspace and Microsoft 365 are both comprehensive suites of business productivity tools that offer a range of features, including email hosting, file storage, calendars, and video conferencing. Both solutions provide a high-quality user experience, but they vary in terms of cost analysis, scalability solutions, and other features.
Microsoft 365 is built on powerful technology from Microsoft for reliable performance and secure data management. It offers users access to Office applications such as Word, Excel, PowerPoint, Outlook, OneDrive for Business, SharePoint Online, and Teams for collaboration. Integration with Windows 10 also makes it easy for businesses to manage their mobile devices more efficiently. Additionally, Microsoft 365 provides strong security protection against malware threats and malicious downloads.
Google Workspace is designed to provide teams with flexibility when it comes to collaborating online through its suite of products like Gmail, Calendar Drive Cloud Storage, Hangouts Meet Video Conferencing, Docs word processing, Sheets spreadsheets, Slides presentation, and Sites website builder. Its integration capabilities make it easier than ever before to connect with third-party apps or create custom applications using APIs directly from the Google Cloud Platform. With its robust cloud computing infrastructure capable of handling large workloads quickly without compromising reliability or speed, many organizations turn to Google Workspace for all their collaborative needs.
Did You Know?
Microsoft 365 and Google Workspace are two of the most widely used collaboration and productivity software solutions, but did you know that Microsoft 365 boasts an impressive billion users worldwide?
User Interface and Ease of Use
If you're looking for an intuitive, user-friendly platform, it's worth taking a closer look at Microsoft 365 and Google Workspace. Both platforms offer users the ability to customize their interface according to their preferences in regard to visual design, user experience, customization options, advanced options, and navigation menus.
When comparing these two services side by side, there are some key differences in terms of user interface and ease of use. For instance, Microsoft 365 offers a highly customizable dashboard with easy access to all tools within one click and a robust navigation menu that allows users to quickly find what they need. On the other hand, Google Workspace has a more straightforward layout which makes it easier for new users to become familiar with its features. Additionally, both platforms provide mobile applications so you can stay connected with your team on the go.
Overall, both Microsoft Office 365 and Google Workspace offer great solutions when it comes to user interface and ease of use but depending on your needs one may be better suited than the other. Here's a quick recap:
1) Microsoft 365 provides extensive customization options while Google Workspace has a simpler layout;
2) Both have mobile apps available;
3) Navigation menus differ between them offering either simple or complex access to desired functions/features. With this information in mind, it will help you decide which solution is most appropriate for your business requirements.
Did You Know?
Microsoft 365 and Google Workspace offer users a custom Home tab that is tailored to their usage preferences, making it easy to find documents and applications quickly.
Storage and Collaboration
When it comes to storage and collaboration, both Microsoft 365 and Google Workspace offer a variety of features that make working together easier. With Cloud Syncing, users can access their work from anywhere with an internet connection. Additionally, each platform offers integrated Video Conferencing capabilities to facilitate virtual meetings.
| | | |
| --- | --- | --- |
| Feature | Microsoft 365 | Google Workspace |
| Document Editing | Yes | Yes |
| File Sharing | Yes | Yes |
| Automation Tools | Yes | Limited |
Both platforms also provide powerful document editing capabilities and file-sharing options with individual links for easy distribution. Microsoft 365 has the added advantage of automation tools like Power Automate to streamline processes within an organization while Google Workspace provides limited automation solutions at this time.
Overall, whether you opt for Microsoft 365 or Google Workspace, you will have all the necessary tools needed for successful collaboration among teams in one place. Both are reliable services that help improve efficiency and productivity when it comes to managing data securely online.
Did You Know?
Microsoft 365 and Google Workspace offer cloud storage to help their users collaborate, but did you know that Microsoft 365 provides 1TB per user, while Google Workspace provides unlimited storage?
Applications and Features
Both Microsoft 365 and Google Workspace offer a variety of applications and features that can help increase the productivity of businesses. Microsoft 365 provides its users with access to Word, Excel, PowerPoint, and Outlook for email management as well as OneDrive for cloud storage and document sharing. Meanwhile, Google Workspace has tools such as Gmail, Docs, Sheets, and Slides for task management and video conferencing via Meet or Hangouts. It also offers Drive for cloud storage.
Document Sharing is an important feature in any workplace environment since it facilitates collaboration between employees. Both platforms provide similar capabilities when it comes to this area; however, each one has its own advantages. For instance, Microsoft 365 like its other alternatives allows you to share documents easily with other members of your team while still maintaining control over who has access to them. On the other hand, Google Workspace makes it simple to quickly create new files from templates and then share them securely with anyone within seconds.
Finally, both services offer powerful task management solutions designed to make organizing tasks easier than ever before. Office365 includes Planner which helps teams track progress on projects by assigning due dates and setting reminders so nothing falls through the cracks. Similarly, Google's tool called Tasks enables users to manage their daily workflows more efficiently by combining all tasks into one place where they can be organized according to priority level or completion status.
Did You Know?
Microsoft 365 and Google Workspace offer over a thousand applications and features, ranging from basic software such as word processors and spreadsheets to comprehensive customer relationship management (CRM) systems.
Pricing Plans
Comparing the pricing plans of both Microsoft 365 and Google Workspace can help businesses make an informed decision when selecting a suitable solution. It is essential to consider the cost benefits that each platform provides and weigh them against its user limits, subscription types, and upgrading options.
There are various pricing models of Microsoft 365, ranging from Office 365 Business Basic to Office 365 for organizations with more than 300 users. The most popular plan, Office 365 Business Premium, allows up to 300 users per organization and includes access to Outlook, Word, Excel, PowerPoint, OneDrive storage, SharePoint sites, and video conferencing via Skype/Teams. Additionally, it has built-in security features such as data loss prevention (DLP) policies and advanced threat protection (ATP).
Whereas, when it comes to Google Workspace's pricing, it offers multiple business packages: G Suite Business Starter, G Suite Business Standard, G Suite Business Plus, and G Suite Enterprise Edition. Each edition comes with different user limits. G Suite Basic Edition supports up to 30 users while G Suite Enterprise Edition is designed for companies with more than 250 users. Both editions include Gmail accounts along with access to Google Calendar, Docs, Sheets & Slides applications plus Hangouts Meet video conferencing capabilities.
Aside from these apps, there are additional services available in the Enterprise edition like Vault archiving tools or Cloud Search features. Moreover, all G Suite plans come with 24/7 phone support which could be beneficial for larger enterprises who need fast assistance during technical issues or outages.
Overall there are several factors to consider when choosing between Microsoft365 and Google Workspace platforms including their respective upgrading options, cost benefits, user limits, and subscription types. Companies should also assess their current needs before investing in either platform since switching over, later on, might incur extra costs due to migration efforts or staff training requirements.
Did You Know?
Microsoft 365 offers customers more than twice the storage space for the same price as Google Workspace.
Security and Compliance
The security and compliance of both Microsoft 365 and Google Workspace can be crucial in helping businesses make an informed decision when selecting a suitable solution. As such, they offer multiple features with regard to the protection of data. Both services feature multi-factor authentication (MFA) which requires users to authenticate their identity using two or more verification steps prior to accessing their accounts. Additionally, role-based access is available for administrators who are required to assign permission levels based on job roles within the organization.
Encryption protocols, user authentication, and data loss prevention features are also included by each service provider. For example, Microsoft 365 utilizes modern encryption methods that protect data while it is being transferred and stored across its secure cloud servers. Similarly, Google Workspace like its other competitors includes several layers of defense against potential threats such as email phishing scams through its advanced spam detection algorithms.
In conclusion, both solutions offer comprehensive security measures designed to keep corporate information safe from malicious actors. It's important for organizations to understand how these systems work in order to ensure that their data remains secure at all times. By investing in either Microsoft 365 or Google Workspace, companies will have peace of mind knowing that their valuable assets are safeguarded from cyber attacks.
Did You Know?
Microsoft 365 offers more than 45 compliance and security features, while Google Workspace has just 14.
Integrations and Automation
Both platforms offer a wide range of integrations and automation capabilities, allowing businesses to streamline processes and maximize productivity. Integrating applications with one another, leveraging cloud-based solutions, and utilizing automated tools can provide many advantages for any business.
Integration Benefits include improved data sharing between services, increased efficiency in completing tasks, better collaboration within teams or departments, faster customer service response times, and enhanced security protocols across multiple systems.
Automation Advantages, such as using automation tools for repetitive tasks like sending emails or creating reports, enable businesses to save time and resources while also increasing accuracy. Automated workflows allow organizations to automate their processes without relying on manual labor which allows them to focus on more important initiatives. Additionally, automated processes that are powered by cloud computing create opportunities for businesses to scale quickly when needed.
– Automations Tools help reduce mundane tasks & free up human capital
– Cloud Computing creates an opportunity for businesses to scale quickly when needed
– Data Sharing enables easier collaboration amongst team members
Did You Know?
Microsoft 365 and Google Workspace both offer automated features that save time and reduce manual workload. Microsoft 365 has hundreds of pre-built integrations and offers users the ability to customize processes and develop their own automated solutions, whereas Google Workspace offers simple, out-of-the-box integrations, such as Zapier, that support streamlined workflows.
Customer Support
No matter the size of your business, customer support is essential for success. Both Microsoft 365 and Google Workspace provide helpful resources to assist customers in addressing their technical needs. Microsoft offers four subscription levels that come with different levels of tech support while Google provides a free helpdesk service, as well as other useful tools:
Helpdesk Support – Both services offer 24/7 phone and email support for premium subscription members. Additionally, both companies also provide access to online user guides, video tutorials, and live chat options on their websites.
Video Tutorials – Microsoft has an extensive library of instructional videos available on its website to help users troubleshoot common problems or learn new features. Similarly, Google's YouTube channel offers step-by-step instructions for using many of its products and services.
Live Chat – For more immediate assistance with setting up an account or resolving technical issues, both companies offer a live chat option on their websites so users can get real-time answers from experts quickly.
User Guides – In addition to its comprehensive help center and tutorial library, Microsoft also provides detailed user guides that explain how to use each feature within Office 365 in detail. Likewise, Google provides user manuals with easy-to-follow steps detailing the usage of various applications within G Suite such as Calendar, Docs, and Drive among others.
Overall, both Microsoft 365 and Google Workspace have great customer support teams dedicated to helping businesses succeed by providing helpful resources like Helpdesk Support, Video Tutorials, Live Chat, and User Guides tailored specifically towards achieving certain goals set out by the company's objectives.
Did You Know?
Microsoft 365 offers 24/7 customer support and service in 180 countries and 21 languages, while Google Workspace offers customer support and service in 130 countries and 43 languages.
Third-Party Apps
Providing powerful platforms for productivity, both Microsoft 365 and Google Workspace offer a plethora of third-party applications that can help businesses streamline operations and increase efficiency. Both solutions provide an array of features to customize user experience from cloud integration to security protocols. In terms of language support, Microsoft 365 has the edge with its extensive library of languages which allows users to work in their native dialect. Additionally, it offers more customization options allowing for greater flexibility when creating documents or presentations.
Meanwhile, Google Workspace provides some great tools such as team collaboration apps like Google Docs and Sheets which allow multiple users to access a single document simultaneously making collaboration easier than ever before. It also offers many integrations with other popular services like Salesforce and Mailchimp giving users even more control over how they use the platform. However, its lack of advanced security protocols may be a deal breaker for some organizations looking for added peace of mind when using third-party applications.
In conclusion, while both Microsoft 365 and Google Workspace have their own strengths and weaknesses when it comes to third-party applications, each is capable of providing a robust set of features tailored specifically to meet the needs of any business. The decision ultimately comes down to user preference in terms of what types of features are most important: Cloud Integration? Security Protocols? Language Support? User Experience? Customization Options? Knowing the answers will make choosing between these two industry-leading solutions much easier.
| | |
| --- | --- |
| Strengths | Weaknesses |
| Cloud Integration | Limited Security Protocols |
| Extensive Language Library | Fewer Customization Options |
| Advanced User Experience | Not All Services Integrate |
Did You Know?
Microsoft 365 integrates with over 200 third-party applications, while Google Workspace integrates with over 2,000.
Data Migration
When it comes to data migration, both Microsoft 365 and Google Workspace offer powerful tools to help businesses move their data quickly and securely. Both platforms provide data portability, making the transfer of information from one platform to another much easier than ever before. They also provide robust backup strategies for long-term storage of important documents and files. Additionally, each platform has its own sharing policies that allow users to control who can access specific items within a workspace or organization.
In addition to basic features like data portability and backup strategies, both companies have created various migration tools that simplify the process even more. Users can easily drag and drop files between systems, schedule tasks in advance with automation options, and preview changes before they are committed. This makes it easy for teams to collaborate on projects without worrying about compatibility issues or potential security risks associated with transferring sensitive documents.
Overall, Microsoft 365 and Google Workspace make it easy for businesses to migrate data between different platforms. With advanced features such as automated task scheduling, detailed sharing policies, and comprehensive backup solutions, organizations can rest assured that their data is secure no matter where it's stored or accessed from. By leveraging these powerful tools, businesses can ensure smooth transitions when switching from one system to another while still protecting valuable assets.
Did You Know?
Data migrations from Microsoft 365 to Google Workspace are up to 10 times faster than migrations to other cloud solutions.
Data Privacy
Data privacy is of paramount importance to businesses, as it helps ensure the integrity and security of sensitive information. When looking at Microsoft 365 vs. Google Workspace in terms of data privacy, both offer a variety of features that help protect users' data. However, there are slight differences between the two when it comes to their capabilities for protecting user data:
Microsoft 365 offers Data Privacy law compliance, which allows organizations to stay compliant with local regulations while providing protection over personal data stored within the system. Additionally, different permission levels can be set up depending on the type of data being shared. This allows organizations to control who has access to specific content and manage user access quickly and easily.
Google Workspace also offers similar GDPR Compliance, ensuring that all customer-related data remains private and secure. Furthermore, they provide advanced encryption technologies such as Advanced Encryption Standard (AES) 256-bit key encryption for extra security measures. Moreover, Google provides additional layers of safety by allowing users full control over their own files through its various user accessibility options like sharing permissions settings or monitoring activity logs.
Both Microsoft 365 and Google Workspace have comprehensive solutions when it comes to data privacy that include Data Privacy Laws compliance; permission levels; GDPR Compliance; Data Encryption; and User Accessibility:
Data Privacy Laws compliance
Permission Levels
GDPR Compliance
Data Encryption
User Accessibility
Did You Know?
Microsoft 365 offers users up to 25 times more data privacy compliance standards than Google Workspace.
Device Compatibility
When it comes to device compatibility, businesses need the assurance that their data and applications can be accessed from any device with ease and convenience. Microsoft 365 and Google Workspace offer a range of device specifications that are designed to ensure maximum compatibility across multiple platforms, operating systems, hardware configurations, and more. Both providers strive for widespread compatibility testing, ensuring users have access to all of the features they require regardless of the device being used.
Users also benefit from both services' intuitive cross-platform functionality. This means whether you're using an Android phone or tablet, desktop computer, laptop, or other devices, your data is safe on either platform. They provide comprehensive support for different types of operating system support. Additionally, businesses can rest assured knowing their user experience won't take a hit due to incompatibilities between various devices as both companies emphasize providing consistent user experiences regardless of which device you're accessing them on.
Ultimately, when deciding which provider best suits your needs one key factor should be kept in mind: Device Compatibility. Microsoft 365 and Google Workspace each provide reliable options for businesses looking for robust cloud solutions capable of handling even the most complex sets of requirements while still offering excellent user experience.
Did You Know?
Microsoft 365 boasts cross-platform and cross-device compatibility, with its applications running on Windows, Mac, iOS, and Android. Google Workspace, on the other hand, offers compatibility only with Windows, Mac, iOS, and Chrome OS.
Data Protection and Backup
Businesses need assurance that their data is secure and easily recoverable in the case of an emergency, making data protection and backup a critical component of any cloud solution. Microsoft 365 and Google Workspace both offer robust data retention, backup strategies, auditing capabilities, data encryption, and GDPR compliance to help protect customer's sensitive data.
Both solutions provide customers with access to full-server backups or individual files. To ensure user account information remains safe, users have the option to enable two-factor authentication for added security. In addition, businesses can take advantage of audit logs which track all changes made by administrators on the system. For extra precaution against malicious software attacks or unauthorized access, Microsoft 365 utilizes advanced threat analytics technology while Google Workspace uses AI-driven detection methods.
When it comes to protecting your data from third parties, both platforms use bank-grade encryption algorithms as well as other measures such as anonymization techniques in order to comply with GDPR regulations. Furthermore, they also provide detailed reports about how customer data is being used so organizations can keep a close eye on who has access to what information at all times.
| | |
| --- | --- |
| Microsoft 365 | Google Workspace |
| Full server backups/Individual Files | Full server backups/Individual Files |
| Two Factor Authentication | Two Factor Authentication |
| Audit Logs | Audit Logs |
| Advanced Threat Analytics Technology | AI-Driven Detection Methods |
| Bank Grade Encryption Algorithms | Anonymization Techniques |
Did You Know?
Microsoft 365 provides up to 30 days of recovery options for deleted files, while Google Workspace provides up to 20 days.
Mobile Accessibility
With an increasing number of people working remotely, it is vital for businesses to ensure their cloud solutions offer secure and reliable mobile accessibility. Fortunately, both Microsoft 365 and Google Workspace provide robust tools for users who need access on the go. Mobile Usability with either platform allows you to view documents, check emails, collaborate with colleagues in real-time, manage calendars, and much more all while staying connected wherever you are.
Google Workspace's approach to Cloud Connectivity offers a wide range of integrations across various platforms directly from your device. This makes it easier than ever before to access data stored within the cloud when away from the office. Additionally, App Interoperability between different applications provides greater flexibility when using multiple devices at once.
On the other hand, Microsoft 365 focuses heavily on providing users with a choice of platforms they can use from any location or device. It also includes features like Advanced Analytics that allow you to quickly identify trends in large datasets and make decisions faster than ever before. Platform Choice, combined with its comprehensive security protocols helps business owners maintain control over how their employees work remotely without compromising safety or functionality.
Did You Know?
Microsoft 365 and Google Workspace offer unparalleled mobile accessibility both offer over 1,000 productivity apps for mobile devices, but Microsoft 365 boasts the ability to access and edit files from any device, while Google Workspace only currently offers mobile access to view files.
Review of Google Workspace vs. Microsoft 365
In our review of Google Workspace, we find it offers a user-friendly and accessible platform for collaborative work, with tools like Google Docs and Google Sheets. However, its security features, while decent, may not match the advanced safeguards of Microsoft 365. Whereas in the Microsoft 365 review, it's evident that the platform excels in providing comprehensive solutions. It boasts robust security measures, extensive collaboration tools like SharePoint Online and Skype for Business, and a powerful Office suite, making it an ideal choice for businesses prioritizing data protection and advanced document creation.
| | |
| --- | --- |
| Microsoft 365 | Google Workspace |
| Cloud Security | End-to-end Encryption + 2FA |
| Team Structures | SharePoint Online + Video Conferencing w/ Skype for Business |
| Document Creation | Office Suite w/ Automation Tools & Custom Templates |
Did You Know?
Google Workspace and Microsoft 365 both provide cloud-based productivity suites, but did you know that Microsoft 365 is much more popular among large enterprises, with numerous Fortune 500 companies using it?
Frequently Asked Questions
1. Does Microsoft 365 or Google Workspace have better customer service?
Microsoft 365 and Google Workspace both offer live chat, email assistance, user forums, help resources as well and phone support for customer service. However, Microsoft offers a more comprehensive range of personalized services such as 24/7 technical support which is not available on Google Workspace. Therefore, Microsoft 365 has better customer service compared to Google Workspace.
2. What data and applications can be migrated to either platform?
Migrating to either Microsoft 365 or Google Workspace can be done in a few simple steps. Data and applications, such as emails, calendars, contacts, chat messages, and documents can all be migrated from one platform to the other. Additionally, both platforms offer different security measures, hardware requirements, storage options, and data encryption for your migration needs.
3. Are there any additional fees for using third-party apps?
Microsoft 365 and Google Workspace both offer subscription plans that include access to third-party apps. Although these can be useful for data sharing, security risks may arise when using them. User experience with the apps is often improved by training resources provided in the subscription plan. Depending on the type of plan chosen, additional fees may apply when accessing certain third-party apps.
4. Are there any specific data privacy regulations each platform adheres to?
Microsoft 365 and Google Workspace both adhere to data privacy regulations, requiring customer consent for data access and setting compliance requirements. Both platforms offer customer support availability, storage limitations, and security policies that protect user data. However, Microsoft 365 provides more comprehensive security policies than its competitor with additional features such as multi-factor authentication and encryption of stored files.
5. What device compatibility options are available?
Both Microsoft 365 and Google Workspace offer device compatibility across a range of operating systems, so you can access your files from any device. They also provide security measures to protect data stored on their cloud-based platforms. Each platform offers different storage capacities depending on the pricing model and both support file sharing capabilities between users.
Conclusion
To wrap it up, the Microsoft 365 vs. Google Workspace comparison is like apples and oranges. Both have their own unique features that make them stand out in a crowded market. While both platforms provide comprehensive collaboration tools, storage options, applications, security measures, and customer support services, each has its own set of advantages and disadvantages. It's important to do your due diligence when deciding which platform is best for you – considering factors such as price plans, integrations/automation capabilities, data privacy, and third-party app support – before making a final decision about whether Microsoft 365 or Google Workspace is right for your organization. Ultimately, this 'Microsoft 365 vs. Google Workspace Comparison' boils down to what works best for your specific needs.