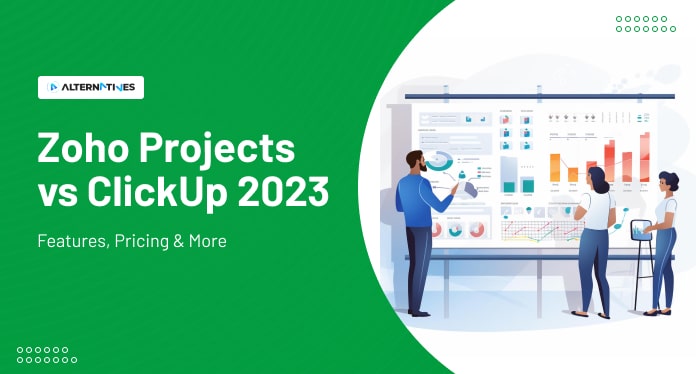 The competition between Zoho Projects and ClickUp is becoming increasingly fierce in the project management space. Both platforms boast a number of features and capabilities, with each touting its own advantages over the other.
In this article, we'll take an in-depth look at both Zoho Projects and ClickUp to provide a comprehensive comparison of their features, usability, security measures, integrations, pricing options, customer service support, pros & cons, and alternative products.
We'll also take a closer look at user reviews and ratings for both platforms to see which one comes out on top. With our detailed review of Zoho Projects vs ClickUp, you'll have all the information you need to make an informed decision about which one is best for your project management needs.
Overview of Zoho Projects
With its wide range of features and ability to integrate with other tools, Zoho Projects is a reliable and cost-effective alternative for managing tasks, tracking issues, and creating project templates – perfect for turning projects into success stories!
It offers pricing options of $10/user/month for 120GB storage space or $29/user/month for 100GB storage space.
Project management benefits include drag-and-drop interfaces that make workflow automation easy to deploy and obtain necessary approvals. Additionally, time-tracking capabilities help teams stay on top of deadlines while the accurate resource allocation feature ensures resources are used optimally.
Zoho Projects also provides collaboration tools such as audio/video conference integrations which can be used to conduct meetings with team members from any location in the world. Task management allows users to track progress at every step and customize settings according to specific needs. Finally, budgeting tracking helps ensure budgets are allocated properly and expenses are kept within limits. With all these features combined, Zoho Projects is an efficient tool for successful project management.
Overall, Zoho Projects is a comprehensive alternative to ClickUp when it comes to managing tasks, tracking issues, and creating project templates. Its various features enable users to visualize project progress accurately and automate tasks easily while integrating seamlessly with Google Apps, audio/video conferencing tools, and budget tracking features.
The competitive pricing makes this program even more attractive so businesses get maximum value out of their investments in terms of time and money saved.
Overview of ClickUp
Looking for an effective way to manage your projects, track issues, and create templates? Then ClickUp should be your choice as it offers a wide range of features at varying price points so you can find the perfect solution for your needs.
The UI Design is intuitive and easy to use, enabling users to quickly get up and running with their project management tasks. Plus, mobile access allows you to stay connected on the go no matter where you are.
For collaboration purposes, ClickUp provides various tools such as task comments and notifications that enable teams to communicate seamlessly in real-time. Furthermore, its task management system enables users to organize all tasks into detailed lists or boards that provide better visibility into progress.
Finally, its project estimation tool combines analytics and intelligence algorithms to help users accurately forecast future deadlines.
In conclusion, ClickUp is an excellent choice when it comes to managing projects efficiently and effectively thanks to its comprehensive set of features including UI design, mobile access, collaboration tools, task management and project estimation capabilities. With these powerful tools at hand, there's no doubt that every project will be successful!
Features Comparison
Comparing project management solutions can be difficult, but with the comprehensive features and integration capabilities of one solution and the intuitive UI design, mobile access, collaboration tools, task management, and project estimation capabilities of another, decision-making is simplified.
Zoho Projects and ClickUp both provide users with a wide range of features that enable them to manage their projects efficiently.
Below is a comparison table between these two services:
| | | |
| --- | --- | --- |
| Feature | Zoho Projects | ClickUp |
| Task Management | Automation tools | Intuitive UI Design |
| Customization Options | Drag & Drop Interface | Mobile App |
| Collaboration Tools | Integrates w/ Google Apps | Project Estimation Capabilities |
| Mobile Access | Audio/Video Conferencing Tools | Collaboration Tools |
Both programs offer customizable options for individualizing each project's workflow. In addition, both are highly automated in order to maximize efficiency while allowing teams to collaborate easily. However, ClickUp boasts an impressive interface that makes it easy to track progress at any time from anywhere.
On the other hand, Zoho Projects provides audio/video conferencing tools as well as integrates with popular apps like Google Apps so users have more control over their tasks. Ultimately both have strengths and weaknesses depending on the user's needs; however, they both make great choices for managing projects successfully.
Usability Comparison
Project success is dependent upon the ease of use of its management solution, making a usability comparison between Zoho and ClickUp essential. Both offer users an array of features to help them manage their projects with ease; however, there are some key differences in terms of the user interface, customization options, task management, project planning, and collaboration tools that make one service more suitable than another for different teams.
| | |
| --- | --- |
| Category | Features |
| User Interface | Intuitive & Responsive Design |
| | Easy Access To Project Data |
| Customization Options | Modular Widgets & Tabs |
| | Custom Reports With Charts & Graphs |
| Task Management | Automated Workflows |
| | Task Dependencies & Sequencing |
| Project Planning | Gantt Chart Views |
| | Resource Allocation Tools |
| Collaboration Tools | Audio/Video Conferencing Platforms Integrations |
| | Google Apps Integration |
Zoho offers intuitive and responsive design with easy access to project data while allowing modular widgets and tabs for custom reports with charts and graphs. It also provides automation workflows as well as task dependencies and sequencing capabilities for efficient task management. Additionally, it includes Gantt chart views along with resource allocation tools for effective project planning. Lastly, audio/video conferencing platform integrations and Google apps integration provide a smooth collaboration experience.
On the other hand, Clickup's customizable layouts including drag-and-drop features allow easy navigation while dashboards and visualizations enable tracking performance efficiently. Its advanced filters and search along with grouping of assigned tasks facilitate better task management while progress tracking by milestones helps in monitoring team progress accurately. Moreover, time estimation calculators are provided to assess future requirements precisely. Therefore both solutions have unique advantages based on individual needs which should be carefully evaluated before choosing either one over the other.
Security Features
With an array of features to ensure efficient project management, both Zoho and ClickUp provide enhanced security measures to protect user data. To start with, they offer a range of encryption methods such as AES 256-bit encryption for ensuring the safety of stored information. Besides this, users can also set up access control levels through role-based permissions so that only relevant team members have access to sensitive information. This helps in upholding the integrity of confidential projects.
Additionally, authenticity verification is enabled by setting up two-factor authentication on login attempts, which adds another layer of protection against malicious activities. Moreover, each system comes along with SSL Certificates that encrypt communications between the server and client devices while browsing or transferring files over the web. Furthermore, passwords are protected using various algorithms like PBKDF2 and bcrypt to increase their strength and keep unauthorized personnel away from accessing account details.
In conclusion, Zoho Projects and ClickUp come with robust security features designed to safeguard user data at all times. With these safety protocols in place, businesses can rest assured that their projects remain safe from any external threats.
Integrations
Both Zoho and ClickUp offer a range of integrations, making it easy to connect with the tools you need like fitting together pieces of a jigsaw puzzle. With integrations available for task automation, project tracking, collaboration tools, task management, and reporting tools, users can easily streamline their workflow.
Zoho Projects offers seamless integration with Google Apps and audio/video conferencing tools as well as budget tracking features. This makes it easier to keep track of projects' progress without having to switch between multiple applications. The software also provides an intuitive drag-and-drop interface for automating tasks and obtaining approvals quickly.
ClickUp has its own set of integrations that are tailored more toward team collaboration than individual productivity. It integrates with popular apps such as Slack, Trello, GitHub, Jira, Dropbox Paper, and Asana for optimal team coordination across different platforms. Furthermore, the platform is highly customizable allowing users to customize settings according to their specific needs.
Both Zoho Projects and ClickUp have comprehensive integration capabilities that make them reliable alternatives when it comes to managing projects effectively.
Task Automation
Project Tracking
Collaboration Tools
Task Management
Reporting Tools
Pricing
Comparing their pricing options, Zoho Projects offers plans with up to 120GB of storage space at an affordable cost while ClickUp provides a highly customizable platform tailored more towards team collaboration.
For those on a budget, Zoho Projects has subscription plans that start from $10/user/month for basic features and can go as high as $29/user/month depending on the number of users and features needed. On the other hand, ClickUp charges customers based on usage rather than pre-defined packages, offering different tiers ranging from free to custom enterprise solutions.
Both platforms offer free trials so potential customers can explore their features before committing to them. Additionally, both provide upgrading options that allow existing users to upgrade or downgrade their plan without losing any data or settings in the process. Furthermore, they also have cancellation policies which make it easy for customers to cancel their subscriptions if they find that either program isn't suitable for their needs.
Support and Customer Service
Both platforms offer exemplary customer service, providing users with detailed tutorials and support forums to help them understand the intricacies of project management. Zoho Projects has a dedicated Help Desk system that allows customers to log their queries directly on the platform so they can get quick resolutions for any issues that may arise. The Live Chat feature is available in multiple languages and provides assistance from qualified professionals who are well-versed in all aspects of project management. Additionally, the ticketing system enables issue tracking capabilities for troubleshooting purposes.
ClickUp also offers similar features such as its own Help Desk system, automated solutions through the automation tools, and an intuitive user interface designed to make navigation easy. Furthermore, ClickUp includes access to a knowledgeable team of experts who provide helpful advice and guidance when needed. Customers can submit tickets or contact live chat agents if they require immediate assistance with their projects.
In conclusion, both Zoho Projects and ClickUp provide robust customer service options to ensure that users have everything they need to complete their tasks effectively and efficiently. With each platform offering comprehensive support services along with advanced automation tools and intuitive user interfaces, users will be able to manage complex projects without any hassle.
Pros and Cons
Navigating the complexities of project management can be like navigating a labyrinth, but with the help of Zoho Projects and ClickUp, users can find their way out with ease. The two programs offer different pros and cons when it comes to features, pricing, and more that should be taken into consideration when choosing between them.
As per our review of Zoho Projects, the platform takes the lead for its collaboration benefits. It offers an array of tools to facilitate team communication which helps in creating better quality projects quickly and efficiently. Additionally, the platform also provides flexibility for teams as there are several customization options available to tailor settings according to user preference or specific needs. However, one limitation of Zoho Projects is its limited plan optimization; users cannot create custom plans based on individual requirements nor do they have access to unlimited storage space unless they pay extra fees.
On the other hand, ClickUp when rated versus its alternatives, provides much greater plan optimization than Zoho Projects due to its extensive range of templates and customizable options at no additional cost. This makes it easy for teams to customize plans according to their unique needs without worrying about exceeding allocated storage limits or having to pay for additional services. However, one drawback associated with ClickUp is that some users may find its interface somewhat complicated compared to Zoho Projects. As such, those who prefer simpler platforms may opt for the latter instead.
Overall, both Zoho Projects and Clickup provide powerful toolsets for managing tasks and tracking progress effectively. Users must consider their own preferences carefully before deciding which program best suits their workflow requirements.
Alternatives
For those seeking alternatives to Zoho Projects and ClickUp, there are a number of programs available that offer similar features and functionality.
One popular alternative to Zoho Projects is Asanaa web-based project management platform focused on task management and collaboration. It offers an intuitive interface for managing tasks and projects across teams with the ability to assign tasks, set deadlines, manage resources, track progress, and more. Additionally, it supports Agile methodologies like Scrum and Kanban boards as well as resource allocation tools.
Another option is Monday.coman all-in-one work operating system designed to help organizations move faster by enabling real-time communication between team members in order to streamline processes such as project planning, task automation, time tracking, resource management, budgeting, etc. Advanced features include custom reporting dashboards which allow users to gain insights into their workflow performance in addition to providing analytics and automated triggers for notifications when needed.
Finally, Basecamp is another great choice for project management software that includes powerful features such as group messaging/chatting capabilities; integrated calendars; organized shared documents; photo uploads; polls & surveys; deadline reminders; file attachments; access control settings for private conversations or files; plus more! With its easy-to-use UI combined with plenty of customization options, Basecamp can be used by both large enterprises and small businesses alike.
Review of Zoho Projects and ClickUp
Comparing the two programs, Zoho Projects and ClickUp offer distinct advantages in terms of features, pricing options, and integration capabilities.
As per our review and analysis of Zoho Projects, it has an impressive set of time tracking, task management, automation tools, and resource scheduling that makes project planning easier. Additionally, it provides a wide range of collaboration tools to help teams stay connected. It also offers workflow automation with drag-and-drop interfaces for easy deployment and obtaining necessary approvals. Furthermore, its pricing structure is very competitive at $10/user/month for 120GB storage space or $29/user/month for 100GB storage space.
ClickUp as reviewed and compared, offers a comprehensive solution to manage tasks and track issues from one central location. Its intuitive interface is designed to make project management simpler while providing powerful analytics tools to monitor progress. It also integrates easily with popular third-party platforms like Google Apps and Slack as well as audio/video conference services such as Zoom and Skype. In addition, ClickUp's prices are slightly higher than Zoho Project's but still reasonable at $15 per month per user or $30 per month for unlimited users.
Overall both projects have their own unique advantages when it comes to features,
pricing options, and integrations capabilities – so which one you choose depends on your specific needs.
With its comprehensive suite of features and cost-effective pricing structure, Zoho Projects can be an excellent choice for those looking for an all-inclusive alternative to ClickUp.
Frequently Asked Questions
1. How is Zoho Projects different from ClickUp?
Zoho Projects is a comprehensive alternative to ClickUp for team collaboration, resource management, task scheduling and workflow automation. It offers features like drag-and-drop interfaces for easy deployment, budget tracking capabilities, audio/video conference tools integration, and Google Apps integration. Additionally, Zoho Projects provides pricing options of $10/user/month for 120GB storage space or $29/user/month for 100GB storage space with the latter being subject to change. Therefore it provides a reliable and cost-effective way to turn every project into success story.
2. Are there any additional features offered with Zoho Projects that are not available with ClickUp?
Zoho Projects offers several features that are not available with ClickUp, such as: – Workflow automation – Drag-and-drop user interface – Integration with Google Apps It also has audio/video conference tools to facilitate collaboration and budget tracking capabilities for better project management. In addition, it provides 120GB of cloud storage space per user at the cost of $10/user/month or 100GB of cloud storage space for $29/user/month which is subject to change.
3. Is there a free trial available for Zoho Projects?
Yes, Zoho Projects offers a free trial for you to test out all of its features. This includes access to the user interface, project management tools, automation tools, security policies, and technical support. The free trial lasts 15 days and allows users to get an up-close look at how Zoho Projects can help them manage their projects more effectively.
4. Are there any discounts available for purchasing a Zoho Projects subscription?
Yes, Zoho Projects offers discounts on their subscription plans. Depending on the plan chosen, users can save up to 20% when they purchase a 12-month plan. Additionally, Zoho Projects provides a cost comparison tool so that customers can compare features and pricing models from different vendors. It also offers user experience reviews and migration options for those transitioning from other project management tools.
5. What types of customer service options are available for Zoho Projects?
Zoho Projects provides a range of customer service options to meet the needs of its users. It offers user support through live chat, email assistance, and help desk resources. Additionally, Zoho Projects also provides phone support for more urgent issues so that customers can get their questions answered quickly. Thus, with these multiple customer service options available, Zoho Projects ensures that its users are always supported in any project they undertake.
Conclusion
All in all, when it comes to Zoho Projects vs ClickUp, the clear winner is Zoho Projects.
It has a more comprehensive list of features and integrations that offer superior usability compared to Clickup. Additionally, its pricing plan provides better value for money than Clickup's subscription model.
To put it in a nutshell, with its robust feature set and competitive pricing, Zoho Projects offers businesses an unbeatable combination of flexibility and affordability – making it the go-to choice when looking for a project management tool.